Feature
Active MLB Players on a Hall of Fame Track to Cooperstown
With Miguel Cabrera set to retire, one surefire Hall of Famer is leaving the game. Which other active players are destined for Cooperstown?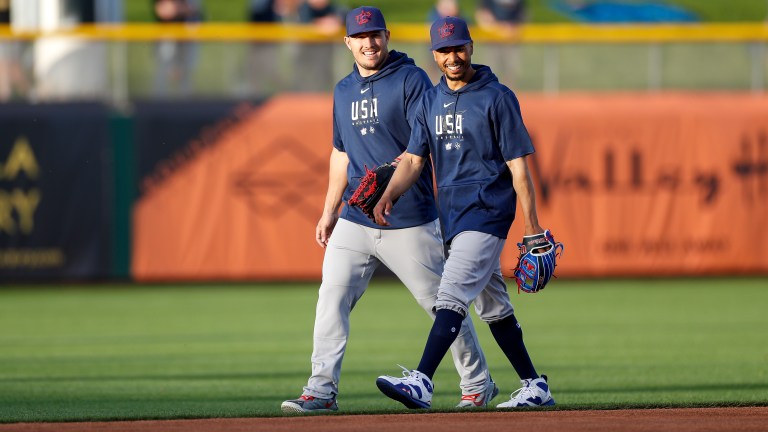 There is no distinction an athlete can earn that is greater than being inducted into the Hall of Fame. Only the top 1% of players ever draw even serious consideration to become Hall of Famers, particularly in baseball, a sport with a notoriously exclusive induction proccess.
At the end of this season, there is at least one active player who will hang up the cleats who is destined for Cooperstown. Miguel Cabrera retires as a surefire first ballot Hall of Famer. He is a two-time MVP with a Triple Crown and four batting titles to his name.
Cabrera is a 12-time All-Star, a seven-time Silver Slugger and even a World Series champion dating back to his rookie season in 2003 with the then-Florida Marlins. Miggy belongs to both the 3,000-hit and 500-home run clubs, which nearly always guarantee enshrinement in Cooperstown.
With Cabrera being an open-and-shut case, similar to Albert Pujols last year, we thought it would be a good time to see what other active players are on a path to Cooperstown.
First Ballot Hall of Fame Track
There are two types of Hall of Famers. First ballot Hall of Famers and everyone else.
This is not to knock the players who need to endure the process of getting the requisite votes to receive induction, but some players are simply a tier above. The following group of players are not only on a Hall of Fame track, they are trending towards being in that upper-echelon of guys who will make it on their first ballot.
Mike Trout
In the introduction I listed off all of those accolades for Miguel Cabrera and how great he has been throughout his career. With that said, even Miggy trails Mike Trout when it comes to the active WAR leaderboard.
Mike Trout is one of the greatest players the game has ever seen. He can retire tomorrow and still enter the hall with his 85 wins above replacement. Trout already ranks inside the top-35 all-time among position players in WAR.
While injuries have begun to pop up for Trout, he is still just 32 years old and under contract through 2030, giving him at least seven more seasons to add to his Hall of Fame resume.
Trout is a three-time MVP, making him one of the 10 players in MLB history who has ever won the award that many times. Barry Bonds holds the record with seven MVPs, while Trout is in a nine-way tie with Alex Rodriguez, Albert Pujols, Yogi Berra, Mike Schmidt, Mikey Mantle, Roy Campanella, Stan Musial, Joe DiMaggio and Jimmie Fox for second on the all-time list.
A nine-time Silver Slugger, Trout is one of the greatest hitters the game has ever seen. He is still 132 home runs away from 500 and 1,376 hits away from 3,000, but those milestones likely won't matter much when it is all said and done other than to bolster his already worthy resume.
Mookie Betts
There are five active position players in Major League Baseball who have accumulated a career WAR over 60. Mookie Betts is one of those five, and of the group, he has the brightest future ahead of him for still being able to add to it.
Unlike Trout, who has dealt with injury concerns over the last few seasons, Betts has been one of the game's most durable superstars. Since his first full season in 2016, Betts has played at least 120 games in every full season and has eclipsed 140 five times.
Betts is still very much in his prime, as he is currently leading Major League Baseball with his 7.8 fWAR, putting him on track to potentially take home his second MVP award. The soon-to-be 31-year-old has won two World Series, six Gold Gloves, five Silver Sluggers and a batting title.
About halfway to both 3,000 hits and 500 home runs, Betts might not ever join those exclusive clubs, but he is still on a track to become a first ballot Hall of Famer when you look at his seven-year peak of excellence, as well as the long prime he very well could enjoy.
Freddie Freeman
Not only do the Dodgers have one future first ballot Hall of Famer in Mookie Betts, but they just might have another in Freddie Freeman.
The Dodgers first baseman has already put together an illustrious career and is showing no signs of slowing down. Freeman will turn 34 years old this September, but is still absolutely raking. Last year, Freeman led the league in hits and he is once again leading in that department again.
With over 2,000 hits on his career already, Freeman has an outside shot at getting to 3,000 hits, but he will definitely finish his career with over 2,500. The smooth-swinging lefty has three Silver Sluggers to his name and likely a fourth on the way for this season. He also has an MVP, a Gold Glove and a World Series championship.
With 465 career doubles, Freeman has a chance to reach 600 doubles by the time it is all said and down. That would put him in a group of just 18 players who have ever accomplished that feat. Freeman won't get to 500 home runs, but 400 is within reach as he is currently at 317.
Nolan Arenado
There have only been 16 players in MLB history who have reached double digits in Gold Gloves. Nolan Arenado already belongs to that list, and he is one away from being one of 10 who have ever won 11 Gold Gloves.
Simply put, Arenado is one of the greatest defensive third basemen this game has ever seen, with Brooks Robinson being the only player who could be considered better at this point. Add in eight All-Star appearances, five Silver Sluggers and 325 career home runs and you have a player on a clear Hall of Fame track.
With four more home runs hit this season, Arenado will make it eight-consecutive full seasons in which he has eclipsed at least 30 home runs. Still under contract for four more years beyond this season, Arenado would eclipse 450 home runs if he continued to hit home runs at this pace over the life of this contract. If he sticks around past this deal, there's every chance he could join the 500 club.
Regardless, a third baseman with 10+ Gold Gloves, 400 home runs and over 2,000 hits is going to be a hard resume to ignore when Arenado's name is on the ballot for the first time.
Bryce Harper
One of the most-hyped prospects to ever get drafted first overall, Bryce Harper has always been tasked with greatness and a damn-near impossible standard that he was expected to match.
Through his 12-year career up to this point, Harper has been able to deliver on all of the promise.
Two MVP's to his name already, Harper has proven that at his best, he can be the best player in the baseball. When it comes to the Hall of Fame, what Harper has that will really help is the luxury of time. With a contract that doesn't expire until after the 2031 season, Harper still has eight years to play with after this season.
He just eclipsed 300 career home runs and if he can average at least 25 per season for the remainder of the contract, 500-caeer home runs is squarely in site. Nearly at 1,500 career hits, Harper has a chance to eclipse 3,000 as well if he can stay healthy.
Aaron Judge
The one thing that could keep Aaron Judge out of the Hall of Fame is injury. This is now the fourth season out of Judge's eight-year career where he has missed significant time due to injury. With that said, crashing toe first into a fence to make a catch is not the precursor to future injury.
Judge has proven to be the best home run hitter in the game when he is able to stay on the field. He also just put together one of the greatest season in MLB history to win his first MVP last year. In his first 80 games played this season, Judge hit 29 home runs. If healthy, Judge can hit 60 a season and that is not hyperbole.
Signed to a nine-year, $360 million contract this past offseason, Judge still has eight years left to chase down home run records. With him already being halfway to 500, reaching Cooperstown with that milestone is clearly what has him on a Hall of Fame track.
Being on a track to being a first ballot Hall of Famer is due to his ability to reach higher, and find his way into the 600-home run club when its all said and done. No one is more feared in the box than Aaron Judge. As long as he can stay in the box, there is no telling how the rest of his career will unfold.
Shohei Ohtani
This is probably an aggressive categorization but who cares. Two decades from now, when Shohei Ohtani's name finds its way onto a Hall of Fame ballot for the first time, I cannot imagine a world where he doesn't get enough votes to get inducted.
Ohtani is one-of-one. Nobody has ever done what he was able to accomplish over the last three years and there is a chance that no one will ever do it again. Ohtani is going to be a two-time MVP when this season comes to a close, putting him one away from joining that elite group who have won the award three times.
When you look at Barry Bonds' record of seven MVP awards, Ohtani is the only player that might ever be able to touch him. If Ohtani can continue to be a two-way superstar for a prolonged period of time, he going to retire with a handful of MVP's and at least be the second to ever win the award at least four times.
Now let's just say Ohtani's health becomes a real roadblock. If he cannot return to being the two-way superstar that he has been, he will still have an incredibly long and prolific career as a hitter. Add that with the pitching resume that he has already put forth and no one is going to be keeping this man out of Cooperstown upon first glance.
Hall of Fame Track
Now that we have gotten the no-doubt Hall of Fame talents out of the way, it is time to take a closer look at some candidates who are less of sure-thing. The following players are on a Hall of Fame track right now, but aren't necessarily going in on the first ballot.
Joey Votto
Of all the players we have discussed so far, Joey Votto might be the closest to the Hall of Fame, as he is set to turn 40 years old in September. Votto has yet to confirm if he will retire or attempt to play again next season. Part of that is due to the fact that he still has a $20 million team option for next season.
Having spent his entire career with the Reds organization, Votto may decide to hang them up if the team doesn't pick up his option. If he does retire, Votto would get to go on the Hall of Fame ballot at the same time as Miguel Cabrera, although he is less likely to get in right away.
In fact, it may take some time for Votto to garner enough support to actually get inducted into the Hall of Fame. Votto's 64.5 career WAR puts him within Hall of Fame consideration and is actually only three wins less than Cabrera's. The differences between the two are the milestones that Cabrera hit.
Votto cleared 2,000 career hits, but got nowhere close to the elusive 3,000-hit club that Cabrera joined. Votto will also fall short of 400 home runs and 500 doubles. At the same time, Votto does have an MVP and a Gold Glove to his resume.
Personally, I believe voters will eventually come around on Votto because his peak was so impressive, but someone could certainly argue the other side of it and justify keeping him off their ballots.
Paul Goldschmidt
A very interesting guy to look at after Joey Votto, Paul Goldschmidt shared the National League with him for over a decade. Both have won one MVP, and were among the best first basemen in the league across their careers.
The difference is that Goldschmidt has won four Gold Glove and five Silver Sluggers, compared to just one Gold Glove and no Silver Sluggers for Votto. He also has way more time to pad his Hall of Fame resume. Just a year removed from winning his MVP, Goldy has shown no signs of slowing down in his mid-30s.
Goldschmidt will hit free agency after next season, when he is coming off playing his age-36 season. Assuming he wants to play beyond that point, there is every chance that a two-or-three year deal will be on the table for Goldschmidt to play out the rest of his 30s.
Currently sitting just shy of 2,000 career hits and 350 career home runs, Goldschmidt will be passing Hall of Famers in milestones with every healthy season he can play. If continues to produce at the rate he has this season, Goldschmidt could very well cross over 2,500 career hits and 450 home runs.
It might not be the very first ballot, but it shouldn't take very long for Paul Goldschimdt to get inducted into Cooperstown.
Jose Altuve
The year is 2037. Now 47-year-old Jose Altuve is celebrating the 20th anniversary of his 2017 World Series championship, while anxiously awaiting the news on if he will make the Hall of Fame on the first ballot. Will voters hold all of that Astros stuff against him two decades later?
It really just depends on what he makes of the rest of his career.
Altuve's resume for the Hall of Fame is already pretty solid. He's got eight All-Star appearances, six Silver Sluggers, three batting titles, two World Series and even an MVP. At this stage of his career, it comes down to two things for Altuve. Rings and hits.
Winning the World Series last year validated the Astros dynasty. With each ring they add, the more credit we must give to that organization, particularly to the key players like Altuve. There is every chance Altuve could become a four-time champion and no-doubt first ballot Hall of Famer.
If the Astros don't win it all again though, Altuve has another one-way ticket to Cooperstown he could cash. And that is getting into the 3,000-hit club.
In a season where he has missed more than half of the games, Altuve is still on pace to add 100 hits to his career total and was just able to cross over the 2,000-hit milestone. At this rate he would probably need at least six more seasons averaging 150 hits per year to make it.
Entering the last year of his deal in 2024, Altuve will hit free agency after his age-34 season. It will be interesting to see, if the Astros look to re-sign him, how long that next deal will be.
Manny Machado
This has not been the best season for Manny Machado, but that does not take away from the fact that he is still very much on a Hall of Fame track. Having turned 31 years old in July, Machado is still squarely in his prime, with 10 years left on his contract AFTER this season.
If Machado were to average just 100 hits and 10 home runs a year over the next decade, he would finish his career with over 2,700 hits and 400 home runs. Clearly the assumption would be that Machado would perform even better than that and could join both the 3,000-hit and 500-home run clubs before he retires.
Remarkably durable throughout his career, Machado is sure to finish with some pretty impressive final milestones. He also already has six All-Star appearances, two Gold Gloves, one Platinum Glove and a Silver Slugger on his resume.
Jose Ramirez
Speaking of durable stars, Jose Ramirez is another player who has been a model of consistency throughout his career. A five-time All-Star and four-time Silver Slugger, Ramirez will finish the year with over 45 WAR in his career.
Soon-to-be 31 years old, J-Ram still has plenty of time to add more hardware to his resume and to bolster his stats as well. Now, when it comes to hits (1,293) and home runs (213), Ramirez comes up a bit short compared to his contemporaries like Machado, but were he separates himself is with stolen bases.
Ramirez is four stolen bases away from 200 in his career, putting him on pace to join an illustrious club. The 300-300 club has just eight members who hit over 300 home runs and stole over 300 bases in their careers. Ramirez should join that group when it's all said and done, putting him on the path to Cooperstown.
Francisco Lindor
Jose Ramirez and Francisco Lindor once shared the same side of infield. Could they also share a place in Cooperstown one day?
Ramirez and Lindor have eerily similar career numbers. With 1,295 career hits and 208 home runs, Lindor is just two hits and five home runs shy of Ramirez's career marks. He does trail by a lot in the stolen base department (149), but makes up for it with his glove.
Lindor won two Gold Gloves and one Platinum Glove in his career and is likely to add some more defensive hardware to his Hall of Fame resume before he retires. Lindor is also a two-time Silver Slugger. With a career WAR just over 40, Lindor is on the path but will need a strong finish to his career to be inducted into Cooperstown. Luckily he is under contract for eight more seasons.
Giancarlo Stanton
Giancarlo Stanton is clearly on the decline, which casts a shadow of a doubt as to whether he can complete his journey into the Hall of Fame. What can't be disputed though is that he is still currently on that Hall of Fame track, simply based on his home run total alone.
Stanton is just two home runs shy of 400 hit in his career, while being under contract for at least four more years beyond this season. This will give him time to try and mount a push for the 500-home run club. In 83 games this year, Stanton has still hit 20 home runs.
All of the numbers are down on Stanton and if you have seen him run lately, he really looks like a shell of himself physically. How much he can get on the field over the rest of the contract is very much in doubt. With that said, he is on a Hall of Fame track, but it's a shaky one at this stage.
Too Soon to Be Determined
This last group of Hall of Fame hopefuls falls into the category of too soon to be determined, because they are either too early into their careers, or there is real doubt as to if they will be able to complete their careers with the required milestones for induction.
Christian Yelich
Before this season, it would have been very easy to write-off Christian Yelich's Hall of Fame candidacy based on his play from the previous two seasons. Yelich had a two-year peak that was insane, where he won an MVP and could have won a second. During that time, Yelich put himself on a Hall of Fame track.
He won two batting titles, three Silver Sluggers and one Gold Glove. Those are awards that make a difference in eventual Hall of Fame voting. And now, Yelich is about to cross some milestones, with over 1,500 hits, 200 home runs and 200 stolen bases.
The best part for Yelich is that he is signed through at least 2028. This gives him time to bolster that resume over the next five years. We will see where he ends up.
Carlos Correa
After the saga that was Carlos Correa's free agent journey in the offseason, doubts were already going to be there about how he would hold up throughout his career based on two teams had issues with his physical.
Now that he has followed that up with the worst season of his career, it is hard to say that he is on a track to be a Hall of Famer anymore. Still, Correa eclipsed 40 WAR before he turned 29 years old, so if he can revert back to prior form, there is no telling where he could end up.
Marcus Semien
Different than the first two players in this section, Marcus Semien seems to be getting better with age, as his last five years in the big leagues have been far superior to his first five. Semien likely comes up short of Cooperstown, as his counting stats are nowhere close at this stage. Still, since he has now amassed 40 career WAR, it felt like he was at least worth mentioning.
Alex Bregman
Another guy who deserves to be mentioned because of a sneaky high career WAR. Bregman is about to clear 35 career Wins Above Replacement and with a strong finish to this season, 10 of them could have come over the last two years.
If Bregman has another six-year span where he averages 10 WAR over every two seasons, all of sudden we are looking at a guy who is knocking on the door of 70 career WAR.
A lot has to go right for Bregman, and he probably needs to add some World Series titles to bolster his resume as a great winner, but there is a chance that he has a compelling argument a decade from now.
Trea Turner
While this year didn't start how Trea Turner would have wanted, he has certainly come on strong and reminded us of the player who earned an 11-year, $300 million contract this past winter. That contract affords Turner plenty of time to add to a Hall of Fame resume that is not quite on track up to this point. If he stays healthy, Turner could cross over 2,500 career hits and 400 stolen bases.
Corey Seager
When on the field, Corey Seager has looked like the best position player on the planet this year. It is the first part there that is the problem though. Can Seager remain healthy?
If Seager stays on the field for most of the remaining eight years of his contract, there is no telling how many awards he could win or stats he could compile. Unfortunately there is no way of knowing at this point.
Ronald Acuna Jr.
This man is so special that he just created a club of his own, as the first player in MLB history to hit 30 home runs and swipe 60 bags in a season. It is still far too soon to tell if Ronald Acuna Jr. will be a Hall of Famer, because he is only 25 years old. There is so much time left in his career, but it is very easy to envision it ending with him being inducted into Cooperstown.
Juan Soto
Same conversation, different player when it comes to Juan Soto's Hall of Fame case. Soto hasn't even turned 25 years old yet and he already has three Silver Sluggers, a batting title and a World Series championship. Over the next 15+ years, Soto should put together a Hall of Fame resume but for now it is too early to tell.
Pete Alonso/Matt Olson
I decided to combine these last two because their place on this list is solely tied to one thing. Their ability to hit home runs at a rate better than the rest of the league.
Since his debut in 2019, no one has hit home runs than Pete Alonso. He will be knocking on the door of 200 career homers at the beginning of next year and if he can average 30 home runs for the next decade, he would find himself in the 500-home run club.
On the other hand, Matt Olson is not even a full year older than Alonso and he has already crossed 200 home runs and is marching his way toward 250 (219 career homers). A few Gold Glove awards already makes Olson's resume better, but it really just comes down to their longevity hitting homers.
Hall of Almost
Our final group here is of players who are nearing the end of their career, who will likely finish just short of Cooperstown.
Andrew McCutchen
Once upon a time, Andrew McCutchen was most certainly on a Hall of Fame track. Four-straight Silver Sluggers between 2012-2015, where Cutch finished top five in MVP voting each year and took home the award for his incredible 2013 campaign.
There really was a moment in time where McCutchen was in the conversation for being the best player in all of baseball. Unfortunately in the back-half of his career he stopped putting up the numbers needed to make it to Cooperstown.
Evan Longoria
A former Rookie of the Year, who went on to win a Silver Slugger and three Gold Glove awards. Evan Longoria has put together an exceptional career. He is just shy of both 2,000 career hits and 350 career home runs. If he plays another year, maybe he can cross over both of those milestones.
Still, this is a player that was once on a Hall of Fame track, who just could not stay on the field enough to put together the numbers to get there.
Nelson Cruz
How much longer is Nelson Cruz going to try to stick around for?
Looking at his last two seasons, where he has posted sub .700 OPS campaigns, it is fair to say he is probably hanging on too long. With 464 career home runs to his name, Cruz was close to getting over the hump to join the 500-home run club, but it is looking like he will finish just short.