Analysis
Top 10 Rotations in Baseball Heading Into 2023
Nowadays, featuring one ace is not enough, teams need at least two if they want to contend. Here are the top 10 rotations in baseball for 2023.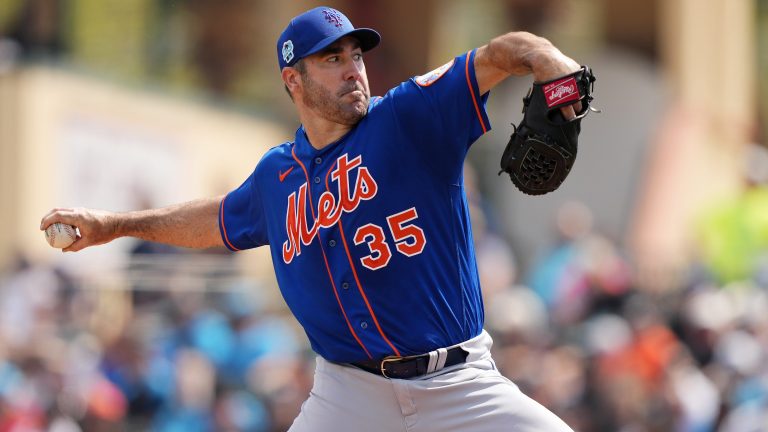 There is nothing more important to team success in Major League Baseball than good starting pitching. No matter how many great relievers you have, or how many runs your lineup puts up, starting pitching is the greatest separator that will make or break a season.
Right now, we are flush with incredible starting rotations around baseball. There's about a dozen teams that look at the top three in their rotation and love all three guys. Some teams are deeper than others and that's where you are able to create that margin of separation between the best of the best. Still, there can be much debate found in the following list, as we aim to rank the top 10 starting rotations in baseball right now.
Amongst the top 10, you will notice some players annotated with a * next to their name. These are pitchers who could play roles this year, but are expected to start the campaign on the IL. When ranking these teams, I not only factored in top-end talent, but also overall depth.
Honorable Mentions
San Diego Padres: It doesn't get much better than Yu Darvish, Joe Musgrove and Blake Snell. That trio took the San Diego Padres to the NLCS last year, but behind them, the Padres did not get much from the back-end of their rotation. The faces have changed, but the problem may remain the same this year.
Instead of Mike Clevinger and Sean Manaea, the Padres will be turning to converted relievers Nick Martinez and Seth Lugo, as well as recently signed starter Michael Wacha. If two of Martinez, Lugo and Wacha impress, the Padres will have a top rotation in baseball. Until we know that for sure though, they stay on the outside looking in.
Texas Rangers: The Texas Rangers could have the best rotation in baseball this year. If Jacob deGrom, Nathan Eovaldi and Andrew Heaney all stay healthy, Texas could have a dynamic three-headed monster atop the rotation. DeGrom is the most talented pitcher in the game, Eovaldi was an All-Star in 2021 and Heaney struck out 35.5% of the batters he faced last year.
The Rangers added all three to their rotation via free agency, hoping to bolster a staff that finished 25th in ERA last year at 4.63. Only problem is those three free agents combined to make 45 starts last year due to injury. If they are healthy, they can combine with Jon Gray, Martin Perez and Jake Odorizzi to form a deep and talented staff. But that "if" kept them from our top 10.
Miami Marlins: Based purely on talent, the Marlins have a top 10 rotation in baseball. Sandy Alcantara is arguably the best pitcher in the game right now, giving Miami an ace any team could bank on. Behind him Johnny Cueto brings some stability and a veteran presence to a staff full of up-and-comers who could rise to the occasion in a big way in 2023.
Jesus Luzardo is primed for a true breakout, after pitching to a 3.32 ERA across 18 starts and 100 1/3 innings pitched in 2022. Edward Cabrera was extremely effective in 14 starts last season as well, pitching to a 3.01 ERA. In 2021, Trevor Rogers was the runner-up to Jonathan India for NL Rookie of the Year. While he was dreadful last season (5.47 ERA), there is a chance for positive regression.
With talent on the way in the farm as well (Eury Perez), the Marlins could field a great pitching staff for a long time. Their youth kept them off this list, but this might be the last time we can snub them for awhile.
10. Tampa Bay Rays
Shane McClanahan, Drew Rasmussen, Zach Eflin, Jeffrey Springs, Yonny Chirinos, Tyler Glasnow*
Between Shane McClanahan, Drew Rasmussen and Jeffrey Springs, the Tampa Bay Rays have three starters returning to their rotation who pitched to a sub 3.00 ERA last season across more than 100 innings pitched. Zach Eflin joins the Rays via free agency, on the richest contract in franchise history.
McClanahan is the best of the bunch, as he enters 2023 as a true Cy Young candidate. Tyler Glasnow is likely to begin the year in a familiar place, on the IL, with an oblique strain. If he can return to the mound healthy this year, the Rays will have a potent rotation.
In Glasnow's absence, Yonny Chirinos is the front-runner to make the rotation, but behind him there is plenty of stater depth coming in the Rays farm, headlined by our No. 16 prospect Taj Bradley.
9. Los Angeles Dodgers
Julio Urias, Clayton Kershaw, Tony Gonsolin, Dustin May, Noah Syndergaard, Walker Buehler*
The Los Angeles Dodgers are probably going to finish the year with a top-five ERA when it comes to their starting rotation. They led the league in team ERA last year at 2.75, ahead of the Houston Astros, who pitched to a 2.95 ERA. These were the only two rotations in baseball that pitched to sub 3.00 ERA in 2022.
Tyler Anderson moved to Anaheim as a free agent this offseason, cashing in on the career year he posted with the Dodgers where he had a 2.58 ERA in 170 2/3 innings pitched. Losing Anderson, as well as Andrew Heaney, in free agency was a blow, but nowhere near the one they sustained when Walker Buehler went down with Tommy John last August. If Buehler can return ahead of the postseason, the Dodgers will be scary. What's left behind is plenty good though.
Julio Urias is a bona fide ace at this stage in his career and Clayton Kershaw always marvels whenever on the hill. Tony Gonsolin led the league in ERA for a long period of time last season, finishing the year with a 2.14 ERA across 130 1/3 innings pitched.
With that trio, as well as the potential of Dustin May, the Dodgers rotation still looks strong. Throw in their latest reclamation project of Noah Syndergaard and you have a rotation that has both a high floor and a high ceiling.
8. Toronto Blue Jays
Alek Manoah, Kevin Gausman, Chris Bassitt, Jose Berrios, Yusui Kikuchi, Hyun-Jin Ryu*
The Toronto Blue Jays have one of the best one-two punches in the game with Alek Manoah and Kevin Gausman atop the rotation. This offseason, they signed Chris Bassitt to a three-year, $63 million contract to be the No. 3, hoping to solidify the middle of their rotation.
Bassitt has been one of the most dependable starters in baseball over the last few years and is coming off a season where he made 30 starts and pitched to a 3.42 ERA over 181 2/3 innings pitched. There is no doubt that Bassitt is an upgrade over free agent departure Ross Stripling.
Behind Bassitt, there is big questions though. If Jose Berrios rediscovers himself, the Blue Jays could have a great 1-through-4 in their rotation, but there's not guarantee that he will. Yusui Kikuchi is looking like the favorite to win the fifth-starter job out of camp, but he too is coming off a down-year after moving north of the border to Toronto.
Late in the season we could see the return of Hyun-jin Ryu off of Tommy John surgery, although there is a chance he misses the entirety of the season.
The one pitcher that could really change everything for the Blue Jays however is top prospect Ricky Tiedemann. The 20-year-old southpaw is coming off a fantastic year, where he pitched to a 2.17 ERA across three stops in the minors, finishing the season in Double-A. There's every chance he is up midseason, where he could quickly become the No. 4 behind Manoah, Gausman and Bassitt.
7. Philadelphia Phillies
Aaron Nola, Zack Wheeler, Ranger Suarez, Taijuan Walker, Bailey Falter, Andrew Painter*
Aaron Nola, Zack Wheeler and Ranger Suarez took the Phillies to the World Series last year. They have two Cy Young candidates in Nola and Wheeler, who could each pitch over 200 innings this year.
Ranger Suarez established himself as a great No. 3 last season, pitching to a 3.65 ERA over 155 1/3 innings pitched. The left-hander got even better come October, pitching to an unbelievable 1.23 ERA across 14 2/3 innings pitched, and did not allow a single run in the World Series.
Behind the top three of Nola, Wheeler and Suarez, the questions arise. Taijuan Walker will surely help solidify the rotation as the No. 4 starter and left-hander Bailey Falter is expected to close out the rotation out of camp. What will really take this team to the next level though is if Andrew Painter, arguably the top pitching prospect in baseball, can make an impact at some point.
An elbow injury is of great concern with Painter right now, but assuming he can make a healthy return to the mound early enough this season, there is a good chance he can crack the MLB rotation.
6. Milwaukee Brewers
Corbin Burnes, Brandon Woodruff, Freddy Peralta, Eric Lauer, Wade Miley, Aaron Ashby
Corbin Burnes and Brandon Woodruff are a great one-two punch atop this rotation, making the Brewers a scary team to face come October, especially in a short series. Whether they get to the playoffs or not will really fall on the rest of the arms who round out a rotation behind them though.
Freddy Peralta is plenty capable of being a great No. 3 for Milwaukee, as he is just a year removed from pitching to 2.81 ERA across 144 1/3 innings pitched in 2021. Last year, a lat injury cut Peralta's season in half, keeping him out of the rotation for all of June and July. When on the mound, Peralta still pitched to a solid 3.58 ERA, but if completely healthy the 26-year-old could be even better.
Behind Burnes, Woodruff and Peralta, the Brewers have two quality back-end options in Eric Lauer and free agent signing, Wade Miley. Lauer has pitched to a 3.47 ERA across 277 1/3 innings pitched over the last two seasons. Miley is coming off an injury-plagued campaign, but is a quality veteran starter. With Aaron Ashby and Adrian Houser as well, the Brewers have as much depth as anyone.
5. New York Yankees
Gerrit Cole, Carlos Rodon, Nestor Cortes, Luis Severino, Domingo German, Frankie Montas*
The $324 million man still resides atop this rotation, as Gerrit Cole enters year four in pinstripes. The difference this year is that the Yankees got him a legit No. 2. With six years left on Cole's deal, the Yankees signed Carlos Rodon to a six-year, $162 million contract. This aligns the two atop this rotation for the foreseeable future, as the Yankees look to win it all now with Aaron Judge.
Behind their aces, the Yankees have Nestor Cortes coming off a season where he pitched to a remarkable 2.44 ERA. Luis Severino is excellent when healthy and is returning off his healthiest season in since 2018. Last year, Severino made 19 starts and pitched just over 100 innings.
Frankie Montas is out after getting shoulder surgery in February. Otherwise he would be rounding out this rotation. Now Domingo German is set to get the first crack at making starts come Opening Day. With the lack of depth at the back-end, and the injury history of both Severino and Rodon, the Yankees fell down a few pegs compared to our top two rotations.
If they get a healthy season from their top four of Cole, Rodon, Cortes and Severino, the Yankees could easily end up with the best rotation in baseball come season's end.
4. Houston Astros
Framber Valdez, Christian Javier, Luis Garcia, Jose Urquidy, Hunter Brown, Lance McCullers*
How many teams can lose a Cy Young who pitched to a 1.75 ERA and still have one of the best rotations in the game?
The Houston Astros will be without Justin Verlander this season, but return the rest of their World Series champion rotation. And while Verlander was incredible in the regular season, it was Framber Valdez and Christian Javier who really shined in the biggest stage.
Valdez won each of his last three postseason starts, one in the ALCS and two in the World Series, allowing just two runs across 19 1/3 innings pitched. Javier did not allow a run in either of his playoff starts and pitched the first six innings of a combined no-hitter in the World Series. He allowed just one hit in his start prior in the ALCS.
Luis Garcia is a solid No. 3 for the Astros, coming off his second-consecutive season of over 150 innings pitched with a sub 4.00 ERA. Beyond that, the Astros need Hunter Brown to step up in a big way this year. The rookie was excellent in his cameo in 2022 (0.89 ERA in 20 1/3 IP) and had plenty of success across 106 innings pitched in Triple-A (2.55 ERA).
Brown needs to ascend as a great No. 3 or No. 4, because it is hard to count on much from Jose Urquidy at this point. While he has always posted fine numbers, the expected metrics are screaming for some regression on Urquidy. Unfortunately the Astros will once again be without Lance McCullers to start the season, as he is dealing with some elbow soreness in camp.
The hope would be that the top three of Framber, Javier and Garcia rolls and Brown establishes himself before McCullers is ready to return off the IL to take Urquidy's rotation spot down the line.
3. Seattle Mariners
Luis Castillo, Logan Gilbert, George Kirby, Robbie Ray, Marco Gonzales, Chris Flexen
A lot of you reading this may be surprised to see the Seattle Mariners in the top three. As a franchise, the Mariners have rarely been known for their pitching, but that is started to change thanks to a few big additions and some breakouts from young arms last season.
When then-reigning Cy Young Robbie Rays signed a five-year, $115 million contract with Seattle last offseason, he became the ace of this Mariners staff. Now an argument can be made that he is the No. 4. While Ray did have a bit of a letdown season compared to his stellar 2021, this is more due to the guys around him than anything else.
Luis Castillo is the new ace of this staff, after being acquired at the deadline last season. Castillo has more of a consistent track record than Ray and had a better season in 2022. In 11 starts with the Mariners down the stretch, Castillo piched to a 3.17 ERA with 77 strikeouts in 65 1/3 innings pitched. He also started the first playoff game for the Mariners in over 20 years and gave them seven scoreless to beat the Toronto Blue Jays.
Behind Castillo and Ray, the Mariners have two 25-year-old studs that have a chance to be great starting pitchers for a long time. Logan Gilbert was great in his sophomore campaign in 2022, pitching to a tidy 3.20 ERA across 32 starts and 185 2/3 innings pitched. George Kirby has the chance to be even better though.
Compare Kirby's actual ERA (3.39) to his expected ERA (3.31) or his expected FIP (3.33) and it is hard to poke holes in what he did last season. As a rookie, Kirby pounded the strike zone better than most veterans, walking just 22 over 130 innings pitched (1.52 BB/9). His strikeout-to-walk ratio of 6.05 was the seventh-best mark among pitchers with at least 100 innings pitched.
2. Atlanta Braves
Max Fried, Spencer Strider, Kyle Wright, Charlie Morton, Ian Anderson, Mike Soroka*
Max Fried might just be the best left-handed starter in the game today and he's not even the nastiest pitcher on this staff.
Among starting pitchers, only Jacob deGrom was better at striking out batters than Spencer Strider last season. The rookie phenom set down 202 in just 130 2/3 innings pitched, breaking an old Randy Johnson record for the fastest ever to reach 200 Ks. His 38.1% strikeout rate trailed only deGrom.
In our top 30 starting pitchers, Fried and Strider both sit just outside the top-10, ranked 11th and 12th respectively. Kyle Wright might not be a top 30 starting pitcher in baseball, but he did lead the majors with 21 wins last season. Charlie Morton is as dependable as they come, with his ageless curveball and Ian Anderson has a chance to bounce back.
Mike Soroka was supposed to make his long-awaited return to the mound this season, and is expected to finally take the mound in spring training soon. The problem is that he is dealing with a hamstring injury, which is extremely concerning for a guy with his track record.
With Soroka, Anderson, Bryce Elder and plenty of prospects on the way, the Braves continue to have great depth in their rotation. Combine that with the two names they have atop and you have a clear-cut top-five staff in the game.
1. New York Mets
Justin Verlander, Max Scherzer, Kodai Senga, Carlos Carrasco, David Peterson, Jose Quintana*
Finally we have reached the mountaintop, with the New York Mets featuring the best starting rotation in the game heading into 2023.
It truly is amazing what money can buy. If you are Steve Cohen, money can buy you two future first ballot Hall of Fame aces in consecutive offseasons. The going rate for such a mercenary is $43.3 million per season, which the Mets happily paid Max Scherzer last season and will pay both Scherzer and Justin Verlander this season.
Similar to Tom Brady in the NFL or LeBron James in the NBA, pitchers have become ageless, as some of the top veteran arms have proven they can miss bats now as well as they ever did before. Thanks to embracing analytics and understanding the swing paths of the modern day hitters, we saw both Verlander and Scherzer pitch to career-low ERAs last season, 1.75 and 2.29 respectively.
Behind this ace duo, the Mets have a potential phenom on their hands with the addition of Kodai Senga. Known for his patented "ghost fork", Senga has touched 98 in camp and looks to be one of the better No. 3 starters in the game this season.
With Jose Quintana going down in camp with a rib fracture, Carlos Carrasco and David Peterson stand to round out this rotation. Carrasco is not what he once way, but he still eclipsed 150 innings pitched last year and posted a respectable 3.97 ERA.
Peterson is an x-factor for this rotation, as he struck out 10.73 batter per nine last season, thanks to a slider that generated whiffs 47.9% of the time. The Mets also have both Tylor Megill and Joey Lucchesi coming off injuries, who add more starter depth if needed.