Analysis
Both Marlins and A's Win in Exchange of Former Top-10 Picks
A hitter who has struggled to find his identity and a swing-and-miss arm with massive injury concerns have new homes, and hopefully new luck.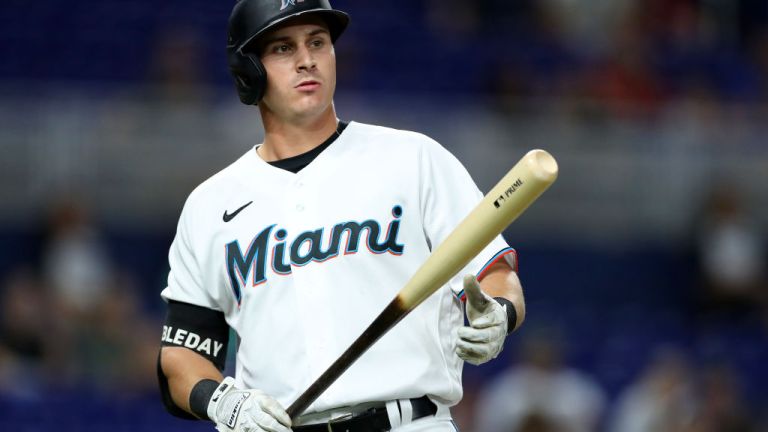 A small-market swap took the baseball community by surprise when the Miami Marlins and Oakland A's exchanged outfielder JJ Bleday for left-handed reliever A.J. Puk. Puk, who will be 28 in April, and Bleday, 25, have not necessarily blossomed into the All-Star caliber players that both teams hoped to acquire when they drafted them sixth and fourth overall, respectively.
That said, Puk had the best season of his career at the big league level in 2022, and Bleday performed well enough in the upper minors to earn himself a big league look in July, where he struggled in his first 65 games for the Marlins.
On the surface, the move may be a bit of a head-scratcher for some. The Marlins' pursuit of offense, specifically for center field help, has been well documented. They ultimately decided to move All-Star second baseman Jazz Chisholm to center after their acquisition of infielder Luis Arraez from the Twins.
So, why would a team with a perceived pitching surplus move their former first round outfielder for another pitcher? It very well could be a combination of two things. The first being that Puk instantly becomes the Marlins highest upside reliever with four years of control (more on that later). After sending lefty Richard Bleier to the Red Sox for Matt Barnes, Tanner Scott became the only left-handed reliever in the Marlins bullpen. The second reason is that JJ Bleday provided enough red flags for the Marlins to legitimately question whether he could blossom into an above average regular at the Major League level.
What Are The A's Getting With Bleday?
Viewed as a potential above-average hit tool and plus raw power bat after a breakout junior season in the power department at Vanderbilt, Bleday just never quite flashed the same level of impact professionally. His exit velocities were closer to average than plus, and had only 12 homers in 110 Double-A games in the 2021 season.
Bleday made some swing and approach tweaks in a spectacular Arizona Fall League stint and parlayed that into a power breakout in Triple-A, launching 20 homers in 85 games before getting the call to the big leagues.
Bleday's uptick in game power didn't come from a jump in exit velocity, bur rather an increased emphasis on lifting the ball pull-side. As a result, Bleday's improved game power came at a price. His strikeout rate climbed from 21.6% in Double-A to 27% in Triple-A. His zone contact rate also took a four percent hit, his swinging strike rate jumped by more than a full percent and his foul ball rate jumped by more than five percent. His 90th percentile exit velocity did not improve at all either.
To hedge the swing-and-miss issues that comes with this type of approach, Bleday drastically improved his pitch recognition skills. He posted one of the lowest chase rates in the Marlins organization and saw his walk rate jump to 16% in Triple-A, as well as a solid 12.6% in his 65 MLB games. The 25-year-old essentially became a mistake hitter. If a pitcher executed his pitches and locations, Bleday was relatively easy to set down. While he didn't do pitchers any favors in regards to expanding the zone, he often fouled off good pitches to hit in the zone.
It's extremely difficult to be a successful version of the three true outcome mistake hitter profile with a max exit velocity of 108 mph and 90th percentile exit velocity below 102 mph, which may have been enough for the Marlins to feel as though it was worth moving off of him.
Still, Bleday's command of the strike zone and above average overall tools seems to be enough for the rebuilding A's to take a chance on. Bleday could theoretically add some more strength to his 6-foot-3 frame and is an above average runner with a plus arm. He profiles as an above-average defender in either corner with the ability to play center field when needed.
Before his power breakout at Vanderbilt, Bleday was viewed as a plus hitter who simply had a knack for driving the baseball. The former No. 4 pick has worked to live up to the middle-of-the-order masher expectations, but with consistent at-bats in Oakland and nobody really in his way, maybe he can finally find his identity as a hitter.
Even if Bleday is a platoon option in the outfield for the A's, that's a nice pickup for a reliever they ultimately have little use for in Puk. Again, more on Puk to come, but his extensive injury history and likelihood of remaining in the bullpen made the opportunity to snag a 25-year-old outfielder with first round pedigree and a degree of upper minors success worth it. Between Puk's Triple-A struggles in 2021 and laundry list of ailments, the A's could very well feel like they sold high on the near 28-year-old.
Another IL stint or a step back in performance this season and the A's could very well have not been able to find many takers for the Puk. He was expected to compete for a potential rotation spot, but the A's acquisitions of intriguing young left-handed starters Kyle Muller and Ken Waldichuk on top of right-handers Drew Rucinski and Shintaro Fujinami had him on the outside looking in.
What Are the Marlins Getting in Puk?
Instead of signing a 32-year-old southpaw reliever like Andrew Chafin–who just agreed to a deal with the Diamondbacks for one year, $6.25 million–the Marlins elected to buy Puk's upswing in 2022 where he pitched to a 3.12 ERA while striking out 27% of hitters over a career-high 66 1/3 innings. He also doesn't hit arbitration for another season.
The Marlins bullpen sorely needed a reliever with high-leverage stuff, and Puk brings just that. At a towering 6-foot-7, Puk's 97 mph fastball gets on hitters quickly. While his upper-80s slider may not be the most devastating pitch shape wise, Puk commands it even better than his fastball (71% strike rate) and it is difficult to pick up from his high three-quarters release, especially for left-handed hitters. Lefties hit just .153/.250/.259 against Puk last season.
Last season, Puk would have led all qualified Marlins relievers in innings pitched and K-BB rate. There's hope that the Marlins could help unlock a bit more from Puk with the help of one of the most well-regarded pitching coaches in baseball, Mel Stottlemyre Jr. Former top pitching prospect Jesus Luzardo had things click for him following his trade from Oakland to Miami under the tutelage of Stottlemyre Jr. last season.
The obvious massive risk here for the Marlins is the availability of Puk. There are few pitchers in Major League Baseball with a riskier injury profile than Puk. He underwent Tommy John surgery in 2017 and has since hit the IL several times, including shoulder surgery after dealing with both rotator cuff and labrum issues, as well as biceps and back troubles.
Last year's 66 1/3 inning workload is a great sign, but could you fault the A's for thinking it's more likely that Puk is more likely to spend his next four years of team control on the IL than in high leverage relief spots? And even then, what does a high-risk reliever do for a team entrenched in a rebuild like the A's?
For the Marlins, it was worth the roll of the dice because of how far down Bleday was on the pecking order, even for a team with a lack of proven offensive talent. With Chisholm's move to the outfield, Bleday would have had to leapfrog young outfielders Jesus Sanchez and Bryan De La Cruz for at-bats. The Marlins also acquired switch-hitting defensive specialist Jake Magnum from the Mets during the offseason ,who could have easily been ahead of Bleday as well after hitting .306/.363/.441 between Double-A and Triple-A last season.
Similar to the point on how injuries in 2023 could have essentially wiped out what was left of Puk's trade value, a lack of improvement from Bleday this year could very well have made it difficult to find takers for him.
While not a blockbuster, this trade is a win for all parties involved; from the Marlins and A's to Bleday and Puk. The Marlins hope to improve their bullpen for 2023 and beyond, while the A's acquire a 25-year-old former first round pick who still has some hope of being a decent big league contributor. With few outfield prospects in the upper minors and major question marks like Cristian Pache and Ryan Noda set to hold active roster spots, Bleday is another much needed iron in the fire.
It's a win for Bleday as he will almost surely have a more direct path to consistent at-bats and could very well win the everyday left field job in Oakland. For Puk, he goes to an organization that has done well to maximize pitching talent with the most recent example of success being his former For the scope of both player's careers, this trade seems to be a positive.