Analysis
Why the New York Yankees Should Extend Aaron Judge Now
Aaron Judge is set to become a free agent after the 2022 season. Here's what an extension might look like.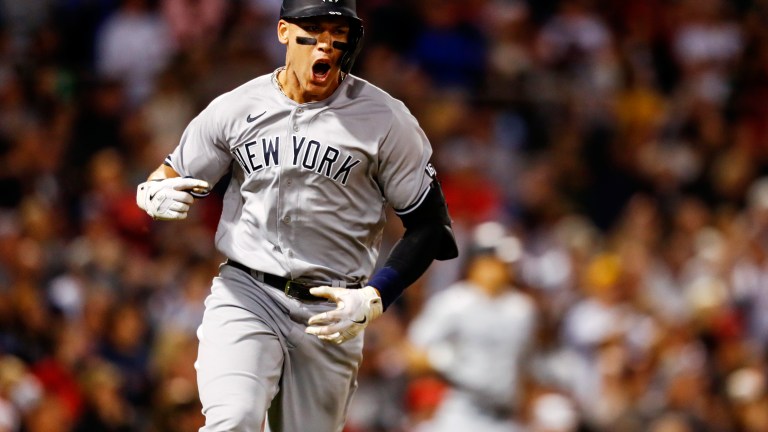 "Hello?"
"Hi Mr. Cashman, it's Peter Appel. Thanks for taking my call. You know I'd never steer you the wrong way."
"Yes, you're right, Peter. You're always right. What can I do for you?"
"Brian, it's time to extend Aaron Judge. He's a free agent after next season, and if anyone on this team deserves the money, it's Judge."
"What should I offer him?"
I can't confirm nor deny if this conversation occurred, but I can guarantee that Cashman has had at least some form of this conversation with owner Hal Steinbrenner. Their discussions probably have more nuance, but I'd like to get to the point.
Aaron Judge is a Yankee. A true Yankee. He was drafted by this team. If the Astros weren't banging trash cans, he might have an MVP and a World Series ring. We spoke to Nestor Cortes on the Just Baseball Show, praising Judge's leadership, claiming that the "locker room listens when Aaron Judge speaks". Aaron Judge is the captain and should be a Yankee for life.
Along with the intangibles, Judge is one of the best players in baseball. His Baseball Savant Page bleeds red year over year, and the health concerns are wildly overrated. His average 162-game season is hitting .274/.386/.554, with 45 home runs and 102 RBI, while also providing well above average defense and speed in the outfield.
Dating back to his Rookie of the Year campaign in 2017, Judge ranks third in all of baseball in wRC+ (154), T-3rd in wOBA (.399), 4th in fWAR (24.5), 5th in HR (154), T-11th in BB% (14.9%). He's also consistently one of the league leaders in Hard Hit%, Barrel%, average exit velocity, and max exit velocity.
He's Top 5 in basically everything!
What about defense? At 6'7, 280 pounds, no way he's actually above average in right field… right?
Ohhhhh boy, does the man play defense. Since 2017, he's fourth in OAA (18) among right fielders, and he's recorded 59 DRS.
Both are elite.
When he is on the field, Aaron Judge is one of the ten best players in baseball. There are some concerns about whether to sign a behemoth of a man to a long-term deal that would cover his age 30+ seasons. But there is a misconception when it comes to Judge's injury history.
While he has been hurt many times in the past, if we really dive into past injuries, nothing is chronic to the point where you would have to be concerned about it moving forward.
First, in 2018 there was a chip fracture in his wrist from getting hit by a pitch. It was unfortunate for Judge, but a very common injury when a batter gets hit in on their hands.
In 2019, there was an oblique strain, which can be concerning for a player who puts as much torque in his swing as Judge, but he has managed to avoid further oblique injuries since then. The 2020 season was one of his most difficult, as he had a calf strain, a broken rib and a collapsed lung.
The calf injury is another to keep tabs on, although a healthy 2021 season should ease any concerns. The only games Judge missed last season were due to getting COVID.
Among right fielders, Aaron Judge ranks 17th in games played. If we don't include the shortened 2020 season and take out that 2016 season, he's averaged 129 games per year. That's not ideal, but it's much better than people assume. He's played more games than George Springer since 2017, and Springer signed a six-year, $150M extension at 30 years old.
I think we can use the Springer extension as a baseline. Springer signed his extension with Toronto at the same age that Judge will reach free agency. The time is now to extend Judge, and a seven-year deal should do the job.
Aaron Judge is an objectively better player than Springer, so the AAV must be higher than the $25M that Springer makes each year.
Mookie Betts signed a 12-year deal worth $365M. Bryce Harper inked a 13-year extension worth about $330M. This is where Judge's talent lies, but he won't sniff a 10+ year deal due to his age, so we should expect a higher AAV.
Aaron Judge deserves $35M per year. Max Scherzer will make over $43 million per year with the Mets for the next three seasons. It's a different scenario, but it shows where the game is currently and what the best players in baseball are making.
"Brian, I would offer Aaron Judge a seven-year deal worth $225M. Not quite $35M a year, but more than enough to keep him happy".
"We will see, Peter."
We definitely will see Brian Cashman; I hope you make the right decision.