Analysis
2022 All-Stars Who Are Struggling to Regain Form in 2023
Some of these names are stars going through unexpected slumps, while others just aren't living up to career-best performances from last year.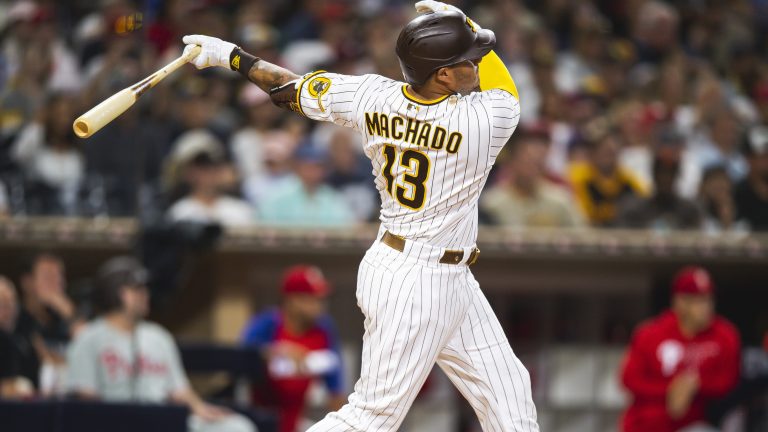 When you watch the MLB All-Star Game, there are bound to be some familiar faces you expect to see every year. But there's also a fair share of turnover every season compared to that of other sports due to the natural variability of baseball. Players have breakout seasons or they perform to their norm but start hot the first few months, which earns them an All-Star nod.
If you look at the rosters from just last season, there are probably countless players that you don't even remember being All-Stars. The change year-to-year in baseball is part of what makes this game we love so special.
With All-Star voting underway, it feels like an appropriate time to look back at last year and specifically players that are playing very differently from just a year ago. Some of these players are household names that are in the midst of their worst career season, and others are players that just may not make the game again after an unexpectedly great first half last season.
For the sake of the article, I'm refraining from including any players who were All-Stars by the necessity of their team needing at least one player. So this will mainly be focused on players that were clearly going to All-Stars regardless of the team they played for. I'm also not including players that have been injured the majority of the year, like Jose Altuve. I'm going to go one position group at a time and briefly look at each player that has underperformed or regressed significantly so far this season after being All-Stars last year.
Catchers
Willson Contreras
Unfortunately, this year has been an absolute rollercoaster for the Cardinals' new catcher. Contreras signed a five-year deal with St. Louis, but the disconnect between himself and the team regarding his defensive abilities has taken up the majority of the air time around him. His defense has been the talked-about issue, but his OPS is at just .645 after he posted an .815 OPS last year and was consistently in at least the high .700s throughout his career with the Cubs.
He's still hitting the ball hard, with a hard-hit rate of 46% and consistently high exit velocities, but he isn't impacting the ball at all and has been much less productive than last season. This is the first season of his career he's had a below-average wRC+, as it's at just 82 this year. He'll need to find a groove in St. Louis soon for this contract not to be a bust.
Jose Trevino
While not known for his offense, Trevino put together his best offensive season in 2022 and was a productive bat, especially in the first half of the season. While his framing and defense behind the dish have remained solid, his glove has regressed marginally and his offensive numbers have taken a major turn for the worse. He's down to a .566 OPS this season and has been nowhere near the kind of hitter he was last year. Trevino was fairly obviously one of those "one-time All-Star" type players, and that has likely been confirmed this season.
First Base
Aside from C.J. Cron, who is once again injured this year, there hasn't been any significant regression, as the likes of Freddie Freeman, Paul Goldschmidt, and others have been great once again this year.
Second Base
Santiago Espinal
This is the type of player that non-Canadians likely won't even remember being an All-Star just last season. Espinal was one of the many Jays that made the game during a breakout season for himself but has regressed a lot this year. We saw Espinal come back to earth during the second half of last year, and that has certainly continued. After producing a 99 wRC+ last year (it was a lot higher in the first half, to be fair), Espinal has a terrible mark of just 59 this season and is nowhere near an All-Star or even a positive player, as evidenced by his -0.2 fWAR on the year.
Andrés Giménez
I'll leave this breakdown to Ryan Finkelstein, who wrote a full breakdown of Giménez recently, but it hasn't been pretty for him after being arguably the best second baseman in baseball in 2022. He's seen his numbers drop a lot in every way possible this season.
Jake Cronenworth
I didn't even remember Cronenworth being an All-Star last year, considering his pretty average .722 OPS, but he did account for 4.1 fWAR last year while being an above-average hitter and excellent defender. This season, he has just 0.5 fWAR and his wRC+ is below 100 for the first time in his career. It's worth noting that his wRC+ and most offensive numbers have dropped every year of his career so far.
Jeff McNeil
After being one of the top-tier contact hitters in baseball last season, McNeil signed a five-year extension with the Mets. This year, his batting average has dropped over 50 points and his OPS is just above .700 after being over .800 last year. He's one of many Mets players that have regressed this season, as he's looked much more like the 2021 version of himself than the star player from 2022.
Shortstop
Trea Turner
Interestingly, the reserve shortstops from last year all have a realistic shot at returning to the game this year, but the starters are in the midst of career-worst seasons. Trea Turner had sky-high expectations after signing a huge deal with the Phillies and dominating in the World Baseball Classic, but it hasn't been pretty this season. Turner has been a 6-WAR player in each of the past two years, with at least a 128 wRC+ in both seasons. He's plain and simple been one of the league's best.
This year, he's been nothing like that, with an 81 wRC+, an OPS under .700, and only 0.9 fWAR. I don't believe this will continue all year, but he's certainly nowhere near the best shortstop in the league like he was last season.
Tim Anderson
He may not get recognized as such, but Tim Anderson was one of the best shortstops in terms of production and impact from 2019-2022. He was off to an unbelievable start last year that led to him being the starter at shortstop for the American League before injuries caused his season to take a turn for the worse. This season, while he may be playing through some injuries, has not been good. He's got just a 70 wRC+ with an OPS right around .600 this year, and his power is nonexistent.
Third Base
Manny Machado
While many of the league's best third basemen have struggled to an extent, none have dropped off like Manny Machado, who finished top-3 in NL MVP voting last season. He's been a perennial All-Star for years but definitely won't be one this season. He posted 7.4 fWAR in a ridiculous season last year that saw him finish with career-best marks across the board. This season, he's hitting just .244 with an OPS under .700 and less than 1 fWAR to this point. It's been ugly.
Outfield
Julio Rodríguez
Here's another player with their own breakdown, as Lyle Goldstein covered Julio's slow start. Simply put, it hasn't been pretty for Rodríguez following his Rookie of the Year season last year which saw him take the league by storm with his five-tool ability. He's already starting to shake off his hard start, but his wRC+ is down 36 points from last year currently, and he's definitely not a surefire All-Star by any means this season like he was last year.
George Springer
The tide has turned in the past month or so, as Springer has looked much more like himself, but his season numbers this year are well below that of last season. He's hit the ball at a much weaker rate this season with a hard-hit rate 5% lower than last year. His OPS is also down to .729 after being above .800 for the heavy majority of his career. His May was much more like his career average, but he's likely not in the conversation to be an All-Star this year.
Byron Buxton
The good news is that Byron Buxton is healthy. He's been on the field for 50 games this year while playing them all at DH in an effort to keep him healthy. But he hasn't been the star that everyone expected him to be when able to remain on the field. He's got 10 home runs but just a .770 OPS with only a 40.2% hard-hit rate, which is 10% lower than his All-Star 2022 season. Buxton hasn't been bad, but he's been nowhere near an All-Star hitter despite remaining mostly healthy.
Starling Marte
A few Mets players are finding their way onto this list, as most of their team has regressed this season compared to their 101-win year in 2022. Marte has maintained an OPS over .800 the past four seasons but is at just .649 so far in 2023. His wRC+ is below average for the first time since an injury-riddled 2017 season, and his defense has regressed as well. Marte is not only not an All-Star, but he just hasn't been good this season.
Kyle Schwarber
If you look at his 17 home runs and extremely high walk rate, you may think Schwarber has been just as good as last season, but he has not. He's hitting just .172 with a much lower slugging percentage this year and has seemingly been a true three-outcome hitter for many stretches this season. Schwarber and the Phillies have struggled to find consistency this year and will need a strong second half to try to defend their National League crown.
Starting Pitchers
Justin Verlander
The reigning AL Cy Young signed with the Mets in the offseason for a ridiculous amount of money, but it hasn't been a smooth first few months for the aging legend. In all fairness, he was hurt for a portion of the season which means he hasn't made a ton of starts, but his 4.85 ERA is uncharacteristic and well below what we expect from the future Hall of Famer. Verlander's decreased strikeout rate and increased walk rate is definitely a major factor. You can read more about his struggles in this piece by Matthew Marasco.
Alek Manoah
Oof, this one is not fun. Manoah has had possibly the greatest drop-off in the league this year. Tyson Shushkewich wrote a full piece on his demotion and struggles that details what he's dealing with right now. But considering he's not even pitching at the Major League level, he's got the worst case of regression among all the players in this article.
Nestor Cortés Jr.
Nasty Nestor recently hit the shelf with an injury, but it hasn't been pretty for the Yankees' starter that finished 2022 with a 2.44 ERA and an insane 0.92 WHIP. His ERA is currently at 5.16 due to some really rough outings and definitely some bad luck. His xERA is a respectable 3.72, which shows he should improve, but he's not generating nearly as much swing-and-miss as he did last year. He's not an All-Star, but I do think he'll bounce back after his recovery.
Tyler Anderson
The Angels have been able to surround their two superstars with the talent needed to compete, but not every addition has gone according to plan. Tyler Anderson was signed after a huge year with the Dodgers but has regressed a lot this season. He was a rightful All-Star last year with a 2.57 ERA and 4 fWAR across 30 games. Since switching to another Los Angeles team, Anderson has an ERA of 5.80 and a FIP of 5.04 while seeing his walk rate spike up. He's been one of the worst starters in the American League after a huge year last season.
Sandy Alcantara
We already discussed one Cy Young, and here's the other. Sandy hasn't been the same pitcher he was last season. He was widely considered one of the best pitchers in baseball coming into the year but has failed to maintain that level of performance. He dominated in every way last season while accumulating 228.2 innings pitched. This year, his ERA has risen to 4.75 and he's walking way more hitters than he did last season. He's not in All-Star form at all, but I have a feeling he'll get back on track as he's already begun to do so.
Joe Musgrove
Here's another small sample size due to injury, but the point stands that Musgrove has not been as good this season. He was one of the league's best pitchers early in 2022 but hasn't quite been able to find his groove this year. However, his xERA of 3.10 and his ability to limit hard contact show he should get back to form soon. Musgrove hasn't really been all that bad, but it feels worse considering how good he was at many times last season.
Relief Pitchers
Jorge López
Despite an excellent April, López has been demolished as of late and is not going to be an All-Star once again this year. He was one of the best relief arms in the first half last season, which earned him an All-Star nod, but he has not looked great this year. He's getting hit much harder than he did last season, and his expected metrics are all even worse than his actual numbers to this point. He may quickly become a low-leverage arm in Minnesota.