Analysis
Five Aces Who Have Lost Their Superpowers in 2023
For every story about a breakout star, there is the less glamorous tale of a star "falling back to earth."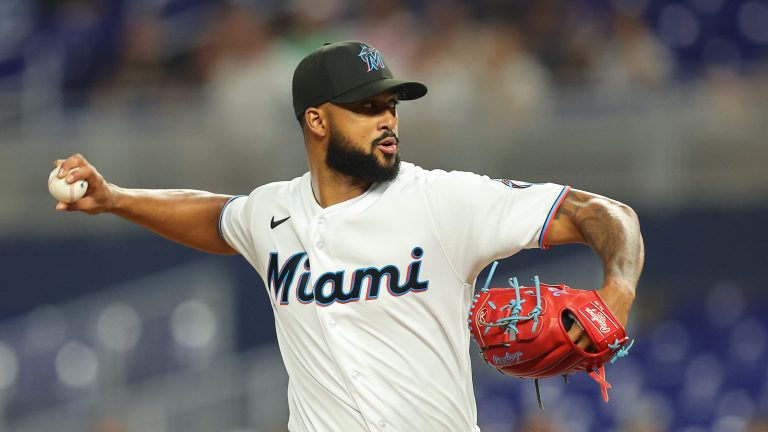 While the narrative of the unexpected superstar is one of the most compelling tropes in all of sports, it is just as important, and often teaches us more, to look at players who have had past success but are now struggling.
Now that we are in the middle of June, "slow starts" have turned into trends, and it is fair to look critically at several aces who have seen drops in production thus far this season. For this piece, I want to dig into the numbers on five struggling aces, namely Alek Manoah, Sandy Alcantara, Dylan Cease, and Aaron Nola and try to understand what has led to their downfall.
Alek Manoah
Perhaps no starting pitcher has had the dramatic drop-off of Alek Manoah. The loud-mouthed starting pitcher was always quick with his trash talk when things were going well (just as Bobby Dalbec), but the righty struggled mightily in 2023, culminating in being optioned to the Florida Complex League.
Manoah broke into the big leagues in 2021 and went 9-2 with an impressive 3.22 ERA. He maintained this momentum through his first full season in 2022, going 16-7 with a dominant 2.24 ERA. At the time, it appeared that Toronto had finally found the ace it needed to accompany its star-studded lineup.
However, a look at the youngster's underlying numbers would have suggested that his flashy surface-level statistics were due for a regression to the mean.
In 2022, Manoah's FIP was more than a point higher than his ERA, and he was stranding an impressive 82% of baserunners. In other words, Manoah was often flirting with danger and was getting lucky getting out of it. He also dropped his K/9 by two between 2021 and 2022.
In 2023, all of these numbers came to a head. Manoah has been unable to locate, walking an exorbitant 6.5 per 9 innings, his strikeout percentage has dropped to 17%, and his 6.32 ERA is still lower than his 6.52 FIP, indicating that the damage could have been worse.
Luckily for Manoah, the fix is clear. He needs to iron out his mechanics to regain his command and limit his walks, and at just 25 years old, I have no doubt Manoah will work his way back up to the big leagues.
Sandy Alcantara
Last season Sandy Alcantara posted one of the most dominant seasons by a starting pitcher since Pedro Martinez in 1999 and 2000. He was far and away the best pitcher in the National League last season, and in many ways had broken the mold of the modern pitcher.
Unlike the other pitchers on this list, Alcantara has never been a big strikeout pitcher, only averaging better than 10 K/9 once, and it was in his rookie season in 2017, when he only threw 8.1 innings. Instead, Alcantara relies on creating weak contact, which in turn has allowed him to keep his pitch counts down and work deep into games.
For a pitcher that relies on balls in play, especially ground balls, the rule changes this season banning the shift have certainly had a negative effect on Alcantara. His opponent's BABIP has jumped 22% from 2022 to 2023, indicating that what were once routine plays thanks to the shift are now turning into "seeing eye" singles.
Another concerning metric for Alcantara is that his ground ball percentage, which was 53.4% last year has fallen to 45.5% this year. In other words, hitters are now putting better swings that can cause more damage on Alcantara's pitches.
All of that being said, Sandy has been the victim of brutal luck this season, as his 5.07 ERA is significantly higher than his 3.65 FIP. This, along with the fact that his raw stuff remains elite, there's reason for optimism that he will be able to return to the dominant force he was a year ago.
Dylan Cease
It seems both unfair, yet makes perfect sense, to have a Chicago White Sox pitcher on this list, as the team has been a perennial under-performer in a division it should dominate the last several years.
Cease is a pitcher who, since debuting in 2019, has been improving every season, culminating in a dominant 2022 which saw him post a 2.20 ERA, 11.1 K/9, a 0.78 HR/9, and a very respectable 3.10 FIP. Coming off of a 2021 season, which saw him boast 12.3 K/9, it seemed like Cease was on a clear path to being one of the best pitchers in the majors on a yearly basis.
This season, though, has been a different story, and no statistic indicates that more than his hard hit percentage, which last year was in the top 7% of baseball, and this year is in the bottom 6% among qualified pitchers. Cease has dropped to 9.8 K/9, but is still walking a concerning 10.6% of hitters (he walked 10.4% last season). Still, there has been an element of bad luck this year for Cease, as his FIP of 4.27 is lower than his 4.63 ERA, and he is only stranding 66.8% of baserunners.
With Cease, I expect a bounce back over the course of the season, as his fastball velocity, fastball spin, and curveball spin are all well over league average, and he will be a force in the White Sox rotation again.
Aaron Nola
Aaron Nola, much like the Phillies as a whole, has been unable to live up to the lofty expectations following the magical World Series run a season ago. Only time will tell if he and his Phillies will be able to turn it on in time to make the playoffs and make another run at the pennant.
Nola has been a bona fide ace for most of his career, and last year was no exception. He was in the top 10% of the league in xWOBA, hard hit percentage, walk percentage, and xERA. He posted an impressive 3.25 ERA, and an incredible 2.58 FIP.
Unfortunately for Nola and the Phillies, this season has been a different story. Like Manoah, the issue for Nola is his control, as his walk percentage has nearly doubled, from 3.6% in 2022 to 6.4% in 2023. His strikeout percentage has also dropped from 29.1% to 23.6%. Most jarring is his strikeout to walk ratio has plummeted from 8.1 to 3.7.
Still, like Cease, I believe Nola can return to form this season. Most of his statcast data tracks above league average, and Nola is too good and too experienced to not get his season back on track.
Justin Verlander
Now we have preface this one by saying the sample size is still super small and he is coming off an injury, but early returns have not been great for Justin Verlander coming off a Cy Young season.
Verlander was remarkable last season, pitching to a 1.75 ERA across 175 innings pitched. This year he began the season on the IL and did not make his season debut until May 4th against the Detroit Tigers. In his seven starts since, Verlander has pitched to a 4.85 ERA.
Again we are working with a small sample size, but it is of note that his walk rate has doubled from 1.49 BB/9 to 3.00 BB/9 and his strikeouts are down by two per nine as well.
There is every reason to believe that coming off an injury at 40 years old, Verlander is just taking a bit longer to find it this season and a bounce back is evident. Looking at his teammate Max Scherzer's season, he too had struggles early that have mostly subsided.
Through his first five starts, Scherzer pitched to a 5.56 ERA with a 7.94 K/9. In his five starts since, Scherzer has pitched to a 2.35 ERA, with a 11.15 K/9. Verlander could lock it in over his next seven starts and have a typical season. We just don't know yet if that will be the case.