Analysis
Andrés Giménez Could Change How We View Pre-Arb Extensions
Coming off a breakout season, the Guardians wasted no time extending Andrés Giménez, but early returns haven't been great on that investment.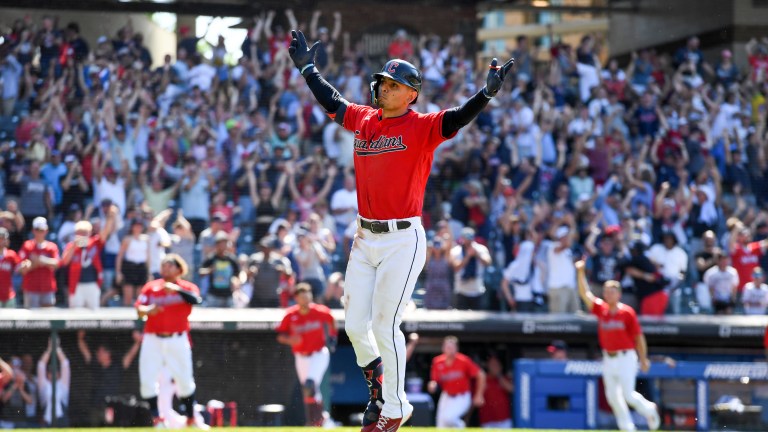 Last season, Andrés Giménez was one of the best stories in baseball. He went from struggling to find his footing in his first season with the Cleveland Guardians to being an All-Star and Gold Glover, who finished sixth in AL MVP voting.
The 24-year-old looked like a star in the making, hitting .297/.371/.466, with 17 home runs, 46 extra-base hits, 20 steals and a 140 wRC+. With a 6.1 fWAR, Giménez trailed only Jose Altuve among all second baseman in wins above replacement.
Coming off his breakout year, the Guardians thought it would be prudent to extend their budding superstar, locking him up this winter to a seven-year, $106.5 million contract before he even hit arbitration. Pre-arb extensions have become the latest trend in MLB and the Guardians picked the best young player they had to follow it.
Unfortunately, Giménez has not looked like the same player this season and has instead reverted back to the guy he was in 2021, who was optioned down to Triple-A midseason. There is still plenty of time for him to figure things out, but it is fair to wonder if there is any buyer's remorse in Cleveland considering what has unfolded thus far.
All stats were taken prior to play on June 8th
Breaking Down the Struggles in 2023
If we were to take a snapshot of Giménez's tenure in Cleveland up to this point, it is unfortunate to see that 2022 may have been the aberration after all.
Yes, Giménez posted great numbers last season, but one look at his BABIP and xBA and regression is not completely shocking. In 2022, Giménez had a batting average on balls put in play for .353. He ended up hitting .297 for the season.
Now you look at his expected batting average (xBA) for last season and you see a .257 mark, that is a lot more in line with the .240 average we have seen thus far in 2023 than the .297 average he actually posted.
Giménez is among one of the fastest players in baseball, with a sprint speed that ranks among the top 20 percent of the league and a home-to-first time among the top 15. He is always due to have a BABIP higher than his batting average because of that speed, but what we saw last year could have been an extreme.
One of the smaller players in the game, at 5'11" and 160 pounds, Giménez does not hit the ball particularly hard and finished last year among the bottom half of the league when it came to this Average Exit Velocity (29th), HardHit% (36th) and Barrel% (33rd). He was also prone to chasing, ranking among the 8th percentile of worst in the league and in Whiff% (39th)
All of these issues have reared their ugly head this season and have been even worse.
Giménez's Average Exit Velocity of 84.5 mph is the lowest mark in the league right now. As is his HardHit% of 22.1%. Not only is he struggling to make hard contact, but he is also isn't helping himself chasing among the top three worst percent of the league.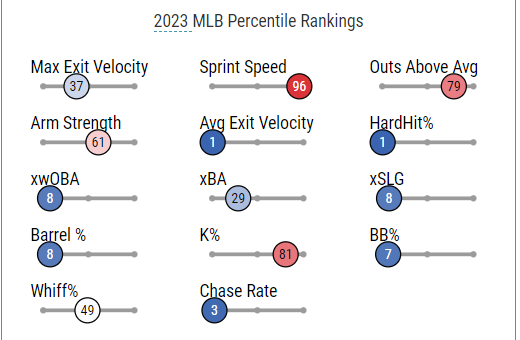 Never one to draw many walks, Giménez is walking at a career-low 4.4% clip, which is only made worse when he is not hitting for average either. Giménez brings the most value when he is able to impact the game in multiple facets, including running the bases, but as they say, "You can't steal first base."
While he is too young and too talented to simply say last year was some fluke, it is still a scary notion if you are the Guardians to see Giménez play this poorly again. There have been two extremes in Giménez's young career and finding a middle ground is easier said than done.
Through 321 career MLB games, Giménez has hit .267/.336/.413, with a 112 wRC+. If Cleveland got that player for the majority of this seven-year contract, they would probably take it, because he is also providing an exceptional glove at second base.
The problem with looking at those career norms though, is it took a remarkable 2022 campaign to buoy three otherwise underwhelming (yet abbreviated) offensive seasons.
Making the Contract of Value to the Guardians
When looking at the breakdown of Andres Giménez's contract with the Guardians, he is not set to make the big money in his deal until the end of the contact. This year, he is making just $1 million in base salary. Next year, in what would have been his first of arbitration, Giménez will make $5 million.
He then gets a $5 million boost in what would have been year two of arbitration, then another in what would have been year three. Up to that point the deal, the money may have been the same for the Guardians then if they let his contract situation play out without an extension. Where things get tricky though is in years five, six and seven of this extension.
Giménez gave up his first three years of free agency to sign this extension, with the Guardians believing it to be wise to secure their second baseman at a fixed and affordable cost.
From 2027 through 2029, Giménez will be making $23 million a season, which would be a bargain if he was the 2022 version of himself for that deal. If he is more of the version we have seen this year, it will be the opposite of a bargain.
Whenever a team signs a promising young player to a pre-arb extension we always jump to the conclusion that the player sold themselves short, knowing that they could cash in on a way bigger deal if they made it to free agency.
Here's the thing they forget to tell you though. When a team extends a player, they are assuming all the risk that the young star will continue to perform up to expectations. Any year things can go sideways on a player. If that player is under the arbitration system, it will be reflected in their pay and in their status with a franchise long-term.
When a team locks up a player to a big money deal, suddenly the onus falls on the team to try to get value out of the player, even if they aren't producing on the field. Giménez did a great job securing the bag when he did, because no matter what happens, his professional baseball career was a success. He secured a nine-figure deal of guaranteed money.
Obviously the goal for Giménez is to exceed the value of his contract and to sign another one when he hits free agency at 31 or 32 years old (the Guardians have a $23 million club option in 2030). But at least in the meantime, he can rest assured that his future is secured regardless.
If you wanted to know why teams get such great deals signing their guys to pre-arb extensions, a contract like Andres Giménez's $106.5 million deal is a cautionary tale that these aren't always going to be massive wins for the franchises that sign them.