Analysis
Scapegoating Isn't the Solution the Cardinals Want It To Be
The Cardinals are in a tough spot, but placing the blame on their All-Star catcher, even implicitly, isn't going to solve their problems.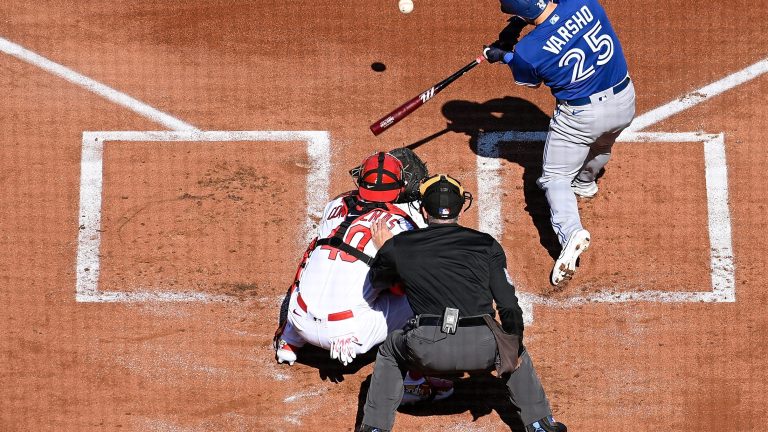 Willson Contreras is a three-time All-Star and a World Series champion. I don't need to check his LinkedIn to know he's got one heck of a resume.
Across seven seasons with the Chicago Cubs, the 30-year-old backstop slashed .256/.349/.459 with an .808 OPS. He caught 626 games, the seventh-most in baseball in that time. His 118 wRC+ was tops among catchers (min. 1500 PA). He also caught in all seven games of the 2016 World Series, helping the Cubs end the longest championship drought in North American professional sports.
This offseason, Contreras was highly sought-after on the open market, ranking ninth on Just Baseball's top 50 free agents list. He was ultimately rewarded with a five-year, $87.5 million contract from the St. Louis Cardinals, one of the largest deals ever given to a free agent catcher.
Barely a month into that contract, however, and his new team has cold feet. As Katie Woo reports for The Athletic, Contreras "will not catch over the next couple of weeks." Instead, he will be the team's regular designated hitter, which president of baseball operations John Mozeliak confirmed on Sunday. The initial report suggested Contreras could also play the outfield, but that is no longer the case.
Let's take a minute and recap, shall we? Contreras has been one of the best offensive catchers in baseball for years, and he has yet to turn 31. This winter, St. Louis signed him to a sizeable contract with the intention that he become the team's everyday catcher. Yet just 33 games into his Cardinals career, Contreras has lost his organization's faith. Dan Szymborski of FanGraphs put it perfectly:
Contreras has never been a good defensive catcher, but he isn't a disaster. More to the point, he's capable enough behind the plate that his bat makes up for his defensive shortcomings. That's how he has accumulated 16.0 fWAR throughout his career, fifth-most among active catchers.
The Cardinals, however, would argue his biggest problems can't be measured with statistics like WAR. Mozeliak explained the team is concerned about "communication between our catcher and pitchers" and the subtle nuances of the catching position that Contreras hasn't mastered.
But criticisms like this are nothing new for Contreras. According to Ken Rosenthal, the Cubs chose not to re-sign Contreras "in part because he did not meet their standards for defensive preparation and game-calling." Thus, the Cardinals should have known precisely what they were getting into when they signed him. He's not going to earn you any strikes with his game-calling or pitch framing, but he hits so well for a catcher that you have to be willing to take the good with the bad.
Willson Contreras isn't an $87.5-million player because he's a great catcher, nor because he's a great hitter. Instead, he's so valuable because he's an above-average hitter who is capable of catching. That's exactly who he was when the Cardinals signed him, and that's still the player he is today.
I don't doubt that it's been a difficult transition period in St. Louis. Going from Yadier Molina to a brand new face behind the plate can't be easy. I also can't deny that the pitching staff has been disappointing thus far. At the same time, it's hard not to see this move as a desperate attempt to do something rather than the first step of a well-thought-out plan.
Furthermore, it feels like the Cardinals are throwing Contreras under the bus to save face. The team is struggling, and it's easier to inculpate one player than to blame the entire roster or admit the front office didn't do enough this winter.
The Cardinals know they need to improve their rotation. They also know their options are limited at this point in the year. I can't help but think they're hoping to boost the confidence of their pitching staff by giving them a scapegoat for their early-season struggles. After all, Mozeliak mentioned that "a lack of confidence" was one of the biggest problems the team was facing. But scapegoating Contreras isn't fair to the All-Star catcher, nor will it solve the deeper problems at hand.
To add insult to injury, Contreras signed with the Cardinals under the impression he would be a full-time catcher. He also chose to sit out the World Baseball Classic to spend more time with his new pitching staff. As he explained, "I'm focused on learning my pitching staff, learning my team, doing everything that I can to make this team a little better."
What's more, this isn't the first time the Cardinals have thrown one of their players under the bus this year. During the first week of the season, manager Oliver Marmol criticized Tyler O'Neill for a supposed lack of effort on the bases. Marmol called it "unacceptable."
O'Neill was clearly upset by his manager's comments, telling reporters, "I'm out here every day grinding my ass off, giving it my all and trying to stay on the field for 160 games out here."
Regardless of how much effort O'Neill did or did not put in, many fans criticized Marmol for calling out one of his players so openly, especially so early in the season. He could have handled things better behind closed doors. O'Neill certainly agreed:
Marmol hasn't been quite so openly critical of Contreras, but he still made it clear he doesn't trust the veteran backstop behind the plate. It's hard to believe Contreras didn't take offense to these words:
The Cardinals are in a rough spot right now. They're already nine games back in the NL Central and seven games back of a Wild Card berth. They need to turn things around on the field and in the clubhouse. They need to do something big. But suffice it to say, scapegoating their players isn't the solution they're looking for. By throwing their players under the bus, the Cardinals are only hurting themselves – in the short term and the long run.