Analysis
The Reasons Behind The Slow Start For Julio Rodriguez
Julio Rodriguez has gotten off to a slow start, which is part of why the Mariners have failed to separate themselves in a wide-open AL West.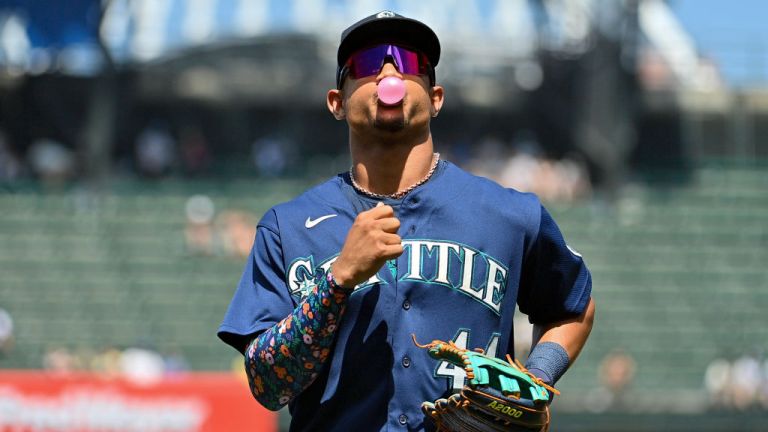 The Mariners go as Julio Rodriguez goes. He is the heart, soul and motor of the ball club driven by his exuberant on-field play along with his charismatic personality, million-dollar smile and respected leadership, despite being the youngest player on the roster.
But Rodriguez has not yet picked up where he left off in 2022, in which he finished seventh in AL MVP voting along with a near-unanimous Rookie of the Year Award. He is off to an already uncharacteristic sluggish start through the first month and a half of the season, with the last two weeks giving him a plethora of fits.
Prior to play on Friday night, Rodriguez was slashing .205/.270/.384/.654 with an 85 WRC+. He was slashing a woeful .101/.161/.207/.368 in his last seven games and .121/.203/.241/.444 in his last 15 games. He had just two extra-base hits since April 27 and a lone long ball in that time frame.
Now on Friday, we may have seen the beginning of a turnaround for Rodriguez, as he went 3-for-5 with four runs driven in, including two on a home run in the ninth inning.
Even with the big game improving his wRC+ by 10 points, Rodriguez is still grading out as a below average hitter with his 95 wRC+.
This simply isn't like Julio. Sure, it took him until around mid-May last year to really rev up the engine too, and time may very well unveil a similar result for him in year two. But most were expecting immediate improvement from the 22-year-old, awaiting for him to take another rapid leap forward.
So, what are the issues thus far?
Well, there is some bad luck sprinkled into this equation. It's not the entire picture, but it does paint a portion of it.
Rodriguez is still hitting the ball hard. He ranks in the 77th percentile in Average Exit Velocity, 71st percentile in HardHit%, 69th percentile in xSLG and 63rd percentile in Barrel% (all per Baseball Savant). These are all lower than his rankings from a year ago, but it also signals that he should be corralling numbers that are much better than a .691 OPS. So, at least in some sense, progression to the mean is likely not far around the corner.
But in terms of what Julio himself needs to fix moving forward, it all stops and starts with the swings and misses.
There is a healthy serving of strikeouts in Rodriguez's game. It's just a part of his profile. And a lot of it can be countered when he is throwing up colorful slug numbers and swiping bags with ease (something he is not currently doing). But plate discipline is an area where many expected at least some progression, whereas Rodriguez is currently trending in the wrong direction.
His Chase Rate was in the 19th percentile in 2022 and now sits in the 16th percentile. His K% of 25.9% sat in the 20th percentile at the end of 2022. Now in mid-May of his sophomore season it has climbed to 28.9%, which is in the 18th percentile.
Opposing teams seem to have found a couple of ways to expose Rodriguez at the plate early on. You will see pitchers attack him with a heavy dosage of fastballs both up out of the zone and in on his hands, which have given him trouble in the early going. They also are throwing more sliders off the plate away, and he has had a tough time spitting on a lot of them. Some of it may be that he is now pressing a bit too.
But hitting the heater is the key. Moreso than anything else, taking advantage of fastballs will be essential to Rodriguez turning everything around. Because right now it just isn't happening.
Rodriguez is hitting .131 against fastballs and is slugging just .177. His wOBA (weighted on-base average) against the old No. 1 is .205, currently the lowest mark that he has thrown up against any pitch type of either year of his early big league tenure. His Run Value against fastballs sits at -4 (per Baseball Savant), which is also by far his career worst results.
For reference, Rodriguez hit .309 against fastballs in 2022 with a .585 slugging percentage, a .414 wOBA and a 7 Run Value. Point being? Once again, hitting the fastball is nearly the entire difference.
In small spurts, he has even started to show some visible frustration in the midst of this slump, something no one is accustomed to seeing.
Even when Rodriguez had a tough time last April, with umpiring ringing him up on awful strike calls left and right, he was always stoic. This is the first time he has really shown any negative emotion, highlighting that the lack of success may now be starting to get to him a little bit.
Look, in all likelihood, we will probably forget about all of this by the time the All Star Break rolls around, an event I certainly believe that Rodriguez will still rightfully qualify to take part in. The odds of him continuing to scuffle long term feel very low. He is simply too talented.
But the overarching headline is with the Astros showing vulnerability between a handful of significant injuries and a serious lack of offensive production in all but two spots of their lineup (Yordan Alvarez and Kyle Tucker), the AL West feels truly up for grabs for the first time in a long while.
And the Mariners, despite having the best rotation (by fWAR) and the best bullpen in baseball (by FIP while tying for first in fWAR), have not gotten going offensively. A large part of the reason is the contingent is not hitting for enough power, which is what the bread and butter of their offense is built on. And Rodriguez is absolutely a key cog in that, if not the single most vital player.
Julio will get going. It is just a matter of when. Will it be by the time the Astros get Jose Altuve back and begin to have things click in their favor? If he starts to put barrels on fastballs, you will have your answer.