Analysis
Fantasy Baseball: The Myth of the Great Catcher
Don't fall for the fantasy baseball positional rankings instead of the overall ranking.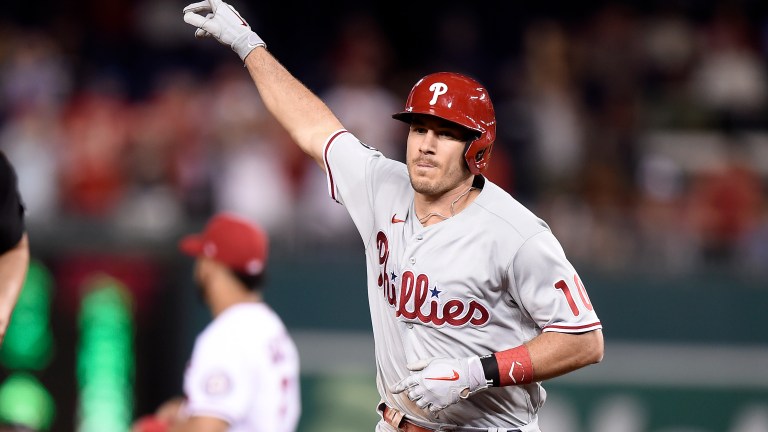 I need to ask you all a genuine question. It's a mean question, sure — one with an immense amount of bitterness, to be sure — but a necessary one: How often have you seen the team in your fantasy league with the best catcher actually have one of the best teams? Go ahead, check that team in your league who has J.T. Realmuto as their catcher.
I'm not a gambling man (except for when I know I'll win, like the wager I made with Just Baseball Founder Aram Leighton that he hasn't paid up on even 3 months later), but I'm willing to bet that team has a fairly mediocre record. I'm sure there is an assortment of other explanations — or excuses for their foolishness, as I like to call them — that this individual has. Regardless, it brings me to my point: positional scarcity in fantasy baseball is a myth.
Now, let me be especially clear: I am not roasting catchers as a position here. In fact, I find the catching position to be one of the most underrated, and routinely dismissed, in sports. This is about fantasy value, and a lot of this take has to do with the kinds of stats that are valued in this format, not their skills as players, per se. Remember, this is fantasy, not real life. The intangibles of a catcher (throwing out runners, pitch framing, etc.) don't apply here unless you're in some kind of League of Dorks that tabulates advanced stats instead of tabulating how to have fun; if that's the case, I have a whole other bundle of problems with you. Seriously, get some help if you like being in a fantasy league that doesn't count home runs.
Anyways, the real issue with catchers comes down to how their total stats match up with even a top-15 player at another position. This season, Realmuto is slashing .274/.361/.458 with 12 home runs, 51 RBIs, and 45 runs scored. It's an extremely solid line, but aren't numbers necessarily worth spending a top-50 pick on, especially when you look at players that were taken around his range during pre-season. Randy Arozarena, for example, is slashing .268/.344/.458 with 16 home runs, 52 RBIs, 66 runs scored, and 11 stolen bases, yet he's gone up and down the positional ranks all season.
Instead of taking Realmuto so early, you could've used that pick on someone with the chance to give you some truly awe-inspiring numbers. Yordan Alvarez is one of the best pure bats in the league at only 24-years-old, Corbin Burnes is nearly unhittable, and even taking a flier on Jose Altuve reverting back to elite status would've netted you an incredible profit (.273/.350/.499 with 25 home runs, 65 RBIs, 80 runs scored, and four stolen bases, as a treat).
If the latter-most of those players is someone you're (rightfully) annoyed with, just keep in mind that the fantasy gods — and even the real-life baseball gods, shout-out to them letting the Dodgers get Scherzer AND Trea Turner while also letting Boston fans be happy again — are a fickle bunch and don't reward you for any moral superiority.
It's true that the rest of the position is a bit of a ghost town. There are only 6 catchers that have 15 or more home runs this season, and most of them are probably hurting you in the batting average or on-base department (looking at you, Eric Haase). Having an elite catcher is a lot like having an elite tight end in fantasy football. Here's an advanced dissertation on why that is:
Unless you get one of the top-3 guys, it simply doesn't matter.
2. Unless they put up numbers that are generational (Joe Mauer's MVP season in 2009), it isn't worth the hassle.
Instead, I suggest to simply stream the position. Get a guy who, while not playing every day, gets you a decent enough batting average and on-base percentage when you're trailing in those categories. If you're desperate for power, just wait around until you get yourself someone like Mitch Garver. Leagues aren't going to be won with the best catcher; they're going to be won by having the players with the best overall numbers. I know this sounds like the most cliché, derivative advice ever — as if it was written by Todd Philips himself — but that doesn't make it less true!
It's not a terrible thing to have a quality catcher on your team. It's that, given the price it pays to get such a player, you're better off with having a couple of extra lottery ticket shots at picking the next Matt Olson — a legitimate MVP candidate if not for Vladimir Guerrero Jr. and Babe Ruth being reincarnated — who could be a league-winner. If you genuinely believe that J.T. Realmuto is going to produce the best overall numbers of anyone floating on the draft board, I respect that. But if you're drafting Realmuto just to be safe, or because you're too scared of taking the big shot, then I don't even wanna know ya.