Rankings
2022 Fantasy Baseball Catcher Rankings
Just Baseball's rankings of the top fantasy baseball catchers for the 2022 season.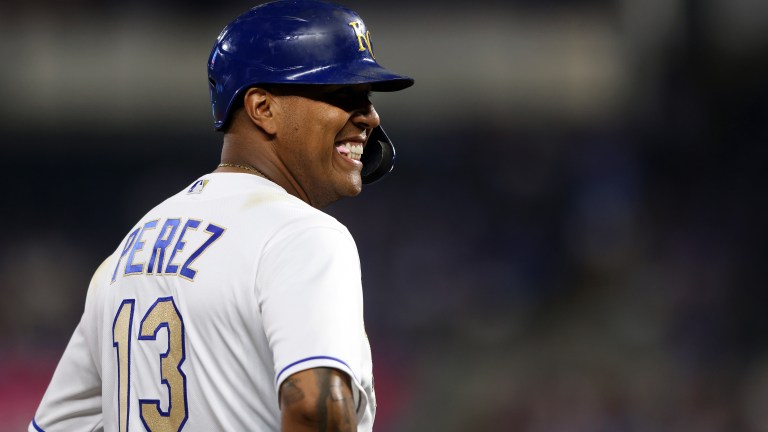 If there is one positive we can take from this the lockout, it is that we now have more time than ever to prepare for the fantasy baseball season. Here at Just Baseball we are going to be providing you with all the information you need to kill it in your drafts this year, and we're starting by ranking the top fantasy players at every position.
Below are Just Baseball's fantasy baseball catcher rankings. Our rankings are based on 5×5 category leagues, which means hitters are valued on batting average, home run, runs, runs batted in and stolen bases.
| | | |
| --- | --- | --- |
| Rank | Player | ADP |
| 1 | Salvador Perez | 33 |
| 2 | Will Smith | 62 |
| 3 | J.T. Realmuto | 52 |
| 4 | Yasmani Grandal | 101 |
| 5 | Willson Contreras | 112 |
| 6 | Daulton Varsho | 95 |
| 7 | Tyler Stephenson | 145 |
| 8 | Keibert Ruiz | 148 |
| 9 | Adley Rutschman | 188 |
| 10 | Mitch Garver | 197 |
| 11 | Travis D'Arnaud | 205 |
| 12 | Alejandro Kirk | 236 |
| 13 | Gary Sanchez | 255 |
| 14 | Sean Murphy | 241 |
| 15 | Carson Kelly | 275 |
| 16 | Omar Narvaez | 261 |
| 17 | Elias Diaz | 255 |
| 18 | Christian Vasquez | 211 |
| 19 | Danny Jansen | 329 |
| 20 | Austin Nola | 347 |
| 21 | Mike Zunino | 251 |
| 22 | Eric Haase | 299 |
| 23 | Max Stassi | 299 |
| 24 | Joey Bart | 276 |
| 25 | Yadier Molina | 288 |
| 26 | Luis Torrens | 389 |
| 27 | Jonah Heim | 451 |
| 28 | Jacob Stallings | 363 |
| 29 | MJ Melendez | 401 |
| 30 | Gabriel Moreno | 464 |
1. Salvador Perez – Kansas City Royals – ADP: 33
2021 MLB Slash line: .273 / 48HR / 88R / 121 RBI / 1SB / 665 PA
Salvador Perez is easily the number one option in fantasy baseball at the catching position. He finished tied for the lead league in home runs while leading baseball in RBI's. He's going to maintain one of the best batting averages of all the catchers, while scoring plenty of runs. He won't steal you any bases, but he'll easily make up for it in the other four categories.
In 2020, he hit .333 with 11 HR and a .300 ISO, and the power is here to stay after he had a .270 ISO and a 56% hard hit rate last season, which was second behind Aaron Judge. One of the biggest separators between Salvy and other catchers is that he plays every single day. He only missed one game last year, posting 665 plate appearance. The next closest was J.T. Realmuto at 537 PA.
He's a no-brainer at his current price in the third round and is by far the best option at the catcher position.
2. Will Smith – Los Angeles Dodgers – ADP: 62
2021 MLB Slash line – .258 / 25HR / 71R / 76RBI / 1SB / 501 PA
Factoring in defense, Will Smith makes a case as the best overall catcher in baseball, but he clocks in at number two in Just Baseball's fantasy catcher rankings. He possesses 30 home run power, while maintaining a lifetime .262 average. Only five catchers hit above .260 last season, so chasing power at the catching position is a must.
With Max Muncy's health up in the air, Smith has a shot to bat in the four and five holes, which should allow him to drive in close to 100 RBI. Last year was Smith's first full season, so it's not out of the question that he takes a leap forward in 2022. Hitting the ball hard in the air is a recipe for success that Smith is mastering, and his current ADP of 62 is more than affordable. We recommend taking him even above that price.
3. J.T. Realmuto – Philadelphia Phillies – ADP: 52
2021 MLB Slash line – .263 / 17HR / 64R / 73 RBI / 13 SB / 537 PA
J.T. Realmuto is one of the most well-rounded catchers in baseball, adding an element of speed that very few catchers possess. He led catchers with 13 stolen bases, and even in a down year at the plate, he ranked fifth in average, 10th in HR, fourth in runs and third in RBI.
In 2019, he had 25 home runs, 92 runs, and 83 RBIs, which gives a glimpse of Realmuto at his best. He did maintain the highest hard hit rate of his career last season (44.7%), which bodes well for next season, and while his groundball rate did increase last year, a slight increase in balls in the air matched with an improved Phillies lineup could translate to even better power numbers.
Realmuto is the perfect option right after Will Smith is off the board, and can be viewed as one of the safest fantasy catcher options there is.
4. Yasmani Grandal – Chicago White Sox – ADP: 100
2021 MLB Slash Line – .240 / 23HR / 60R / 62RBI / 0SB / 375 PA
We mentioned Salvador Perez was second in hard hit rate last year, but Grandal was not far behind him, hitting 53% of balls above 95 MPH. It's simple, the White Sox catcher is a destroyer of baseballs and one of the most disciplined hitters in the game. While 5×5 fantasy doesn't care about on-base percentage, it's encouraging that Grandal picks out the right pitches to hit.
We certainly do care about his 23 home runs in 93 games last year, and without a torn knee tendon that kept him out of the lineup for two months, Grandal would have pushed towards 35 dingers. He hit .337 with nine home runs over his final 129 PA after injury.
While a .240 batting average isn't the best, Grandal makes up for it in power. The White Sox lineup should be one of the best in baseball, and with Grandal firmly entrenched in the four spot, he'll have every opportunity to drive in runs.
If he can put up 550-600 PA, as he did in 2018 and 2019, it wouldn't be shocking to see Grandal hit 30-35 home runs, with 90 to 100 runs and RBIs apiece. The upside is huge from the power perspective. Grandal is the clear fourth option at catcher.
5. Willson Contreras – Chicago Cubs – ADP: 112
2021 MLB Slash Line – .237 / 21HR / 61R / 57RBI / 5SB / 483 PA
Willson Contreras is still doing his thing! Entering his seventh major league season, he's one of the most consistent catchers in the game, delivering a career .259 average and consistently putting up 20+ home runs. The Cubs lineup is extremely depleted, but Contreras will be positioned in the 2-4 spot and should be able to rack up 60 runs and RBIs.
There are a few encouraging signs for Contreras to have a career year in 2022. He had a career-high hard hit rate in 2021 at 48.4%, but he hit 50% of his contact on the ground, seriously capping his power upside. When he does hit the ball in the air, good things happen, as evidenced by a 22.3% HR/FB rate. A touch more hard contact could be the difference maker for the Cubs backstop.
As a cherry on top, he adds some value on the base paths, as he stole five bags last year and should be able to replicate that in 2022. He's not the "sexiest" option at catcher, but one that is sure to produce adequate numbers in all categories.
6. Daulton Varsho – Arizona Diamondbacks – ADP: 95
2021 MLB Slash line – .246 / 11HR / 41R / 38RBI / 6SB / 315PA
It might be surprising to hear his name this early, but the argument can be made that Varsho is a top five fantasy catcher going into this year. You may not know the name, as he was a rookie last year, but in the second half he went off, hitting .290 with 10 home runs and 5 stolen bases in 219 plate appearances.
It's very realistic to envision Varsho hitting upwards of 20 HR, with 55 runs and RBIs and upwards of 10 stolen bases. The big plus to Varsho's ceiling, outside of his speed, is his ability to stay on the field even when he's not behind the dish. He played 41 games at catcher and 54 games in the outfield last season, so the upside is there for him to play 140+ games and maximize plate appearances. He's a really solid option and one of the few guys who can legitimately check all the boxes and many of the sharpest fantasy experts are all over Varsho. Grab him while he's hot!
7. Tyler Stephenson – Cincinnati Reds – ADP: 145
2021 MLB Slash Line – .286 / 10HR / 56R / 45RBI / 0SB / 402PA
The underlying analytics may tell a not-so-nice story about Tyler Stephenson. His .256 expected batting average differed greatly from his actual .286 batting average. Pair that with a middle of the road hard hit rate of 38% and 50% ground ball rate and all signals point for regression moving into 2022.
It's a simple game, hit the ball hard in the air, so not all is lost on Stephenson, who could very well make an adjustment. He's only 25 years old, and just completed his first full season. As a former top prospect, he has the pedigree to improve in his sophomore season.
He has a great swing and makes a lot of contact for a catcher his age, striking out less than 20% of the time last year. It's reasonable to expect 12-15 home runs with a respectable batting average, and with no competition behind him, Stephenson will get a majority of starts. Add in the fact that his ballpark is one of the best for hitters, a breakout could happen for the young Cincinnati catcher.
8. Keibert Ruiz – Washington Nationals – ADP: 148
2021 MLB Slash line – .273 / 3HR / 10R / 15 RBI / 0SB / 95 PA
2021 MILB Slash line – .310 / 21HR / 60R / 59RBI / 0SB / 316 PA
We've seen glimpses of stardom from Keibert at the minor league level and we're expecting the power to translate in his first full rookie season at the big league level. He might have the best bat-to-ball skills of any catcher, striking out less than 10% of plate appearances in the bigs last season.
With the amount of balls he puts in play, a .270-.280 batting average is likely. The question is whether his power will shine through at the big league level, but his .320 ISO and 16 homers in 231 Triple-A plate appearances is an indicator of things to come.
Hitting in the fourth and fifth spot behind Juan Soto and Josh Bell in this Nationals lineup, Ruiz will likely get pitched to a lot and will have opportunities to drive in runs. He's going to have every opportunity to play with the universal DH being implemented and will have a chance at 70+ RBI on the high end. He's a high upside option with a great shot at 500 plate appearances.
9. Adley Rutschman – Baltimore Orioles – ADP: 188
2021 MILB Slash line – .285 / 23HR / 86R / 75RBI / 3SB / 4 CS / 543PA
Rutschman is a tough one to project in what will be his first taste at the big league level. Just Baseball's #2 prospect will likely make the Opening Day roster and start behind the dish to begin the year. We don't foresee Jacob Nottingham taking the job away from Adley.
Even if Adley does get a full crack at the bigs, it's no guarantee that he will perform to his full potential right away. Rookies often go through growing pains in their first couple months, even can't-miss prospects like Jarred Kelenic and Wander Franco struggled out of the gate before finding their way. In Kelenic's first 200 PA he had a 48 wRC+, a .153 average and five home runs, but turned a corner and had a 101 wRC+ and a .211 batting average with nine home runs in his final 180 PA.
The hope is that Rutschman does not struggle out of the gate like Kelenic, but there is a chance you're waiting the first half of the year for Adley to get acclimated. Regardless, it's fair to expect a .270 batting average with 17-20 HR and 55 runs and RBIs. He's all upside if you can withstand the likely growing pains.
10. Mitch Garver – Minnesota Twins – ADP: 197
2021 MLB Slash line – .254 / 13HR / 29R / 34RBI / 1SB
If he can stay healthy, Mitch Garver could finish in the top five with the amount of damage he does at the plate. In 2019, he hit 31 home runs in 93 games, which to be frank, is insane. He backed it up in 2021 with 13 bombs in 63 games, but he just could not stay on the field, battling through groin, back and rib injuries all season.
He's one of the biggest power threats at the catcher position, who in a full 500 PA season could hit 30-35 home runs with a .250 batting average. That's extremely valuable, but carrying as much injury risk as he does, it's best to have a backup plan if you draft Garver. He could be one of the biggest wins or losses in the draft depending on his health.