Rankings
Fantasy Baseball Rankings: Top 10 Catchers for 2023
Replete with proven veterans and high-upside young players, catcher is a deep position this year in fantasy baseball.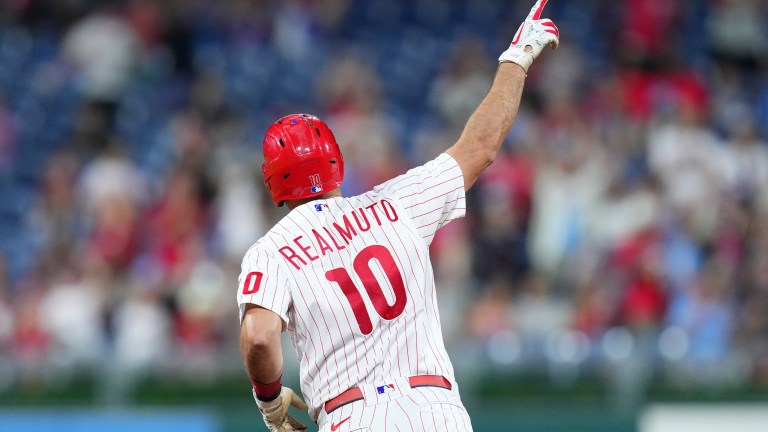 The catching position has long been the weakest position in fantasy baseball. A position with a heavy emphasis on defense results in several teams deprioritizing offense, which in turn leads to fewer catchers for fantasy rosters.
The trend of defense-only catchers is starting to become less and less common. In fact, the catcher position is deep enough in fantasy leagues that players outside of this top ten will be selected. A mixture of proven veterans and high-upside young players have made catcher a position that can lift your team instead of just fill it out.
As Colby and I broke down on the Just Fantasy Baseball Show, this position is deep. The top ten does not even touch on the rookies who could see everyday at-bats.
J.T. Realmuto – Phillies
2022 Stats: .276/.342/.478, 22 HR, 75 R, 84 RBI, 21 SB
ADP: 26
Realmuto has been putting up solid numbers for a while now. A mixture of decent power and speed, relative to catchers, combined with a career .275 average has him checking the boxes in all categories. In 2022, Realmuto posted a career-high 21 stolen bases while hitting 22 home runs, second only to the 25 he hit in 2019.
For a player being projected in the top 40, you have to ask yourself if he can repeat his 2022 numbers. Realmuto had had an odd trend of good years followed by great years, seesawing his fantasy value. In order to meet the value where he is being drafted, he will need to post career numbers yet again.
Value: Pass at his current ADP and wait for a different option
Daulton Varsho – Blue Jays
2022 Stats: .235/.302/.443, 27 HR, 79 R, 74 RBI, 16 SB
ADP: 37
The former Diamondbacks outfielder/catcher broke out in 2022, posting 27 home runs and 16 stolen bases, making him one of the more valuable catcher options in fantasy baseball. This winter Varsho was moved to Toronto where he will be surrounded by a better lineup leading me to believe his run and RBI opportunities will increase.
While the home run and stolen base numbers are intriguing, Varsho managed to only hit .235 in 2022, while his expected slugging of .389 was well below his .443 number. His positional versatility helps, but his hard-hit percentage and average exit velocity were both in the 25th percentile.
Value: The profile is not for me at this ADP. Several will make the case that another year under his belt could lead to improvement, but I am wary.
Will Smith – Dodgers
2022 Stats: .260/.343/.465, 24 HR, 68 R, 87RBI, 1 SB
ADP: 51
Smith posted a 127 wRC+ last season, the lowest of his career. That goes to show just how talented he is with the bat. A .260 hitter with enough power to put up 25 home runs in a lineup like the Dodgers makes Smith my top choice.
You know you are getting a consistent hitter with a high floor and an opportunity to put up more runs and RBI than last season. The only hole in his game is the lack of stolen bases. I'd rather find speed elsewhere on my roster and have a trusted bat in my catching position.
Value: I am not one to select catchers high in the draft, but if you are, Smith is the one I'd target.
Adley Rutschman – Orioles
2022 Stats: .254/.362/.445, 13 HR, 70 R, 42 RBI, 4 SB
ADP: 61
As a rookie, Rutschman posted a 13% walk rate and 18% strikeout rate. The former top prospect showed how advanced his approach already is while also hitting 13 home runs in 113 games. After the All-Star break, Rutschman batted .275 with eight home runs and 45 runs.
Baltimore's lineup is improving, which should lead to more opportunities for him to post numbers that could drive him up this list. If he improves on his rookie campaign, you are getting a fantastic catcher for this ADP.
Value: I absolutely love Rutschman, but so does everyone else. I see him as a player people will target early and take early to ensure they do not miss out. If you want him, don't wait. I think he will be worth it.
Salvador Perez – Royals
2022 Stats: .254/.292/.465, 23 HR, 48 R, 76 RBI, 0 SB
ADP: 64
After hitting 48 home runs in 2021, Perez put up 23 in 2022 while a thumb injury held him to 114 games. His barrel rate and hard-hit percentage (still 49%) both dropped from 2021 and I am just not sure if the power will be the same.
Before 2021, Perez had not hit 30 home runs in a season in his career. Maybe he comes back healthy, plays more DH to keep fresh, and shows the power from 2021 is real. Either that, or maybe the 10-plus years of catching and injuries are going to start to slow him down. He is one of the more interesting question marks on this list.
Value: You either believe in the 2021 power or you don't. If you do, this is a great value for a player who you *think* can hit 40 home runs. I'm going to pass on Perez at this point and take a different player later in the draft.
Alejandro Kirk – Blue Jays

2022 Stats: .285/.372/.415, 14 HR, 59 R, 63 RBI, 0 SB
ADP: 95
The aesthetics of Alejandro Kirk on a baseball field are nothing short of amazing. A short, round catcher who makes a ton of contact is not something you see every day. He walks at a higher rate than he strikes out, while his 90 mph average exit velocity and 45 percent hard-hit rate lead me to believe he could tap into more power.
Kirk showed last season that he deserves everyday at-bats – so much so that the Blue Jays were willing to trade away their top prospect, Gabriel Moreno. At only 24 years old, there still could be another level for Kirk to reach.
Value: Kirk is another player I think fantasy owners will target earlier than his ADP. A fantastic approach with a high average and enough power to play will have owners reaching early, and so would I.
MJ Melendez – Royals
2022 Stats: .217/.313/.393, 18 HR, 57 R, 62 RBI, 2 SB
ADP: 97
After leading the minor leagues in home runs in 2021, Melendez put up 18 homers in 129 games during his rookie year. His .217 average is not going to help you, but I expect that to tick up in year two. A 10% barrel rate and 43% hard-hit rate are both very encouraging for a rookie.
He has above-average speed which could result in a few stolen bags, while his overall profile screams upside for this point in the draft. In addition to playing catcher, Melendez is also eligible for outfield, which can help you fill your roster on certain days.
Value: I'm targeting Melendez in my drafts. At this ADP, you could get a batter with 24-28 home run potential in an improving lineup.
Willson Contreras – Cardinals
2022 Stats: .243/.349/.466, 22 HR, 65 R, 55 RBI, 4 SB
ADP: 91
If you like consistency in your fantasy players, Contreras might be the player for you. He will hit around .240 with 60 runs and 60 RBI just about every year. With the move to St. Louis, Contreras is in a deeper and more promising lineup that could lead to better run production.
One thing you can count on is Contreras hitting the ball hard. His batted ball data shows he has the ability to tap into more power, but the 51% career groundball rate needs to change first. If the Cardinals can refine him to lift the ball more, you will get a steal at this value.
Value: A consistent player in a better lineup is worth it at this point in the draft. I'd be fine with Contreras on my team, but I am not going out of my way to target him.
Sean Murphy – Braves
2022 Stats: .250/.332/.426, 18 HR, 67 R, 66 RBI, 1 SB
ADP: 113
Perhaps the largest change of situation for the catching position. Murphy goes from hitting in one of the worst parks and playing for a miserable team to playing for one of the best organizations and lineups. That alone should catch the eyes of fantasy players.
In 2022, Murphy posted career bests in average, runs, RBI, stolen bases (with one) and home runs. His home-run-to-fly-ball rate dipped for the third straight season, which does lead to some concerns about his power ceiling. He should make up for that in run production with a higher number of runs and RBI.
Value: Another player I would target at his ADP. There's no doubt in my mind Murphy's floor is still above league average while his ceiling is somewhere a few spots higher on this list.
William Contreras – Brewers
2022 Stats: .278/.354/.506, 20 HR, 51 R, 45 RBI, 2 SB
ADP: 111
William is more than just the brother of Willson. Contreras is oozing with potential and power that could make him the steal of the draft. In 2022, Contreras hit 20 home runs in only 97 games and now gets the chance to play a larger role in Milwaukee.
A 13% barrel rate and 53% groundball rate to go along with a 27% home run to fly ball percentage makes for an interesting profile. He can mash the ball, but strikeouts are a concern. The big question is whether pitchers will figure him out or if he will blossom into one of the best power-hitting catchers. Time will tell.
Value: At this ADP, Contreras is well worth the risk. You could be selecting a 30-plus home run catcher without giving up top draft capital to do so.