Analysis
Who Will Win The 2022 MLB World Series?
Entering the final stretch run of the season, which teams have the best odds to win at all in 2022 to become World Series champions?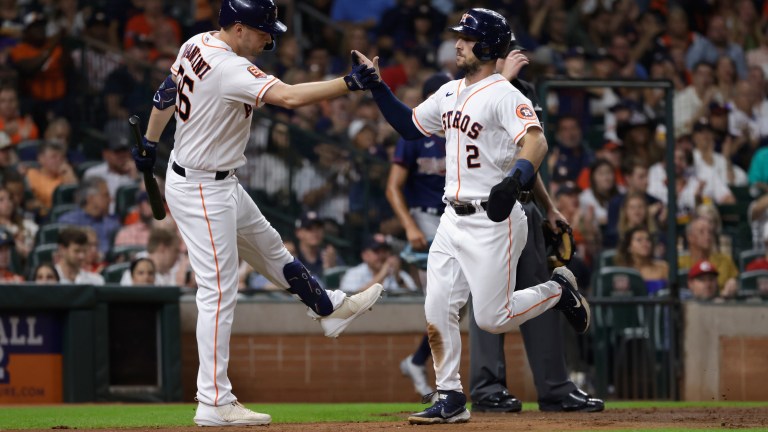 With August nearly over and less than 40 games remaining, it's time to analyze who has the best shot to win the World Series.
On August 17th, 2021, the Atlanta Braves were 64-57 and had just a 4.7% chance to win the World Series. The playoffs weren't even guaranteed as they had a 62% chance of even making the playoffs at all. They would go on to win the World Series in 2021.
On this day in 2019, the Nationals had a 66-56 record with a 5.3% chance to win the World Series and a 15.7% chance to win their division. If they were to win the World Series, it would have to be as a Wild Card team. They made history and won the first World Series in Nationals history.
This season the playoff picture has changed even more dramatically. There are now three Wild Card teams as opposed to the two in recent years, adding another layer of randomness and uncertainty in a field of juggernauts. Nothing is ever certain in the playoffs.
Odds to Win the World Series
Below are the 12 teams with the highest odds to win the World Series.
| | | | |
| --- | --- | --- | --- |
| Team | Betting odds | World Series odds (Fangraphs) | World Series odds (FiveThirtyEight) |
| Los Angeles Dodgers | +360 | 18.0% | 32% |
| Houston Astros | +450 | 15.0% | 14% |
| New York Yankees | +450 | 9.2% | 12% |
| New York Mets | +550 | 16.7% | 13% |
| Atlanta Braves | +900 | 11.6% | 10% |
| Toronto Blue Jays | +1300 | 6.6% | 5% |
| San Diego Padres | +2000 | 4.7% | <1% |
| St. Louis Cardinals | +2800 | 3.2% | 3% |
| Seattle Mariners | +3500 | 3.5% | 2% |
| Philadelphia Phillies | +3500 | 3.6% | 1% |
| Tampa Bay Rays | +3500 | 3.5% | 3% |
| Milwaukee Brewers | +5000 | 2.0% | 2% |
MLB teams with best chance to win the World Series
The Favorites
Los Angeles Dodgers
The Dodgers are the best team in baseball and are treated as such by oddsmakers and projection systems alike. With Freddie Freeman, Mookie Betts and Trea Turner all in the NL MVP race and one of the deepest pitching staffs in baseball, it's easy to see why the Dodgers are the current favorites to win the 2022 World Series.
The Dodgers pitching staff as a whole has an ERA+ of 146, meaning their pitching staff has been 47% better than league average in 2022. That would be the highest team ERA+ of all-time surpassing 2021 Dodgers who had an ERA+ of 139.
Come playoff time, the Dodgers will have decisions to make with how they deploy their starters. Even with Walker Buehler out for the rest of the season, they will have Clayton Kershaw, Julio Urias, Tony Gonsolin, Tyler Anderson and now Dustin May, who dazzled in his first start back against the Marlins on Saturday night. It's not often that a team has to basically pick out of a hat to decide who gets left out of the playoff rotation.
The Dodgers sport the best team ERA and best team OPS in baseball. They have more hitting and pitching depth than anyone. They are the team best built to win the World Series and are deserving favorites.
New York Mets
The Mets were 65-37 before Jacob deGrom even stepped on the mound this year. That's how good this team was and shows just how much better this team got with the best pitcher in the sport returning to the rotation. Since returning, deGrom has struck out 46 batters and walked two in 29.1 innings with a 2.15 ERA. He's arguably in the best form we've seen him in and makes the Mets true contenders to the mighty Dodgers in the NL.
The Mets rotation is pretty self explanatory. Scherzer's greatness has not escaped him in his age 37-season because of course it hasn't. He holds a 2.33 ERA because some things never change.
Chris Bassitt, who has a 3.04 ERA since 2020, is about as safe of a third option as they come, but beyond Bassitt, the Mets do have some questions marks. Carlos Carrasco is having an up-and-down season and just went on the IL with an oblique injury. Taijuan Walker got off to a great start, but has a 6.31 ERA in the second half.
This has presented an opportunity for David Peterson to step up and claim the fourth spot in the rotation as his own. Relying on his slider more than ever, Peterson has compiled a 3.33 ERA over 15 starts this year. He's currently the back bone of this Mets rotation, who also lost Tylor Megill earlier in the year.
For as amazing as the Mets rotation is with deGrom back, the Mets lineup deserves a ton of credit. They are tied fourth in wRC+ in baseball with the Houston Astros, but get their offensive production in a much different way than most of the top offenses. They are not power driven and have hit 126 home runs, which ranks 15th in baseball. It's likely that Pete Alonso and Francisco Lindor will be the only players to hit more than 20 home runs on the team.
The Mets get their offensive production from making a ton of contact. They have the fourth-lowest strikeout rate and the fourth-highest batting average on balls in play (BABIP), which could signal that the Mets have been lucky, but not so fast. The Mets excel at hitting line drives, which have the highest likelihood of being hits. The Mets have seven players with a batting average above .260, which is tied for the most in baseball with the Toronto Blue Jays.
The Mets aren't lucky, they're just good.
And before everyone comments, "Uhhh Colby, I think you forgot to mention a certain Mets closer having one of the best relief seasons ever?". No, of course I didn't forget him, I was just saving the best for last. Edwin Diaz is in the midst of one of the most extraordinary pitching seasons ever. Here are some 2022 Edwin Diaz stats:
His 17.7 K/9 is the highest by a reliever ever.
His 1.46 ERA ranks 21st in relief seasons since 1947.
His walk out music is becoming as iconic as Enter Sandman and Hell's Bells
The 2022 Mets have a distinct energy about them. No game is over before it's over. No lead is too big. No moment is too magnifying.
Houston Astros
The Astros have been to the World Series in three of the last six years, having most recently lost to the Atlanta Braves in last year's fall classic. If any team is built to make it to the World Series, it's the Astros. For one, they benefit from not having to play both the Dodgers and Mets to get into the World Series, but second, they are flat out an exceptionally good baseball team top-to-bottom.
They have baseball's fifth best offense by wRC+, the second-best pitching staff by ERA and the third best defense by Outs Above Average. When asked the question, "What makes the Astros so good?", I would answer, "well, everything".
They have offensive star power in Yordan Alvarez, Jose Altuve, Kyle Tucker, and Alex Bregman. Alvarez has been the team's MVP and one of the best overall hitters in baseball with a .999 OPS and 31 home runs, both of which rank third in baseball.
Justin Verlander leads the rotation and is at his best at age-39 with a 1.87 ERA and is currently the favorite to win the AL Cy Young. Ground ball machine Framber Valdez and emerging star Cristian Javier form a three-headed monster atop the Astros rotation.
Earlier I hyped up the Dodgers for the amount of rotation depth they have, but the Astros aren't too far off. Luis Garcia is as good of a No. 4 starter as any and Lance McCullers Jr. just came off of the injured list. He's pitched well in two starts, having given up three earned over 11 innings with 11 strikeouts.
Where Houston really shines is in close games. They are 21-14 in one-run games and their bullpen, which ranks second in ERA, is a large reason for holding on to those close leads. The five-headed monster of Ryan Pressly, Rafael Montero, Hector Neris, Bryan Abreu and Ryne Stanek puts the Astros in the same conversation as the Dodgers for best bullpen in baseball.
Amazing Teams With Question Marks
Atlanta Braves
The Braves and Yankees are in that weird, in between space where they don't belong in the same tier as the Dodgers, Astros, and Mets, but they also don't belong with the other teams below. I stuck them with sneaky teams that have a chance because they will likely have to come out of the Wild Card to win the World Series for the second-straight year. There has not been a repeat champion since the Yankees three-peated from 1998 to 2000, so the Braves have history working against them.
What the Braves do have working for them is that they're really freaking good. As a team they rank 8th in OPS+ and 4th in ERA+ while boasting one of the most star-studded teams in the league. Ronald Acuña Jr, Austin Riley and Matt Olson headline the lineup, but you'd likely be surprised to know that none other than Dansby Swanson leads the team in WAR this season. The smooth gloved shortstop has a respectable 120 wRC+ and is second in baseball with 14 Outs Above Average.
The Braves have gone against the grain and have relied on extremely young talent to propel them this season. They've pulled both Michael Harris and Vaughn Grissom straight from Double-A to the majors. The latter of which had just 98 plate appearances under his belt at Double-A before getting the call to the bigs. Grissom has started his career on a tear, hitting .382 with three home runs while holding his own defensively at second in Ozzie Albies' absence.
Even more impressively, Michael Harris, who just signed an eight-year, $72 million extension, has a 129 wRC+ with 13 home runs and 15 stolen bases in 72 games this year.
On top of his amazing offensive performance, he grades out as one of the best defensive centerfielders in the game. At 21 years old, he's reminding Braves fans of a young Jason Heyward and that may even be selling him short.
Pitching was seen as a weakness for the Braves coming into this season, but the emergence of Spencer Strider, who is now the Rookie of the Year favorite, and the bounce back of Kyle Wright, a former top five pick, has propelled this rotation into being one of the best in the game.
The X-factor for the Braves will be the return of Mike Soroka, who struck out eight batters in three innings of work in his first rehab start and then gave up two runs over three innings in his first start at Triple-A. Soroka had a 2.68 ERA in 2019, but has been kept off the field by two torn Achilles. A pitcher like Soroka that pitches deep into games would be huge for this Braves team.
New York Yankees
Every team goes through rough patches, but the Yankees have been in a near death spiral for the past month. They are 12-18 in their last 30 games, which is the same record as the Red Sox over that span. How did a team that was 63-28 before the All-Star break and on pace to win 103 games have such a fall from grace and how do they rebound in time for the playoffs?
Well, it all starts with getting healthy.
The Yankees currently have Luis Severino, Giancarlo Stanton, Harrison Bader, Clay Holmes, Scott Effross, Miguel Castro, Zack Britton and Matt Carpenter on the injured list with all of them expected to return at some point this season. This doesn't include Michael King who still leads the Yankees bullpen in WAR despite having thrown his last pitch of the season more than a month ago.
What was one of the best pitching staffs in baseball not long ago has fallen on tough times. Since July 1, they have a 3.98 ERA as a team and despite adding Frankie Montas at the deadline, they gave up Jordan Montgomery, who has given up just one run across four starts with the Cardinals.
Even in the worst of times, the Yankees have been able to rely on Gerrit Cole, but the $324 million man has a 4.00 ERA over his last 10 starts. There are definitely questions about how the Yankees can field a healthy and reliable pitching staff to make a long run in the playoffs.
One positive for the Yankees has been Aroldis Chapman's recent success. In his last 11 appearances, he has a 2.61 ERA and had looked to be limiting walks before surrendering two walks in each of his last two appearances. If Chapman can regain his form, the Yankees will feel a lot less lost without Holmes and King.
The Yankees offense ranks second in wRC+ behind the historic season Aaron Judge is putting together. He's chasing Roger Maris' 61 home run record and just hit number 48 two nights ago. His 195 wRC+ is the second-highest over a full season since Bryce Harper had a 197 wRC+ in 2015.
The Yankees offense outside of Judge, who has 15 home runs in the second half, has been mostly quiet after the All-Star Break which has been a driver in this slump as a team. Anthony Rizzo and DJ Lemahieu have been there always reliable selves, but the Yankees have clearly been missing a spark.
Luckily, Giancarlo Stanton has rejoined the Yankees. Stanton has 24 home runs on the year with a 128 wRC+ and collected three RBI in his return. He's the power the Yankees lineup has missed over the last month as they shockingly have just the 15th best slugging percentage in the second half.
All of this is to say that the Yankees are struggling right now, but are going to get healthier in the coming weeks with Harrison Bader and Luis Severino returning sometime in September. As we know, the playoffs are about who gets hot at the right time and the Yankees can play as the best team in baseball. They proved that in the first half. They just need to get healthy and right the ship.
Sneaky Teams That Have a Chance
Toronto Blue Jays
The Blue Jays are trending up and up over the last couple weeks. The one thing we've always known about Toronto is that they have a championship-level offense. They are third in wRC+ as a team and top-to-bottom field a lineup that can square off against the Yankees and Dodgers. The question for the Blue Jays has been their lack of starting pitching depth and high leverage bullpen pieces.
The Blue Jays may have found the answer to their pitching problems in the form of Ross Stripling turning into a viable mid rotation arm. Since June 1st, the top five starting pitchers in baseball by ERA are Dylan Cease, Justin Verlander, Julio Urias, Justin Steele and none other than Ross Stripling. He has a 2.14 ERA and 2.55 FIP over that span and despite starting the season in the bullpen, he's gone six or more innings in three of his last five starts.
He's now the third piece behind Kevin Gausman, who has the lowest FIP in baseball, and Alek Manoah, who has a 2.66 ERA across 24 starts. They've formed one of the best one-two pitching punches in baseball and now finally have a viable third option. Jose Berrios has completely blown up and holds a 5.28 ERA. He cannot be counted on to win a playoff game. Yusei Kikuchi has amazingly been even worse than Berrios and without much prospect capital, the Blue Jays couldn't get a big time arm at the deadline.
Toronto has also turned their bullpen performance around. Through July 1st, their bullpen had a 4.30 ERA, which ranked 22nd in baseball, but since July 1st, their bullpen has combined for a 2.65 ERA, which is the second-best over that span. The trade deadline acquisitions of Anthony Bass and Zack Pop have further bolstered the depth of the bullpen.
With an offense that can keep up with any other team in the bigs, the Toronto Blue Jays are a team that can get hot in the playoffs and do some real damage. They are not a team the Yankees or Astros want to match up with in a five or seven game series.
San Diego Padres
There is not a team in baseball that's had more headlines and fan fare surrounding them than the San Diego Padres. From Manny Machado's MVP level season to the acquisition of Juan Soto, to Fernando Tatis Jr. being suspended for steroids, the Padres season has had its fair share of ups and downs and yet, they are still in a position to contend for the World Series.
Things have not been going San Diego's way as of late. They are 14-16 in their last 30 games and sit 1.5 games ahead of the Brewers for the third Wild Card spot. The Padres surprisingly have not been able to score runs. Since June 1st, the Padres have a 104 wRC+ as a team and since July 1st, they've been even worse, ranking 18th with a 100 wRC+.
Juan Soto has had an immediate impact, but Josh Bell and Brandon Drury, the other offensive pieces acquired at the deadline, have not played up to standards. Even Josh Hader, who was acquired as the most surefire closer in baseball, has blown up in San Diego. He's given up six runs across six outings and has yet to earn the trust of Padres faithful.
The Padres have the star power to make a playoff run, but without Tatis and the deadline acquisitions performing, their chances of even making the playoffs are in jeopardy.
St. Louis Cardinals
There is something special going on in St. Louis this season. The Cardinals have a six game lead over Milwaukee for the NL Central. Paul Goldschmidt is trying to become the first player since Miguel Cabrera to win the Triple Crown and first NL player to do it since Joe Medwick in 1937. Nolan Arenado is second in the NL in WAR behind Goldschmidt and seemingly every player in the Cardinals lineup has taken a step forward this season.
Since June 1st, the Cardinals have the fourth-highest wRC+ in baseball and made some great additions to their rotation at the deadline, adding Jordan Montgomery and Jose Quintana. Montgomery has been flawless in his first four starts with the Cardinals, having allowed just one run over 25.2 IP.
The Cardinals also lead the league in Outs Above Average, making their defense one of the best in the game, which is why their pitching staff of ground ball pitchers succeeds. The Cardinals share a lot of similarities with the 2021 Giants and have the potential to make a deep postseason run if their starting pitching can remain strong.
Seattle Mariners
It's just been announced that Julio Rodriguez, the Mariners young star outfielder, has agreed to a long term extension with the club. This news comes as the Mariners hold down the third Wild Card spot in the AL over the Orioles, who are 2.5 games back of Seattle. Rodriguez is trying to help the Mariners make the playoffs for the first time since 2001 and make their first World Series appearance in franchise history.
I mentioned earlier that the Blue Jays have the second-best bullpen ERA since July 1st. The Mariners have the best over that span and now with George Kirby and Luis Castillo in the rotation along with Logan Gilbert and Robbie Ray, the Mariners have a seriously good pitching staff.
The question for the Mariners will be whether their middle of the road offense can string together enough runs to compete with the Yankees, Astros and Blue Jays, but regardless, Mariners fans will be overjoyed to have a playoff appearance under their belt.