Analysis
New York Yankees' Bats Need a Lift After Disappointing August
The Yankees lineup's struggles have resulted in their worst month of the season. Is this team bound to turn things around come October?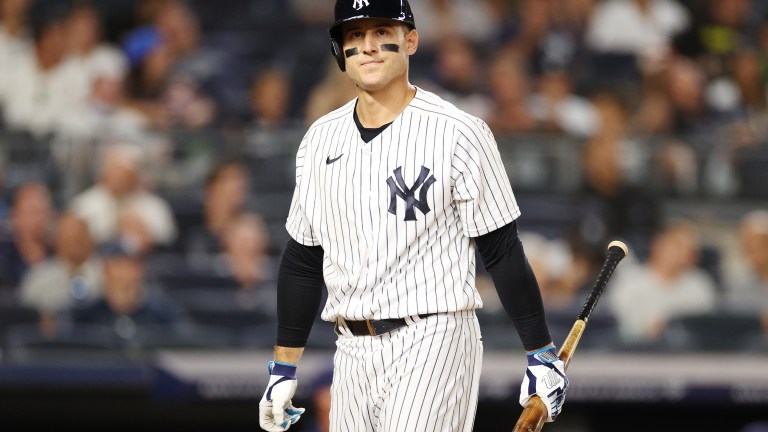 Outside of their recent sweep of the crosstown rival Mets, the Yankees offense in the month of August has been abysmal. MVP frontrunner Aaron Judge has been forced to carry the load with a multitude of hitters in this lineup struggling over the last 23 days.
The likes of DJ LeMahieu, Anthony Rizzo and Gleyber Torres have all been below average hitters during the month, as the blame can be placed in many different directions.
Underperformances and injuries are the two biggest contributors to this groups struggles. Reinforcements will come soon with some of this lineup's heaviest hitters ramping up their rehabs. The past three days of four-run performances have been promising, with Andrew Benintendi finally coming alive in the pinstripes. However, there is still work to be done.
This is a far cry away from the 120-win pace they were on a few months ago.
If the Yankees want to securely lock down this AL East, the bats need to come alive once more. Let's take a dive into what's truly bothered this team over the month of August, and why brighter days are ahead for this Yankees team.
All stats were taken prior to play on August 23rd.
A Slew of Underperformers
Some of the biggest factors for the Yankees in the first half have been absolute negatives since the trade deadline. Four hitters in this lineup have been above league average, with Judge, Luis Trevino, Josh Donaldson and Andrew Benintendi all accumulating a wRC+ total over 110.
Outside of that, it's been putrid. Meaningless at-bats and poor approaches at the plate have decimated this team's momentum at times.
Anthony Rizzo, First Baseman
First baseman Anthony Rizzo has enjoyed an incredible bounce back year in 2022, mashing 28 home runs, the second-most on this roster. Despite his low batting average of .221, the combination of his 11.8% BB rate and .336 OBP have made him a valuable asset in the middle of this order. Despite this, August has without a doubt been his worst stretch this season.
His 34% K rate over his last 15 games is a 15% increase from his season percentage of 19.1%. Rizzo has hit .179 during this stretch, with a .258 wOBA. The power has still made its appearances with three home runs in 62 plate appearances. Unfortunately, his 86 wRC+ places him as a net negative at the plate over the past 23 days. The success will return for Rizzo, but it has to be soon.
Gleyber Torres, Second Baseman
Torres enjoyed an incredible bounce back during the first half of 2022. With an OPS that consistently hovered around the .800 mark, Gleyber back at second base seemed to be doing wonders for him at the plate. There were even shouts for him to be an All-Star after he finished with a 125 wRC+ paired with 7 DRS at the break.
Similar to Rizzo, Torres has been horrific with the stick during the month of August.
The second baseman has struck out an excruciating number of times in his last 76 plate appearances. His 32.9% K rate is just a tick below Rizzo's, and his wRC+ for the season has dropped around 20 points to 107.
Torres' .184 OBP can be blamed on a walk rate of just 1.6%, with him hitting just .172 over this stretch. Posting a -0.6 WAR during the period, he hasn't contributed a thing at the plate. Gleyber has an immense amount of potential, we saw it in the first half. If he can unlock this once again and get back to that previous form, it would be huge for the Yankees. But he just doesn't have it right now.
Aaron Hicks, Outfielder
This selection should come as no surprise. The seven-year, $70 million contract handed to Aaron Hicks now looks like a horrific deal in light of some brutal appearances for the outfielder. Hicks has once again hit another roadblock, as he seems to be the streakiest player the Yankees have on this roster.
The largest factor of Hicks' success at the plate, walking, has disappeared this month. Paired with the fact that he's hitting a measly .109 in his last 51 plate appearances, you now have a disaster on your hands.
Hicks is now striking out more and walking less. His 25.5% K rate in the month of August is similar to his season total of 22.1%, which is still poor. Hicks has a -7 wRC+ in his last 14 games. To say that's bad would be a complete understatement.
While he has been unproductive at the plate, he has also made a numerous amount of blunders in the outfield, which have legitimately lost the Yankees meaningful baseball games on this stretch. The slash line? .109/.196/.109 with a .305 OPS.
Many fans have called for the newly acquired Harrison Bader to take his spot in center once he becomes fit, and the Yankees have given prospect Estevan Florial a run out there the past few days. While optimism still remains for Torres and Rizzo to slug again, Hicks seems like an absolute train wreck.
Reinforcements Coming From The IL
After remaining relatively healthy throughout the beginning stages of the season, the Yankees were dealt with a ton of injuries before heading into this slump.
Most of these names, if not all have been crucial for this team in 2022 with Harrison Bader being the lone true addition to the squad. The Yankees could be adding some of these guys to the roster real soon, and will surely help improve their chances at a World Series.
Giancarlo Stanton, DH/Outfielder
One half of the new-age Bash Brothers, Giancarlo Stanton, has been out for some time with an Achilles injury. It was a tough blow for Stanton, as he dealt with the injury seemingly right after he won this year's All-Star Game MVP. The slugger instantly slots in at the DH position once he comes back or could play in the outfield, adding more versatility to this squad.
Stanton mashed 24 home runs in his first 80 games this season. Known for his blistering exit velocity speeds, his average exit velocity of 95.1 MPH is third in the sport behind Judge and Yordan Alvarez. His max exit velocity tops the league, and his hard-hit percentage is located in the 98th percentile of all hitters. Stanton's wRC+ of 128 would rank as the fifth-highest on this roster, with the potential to surely raise it up to 140 at the end of the season.
Giancarlo Stanton is an elite playoff performer. As a Yankee, he has a 181 wRC+ in the playoffs. Thats mental. Getting Stanton right before the playoff push will be crucial for this team. As he's begun to ramp up his rehab, he should be back sometime this week after he takes a live BP today.
We all can't wait to watch Stanton nuke baseballs again.
Matt Carpenter, DH/Utility
The most surprising player on this 2022 Yankees roster is without a doubt Matt Carpenter. Carpenter spent some time in the Rangers organization last year after being released and was given an opportunity in the big leagues with the Yankees. He's done nothing but rake.
Carpenter's 218 wRC+ would be the highest on the Yankees if he qualified. He's only played in 47 games unfortunately. Despite the short sample size, he's been massive for this team. Carpenter can plug holes at first third, DH, and even corner outfield if need be.
His 15 homers is the fifth-highest tally on the squad, and he is getting on-base at a .412 clip. Matt Carpenter has provided the Yankees with 2.3 WAR, the exact same tally as Anthony Rizzo in 60 less games. He's been immense for this team in so many different ways its unbelievable.
The utility man is dealing with a foot fracture that should put him back in the lineup come late September/early October. As I mentioned earlier, his versatility paired with his plate appearances will be huge for the Yankees down the stretch.
Harrison Bader, Outfielder
Harrison Bader is the newest Yankee. He's been unable to make his first appearance due to a foot issue that left him in a walking boot for a while. Yankee fans were puzzled by the move at the deadline, sending a reliable starter away in Jordan Montgomery for the speedy outfielder. It looks even worse following Montgomery's first career complete game against the Cubs on Monday night.
However, Bader will fill a key role in this Yankees team once he comes back.
We spoke earlier about the unreliability of Aaron Hicks in the outfield. Poor bat, poor defensively, not a ton of speed. While Bader isn't a slugger at the plate, his elite outfield defense, paired with lightning quick speed, is an area where this team is lacking.
The center fielder has had a below average season at the plate, posting a 93 wRC+. On the other hand, he's ranked in the 94th percentile in sprint speed, and the 91st percentile in outs above average. Fresh off a Gold Glove season, he is elite in the outfield. The 28-year-old has posted good offensive seasons before, including a 110 wRC+ in 2021 with nine stolen bases. He could still provide that kind of value for the Yankees down the stretch.
The newest Yankee should slot in immediately as their starting center fielder once he comes back. With a lineup full of sluggers, Bader's combo of elite speed and defense are perfect for this roster. He should make an instant impact, and was a solid addition by Brian Cashman at the trade deadline.
Brighter Days Ahead?
The Yankees record of 7-14 in August is among some of the worst in MLB. With a team that was 70-35 before this stretch, there's no way they don't kick back into gear.
Rizzo and Torres should see bounce backs in the next few weeks. The combination of Stanton, Carpenter and Bader all coming off the IL at some point will be huge. This team has all the pieces to make a World Series run, they just have to hit the "on" switch one more time.