Feature
MLB World Series Odds Post-Trade Deadline
The deadline has come to past, and we now know what every team will look like down the stretch this season. Who is best-suited to win it all?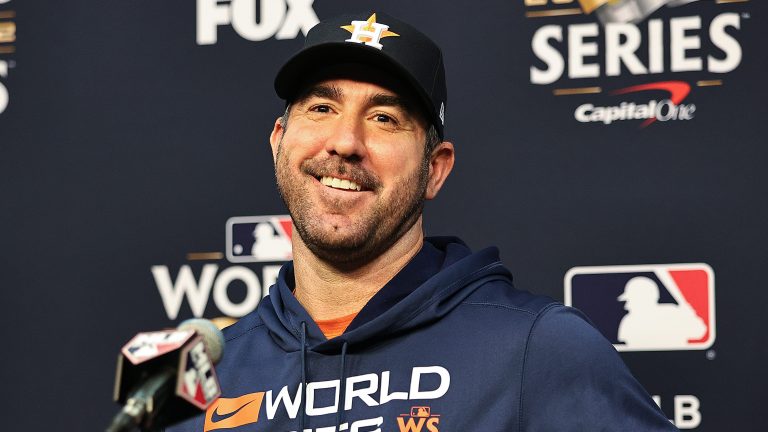 The MLB Trade Deadline has come to past, bringing us to the most exciting part of the season. The stretch run to make the playoffs, where any team has a shot to bring home a World Series.
At the deadline, we saw teams like the Texas Rangers and Houston Astros fortify their rotation, in hopes of improving their chances in an incredibly competitive American League. In the National League, the Cubs became buyers instead of sellers, as the NL Wild Card race is wide open for the taking.
We also saw some teams admit defeat, as the New York Mets and St. Louis Cardinals went from preseason hopefuls, to out of the race and selling at the deadline.
Approaching 50 games left in the season, let's take a look at each team's updated betting odds to win the World Series in 2023. All odds are provided from our partners at BetMGM. If you sign up to BetMGM with our promo code JUSTBASEBALL you will receive up to $1,000 in Bonus Bets back if your first bet doesn't win.
MLB World Series Odds
Atlanta Braves +325
Los Angeles Dodgers +500
Houston Astros +700
Tampa Bay Rays +700
Texas Rangers +900
Baltimore Orioles +1200
Toronto Blue Jays +1600
Philadelphia Phillies +2000
Milwaukee Brewers, Minnesota Twins, San Francisco Giants +3000
New York Yankees +3500
San Diego Padres +4000
Arizona Diamondbacks, Cincinnati Reds, Miami Marlins +5000
Seattle Mariners +6000
Boston Red Sox, Los Angeles Angels, Cleveland Guardians +6600
Chicago Cubs +8000
New York Mets +25000
St. Louis Cardinals +50000
White Sox, Rockies, Tigers, Royals, Athletics, Pirates, Nationals +100000
It is no surprise who the betting favorite is to win the World Series. Every division in baseball has at least one team within three games of first place except for the NL East, where the Braves have all but sewn up their sixth-straight division title with a 11.5 game lead over the Phillies.
The Braves (+300) being the one team you can pretty much pencil into the divisional round makes them the clear favorite, because they won't have to worry about that Wild Card round. Still, they were sitting in the same position last year and didn't make it past the NLDS.
Looking further down the line, the Dodgers (+500), Houston Astros (+700), Tampa Bay Rays (+700) and the Texas Rangers (+900), all seem to be close-to playoff locks, making them all safe bets to at least have a chance to win it all. Of that group, the Astros stick out as a great team to lay a wager on.
We have seen the Astros win the World Series before and they just got their ace back who helped them win two World Series. The return of Justin Verlander was the spike in the arm the Astros desperately needed.
Framber Valdez, who was struggling lately, responded to Verlander's return by throwing a no-hitter right after the news. With Yordan Alvarez and Jose Altuve's bats back in the lineup down the stretch, there is a lot to like about Houston right now.
Beyond the favorites, a wide open Wild Card race in both leagues has opened the door to some interesting underdogs to bet on.
The Seattle Mariners (+6000) went into this season as one of the favorites, but fell off heading into the All-Star break. They have gotten hot though as of late, winning 10 of their last 14 games and each of their last four series. Suddenly, the Mariners are only 2.5 games out of a Wild Card spot.
San Diego (+4000) and Philadelphia (+2000) each proved last year that if they can make it into the dance, they can make noise, but you have to be concerned about if they will get there this year.
The NL Wild Card race is crowded, which makes it hard to find value because so many teams are fighting for those three spots. In this race though, the Phillies currently own a spot, holding the second Wild Card, which makes them the better bet of last year's NLCS teams to return.
At this point of the season, the race is simply wide open. When you take a World Series future before the season, you are essentially grabbing a lottery ticket. The difference now is we have seen these teams play baseball for over a 100-game sample.
If you asked me a week ago if the Astros would repeat, I wouldn't have given you nearly the chances it would happen as I do today, because they were significant buyers at the deadline. Other teams bought as well and we now have clarity on who is going for it this year.
When there is this many good teams in baseball, there is never a bad choice, as long as you have faith that the team you bet on will make the playoffs. Take your pick of your favorite team, or just the team who you think is going to make a run and enjoy watching some fantastic baseball over the next three months. Because before too long, a new World Series champion will be crowned.