Analysis
MLB Best Bets Today: Predictions, Odds for Cardinals vs. Mets, Mariners vs. Blue Jays, Reds vs. Guardians, Diamondbacks vs. Dodgers for May 18, 2022.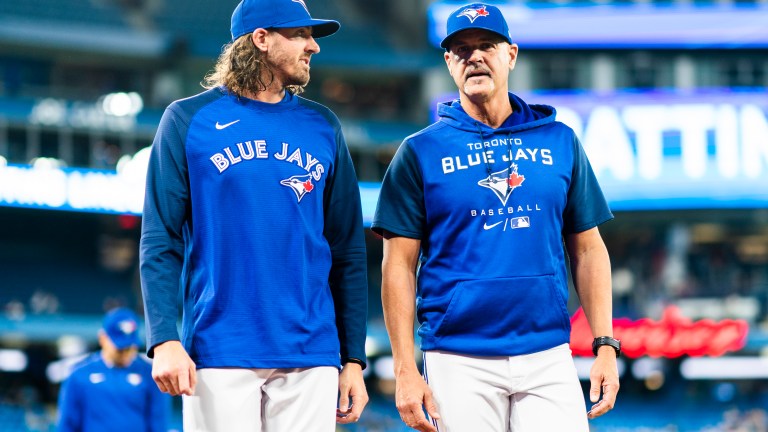 A perfect 2-0 day yesterday! Finally, feeling the luck starting to turn.
We took the White Sox through the first five innings, and it took them five innings, but the White Sox finally blew it open in the fifth inning. It was bound to happen; the White Sox hit five balls over 100 MPH in the first four innings.
We took the Cubs to win on the money line, and they crushed JT Brubaker and the Pirates by a score of 7-0.
I have four picks today that I love. I'm not going overboard; I like the slate much more than the previous couple of days.
Peter's 2022 MLB Regular Season Record: 65-50 (57%) +11.16 units
Subscribe to my New Gambling/Fantasy Baseball Podcast: Not Gambling Advice.
St. Louis Cardinals @ New York Mets: 7:10 PM EST
Jordan Hicks: (RHP, Cardinals) [1-3, 4.15 ERA, 1.15 WHIP, 21.2 IP, 21 K, 12 BB]
Max Scherzer: (RHP, Mets) [4-1, 2.66 ERA, 0.91 WHIP, 44 IP, 55 K, 11 BB]
We start in Queens, New York, as the Mets take on the Cardinals after these two teams split a doubleheader. This will be the third game of a four-game set after the game on Monday was postponed.
Max Scherzer gets the ball for the Mets today; bad news for the Cardinals. Scherzer has been their worst nightmare over the years. This year, he faced the Cardinals already, throwing seven shutout innings while only allowing two hits.
In 2021, he pitched against them on three separate occasions, registering 14 innings without allowing an earned run. So, in his last 21 innings, the Cardinals have been unable to register a single earned run against Scherzer.
The advanced numbers scream dominance. Through 194 PA against the Cardinals' current roster, he's pitched to a 1.63 FIP, a .216 xwOBA, a .156 opponent batting average, and a .264 xSLG.
Paul Goldschmidt is red-hot in May, but he's just 9-39 with 18 strikeouts and no extra-base hits against Scherzer in his career. I think Scherzer can cool him off today. Scherzer is one of the best in baseball and might be the best against right-handed bats, holding them to a .442 OPS this season.
The Cardinals lineup is stacked with righties. They crush left-handed pitching but have struggled against righties all season.
Jordan Hicks will oppose Scherzer, who has been working his way into the rotation since being a lock-down reliever. He hasn't been very good as a starter, even if he's throwing 100 MPH. He's allowed at least two runs in his past four starts, but it's only been in 14.2 innings. He doesn't go very long, as he's usually pulled for pitch count as he loses his command.
He already faced the Mets this year, throwing two innings and allowing two earned runs. The Mets have had troubles against left-handed pitching this season (.631 OPS), but they have dominated right-handed pitching (.733 OPS).
I'll ride with Max Scherzer and take the Mets through the first five innings.
The Pick: New York Mets First 5 Innings -0.5 (-115)
________________
Arizona Diamondbacks @ Los Angeles Dodgers: 4:10 PM EST
Zach Davies: (RHP, Diamondbacks) [2-1, 3.57 ERA, 1.19 WHIP, 35.1 IP, 28 K, 15 BB]
Walker Buehler: (RHP, Dodgers) [4-1, 2.81 ERA, 1.18 WHIP, 41.2 IP, 35 K, 10 BB]
We head to Los Angeles for the fourth and final game between these division foes. The money line for this game is one of the highest of the year at -280, and for a good reason. The Dodgers should dominate the Diamondbacks today with every advantage in the book.
Let's start with Zach Davies because he's been solid this year for the Diamondbacks. He's limiting hard contact and striking out hitters at a decent rate. His xERA is 3.66 compared to his 3.57 ERA. Everything seems to check out, but here comes the Dodgers.
He faced the Dodgers at home this season, allowing three earned runs in four innings of work. The current lineup the Dodgers will throw out has plenty of success against him besides that one outing.
Six hitters in the Dodgers' lineup are hitting at least .280 against Davies. Mookie Betts and Freddie Freeman are heating up in May, and Trea Turner has recorded a hit in ten straight games. When you put it all together, the Dodgers have the best Team OPS against right-handed pitching this season.
In 159 PA against the Dodgers' current roster, he's pitched to a 4.09 FIP, .365 xwOBA, a .271 opponent batting average, and a .499 xSLG. That's the lineup that will face Davies. I'd be nervous if I were him.
The Diamondbacks face Walker Buehler, who has dominated them in the past. His best start of the season was a three-hit shutout with ten strikeouts, and it was against, wait for it, the Arizona Diamondbacks.
The Diamondbacks are working with the seventh-worst team OPS against right-handed pitching. In 128 PA against Arizona's current roster, Buehler's working with a 3.01 FIP, a .185 opponent batting average, a .271 xWOBA, and a .341 xSLG.
Arizona holds the third-worst bullpen ERA while the Dodgers sit with the seventh-best. While the ERA's may not indicate a considerable starting pitching advantage for the Dodgers, I believe that to be the case. The Dodgers have a way better offense and bullpen advantage and have covered the spread in 21 of their 24 wins.
It's not great value, so that I wouldn't play this beyond -135. Last night, I grabbed it at -130, and I'm feeling great about it. I genuinely think this is a blow-out, so go for it if you're up for riding it at -140, as I've seen in multiple books. I will be sprinkling on -2.5 at +110 as well.
The Pick: Los Angeles Dodgers -1.5 (-130)
_____________
Cincinnati Reds @ Cleveland Guardians: 6:10 PM EST
Tyler Mahle: (RHP, Reds) [2-4, 5.89 ERA, 1.47 WHIP, 36.2 IP, 40 K, 18 BB]
Cal Quantrill: (RHP, Reds) [1-2, 3.93 ERA, 1.28 WHIP, 34.1 IP, 20 K, 15 BB]
This game is my bread and butter. I'm the biggest Cal Quantrill fan outside of Cleveland, and Tyler Mahle is the splits god. I feel great about this one and the numbers back it.
Tyler Mahle's 5.89 ERA won't last long. He's a much better pitcher than the counting numbers would indicate. His 3.56 xERA and 3.44 FIP tell us that, but so does the eye test. In my eyes, he's been the unluckiest pitcher in the majors, and he has a stellar matchup on the road, where he's thrived in the past.
Last season, Mahle rocked a 2.30 ERA on the road versus a 5.63 ERA at home. In 2019, it was closer, but his ERA on the road was an entire run lower than at home. He's rocking a 6.50 ERA on the road, and I think the drops substantially today.
In Mahle's last start against the Pirates, he produced 16 swings and misses and only allowed one walk. Command has been his early problem, but it's been much better in his previous few starts. He'll face a Guardians lineup struggling in May and over their last three games.
The player we have to worry about against Mahle is Jose Ramirez, as he's 3-8 against him in his career. Ramirez is 1-12 in his last three games and looks to me as if his timing is slightly off.
Opposing Mahle will be Cal Quantrill, who is also much better than his ERA dictates. The advanced numbers never like Quantrill, as he doesn't strike out opponents at a high rate, and he allows harder contact than the major league average. Since the beginning of last season, I have discounted those numbers, and he's been incredibly profitable for me.
This season, he's faced some tough competition. In his last five starts, he's faced the Giants, Yankees, Angels, Padres, and White Sox. He's still holding an ERA below four, and he'll have the easiest matchup to date.
The Reds are heating up by their standards in the win column, but it's come from good pitching and defense rather than the offense. They've scored just six runs in their past three games and are working with the worst road OPS of any team in baseball.
Not to mention, it's supposed to be cold in Cleveland today. We should see some rain and winds blowing in from left field. Temperatures are projected to be in the high 50s, which typically means offense is a bit harder to come by.
The Reds bullpen scares me, so I'd prefer to isolate this starting pitching matchup and take the under through the first five innings.
The Pick: Reds vs. Guardians First 5 Innings Under 4 Runs (-105)
_________
Seattle Mariners @ Toronto Blue Jays: 7:07 PM EST
Marco Gonzales: (LHP, Mariners) [1-4, 3.38 ERA, 1.53 WHIP, 32 IP, 22 K, 13 BB]
Kevin Gausman: (RHP, Blue Jays) [3-2, 2.40 ERA, 0.98 WHIP, 45 IP, 54 K, 2 BB]
The Toronto Blue Jays are -235 favorites in this game, which seems like a ton considering the Blue Jays have been inconsistent, and Marco Gonzales is coming off an excellent start. The reason why it's so high is this matchup will be all Blue Jays, and similarly to the Dodgers game, I smell a blow-out.
Kevin Gausman enters this game with a stellar 2.40 ERA and a 0.82 FIP, the lowest FIP in baseball. He gets a Mariners lineup with the 24th lowest OPS since May 1st. The Blue Jays have taken the first two games in the series by a combined seven runs, and Gausman will give them time to take an early lead.
Gausman has been incredible this season, and he's been elite against the Mariners' current roster. Through 76 PA, he's holding a 2.40 FIP, a .242 opponent batting average, a .298 xwOBA, and a .322 xSLG. JP Crawford injured his ankle in last night's game. He should play, but he'll be banged up, and he's one of the few Mariners hitters who could have success against Gausman.
The Mariners will have Marco Gonzales on the bump, one of the luckiest pitchers in baseball. His current ERA of 3.38 is more than two points lower than his xERA of 5.40 and FIP of 6.27. He's also been severely worse on the road this season, rocking a 4.20 ERA versus a 2.65 ERA at home.
That road ERA was much worse before his last start, where he shut down the Mets. The Mets, however, haven't hit a lefty all year, so I don't put a ton of stock into that start.
While the Blue Jays' offense has not been roaring as of late, this is the perfect opportunity for them to explode. Their righty-heavy lineup can put this out of reach early, and Gausman and the bullpen will have no problem closing the door for a clean sweep of the Mariners.
This year, the Mariners are just 7-14 on the road while the Blue Jays are 12-6 at home. All the offensive numbers for the Mariners dip on the road while the Blue Jays come ready to rock In Canada.
This will be a regression game for Gonzales, while Gausman should dominate. I'm taking the Blue Jays spread and sprinkling on -2.5 at +140.
The Pick: Toronto Blue Jays -1.5 (-110)
__________________________
I've written up a quick guide with critical terms and helpful tips.