Analysis
MLB Best Bets: Predictions, Odds for White Sox vs. Royals, Pirates vs Cubs for May 17, 2022.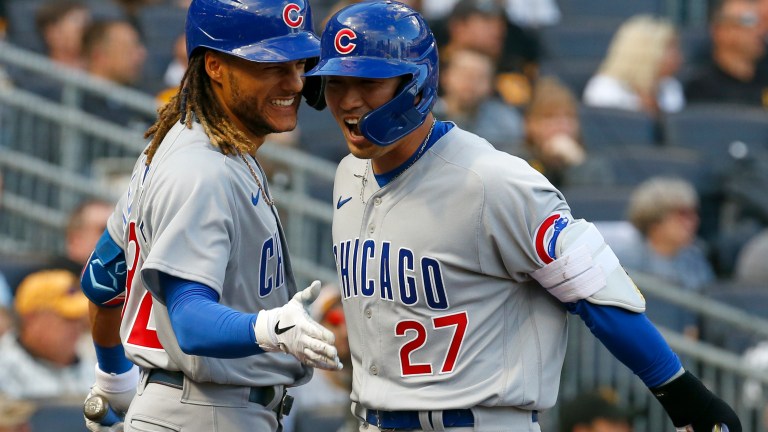 Are you kidding me?? Last night made my head spin. We took the over in Astros and Red Sox, which looked dead through seven innings. The Red Sox scored three runs late in the game, which edged out a win by half a run.
I was feeling good! Massive comeback by the Red Sox, and all we needed was a scoreless fifth inning from the Dodgers and Diamondbacks. It was 2-0 in the fourth; I felt our luck finally turned. Nope. The Dodgers put up three runs in the bottom of the fifth, which went over our first five-run total by a half a run.
Unbelievable. That's baseball, I guess. I have two more plays today; both centered around Chicago. I'm backing the state of Illinois today with two MLB Best Bets.
Peter's 2022 MLB Regular Season Record: 63-50 (56%) +9.16 units
Subscribe to my New Gambling/Fantasy Baseball Podcast: Not Gambling Advice.
Game 1: Chicago White Sox @ Kansas City Royals: 2:10 PM EST
Dylan Cease: (RHP, White Sox) [3-1, 3.55 ERA, 1.11 WHIP, 38 IP, 58 K, 15 BB]
Jonathan Heasley: (RHP, Royals) [0-1, 2.70 ERA, 2.40 WHIP, 2.1 IP, 1 K, 4 BB]
It's the first game of a double-header between the Royals and White Sox after the Sox took the first game 5-3 in ten innings. Luis Robert homered in the tenth to break up the 3-3 tie, and I think they carry that momentum over into this first game behind their ace in Dylan Cease.
Dylan Cease gets the ball for the White Sox after a rough outing against the Yankees in his last start. He ran into the hottest offense in baseball, and although he struck out 11, the Yankees hit two home runs and ultimately won the game 15-7. That was Cease's worst start of the season by far.
He surrendered that many runs on September 11 of last year against the Red Sox. After that start, he threw five scoreless innings. I think he delivers a similar type of performance to a Royals team he's had success against. This season, Cease pitched against the Royals, allowing two runs on three hits over six innings of work.
Against this Royals' current roster, he's been dominant. Through 156 PA, Cease has pitched to a 3.23 FIP, a .296 xwOBA, a .206 opponent batting average, and a .354 xSLG. Andrew Benintendi will be the only genuine threat, as he's the lone hitter with a batting average over .250 against Cease.
The Royals are coming off an offensive outburst in Coors Field, but they were shut out by Jonny Cueto yesterday; I'm not sure they'll all of a sudden be successful with a much better pitcher.
The Royals will let Jonathan Heasley take the mound in game one, who only has 17 innings of big-league experience. His problem is the command, as he's allowed seven walks in those 17 innings.
The White Sox lineup is finally coming together. Yoan Moncada is back, and Andrew Vaughn just returned to the lineup. It's a much deeper attack, and this early game should be a welcome party for the offense.
The White Sox have not hit right-handed pitching well this year, but that should normalize soon as this offense is more complete than earlier. Heasley hasn't faced the White Sox before, so we don't have any matchup data.
I think the White Sox turn over last night's momentum into a hot start against a rookie pitcher with command issues. The White Sox will see a lot of pitches and get to him early while Cease sits back and throws a gem. I want to isolate this starting pitching matchup by taking the White Sox through the first five innings.
The Pick: Chicago White Sox First 5 Innings -0.5 (-120)
_____________
Pittsburgh Pirates @ Chicago Cubs: 7:40 PM EST
JT Brubaker: (RHP, Pirates) [0-3, 5.34 ERA, 1.38 WHIP, 30.1 IP, 33 K, 16 BB]
Keegan Thompson: (RHP, Cubs) [2-0, 1.67 ERA, 1.07 WHIP, 27 IP, 22 K, 10 BB]
The Cubs got up early on the Pirates with an eight-run first inning and never looked back. They took the first game of the series 9-0, and today should be a lot of the same.
The Cubs have been rolling as of late. After losing five straight to the White Sox and Dodgers, they've won five of their last seven games against the Padres, Diamondbacks, and the first game of this series.
They'll face JT Brubaker, who's off to a rough start this season, but he's terrible when pitching on the road. Last season, he put up a 6.78 ERA through 13 starts on the road, and this season, he's thrown 16 innings on the road, allowing nine earned runs.
His competition on the road hasn't been all that lethal either. He's faced the NL Central; Cardinals, Brewers, Cubs, and Reds. Against the Cubs, he allowed two runs, one earned on three hits through three innings.
Brubaker's advanced numbers against the Cubs' current roster are solid, but they don't tell the whole story. Five hitters in the Cubs lineup are hitting over .300 against Brubaker in their careers. Willson Contreras has a 1.126 OPS in May and is 3-10 against Brubaker.
Rafael Ortega, Frank Schwindel, and Jonathan Villar are 7-13 combined with a double and a home run. Even Ian Happ is in on the fun, going 4-13 with two doubles against him.
Keegan Thompson gets the ball for Chicago, who's been very effective for them. He is not a pitcher who will maintain a 1.67 ERA, but I think he can keep it against an offense he's already pitched well against. He threw four scoreless innings against the Pirates on April 22, and he's been much better at Wrigley since he debuted last year.
In 2021, he recorded an ERA below three at home with an ERA above four on the road. He has a 1.08 ERA at Wrigley in 16 innings this season while posting a 2.61 ERA on the road.
Neither bullpen was used much in yesterday's game, as Bryce Wilson of the Pirates covered five innings after Dillon Peters was booted from the game. The Cubs have the better bullpen, ranking seventh in bullpen ERA and ninth in FIP. The Pirates bullpen started hot but has been terrible of late. This stretch has dropped them to the league's seventh-worst bullpen ERA and FIP.
I like the first five innings play here, as I think the Cubs get out to an early lead. I prefer taking the full game money line, as the Cubs have the easy bullpen advantage at the moment.
The Pick: Chicago Cubs ML (-135)
__________________________
I've written up a quick guide with critical terms and helpful tips.