Analysis
MLB Best Bets: Predictions, Odds for Orioles vs. Mariners, Red Sox vs. Blue Jays for June 27, 2022.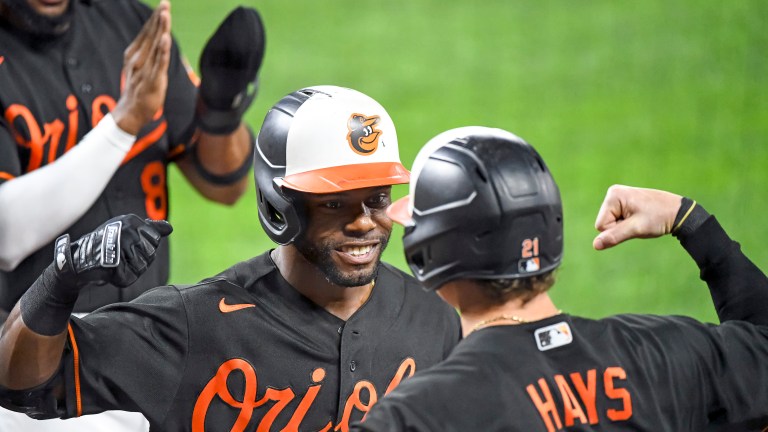 It's officially baseball season. The dog days of summer are upon us, and now we have about seven weeks before we hit the NFL season. This is where the goings get tough, and the tough get going.
We didn't have a great week's end after going 1-2 yesterday. We tested our luck with two underdogs, and both came up empty.
Overall last week, we went 10-7-1, suitable for +2.7 units. It's not groundbreaking, but we are certainly going in the right direction.
It's important to be heading in the right direction. Vegas is accumulating more data from the season, and it'll be increasingly harder to find edges.
Today, however, I have found three MLB Best Bets with enough of an edge to pounce.
2022 MLB Regular Season Record: 112-91 (55%) +14.02 units
Subscribe to my New Gambling/Fantasy Baseball Podcast: Not Gambling Advice
Baltimore Orioles vs. Seattle Mariners: 10:10 PM EST
Tyler Wells (RHP, Orioles) [5-4, 3.34 ERA, 1.10 WHIP, 64.2 IP, 40 K, 16 BB]
George Kirby (RHP, Mariners) [2-2, 3.12 ERA, 1.12 WHIP, 49 IP, 47 K, 6 BB]
We head to Seattle for the first game of a three-game set. The Mariners and Angels had the biggest brawl of the season yesterday, with three of their top four hitters in the lineup being ejected. If any are suspended, it shouldn't matter for this game as they would appeal it. Tensions are undoubtedly high in Seattle, but it doesn't change the fact they haven't been hitting since Ty France hit the IL.
While the Orioles have been winning, they haven't been clubbing the ball to victories. They won three of four in their series against the White Sox, but each game ended at eight runs or fewer. The White Sox have a better offense than Seattle, so I'll be on this full game under today.
Before we even talk about the starting pitchers, let's talk about the bullpens. Both bullpen units have been solid this season, especially the Orioles, who may need them more than the Mariners today. The Orioles rank third in baseball in bullpen ERA at 3.06, and Jordan Lyles gave the bullpen a day off yesterday.
The Mariners used two bullpen arms yesterday, Andres Munoz and Ken Giles. Neither of them pitched the day before, so realistically they both could be available on top of the other rested arms.
George Kirby is good, really good. He has impeccable command at such a young age, and he's already shown to dominate this Orioles lineup. He faced them back on May 31st on the road, shutting them out through six innings while striking out eight. It was the best start of the season for him, and I believe he can turn in a similar type of start today.
The reason being is Kirby is not that far off from Dylan Cease, who diced through this lineup yesterday. Both pitchers rely on the same four-pitch mix, fastball, slider, curveball, and changeup. Cease is the better pitcher, but Kirby has better command of those pitches. Cease is much nastier, racking up crazy high spin rates, but we just saw the Orioles get destroyed by a similar pitch mix.
Opposing Kirby will be Tyler Wells, one of my favorite pitchers to tail this season. He keeps the hard contact to a minimum, and although his fastball averages 93.7 MPH, the pitch ranks in the 93rd percentile of spin. His slider and changeup have performed as plus this year, and his peripherals point to this being the real deal.
According to ballparkpal, we have the wind blowing out to right field, but they don't project that to matter enough to make a difference. The weather report calls for a 10% increase in home run probability but a 14% decrease in XBH probability. They quantify this game as 2% below average in terms of a run-scoring environment.
The Mariners have never faced Wells, which bodes well for the Orioles. The Mariners have seen Kirby before, and although they couldn't touch him, Kirby's one kryptonite is right-handed hitters, which the Orioles have plenty of. I think this will be a very low-scoring game with the Orioles edging out the win on the road. I'm taking the under as the main pick but will sprinkle on the Orioles money line as an underdog.
The Pick: Orioles vs. Mariners Under 7.5 (-105), Orioles ML (+135)
1.05 Units to Win 1 Unit (Under 7.5), 0.5 Units to Win 0.67 Units (Orioles ML)
___________
Boston Red Sox vs. Toronto Blue Jays: 7:07 PM EST
Connor Seabold (RHP, Red Sox) [First Start of 2022]
Kevin Gausman (RHP, Blue Jays) [5-6, 3.19 ERA, 1.28 WHIP, 79 IP, 87 K, 13 BB]
We head to Toronto for the first game of a three-game set between these division rivals. This should be one of the more hard-fought series of the year as the Red Sox hold a razor-thin lead for second place in the AL East. While the Blue Jays are in fourth place, they sit just 1.5 games behind the Red Sox, and they should have the advantage through the first five innings.
Say what you want about Kevin Gausman this season because his inconsistency has been alarming. He started the season as the best pitcher on the planet, but a 5.50 ERA in June has quieted his case for the AL CY Young. While he's struggled lately, he's still number 1 in fWAR in all of baseball.
Gausman dominates the Red Sox, plain and simple. They struggle to time up the splitter, leading to 17 strikeouts in 14 innings against them this year while only allowing one earned run. This dominance has been extended throughout his career, as he holds some awe-inspiring numbers against their current roster.
Through 182 PA, Gausman holds a 25.8% K rate with a .277 xwOBA, a .224 xBA, a .229 opponent batting average, and a .347 xSLG. The Red Sox have been rolling lately but have shown no signs of being able to hit against Gausman.
Opposing Gausman will be Connor Seabold, who should get crushed today. This will be his first start of the season, and he doesn't even have the luxury of doing it in the United States. He's been solid at the Triple-A level, but he should have his work cut out against this Blue Jays lineup.
He works off four pitches, but when we saw him last in 2021, he was throwing between 90-91 MPH on his fastball with a usage rate of 62.8% of the time. The Blue Jays crush these pitchers as they struggle the most against high velocity.
At the time of writing, the Blue Jays are heavy favorites at -180 on the money line. We've seen about half the money come in on the Red Sox, yet the line is moving fast in favor of the Blue Jays. I'm jumping on the Blue Jay's first five innings before it continues to rise.
The Pick: Blue Jays First 5 Innings -0.5 (-130) Play to -135
1.3 Units to Win 1 Unit
____________
I've written up a quick guide with critical terms and helpful tips.