Analysis
Who Should Get Promoted to the Blue Jays When Rosters Expand?
With rosters set to expand in just over a week, the Blue Jays have two players who are standing out amongst the rest for a promotion.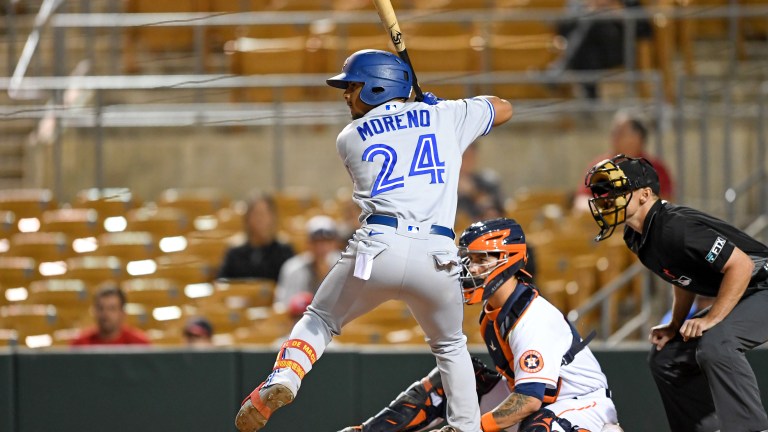 The Toronto Blue Jays are currently in the thick of the AL Wild Card race, entering tonight's game against Boston sitting in second behind the Tampa Bay Rays and in front of the Seattle Mariners. The Baltimore Orioles are hot on their trails, however, sitting 2.5 games back outside the Wild Card picture.
With just over a month left of baseball with the Jays set to play 26 games against AL East rivals before the season is over, they will need to continue winning these crucial games as they are currently on the losing side of season records, meaning any tiebreakers in the Wild Card could see them on the outside looking in. The Jays (and the rest of the MLB) will get some insurance shortly though, as the rosters are set to expand by two on September 1st.
The Jays currently have a full 40-man roster and are maxed out at 13 pitchers, meaning they can either call up one pitcher and one position player or two position players when the rosters are set to 28 players. They will likely go with the first option, given the additional bullpen arm could go a long way but stranger things have happened and they could also mix and match depending on performance and needs as the month wears on.
Let's take a look at who I believe the Blue Jays should call up when rosters expand.
Julian Merryweather – RHP
Although he has missed a majority of the season on the IL, right-hander Julian Merryweather is currently rehabbing back in the Minor Leagues and is putting together some really strong outings.
After two outings in the lower levels, Merryweather was moved to Triple-A Buffalo and has been putting on a clinic, allowing just two hits through 5.2 scoreless innings of work. He also has allowed just two walks while striking out nine batters, holding opponents to a .105 batting average with a 0.71 WHIP. Merryweather's fastball is hitting the upper 90s, something the Blue Jays could use at the big league level given their current bullpen.
He did struggle earlier this year at the big league level, pitching to a 6.38 ERA through 20 outings and 18.1 innings of work. While he kept the walks in check and was striking out batters at a 8.5 K/9, Merryweather struggled to stay consistent and was giving up lots of hits, evident by his 11.3 H/9.
We have seen Merryweather succeed at the big league level, particularly at the start of last season in the small sample size before he went on the IL. That same right-hander has apparently returned in Buffalo over the past month and he has certainly pitched himself into a promotion scenario.
The bigger question is if his current Triple-A success will translate to the big league level or will he struggle like earlier this season.
Gabriel Moreno – C
Gabriel Moreno, the Blue Jays top prospect, got a taste of MLB action earlier this year when Danny Jansen was on the IL and even after he returned. The right-handed hitting catcher authored a .276/.300./293 slash line, going 16-for-58 with a .593 OPS. This included one double and three multi-hit games, two of which were three hits apiece.
Behind the plate, Moreno showed off his cannon of an arm, throwing out 36% of base stealers while also featuring a 1.91 second pop time, which is in the upper level of catchers across the league. He did make two errors, which will get ironed out over time, but Moreno has been solid at Triple-A all year and if he can continue to find that swing in the MLB, he could be really beneficial to the Blue Jays as either a DH, defensive replacement, or starting catcher.
He has been on a bit of a cold streak as of late, batting .190 with five strikeouts in his last 21 at-bats, but he provides a ton of value on both sides of the field (throwing out 41.4% of base stealers). His biggest competition will be Otto López, who is currently riding a 16-game hit streak that also includes five games of consecutive multi-hit ball and owns a .298 batting average on the year.