Analysis
Phillies Top Prospect Andrew Painter is the Most Dominant Arm in the Minors
One of the game's best pitching prospects, Andrew Painter is flying through the Phillies farm system and could debut sooner than we expected.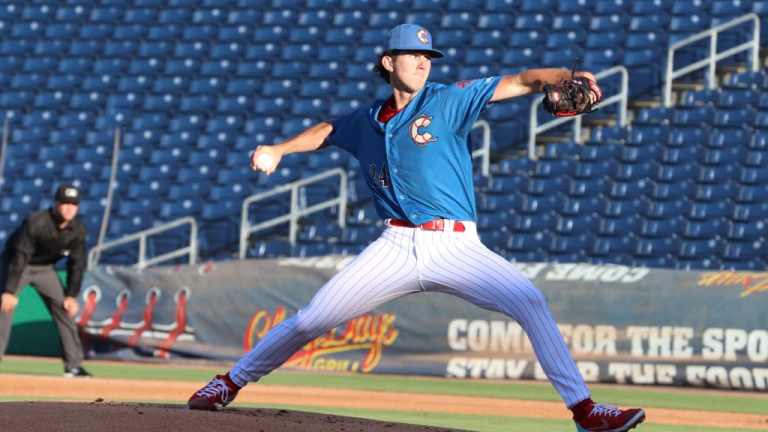 Sometimes, you don't need to overthink things. Prior to selecting outfielder Justin Crawford in the first round in this year's draft, the Phillies took the top prep pitching prospect in back-to-back drafts with Mick Abel in 2020, followed by Andrew Painter last year.
Both Painter and Abel have hit the ground running with the Phillies, recently earning promotions to Double-A, despite being much younger than the average age for the level. It's the 6-foot-7 19-year-old Painter that has really turned heads this season though.
Painter looked like a man among boys in Low-A to start the season, punching out 69 batters in 38 2/3 innings prior to his promotion to High-A, where it was more of the same. While the strikeout rate took a dip from 46% to a measly 34%, so did his ERA.
After a sporting 1.40 ERA in Low-A, Painter dropped his ERA to 0.98 in High-A, prior his Double-A promotion.
Along with Eury Perez of the Marlins, Painter is a wunderkind who is tall enough to play forward on the hardwood, young enough to be a college freshman, and yet is polished enough to pound the strike zone with multiple pitches. Walking just 7% of batters, Painter leads all qualified minor league pitchers in K-BB% at 32.8% across the three levels.
Painter doesn't need to be an artist to get hitters out though, he has attacked hitters with an elite fastball and a devastating slider along with two other secondaries with potential.
Elite Fastball
Painter's 70 grade fastball sits 95-97 mph, topping at 101 with 18 inches of induced vertical break. Despite throwing the heater more than 60% of the time, opponents have hit just .190 against the pitch with an in zone whiff rate of 29%.
A fastball with the velocity, shape and life of Painter's, while throwing it for a strike nearly 70% of the time early makes it one of MiLB's best. Even when opponents are geared up for the fastball, they swing under it or behind it.
Devastating Slider
Painter's second plus pitch is his sweeping 81-83 mph slider. The pitch tunnels well off of his riding fastball, boasting late, sharp bite away from right-handers. He uses the slider predominantly against same-handed hitters, but he has also showed plenty of comfort burying the pitch on the back leg of lefties and has increasingly used it early in the count to steal strikes.
Right-handed hitters are even more helpless against the offering due to the tunneling effect that Painter creates off of his two plus pitches. By the time righties can differentiate the slider from Painter's fastball, it's often too late and they get off a half-hearted swing like well-regarded Red Sox prospect Ceddanne Rafaela below.
Righties are 7-for-59 (.119) against Painter's slider this season with 29 strikeouts.
Big Dropper
While Painter has upped his slider usage against lefties this season, his above-average curveball in the upper 70s is his go-to put-away pitch. The right-hander has improved the shape of the pitch, finding a better feel to spin it with more downward bite.
On this two-strike pitch below, Yankees prospect Jasson Dominguez has to worry about 98 mph elevated, 82 mph breaking in on his hands, or 78 mph diving under his barrel. It was the latter that beat the hot-hitting Dominguez here, as the pitch seems to almost pause in mid-air at the tunnel point after Dominguez just saw an explosive fastball at the top of the zone prior.
Between his two breaking balls this season, Painter has held opponents to a .131/.191/.159 slash line with 58 strikeouts in 107 at-bats.
Don't Forget the Changeup
The fourth pitch for Painter is a changeup that has flashed above-average in the upper 80s. Painter rarely needed to use the pitch in the lower levels, but has continued to use it more frequently as the season has endured.
After working on the spin axis of his changeup during the offseason with good results, it wouldn't be outlandish for the 19-year-old to develop the pitch into a fourth above-average or better offering.
Not only does the changeup give Painter a rare fourth speed, but it also gives him a fourth movement direction featuring late arm side fade.
Long-term Outlook
Painter has not only surpassed his talented teammate Mick Abel as the best prospect in the Phillies system, but he is quickly becoming one of the best pitching prospects in the game. There are few pitchers in the minors with as good of stuff as Painter and even less who can command their stuff the way the South Florida product can.
The video game numbers have not slowed for Painter as he continues to ascend through the minors, not having surrendered more than five hits in a start all season, while striking out at least seven batters in a majority of his outings.
The Phillies have their heir-apparent to Zack Wheeler and Aaron Nola, but he may be joining them in the rotation much sooner than anyone expected.