Analysis
Yankees Acquire Joey Gallo in Blockbuster
The Yankees made the big splash they needed, adding Joey Gallo to their underperforming lineup.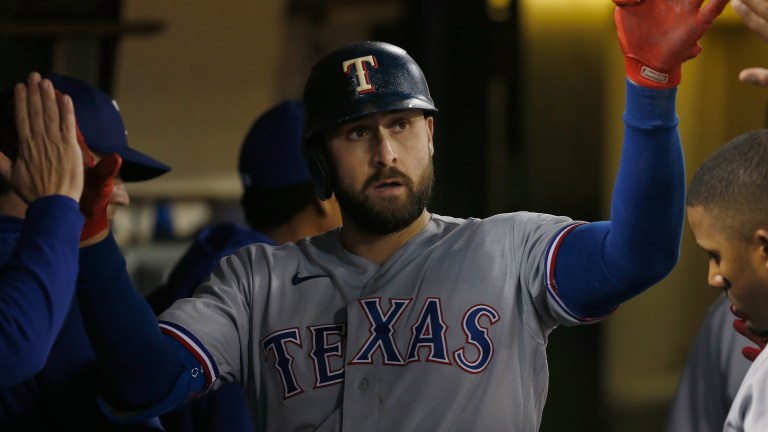 The stove is heating up, folks. Two-time All-Star Joey Gallo was traded from the Rangers to the Yankees Wednesday night, along with reliever Joely Rodriguez, for four prospects. It was the biggest deal of deadline season thus far and marked the beginning of what should be a wild few days of moves. Sitting at 53-47 and 8.5 games back of the AL East-leading Red Sox, as well as 2.5 games back of a Wild Card spot, the Yankees had to shake up their roster. Meanwhile, the 36-66 Rangers wisely cashed in on their most valuable asset while he still has another year of team control remaining.
Yankees Get Their Big Bat
Improving the Yankees' 25th ranked scoring offense was at the top of Brian Cashman's to do list this week. Specifically, they desperately needed to add to their outfield. While Aaron Judge has right field locked down, New York's left fielders rank 28th in baseball in wRC+ (80), and their center fielders are barely better at 24th (81). Bringing in Joey Gallo will surely improve that. The 27-year-old has hit 25 home runs, with a 138 wRC+ and .869 OPS this season.
Defensively, he has logged at least 55 games at five different positions in his career (first base, third base and all three outfield spots). He's a plus defender that sits in the 95th percentile in outs above average this season and has a career 38 DRS in the outfield.
Additionally, Gallo brings elite lefty power (145 home runs in 568 career games) to a lineup that desperately needed one, and he should feast on Yankee Stadium's right field short porch. New York's lefties are 27th in the league with a 78 wRC+ currently, and they've hit just 22 home runs as a group. While there's some valid concerns that Gallo brings too much swing and miss (32.2% strikeout rate) to a team that already has the eighth worst strikeout rate (24.5%), the positives should outweigh that.
New York also acquired some bullpen help in the form of Joely Rodriguez. While his 5.93 ERA and 1.61 WHIP in 27.1 innings leave much to be desired, it doesn't paint the full picture. The 29-year-old lefty has a 3.70 FIP and 9.9 K/9, suggesting he could improve as the year goes on. With several of the Yanks high-leverage relievers currently struggling and running on fumes, adding bullpen depth was an underrated need that had to be addressed. Texas is also chipping in money, allowing New York to make more additions before tomorrow.
Rangers Receive Four Prospects
On the surface, the return package to Texas seems underwhelming. The expectation was that the Yankees would have to part with one of their top prospects to acquire a player of Gallo's caliber, but that wasn't the case. Instead, the Rangers opted to acquire four solid prospects, as opposed to one or two who jump off the page. Time will tell if it was the right way to go. Notably, Texas chose four players who have taken a step forward this season.
Ezequiel Duran – IF
Duran is the headliner here. The 22-year-old infielder is batting .290/.374/.533 (.907 OPS) in High-A this season. He also provides a ton of pop for a middle-infielder, with 12 home runs over 297 plate appearances. Additionally, Duran has stolen 12 bases (but that could be misleading) and provides positional versatility with at least 15 starts at both second base and shortstop, though he should stick at second long-term.
Josh Smith – IF
Spending time in both Low-A and High-A, Smith has had a tremendous season. In 175 plate appearances, he's slashing a gaudy .324/.448/.641 (1.089 OPS) with nine home runs and 17 stolen bases. Of course, he's benefitted being a 23-year-old at those levels, but the numbers are still impressive. He's believed to be high-floor player that can contribute in multiple facets.
Glenn Otto – RHP
The lone pitcher heading to the Rangers, Otto has had a productive season. In 75.2 innings (12 starts) between Double-A and Triple-A, the 25-year-old owns a 3.33 ERA, 1.02 WHIP and 13.7 K/9. He sits 90-93 with his fastball, with a newly added slider to pair with his curveball as put-away pitches. Otto's three viable offerings and plus command give him a great shot to be a back-end starter.
Trevor Hauver – IF/OF
A 2020 third round pick, Trevor Hauver has hit well in his first pro season at Low-A. The 22-year-old second baseman has a .288/.445/.498 (.943 OPS) slash-line with nine home runs in 299 plate appearances. In addition to his solid power, Hauver also has an elite 21.4% walk rate. Hauver has almost exclusively played the infield in his professional career, but played plenty of corner outfield in his time at Arizona State.