Analysis
Josh Jung and Ezequiel Duran Have Given Rangers a Winning Core
The Texas Rangers have received breakout seasons from two of their top young players, speeding up the rebuild with a chance to win right now.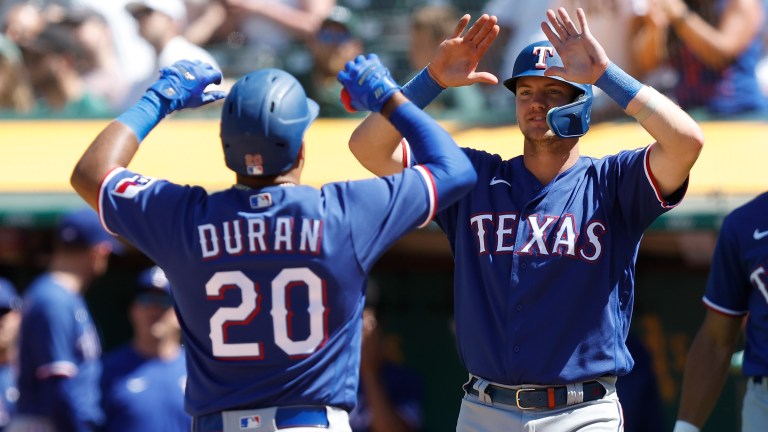 The Rangers have taken baseball by storm this season.
Despite their preseason projections to land as a fringe Wild Card team, if not miss out on the playoffs for the seventh consecutive year, Texas has fully put themselves back on the map.
They possess the highest run differential in the majors at +142 and have been one of the top offenses in the sport through mid-June. They are responsible for the fourth-best record in all of baseball at 42-27, sitting with a three and a half game lead in the AL West.
Yes, they have a $197 million payroll (ranking ninth in baseball) and have invested mounds of funds into putting a winning baseball team on the field. But keep in mind, this team had true power production in their lineup a year ago with Marcus Semien, Corey Seager, Nathaniel Lowe and Adolis Garcia, who combined to put up 15.5 fWAR in 2022. That team won just 68 games.
The turning point for the Rangers has not been the established stars already in place. It is the young guns that are now hitting their full stride. Nobody more so than Josh Jung and Ezequiel Duran.
Josh Jung
Josh Jung had a bit of a tough go of it during his 26 game stretch throughout his inaugural big league season, slashing .204/.235/.418/.653. This was after he was sidelined for a large portion of the year due to a torn labrum while lifting weights last February.
Fast forward to now and the Texas Tech product has slugged 13 long balls, holds the third-highest WRC+ among all third baseman in baseball (131) while ranking fourth at the position in fWAR (1.8), trailing only Jose Ramirez, Matt Chapman and J.D. Davis.
Jung is destroying southpaws, hitting .328 with a .993 OPS. His hard hit profile has also proven to be sustainable, ranking in the 89th percentile in xSLG and 86th percentile in HardHit% (per Baseball Savant).
The most eye-popping jump that Jung has made from year one to year two is his vastly strengthened plate discipline. After walking just under 4% of the time while punching out at a 38.2% clip in 2022, Jung quickly put that in the rearview mirror. He is now walking just shy of 7% of the time and holds a strikeout rate of 26%, both of which hover right around league average.
And his defense does not lag far behind his bat. Jung has reeled in two OAA so far on the season, good for the 78th percentile of the league.
Jung is not simply benefiting off of one hot stretch. He put up an .824 OPS in April, an imposing .917 OPS in May, and by the way he is trending he has a real shot to take home the AL Rookie of the Year Award trophy when the season is all said and done.
Ezequiel Duran
Truthfully, Duran's trajectory is not all that different from Jung's. A former top 100 prospect, who didn't have the world's best first stint a year ago, but is now living up to the hype.
Duran has channeled his combination of power and bat-to-ball skills to come into his own for a breakout year in his age-24 season. He is hitting .293 with an .838 OPS and a 131 WRC+ through the first two and a half months. While he has also crushed left-handed pitching (.925 OPS) he has had no issues facing arms from either side of the rubber (.792 OPS vs. right-handers).
Now, here is something fascinating on Duran: his home/road splits are drastic, despite the park factor in Texas ranking right in the middle of the league at 16. He is slashing .349/.398/.616/1.014 with a 181 WRC+ at home, opposed to his .235/.279/.370/.650 with a 76 WRC+ on the road.
But regardless, production is production.
And much like Jung, Duran's peripherals suggest that he will sustain his output. He ranks in the 90th percentile in xSLG, 89th percentile in xBA and 84th percentile in xwOBA. All while ranking in the 78th percentile in OAA on the defensive side of the ball.
Final Thoughts
With Jung and Duran firing on all cylinders, paired with the emergence of Leody Taveras and all of the proven star-studded bats that were already established entering the year, it is not hard to tell why the Rangers offense has been borderline unstoppable. And they, much like their two breakout sensations in Jung and Duran, don't seem to be slowing anytime soon.