Analysis
Royals Trade Compensation Draft Pick to Braves for Prospects
In a rare draft pick for prospects swap, both the Braves and Royals came away winners.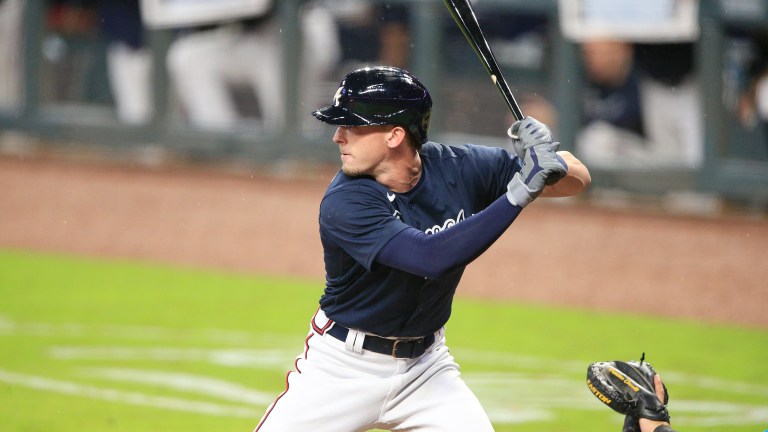 A rare trade involving a draft pick was struck between the Kansas City Royals and Atlanta Braves on Monday, and while it may not be enough to fully ignite the hot stove, it is a pretty darn fun deal.
ESPN's Jeff Passan reported the deal late Monday morning, which includes the Royals sending over the 35th overall selection (a compensation pick) to the Braves for outfielder Drew Waters, pitcher Andrew Hoffman, and infielder C.J. Alexander.
Compensation Pick Structure
A quirk of MLB's Draft is the fact that teams are not able to trade their picks, unless it is a compensation pick. There are two ways a team can obtain a compensation pick, which would come either after the first or second round:
If a team tenders a qualifying offer to an impending free agent and the player rejects the offer in favor of signing with another team, the former team will be awarded a compensation selection either after the first or second round based on how much the player signs for.
Teams that have either one of the 10 smallest markets or 10 smallest revenue pools will receive a pick after the first or second round.
The Return for the Royals
For a Royals team that already has young talent at the big league level, but is missing some pieces, it makes sense that they would rather use the selection to pick up three prospects who the front office hopes can help their big league team in the near future.
The headliner here is outfielder Drew Waters. A switch-hitting center fielder with plus speed and some power potential, it's easy to see why Waters was once regarded as a consensus Top-100 prospect.
Some of that allure has faded for the 23-year-old due to a lack of development in the hit-tool department and a bit of the injury bug. After hitting .240/.329/.381 with Double-A Mississippi last season, Waters has posted roughly similar numbers this year in Triple-A, but with less activity on the base paths.
Waters is still relatively young with an intriguing skillset and the floor of a fourth outfielder, but the Royals are not crazy to hope for more upside from the former second round pick.
Right-hander Andrew Hoffman may end up being the most valuable piece in the deal for the pitching-starved Royals. A 12th round selection in last year's MLB draft out of Illinois, Hoffman has looked like a steal, pitching to a 2.36 ERA in 80 High-A innings while punching out 28.4% of batters and walking just 6.6%.
The 22-year-old may not have "ace" upside, but he is a high-floor arm who has a great chance to anchor the back of the Royals rotation by the end of next year. Hoffman's plus slider along with a viable fastball and changeup and above average command should help him make a relatively smooth transition to the upper minors.
For an organization that continues to struggle to develop pitching prospects who lean stuff over command, Hoffman provides a breath of fresh air.
Lastly, C.J. Alexander is an older power bat who is tapping into his plus raw pop more than ever, but is 26 years old in Double-A and struggles to consistently get on base.
Alexander has slugged a career-high 15 homers in 68 games with an encouraging 22 K%, though his on base percentage sits below .300 due to a minuscule 5% walk rate. As a tertiary piece in this trade, Alexander is a fine flier to take, as he is hitting for the most power of his career and whiffing the least.
The Return for the Braves
While the prospects the Braves parted with still hold some value, what Atlanta can potentially do with the 35th overall selection in this years draft will likely provide far more impact for the defending champs than any of the aforementioned names.
The emergence of centerfielder Michael Harris made Waters expendable, and from the Braves perspective, it seemed clear that Waters may be due for a change of scenery.
Parting with Waters also opens up a spot on the 40-man roster for Atlanta and if 2021's Trade Deadline was any indication, General Manager Alex Anthopoulos will likely be active over the next several weeks.
Not only do the Braves now own the 35th overall selection in next week's draft, but they also add $2.2 million to their overall bonus pool, which allows the team to be a bit more creative with their selections. As Jeff Passan noted, the Braves entered today with the 19th largest bonus pool to spend on their draft class and now jump to the 10th most valuable pool allotment.
More draft capital means more possibilities as the Braves can now look to do anything from over-slotting a prep prospect with a first round asking price to shelling out some more money towards middle round college prospects with eligibility leverage.
Whenever a team can trade pieces that may struggle to fit into the organization's short term and long term future to allow themselves to more aggressively pursue new pieces who they think could fit into the big picture of the franchise, it is hard to not be impressed by that kind of upside-oriented move.