Analysis
Michael Harris II Is Doing It All For the Atlanta Braves
The Braves standout rookie has hit the ground running in Atlanta, showing that they may have a fixture in center field for years to come.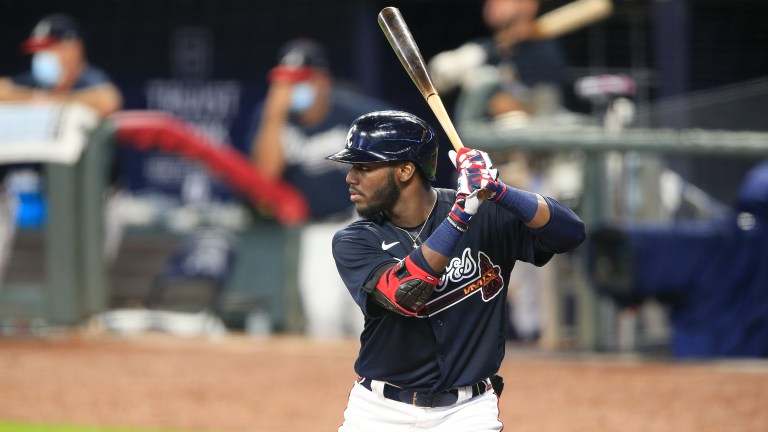 The Atlanta Braves entered the season with plenty of uncertainty around their centerfield situation. Internal options were difficult to identify after Cristian Pache was dealt to the Oakland A's as part of the Matt Olson return and star outfielder Ronald Acuña missing the beginning of the season as he worked back from ACL surgery.
Then 19 years old, Michael Harris II won over much of the Braves brass with his polish at the alternate training site in 2020, but he still seemed to be very far away from making any kind of big league impact. Harris became a top breakout prospect for 2021 after evaluators continued to hear Braves officials gush over the potential five-tool centerfielder.
Aside from his experience at the Braves site, Harris entered last season with only 53 professional games under his belt, 31 of which were in Rookie Ball. Harris produced a good season, but did not quite breakout the way many had hoped, playing the entirety of the year in High-A. While Harris' 2021 campaign did not hurt his prospect stock by any means, it did force the Braves to maybe consider the fact that the toolsy outfielder may not be big league ready in 2022.
The Braves had made it clear even before Acuña's injury that the long-term plan was to play their franchise player in right field where he has said he is "more comfortable". Similar to Pache, outfielder Drew Waters was long a highly-regarded prospect who the Braves brass hoped would be able to climb his way to the show, but he has been challenged to consistently produce in the upper levels of the minors.
At season's start, Adam Duvall was tasked with the centerfield duties, a position the 33-year-old surprisingly played well during the Braves World Series run. Duvall had held his own defensively through the first month and a half of the season, though he was one of baseball's worst qualified hitters when manning the middle. Since moving to corner outfield, Duvall has been much more productive offensively.
While Duvall was struggling to find consistency through the first couple months of the season, Harris was putting on a nightly show in Double-A Mississippi. At the time of his promotion, the 21-year-old was hitting .305/.372/.506 while putting himself on pace to double-up his home run total from the season prior.
Harris was so impressive both at the plate and in the field that the Braves decided to aggressively promote him to the big leagues, leapfrogging Triple-A.
After I spoke with players from rival teams in the Southern League that Michael Harris was torching, one description was repeated through my multiple conversations with different players, "one of the best defender's I've seen."
Harris' contact rates were strong and his offensive numbers undoubtedly helped push him to an early call up, but his special defense is what gave the Braves enough confidence to make a player with less than 200 professional games under his belt their starting centerfielder.
It hasn't taken Harris much time to prove that he is one of the game's most gifted outfielders. Harris is already the best centerfielder in baseball in the eyes of Baseball Savant's Success Rate Added, reeling in 8% more fly balls than the fancy computers expect.
Right behind him? Jose Siri (7%), Byron Buxton (6%), Gilberto Celestino (5%), Chas McCormick (5%), Daulton Vasho (5%) and Cristian Pache (4%).
In regards to the more well-known metric Outs Above Average, Harris is already fourth in baseball despite much less runtime than the names ahead of him.
Harris really has all of the ingredients in the outfield. He is a plus runner with a plus arm who gets great jumps and has fantastic instincts.
Beyond the impressive glove, Harris has been a jack-of-all-trades offensively. In 31 games, the left-handed-hitter has compiled 37 hits–13 of them for extra bases–along with four stolen bases. Since he debuted, Harris is fifth among all outfielders in fWAR at 1.5 and fourth in batting average (.325).
Harris has had no issues with big league lefties either, posting an .841 OPS against same-handed pitchers. Aside from a slightly aggressive approach–a common characteristic of plus hit-tool players–it's really difficult to pick a hole in the former second-rounder's game. As he continues to get more at-bats under his belt, Harris should only become more refined with his approach in both the on-base and power departments.
There may be some offensive ups and downs through the duration of Harris's rookie campaign, but one thing is for certain: the 21-year-old will always provide value every time he is in the lineup.