Analysis
Underrated Prospects to Look Out For
These guys should be on everyone's radar.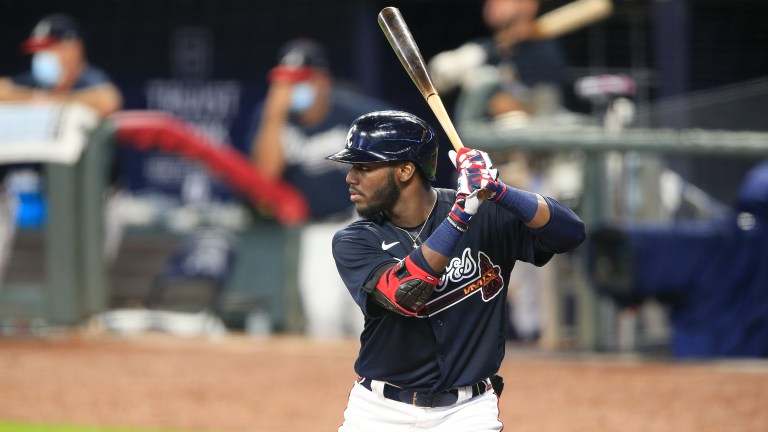 After more than 600 days without minor league baseball, it has been a bit of a fun, chaotic, busy scramble to get a look at all of the big name prospects across the minor leagues. A lot can change in 600 days when it comes to prospects and the long layoff should result in some pop-up prospects and major risers, lets take a look at some.
Michael Harris II – OF – Braves
Harris is quickly removing the underrated label after impressing as the youngest player at the Braves alternate training site and parlaying his performance there into a hot start to the 2021 season. The 20-year-old outfielder is slashing .339/.359/.482 slash line in High-A, to go with 3 HR and 9 SB.
An opposite field double for Michael Harris. pic.twitter.com/sLbAiUpYHz

— Atlanta Braves Farm System Updates (@BravesMILB) June 6, 2021
A 3rd-round pick out of high school in 2019, some teams liked Harris as a crafty southpaw on the mound, but the Braves preferred the bat and the bet has paid off so far. While Harris doesn't have a single tool that jumps off the page, he has an above average skill-set across the board to go with a really smooth swing from the left side. Harris doesn't walk a ton, but he doesn't strike out much either and sprays the ball with some authority to all fields. Don't be surprised if Harris starts breaking into top 100 lists soon.
Ethan Elliott – LHP – Padres
Ethan Elliott is the definition of underrated. A D-II pitcher who was drafted in the 10th round and received a signing bonus of just $5,000 which is ridiculous and broken, but that's for another 1,500 word article. Even if the Padres paid Elliott the slot value of $146,000 he would be worth every penny as the southpaw has dealt since making his professional debut in 2019.
Between Low-A and High-A Elliott has pitched to a 1.89 ERA, with 90 K's and just 11 walks in 71.1 IP. More of a crafty lefty who leaned on his deceptiveness and command of three pitches to get guys out in the past, Elliott has seen his fastball velocity tick up to the low 90's with high spin that allows it to play well up in the zone despite fringe average velocity.
Elliott's best secondary is his plus change-up which plays up even more thanks to the increased separation from the heater, while his slider comes in as an average third pitch. The long-ball has burned the 24-year-old southpaw (7 HR in 7 GS), but Elliott has been able to limit damage elsewhere thanks to his 39 K% and limited walks.
At 6'3, 180 pound lefty may have some more velocity in the tank, but if not he is a high probability Big Leaguer who has a good chance at anchoring the back of a rotation. Not bad for a $5,000 investment.
Alec Marsh – RHP – Royals
The surface level numbers may not be the sexiest on Alec Marsh, but the right-hander has a legitimate chance to be as good as any of the Royals high ceiling arms. Another guy who saw a big velo-jump in the last year, Marsh can run it up to the upper-90s and doesn't sit much lower than that.
A 2nd round CBB pick in 2019 out of Arizona State, Marsh has a sharp mid-80s slider with bite that flashes plus. Marsh also mixes in a changeup and curveball which both should be average or better. The newly turned 23 year-old is racking up strikeouts at an insane 40% clip and while the 4.94 ERA is a bit high, his 2.89 xFIP and .349 BABIP point to better days ahead.
Marsh is a top five prospect in the Royals system for us, but we consider him underrated because he has the makings to be a consensus Top 100 prospect by mid-season.

Roansy Contreras – RHP – Pirates
Contreras came over from the Yankees during the off-season as part of the Jameson Taillon trade and could not have made a stronger impression on the Pirates since his arrival. Not cracking a single top 100 list, even as some outlets update their rankings and ranking 20th on MLB Pipeline's Pirates Top 30, it is safe to say that the 21 year-old right-hander is still being overlooked a bit.
The stuff has just exploded for Contreras who has jumped from 90-92 MPH on the fastball to now sitting 95. Contreras has a sharp downer curveball as well as a changeup that fades away from lefties and also added a slider to the mix as well. Contreras has shown comfort commanding all of his offerings which has helped him carve Double-A hitters despite being four years younger than his competition.
Four of his six starts have yielded 0 runs and Contreras has posted an impressive 47/8 K-BB ratio. Though its early, the Jameson Taillon trade has the makings to be an ugly one for the Yankees from the performance of Contreras alone, but Miguel Yajure is a Big League ready arm with some intrigue, 19 year-old infielder Maikol Escotto has turned heads in Low-A and Canaan Smith-Njigba has a track record of swinging it well despite a rough stretch in Double-A.
As for Contreras, he looks like a future middle-of-the-rotation arm who could break into the Pirates rotation by next season.