Rankings
Colorado Rockies Top Prospects
With high upside offensive prospects, Rockies' future may be brighter than most would expect.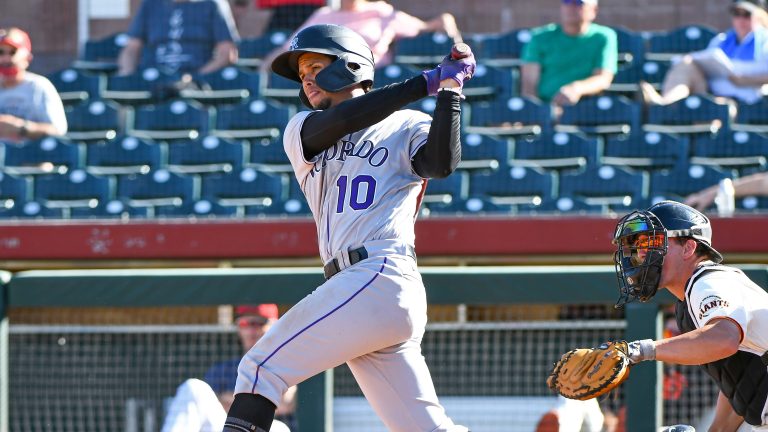 The Colorado Rockies farm system may be one of the most underrated in baseball, considering the leaps some of the organization's top prospects have made in 2022. The system is top-heavy and lacks formidable pitching prospects, but there's several potentially impactful big leaguers on this list, which is something I'm not sure we could've said two years ago.
Be sure to keep up with our prospect podcast, "The Call Up", for in depth breakdowns on the Rockies Top-10 and the rest of the Minor Leagues!
1. Zac Veen – OF – (High-A)
Age: 20 | Height/Weight: 6'4, 190 | Bat/Throw: L/R | 1st Round (9), 2020 | ETA: 2024
| | | | | | |
| --- | --- | --- | --- | --- | --- |
| HIT | RAW POWER | GAME POWER | RUN | FIELD | FV |
| 40/50 | 55/70 | 40/55 | 60/60 | 45/55 | 60 |
Tantalizing tools and an incredibly projectable frame give Veen immense upside. Still just 20 years old, the outfielder is following up a strong first pro season in Low-A with even more production in High-A. The Rockies may just have their next face of the franchise in Veen.
Offense
The ninth overall pick in the 2020 Draft, Veen was viewed as one of the highest-ceiling bats in his class and has done nothing but reinforce those projections through his first two professional seasons.
Veen is a long, slender, and fluid athlete with tons of projection still left in his frame. His long levers fortunately don't create too much extra length in his swing, but do generate a ton of bat speed and whip, aiding his double-plus raw power potential. His at-bat quality is advanced for his age, keeping his chase rates at bay and is aware of the strengths he possesses in the box.
His swing decisions as a whole have slowly improved, which is encouraging to see as he has made the leap to High-A this season. There's probably a bit more room for improvement in that regard, especially in plus counts where he tries to do too much and can have an at-bat turn south on him quickly.
Veen possesses a natural ability to use the whole field and as he adds strength and mass, he will become a threat to leave the yard from line to line. Veen's lower half is extremely mobile and flexible, which allows him to do damage even when he doesn't get his 'A' swing off. Depending on how much weight his frame will carry, we could be looking at a 35 home run threat with a decent feel to hit.
Defense/Speed
Like in the box, Veen's running and fielding projection is contingent on how his body develops. He is currently a plus runner who utilizes long strides to cover tons of ground in the outfield along with a plus arm.
He gets to his top speed quicker than most his size, but that could change if Veen adds a bunch of weight. It seems like Veen's plan is to remain relatively slender and allow his plus speed to remain a big part of his game. Through his first 150 professional games, Veen cruised to 50 stolen bases and has continued to get better with his jumps and picking the right spots to run.
Like many young outfielders, Veen could clean up his routes, but with plus speed, a plus arm, there's a good chance he will be an above average defender up the middle. If Veen moves to a corner, he could be Gold Glove-caliber.
Outlook
Veen is one of the more tantalizing talents in the minor leagues. The combination of power, speed, and a decent feel to hit gives him a potentially special skillset. As he continues to get stronger and more advanced with his approach, Veen has the potential to be a middle-of-the-order monster who adds a dynamic piece to a lineup due to his ability to run.
I thought High-A would be more of a challenge than it has been for Veen so far, as his strikeout rate has dropped and walk rate has risen marginally. This is extremely good news for the Rockies, as Veen could beat his original ETA of 2025 by proving he is more advanced than many evaluators speculated.
40 home runs wouldn't be out of the question at Coors Field, but he will also split the gaps and run wild. Veen's upside rivals that of anyone in the minors as he has the potential to become a five-tool superstar.
2. Ezequiel Tovar – SS – (Double-A)
Age: 20 | Height/Weight: 6'0, 170 | Bat/Throw: R/R | IFA: $800K – 2017 (COL) | ETA: 2023
| | | | | | |
| --- | --- | --- | --- | --- | --- |
| HIT | RAW POWER | GAME POWER | RUN | FIELD | FV |
| 45/55 | 40/50 | 40/45 | 60/60 | 60/70 | 55+ |
One of the younger players in Double-A, Tovar's elite defensive ability and solid feel to hit has allowed him to play above his age-level at every stop. Still a glove-first prospect, Tovar is trending more towards being an all-around shortstop than a defensive specialist.
Offense
An athletic hitter who really gets into his legs, Tovar uses the ground well to generate more power than you'd expect and his wide, crouched stance helps him keep his weight back and control his body well.
Tovar has a compact swing and uses the whole field well thanks to his barrel and body control. It is tough to beat Tovar because of his willingness to stay inside the baseball and go the other way while also possessing enough bat speed to turn on pitches middle in–especially in hitter's counts. The 20-year-old is extremely mature at the plate and leverages his favored counts really well, looking for a pitch that he can get the head of the bat out on and rarely missing the mistakes.
Power may not be a focal point of Tovar's game, but an improved ability to pick his spots to let it eat and increased strength have him looking like a guy who can hit 15-20 homers despite a mostly gap-to-gap approach that will produce more doubles.
Defense/Speed
As ridiculous as it sounds, sometimes it seems like Tovar was born to play shortstop. His footwork is great, his actions are smooth, his arm is plus and he has the instincts of a 10-year veteran. Tovar has Gold Glove potential at the position and is already showing it by being one of the best defenders in Double-A at 20 years old.
A plus runner, Tovar has improved in translating his speed into stolen bases. After swiping just three bags in 32 High-A games last year, Tovar has already racked up 17 stolen bases through his first 65 Double-A games.
Outlook
After a rough finish to his 2021 season in High-A which carried into Arizona Fall League struggles, much of Tovar's perceived momentum was stifled heading into 2022. As a result, the prospect was not on a ton of radars on Opening Day.
Of course, that has since changed and every time I watch Tovar play, I come away more confident that he will be a good big leaguer. It's easy to see that when you have a prospect like Tovar mashing Double-A pitching at the age of 20, but what is impressive to me is the way he can impact games even when he isn't mashing.
The elite defense, improved ability to get on base and integration of speed into game value has made Tovar a high floor prospect whose ceiling is difficult to peg for all the right reasons. A 20/20 shortstop with gold glove defense is the hope here, and Tovar seems to inch closer to that outcome each day.
3. Drew Romo – C – (High-A)
Age: 20 | Height/Weight: 6'1, 205 | Bat/Throw: S/R | CBA Round (35) – 2020 (COL) | ETA: 2024
| | | | | | |
| --- | --- | --- | --- | --- | --- |
| HIT | RAW POWER | GAME POWER | RUN | FIELD | FV |
| 45/55 | 40/45 | 35/45 | 45/45 | 50/60 | 55 |
A rare, "ahead-of-his-years" prep catching prospect, Romo has impressed both at the plate and behind it.
Offense
A switch-hitter with a good feel to hit from both sides of the plate, Romo's swing is built for line drives and a lot of contact. Romo's stroke from the left side is really impressive as he stays short, compact and quick. The efficiency of his swing and simple pre-swing moves help him frequently be on time as well as get to tough pitches.
Romo offers a bit more power from the left side, where his swing has a bit more natural lift and his body is more balanced and under control. The 20-year-old possesses a great feel for the barrel and is tough to strike out. While Romo is strong and athletic enough to tap into some more power, his simple swing from both sides of the plate combined with above average bat speed has him trending towards a comfortably above average hit tool with enough power from both sides of the plate to be satisfied.
Defense/Speed
As we continue to see with this new generation of catchers, athleticism can really help set prospects apart behind the dish; especially high school catchers. Romo is already an advanced defender with a plus arm and earns high marks for the way he commands a game.
Romo moves well and has impressed with his ability to block and receive. The Rockies may have a Gold Glover in a few years at catcher.
Outlook
There is nobody standing in front of Romo and the Rockies starting catching job in the next couple years and with his polish as a hitter and defender, he could climb through the minors quicker than many may have expected.
Romo has some similarities to J.T. Realmuto, and while that may be aiming high, he has given no reason to believe that those heights are not achievable.
4. Adael Amador – SS – (Low-A)
Age: 19 | Height/Weight: 6'0, 170 | Bat/Throw: S/R | IFA: $1.5M – 2019 (COL) | ETA: 2025
| | | | | | |
| --- | --- | --- | --- | --- | --- |
| HIT | RAW POWER | GAME POWER | RUN | FIELD | FV |
| 50/60 | 40/50 | 35/45 | 55/55 | 40/50 | 50+ |
A switch-hitter with a great feel to hit, it's easy to see why the Rockies shelled out $1.5 million for Amador in 2019's loaded IFA class.
Offense
Amador is a polished hitter who repeats his moves well with great timing. From the left side, Amador utilizes a gathering leg kick in tandem with a rhythmic hand load with impressive control. You almost forget he's only 19 years old by the way he is able to duplicate his swings and some of the easy takes he has.
From the right side, Amador's lower half is a bit less involved resulting in a little less power output. Amador makes up for it with borderline elite bat-to-ball skills as a righty and low chase rates. You'll see Amador use his leverage counts to let swing for more from the left side more frequently, but he is adept to adjusting within at bats and catering his approach to the situation.
Amador has steadily put on some strength since signing and has room for some more muscle as well. As he stands now, the 19-year-old has a chance to get on base at an impressive clip while mixing in 15-20 homers and plenty of doubles. If Amador adds more strength, he could push 20-25 homers, but there's little question on the hit tool.
Defense/Speed
A good athlete, Amador flashes impressive range at shortstop and quick feet. His actions continue to get smoother as he logs more innings at the position, but Amador has closer to an average arm.
There's a chance Amador could move to second base, where his defense could be elite, but for now Amador looks to have a solid chance to stick at the position, especially if he improves his arm strength.
An above-average runner, Amador is probably not going to steal bases in bunches, but his athleticism should allow him to be a positive on the base paths overall.
Outlook
Amador is one of the more polished under-20 prospects in all of the minor leagues. Already walking more than he strikes out as a switch hitter who has tapped into some pop, the Dominican Republic native should continue to crack Top-100 lists across the industry.
The defense will be something to follow for Amador, not because he isn't capable at shortstop, but rather the presence of Ezequiel Tovar and Amador's elite defensive potential at second base could result in a move to the other side of the diamond at the upper levels.
Regardless, Amador's bat and approach should carry him up the ranks quicker than many of his peers. It's easy to envision a low-strikeout switch-hitter who will surprise you with his sneaky power and ability to get on base.
5. Warming Bernabel – 3B – (High-A)
Age: 19 | Height/Weight: 6'0, 180 | Bat/Throw: R/R | IFA: $900K – 2019 (COL) | ETA: 2024
| | | | | | |
| --- | --- | --- | --- | --- | --- |
| HIT | RAW POWER | GAME POWER | RUN | FIELD | FV |
| 45/55 | 40/50 | 35/50 | 45/40 | 40/50 | 50 |
Another nice find for the Rockies in international free agency, Bernabel swings a lot and hits a lot. There's a lot to like with Bernabel's offensive profile as he matures at the plate.
Offense
An aggressive hitter with fantastic bat-to-ball skills, Bernabel has broken out in his first full season above rookie ball. There are some moving parts to Bernabel's swing, but he has a lot of comfort with his moves and repeats them well.
Bernabel's leg kick helps him stay back and his ability to control his body paired with a quick bat allows him to produce a ton of contact. Because his hands work so well, Bernabel often feels like he can get to any pitch, which can result in swings at pitches he can't do much with.
To his pull-side, Bernabel possesses above average power and the 20-year-old is still working on using the whole field more as he can cut his swing off a tad rather than working through pitches on the outer half.
Approach wise, Bernabel is slowly improving, but when it comes to his feel to hit, Bernabel is ahead of the curve. While the exit velocities are not quite off the charts, there is above average impact and a natural ability to left and backspin baseballs.
Bernabel has only struck out around 13% of the time in his professional career and that figure has remained consistent against better competition.
Defense/Speed
Originally signed as a shortstop, the Rockies moved Bernabel to third base shortly after he made his professional debut. It was likely Bernabel's plus arm and fringy speed that encouraged the Rockies to move him to the hot corner, but as he gets smoother with his actions and footwork at the position, there's a chance he can be an above average defender.
Just an average runner, speed will most likely not be an impactful aspect of Bernabel's game. That said, Bernabel isn't afraid to jet, swiping 21 bags in 27 chances at the Low-A level. Bernabel could be an opportunistic base stealer.
Outlook
Bernabel has the offensive upside the be a productive bat at third base and has showed signs of maturation at the plate in 2022. A combination of a high batting average and 20-25 homers is easy to envision if the newly-turned 20-year-old continues to progress with his approach.
6. Benny Montgomery – OF – (Low-A)
Age: 19 | Height/Weight: 6'4, 200 | Bat/Throw: R/R | 1st Round (8) – 2021 (COL) | ETA: 2025
| | | | | | |
| --- | --- | --- | --- | --- | --- |
| HIT | RAW POWER | GAME POWER | RUN | FIELD | FV |
| 30/50 | 50/70 | 35/55 | 70/70 | 40/55 | 50+ |
Off-the-charts tools and projection make Montgomery too intriguing to ignore, but he is arguably the most raw prospect from his class and has a long way to go in order to tap into his elite tools consistently.
Offense
A rare Pennsylvania prep prospect, Montgomery earned comparisons to Hunter Pence because of the eye-catching hitch in his swing. Montgomery was able to get away with the hitch against lower level competition, but it has been a focus for the 19-year-old to tone down the disruptive move in pro ball.
Montgomery has since lessened the severity of his hitch, which now looks more like a second hand pump at the end of his load and can still disrupt his timing. If Montgomery can iron out the kinks, he has boundless offensive potential.
Even with the early inconsistencies, we've seen Montgomery put up exit velocities at high as 113 MPH, and the tall, wiry strong outfielder puts on a show when he takes batting practice. His long levers help generate a ton of whip and top scale bat speed.
It's easy to imagine a world where Montgomery can launch 30+ homers in Coors Field with ease, but he will need to find a way to simplify things, swing-wise.
Defense/Speed
A plus-plus runner, Montgomery's long, quick strides help him cover a ton of ground in a hurry both in the field and on the base paths. Like many outfielders drafted out of high school Montgomery has some improvements to make with his reads and routes, but he is a gifted athlete with a plus arm and should progress into a plus defender in centerfield with time.
Outlook
It is extremely difficult to peg a prospect with as much upside and uncertainty as Montgomery. The 6-foot-4, 200 pound freak athlete has all of the goods to be a star. He also could struggle to consistently hit lower level pitching.
For now, the obvious answer is to give the 19-year-old the benefit of the doubt and see how he progresses. We've already seen flashes of his special ability in limited professional action, though the most important thing to watch will be how he progresses swing wise at the plate.
7. Elehuris Montero – 3B/1B – (MLB)
Age: 23 | Height/Weight: 6'3, 235 | Bat/Throw: R/R | IFA: $300K – 2014 (STL) | ETA: 2022
| | | | | | |
| --- | --- | --- | --- | --- | --- |
| HIT | RAW POWER | GAME POWER | RUN | FIELD | FV |
| 30/50 | 60/60 | 50/55 | 30/30 | 40/45 | 45+ |
One of the pieces coming over from the Cardinals in the Nolan Arenado deal, Montero has enjoyed a Double-A breakout last year and kept the ball rolling into 2022.
Offense
A big bodied masher, Montero doesn't require much movement to tap into his plus raw power. Montero utilizes a gathering toe-tap and spins well off of his backside. This was a more recent adjustment for the 23-year-old ahead of his big 2021 season last year after struggling to control his body and get the ball in the air consistently.
Montero has launched 41 homers in his 173 games in Double-A and Triple-A since joining the Rockies organization thanks to an impressive ability to demolish fastballs at an outrageous clip. Prior to his MLB call up, Montero was hitting over .400 against heaters with a majority of his homers coming against the pitch.
The breaking ball has been a challenge for Montero through the years, but his improvements with his body control have helped a bit in that regard and even more so against changeups.
Breaking balls will likely always be a challenge for Montero, who seems to just struggle with picking them up at times, though he is so good against fastballs that even passable numbers against secondaries will likely allow him to remain productive. Power is the calling card for Montero and the hope is that he can tap into 30+ home run juice, but he will need to improve with his pitch recognition skills and approach at the highest level to do so.
Defense/Speed
A below average runner with pretty heavy feet, Montero has survived at third base in the upper minors thanks to his plus arm. It is more likely that Montero moves to 1B or DH, but he can hold down third base if needed.
Outlook
The bat will ultimately determine Montero's fate and thanks to a great year and a half offensively, the 23-year-old has hit his way to the big leagues. In order to hang around at the MLB level, Montero will need to be more selective at the plate and continue to improve in his ability to recognize spin.
Montero's approach does him in more than a zone whiff issue so there is plenty of reason to believe that consistent at bats at the highest level will help him progress in those regards.
The Rockies can dream on another CJ Cron here, but Cron also bounced between three teams before settling with Colorado. Hopefully the Rockies can help Montero put it all together a bit quicker.
8. Ryan Feltner – RHP – (MLB)
Age: 25 | Height/Weight: 6'4′, 190 | Bat/Throw: R/R | 4th Round (126), 2018 (COL) | ETA: 2022
| | | | | | |
| --- | --- | --- | --- | --- | --- |
| FASTBALL | CURVEBALL | SLIDER | CHANGEUP | COMMAND | FV |
| 55/55 | 50/50 | 50/50 | 40/45 | 45/45 | 45+ |
An uptick in velocity and improved pitchability have Feltner looking like a potential back-of-the-rotation piece for the Rockies.
Arsenal
After operating more in the low 90s last year, Feltner's fastball is now sitting 93-95 MPH while grabbing plenty of 97's. Feltner has also mixed in a two seamer to get more ground balls and weak contact.
Feltner is extremely comfortable spinning both of his breaking balls for strikes, but his best out pitch is his slider in the mid-80s. He has no problem going to the slider in any count and will use it against both righties and lefties.
Feltner uses his curveball less frequently overall, but at times it can serve as his more effective out pitch. The pitch has looked better this year thanks to his uptick in velocity and tighter break and sits more in the 77-80 MPH range after previously operating closer to the mid 70s.
The changeup flashes average for the 25-year-old, but his command of the pitch makes it a viable taste breaker, especially to lefties.
Outlook
Whenever a pitcher's stuff jumps a bit and his command either stays the same or improves with it, you just can't ignore it. While Feltner may not be a frontline guy for the Rockies, his arrow is pointed upwards and he has proven already that he can pitch in one of the most unfriendly environments in the minor leagues in Albuquerque.
With average command and five viable pitches, Feltner has a good chance to be a back of the rotation piece for the Rockies.
9. Michael Toglia – 1B – (Double-A)
Age: 23 | Height/Weight: 6'5, 230 | Bat/Throw: S/R | 1st Round (23) – 2019 (COL) | ETA: 2022
| | | | | | |
| --- | --- | --- | --- | --- | --- |
| HIT | RAW POWER | GAME POWER | RUN | FIELD | FV |
| 30/35 | 60/60 | 50/60 | 40/40 | 55/65 | 45+ |
A switch-hitting first baseman with top-scale raw power, Toglia has the ingredients to be a corner masher, but has not completely found his footing in professional baseball yet.
Offense
Elite power potential from both sides of the plate and a good approach have helped Toglia stay somewhat productive through his inconsistent two and a half professional seasons, but the Rockies are hoping that their former first rounder will find a way to distance himself a bit from the three true outcomes designation.
Despite not really lighting up any minor league level so far, Toglia has also stayed afloat at every promotion, making him a bit difficult to peg. Toglia has walked nearly 14% of the time in his roughly 1,000 professional plate appearances and is just starting to tap into his plus raw power.
We have seen Toglia launch tape measure homers upwards of 113 MPH, but his pull-happy approach at times leaves him susceptible to a low batting average on balls in play and puts a lot of pressure on his ability to lift the ball out of the yard.
Over the last two seasons, Toglia has been more productive from the right side of the plate–a switch hitter's lesser used side–which is surprising given the fact that his left handed swing was more advanced as an amateur. Toglia uses the whole field a bit better from the right side, but has more power potential from the left which probably leads to that desire to pull a bit more.
Toglia has the kind of power to leave the yard 35+ times at Coors Field and his consistent ability to walk will help take some pressure off of the hit tool. Still, Toglia is going to have to find a way to mix in more base hits.
Defense/Speed
Extremely nimble for his size, Toglia is a plus defender who is a vacuum in regards to ground balls and picks at first. Aside from Nick Pratto, Toglia is arguably one of the best defenders at first in the upper minors and is not a liability on the base paths either.
Outlook
2020's pandemic cancelled season impacted everybody in the minors, but a player like Toglia might be one of the most affected. After an inconsistent collegiate career with flashes of brilliance, Toglia needed one thing: at bats.
At the end of the day, Toglia has only played 230 professional games at the time of this writeup which isn't even two full seasons. Given Toglia's solid approach, elite power potential from both sides of the plate and a plus glove to go with it all, it would be ridiculous to write off Toglia.
The 23-year-old really only needs to be a .230-.240 hitter to be a productive big leaguer as the homers will naturally come with that much contact and there's no question about his on base ability.
10. Jaden Hill – RHP – (ACL)
Age: 22 | Height/Weight: 6'4′, 235 | Bat/Throw: R/R | 2nd Round (44), 2021 (COL) | ETA: 2025
| | | | | |
| --- | --- | --- | --- | --- |
| FASTBALL | SLIDER | CHANGEUP | COMMAND | FV |
| 55/70 | 50/55 | 50/60 | 30/45 | 50 |
Built like a linebacker with impressive athleticism on the mound, Hill was a potential top-10 pick in the 2021 Draft before undergoing Tommy John surgery.
Arsenal
We haven't been able to see much of Hill on the mound, but when he has thrown, there have been flashes of brilliance. Only tossing 31 1/3 innings in his collegiate career due to the pandemic and recurring elbow issues, Hill impressed in spurts with his upper 90s fastball and plus changeup.
The fastball explodes out of Hill's hand and he was able to run it up to 99 MPH with relative ease. A rarity for raw power pitchers, Hill's best out pitch is actually his changeup, which he has phenomenal feel for and has late fade to it as a swing and miss pitch to hitters from both sides of the plate.
Hill's slider flashed above average and with the arm speed he is able to generate, it would not be surprising to see that pitch trend towards plus territory as well. Command has been an issue for Hill though it is difficult to put a grade on the command of a pitcher who has hardly thrown. Given his athleticism, there is reason for optimism in that regard.
Outlook
Set to return at some point in 2022, the Rockies will likely take their time with their second round selection. A three sport athlete in high school, LSU would have provided Hill the opportunity to exclusively focus on baseball and gain experience, but it looks like that will have to come in professional baseball.
Hill has a chance to be really special and climb up the prospect rankings as dramatically as anyone in the minors once he returns. He also could struggle to put it all together in an organization that has not had the best track record with developing pitchers of his profile.
Other Names to Watch
Karl Kauffman – RHP – (Double-A): The 77th overall selection of of the University of Michigan in 2019, Kauffman has come out in 2022 with a different pitch mix and better overall stuff. Kauffman is now using a sinker more and has manipulated his cutter to more of a slider. So far, the results have been positive for the 24-year-old who is missing bats as much as he ever has as a pro.
Victor Juarez – RHP – (Low-A): A compact righty with athleticism and a quick arm, Juarez is a strike thrower in the low 90s with three projectable secondary offerings. Still just 19 years old, the IFA out of Mexico is advanced for his age.
Hunter Goodman – C – (Low-A): An impressive power bat at the University of Memphis, Goodman has carried the pop right into pro-ball with 22 homers through his first 73 games in Low-A. There's some question as to whether Goodman can stick behind the dish, but his plus power is intriguing.
Jimmy Herron – OF – (Double-A): This guy deserves more love. A former third round pick by the Chicago Cubs, Herron has battled injuries over the last couple years, but is performing in Double-A this year with a .259/.373/.465 line along with 9 homers and 7 stolen bases. Mix in a 13% walk rate and 16% strikeout rate and Herron has arguably been one of the better offensive performers in the Rockies system this year.
Colton Welker – 3B/1B – (Triple-A): Welker has an impressive feel to hit which has helped him mash his way through the minor leagues. Now teetering between Triple-A and the show, Welker will need to prove that he can tap into a bit more power.
Brenton Doyle – OF – (Double-A): Doyle has the tools to be a top 10 prospect in this system, but at 24 years old, we have yet to see him prove that he can hit enough. Doyle may finish the year with 20 homers and 20 stolen bases, but he is punching out 34% of the time and has only 14 walks in 280 plate appearances.
Ryan Rolison – LHP – (Triple-A): 2021 was an injury-marred disaster for Rolison and the southpaw has yet to pitch in 2022. He's a pitchability lefty and could be a rotation piece for the Rockies if he can get healthy.
Ryan Vilade – OF – (Triple-A): A former first-rounder with good bat-to-ball skills, Vilade is trending away from his above average power grades and looks to be more of a contact oriented hitter who lacks the complementary tools to make him a regular.