Analysis
The Colorado Rockies' CJ Cron Dilemma
While CJ Cron is the best source of power for the Rockies, he could soon become their most tradeable asset, moving way for youth at Coors.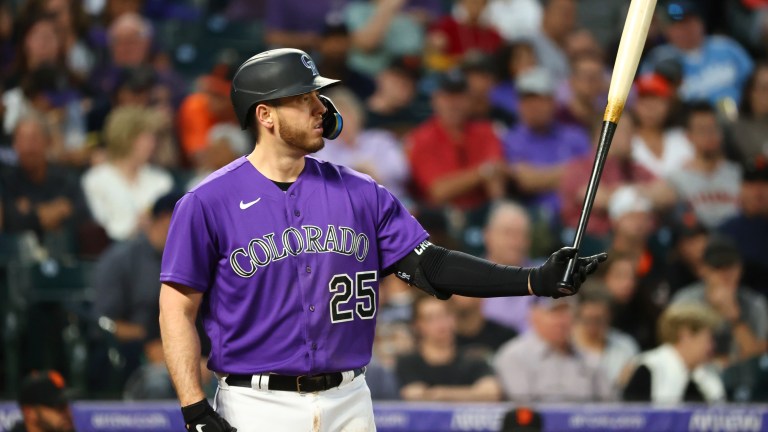 CJ Cron got off to a smoking-hot start in 2023, earning the NL Player of the Week Award.
Since then, however, Cron's performance has been uneven. He has a current slashline of .227/.261/.545 for an OPS+ of 99. He's hit four home runs in 44 at-bats. Conversely, he has walked only twice and has a K% of 30.4%. (Granted, this is small-sample-size territory. As a comparison, in 2022, his K% was 25.9%.)
Cron is not worried, saying, "Just baseball, that's really all it is." He then added, "It's a long season, and that stuff always seems to level out."
Over the course of his career, Cron has learned to handle the turbulence that comes with being a professional baseball player. "Just try to stay the plane," he said. "I'm confident I will come out of it. I always do."
That said, the 2022 All-Star's value is undeniable for a team seeking a first baseman. This raises an interesting question: What should the Rockies do about CJ Cron, who is in the last year of a two-year, $14.5M contract?
Can you start with some background information?
Absolutely.
The 33-year-old first baseman signed with the Rockies in 2021 after accepting a non-roster invitation to Spring Training. (He was recovering from a knee injury suffered while with the Tigers.) As one might expect, Cron's power was a nice fit with Coors Field, and he has hit 60 home runs and earned an OPS+ of 117 as a Rockie. In 2022 he hit 29 home runs, the most of any Rockie.
It hasn't all been perfect, however, as the Coors Effect has hit Cron hard. In 2022, Cron had an OPS+ of 161 at Coors Field and 70 on the road. That is a serious hangover.
(Let me add that players like Nolan Arenado, DJ LeMahieu, and Chris Iannetta have shown that Rockies can be effective hitters away from Coors Field, a point underscored by Mike Petriello. There is no reason to believe that Cron is a "Coors creation." Instead, his numbers should normalize when he is no longer playing at elevation.)
Exacerbating the home-road splits issue, Cron suffered a hand injury after the All-Star Break, which affected his offensive output (152 OPS+ before; 71 OPS+ after). Cron says that his hand has fully recovered and that the back spasms he suffered during Spring Training are behind him as well. As he told reporters during Colorado's opening home stand, "I feel good."
Certainly, the power is still there. Here he is on Tuesday night, hitting his fourth home run of 2023.
Moreover, he is a capable first baseman with a career DRS of 10. Probably no Gold Gloves on the horizon, but he's still a solid defender.
Now Cron finds himself, a good hitter and competent first baseman, on a team no one expects to do well this season.
What are the Rockies' options?
Do the Rockies have depth at first base?
Yes. Actually, they have a glut there.
Right now, Cron is taking up playing time at first because he's one of the Rockies' best hitters. However, they also have developing players who could use that time.
The first is Elehuris Montero, part of the Nolan Arenado trade. Montero is a natural third baseman who is probably destined for first. (His defense just isn't quite enough for the hot corner.) When Spring Training began, there were questions about how Montero would get regular playing time given that he was blocked by Ryan McMahon at third and Cron at first.
Following Brendan Rodgers' shoulder injury during the first week of Spring Training, McMahon was moved to second, and Bud Black made clear that the Rockies would use Montero as their primary third baseman. So that problem was addressed — at least for this year.
However, in addition to Montero, the Rockies also have Michael Toglia, their first-round draft pick from 2019. He is a powerful switch-hitter with the kind of defensive skill that was a Todd Helton trademark. Like Montero, Toglia is blocked by Cron at first. Since Toglia represents the future for the Rockies, getting him regular playing time at first base is essential. But when Toglia is with the Rockies, he primarily plays right field.
Then there's Nolan Jones, the third baseman-right fielder the Rockies acquired from the Guardians. Like Montero and Toglia, Jones has also spent time at first base as a way to get his bat into the lineup.
In an unexpected move, the Rockies signed veteran Mike Moustakas, who also plays first and third. They wanted Moustakas' lefty bat, but to see regular playing time, he also needs to spend some time playing defense.
Oh, and did I mention that the Rockies also have three of the Top 10 first base prospects as ranked by MLB Pipeline, a point highlighted by @BalkeStBanter?
All those untapped riches, but for now, CJ Cron owns first base.
At this point, the way forward becomes clear: If the Rockies are not a contending team, then they need to move tradable players to create time for their prospects and acquire pitching.
Whether that will happen is a separate issue.
Could the Rockies trade Cron?
Yes, Cron is very tradable because he has skill and a reasonable contract.
He would first need to re-establish his value given the second half of his 2022 season. But if he is able to do that prior to the trade deadline, there is no reason other teams would not be interested in making a trade.
And there will be teams looking for a slugging first baseman.
It's true that the Rockies have been reticent to trade. However, general manager Bill Schdmit showed a willingness to deal with other teams during the offseason, and there's no reason to think he would not continue that trend during the season.
Would the Rockies let Cron play out the 2022 season?
Given their recent history with Trevor Story and John Gray, the possibility exists that the Rockies would simply keep Cron on their roster because they can.
The Story and Gray situations were different from Cron's in a couple of respects. First, they hoped to re-sign Gray, who had indicated that he wished to remain with the team. Ultimately, that did not happen.
Second, the odds of re-signing Story were always significantly lower, and the Rockies have said the trade market was not there for him. Moreover, they hoped to keep Story long enough to bridge the gap to Ezequiel Tovar.
With both Gray and Story, the Rockies had no obvious successors. That is not the case with Cron, hence the reduced odds that he will finish the season with the Rockies.
Is there a chance the Rockies would re-sign Cron?
Well, it's the Rockies, so anything is possible, but this seems unlikely.
The Rockies are aware that they need to sort out the future at first base, and extending Cron's contract does not resolve that issue. In addition, any contract extension would certainly be more than the cost of playing a younger player.
With all that in mind, a contract extension seems unlikely.
Closing Thoughts
It's probably too early in the season for the Rockies to trade CJ Cron because they are not yet willing to say (at least publicly) that 2023 marks another year of rebuilding.
But given their depth at this position and their need to find playing time for prospects, it would be surprising for Cron to remain in Colorado after the trade deadline.