Analysis
Prospects Who Can Make An Impact For Every American League Team
These prospects could make the jump to the big leagues and help their team compete next season.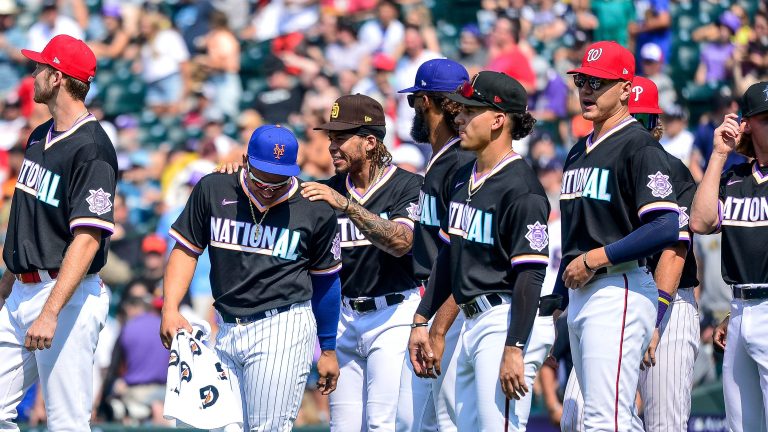 Making the jump from the Minor Leagues to the show is obviously extremely difficult. Counting on prospects to do so prior to the start of the season is just something that teams do not do.
With that said, teams are always hopeful that certain prospects in their system can join the big league team and help them compete at some point next season. Let's take a look at those candidates for each American League team.
Houston Astros
Jeremy Peña (SS)
We will have to wait until the other side of the lockout to see how the Astros plan to proceed at the shortstop position as Carlos Correa departs. Had it not been for injuries shortening Peña's season in Triple-A, there would probably be a higher level of confidence in the fact that Peña could take over at the 6-hole next year.
Drafted as a glove-first shortstop in the third round out of the University of Maine, Peña has developed nicely as a hitter, posting a 141 wRC+ between Low-A and High-A in 2019.
Peña came out swinging in 2021, launching 10 homers in just 30 games before going down with a wrist injury. Officials within the Astros organization rave about Peña's makeup and work ethic, making a transition to the big leagues potentially a bit smoother for the 23-year-old even though his professional at bats are somewhat limited.
With already impactful defensive value, above average speed, burgeoning power, I wouldn't be shocked if the Astros decided to move forward with Peña as the everyday shortstop should he have a strong spring. Regardless, we should see him at some point next year.
Hunter Brown (SP)
A solidly built power pitcher who can run it up to 98 MPH with a hammer of a curveball, Brown looks poised to slide into the Astros rotation at some point next season after a strong year between Double-A and Triple-A.
A plus heater and plus-plus power curve give Brown a strong baseline and he also has an above-average slider and changeup that he mixes in as well, depending on which offering he is commanding better. Like many power pitchers, command is the question for the former D-II product, though he showed improvements in that regard after his call up to Triple-A.
Striking out more than 30% of the batters you see at the upper levels will help get you closer to the goal of cracking the big leagues and outside of the mysterious Forrest Whitley, there really aren't any potential impactful prospect arms knocking on the door of the big leagues. Brown will likely spend some more time in Triple-A, honing in on his command, though I would be shocked if he does not break into the big leagues at some point next year for the defending AL Champions.
Oakland Athletics
Nick Allen (SS)
A high-floor prospect, Allen has perennial Gold Glove potential at shortstop and put together his best offensive stretch of his professional career during his Double-A stint last year. Allen struggled offensively after his promotion to Triple-A, but his value with the leather and speed on the bases was evident in his 39 games at the level.
Defensively, Allen would be an above-average shortstop at the big league level right now. Offensively, he has great bat-to-ball skills, which he will need to squeeze every bit out of to maximize his value. 2021 J.P. Crawford type of production would be the hope, and I think there's room for a bit more offensively. He should be at the big league level by mid season.
Los Angeles Angels
Davis Daniel (SP)
The caveat of the prospect not having any MLB time makes things incredibly difficult when it comes to the Angels because they auditioned just about every pitching prospect who sniffed the upper levels last year. A team so infamously thin with pitching in the Mike Trout era had 17 different pitchers make a start last year, many of them rookies.
One pitcher who didn't debut last year and could chip in during the 2022 season Davis Daniel. The 24-year-old ascended through the Minors after returning from Tommy John surgery and was effective thanks to his ability to throw strikes and mix it up.
Daniel's fastball sits in the low 90s and his best pitch is his above-average slider. The right-hander can also mix in a slow curve and changeup. With average stuff and above-average command, Daniel can spot start for the Angels as well as pitch in long relief cleanup duty. Maybe not the most exciting, but someone has to do it!
Seattle Mariners
Julio Rodriguez (OF)
If you wanted exciting, here it is. J-Rod is set to break in with the Mariners next season and he will likely be one of the AL Rookie of the Year favorites. For good reason as well, as there are few teenage prospects who have blazed the Minor League ranks the way Julio Rodriguez has.
After a year where the Mariners shocked the baseball world by almost pushing their way into the postseason, GM Jerry Dipoto has shown a willingness to take that next step by signing Robbie Ray to a nine-figure deal and it would be safe to assume that he won't want to waste too much time bringing Rodriguez up given the impact he could provide out of the gate.
Rodriguez should anchor an outfield corner in Seattle for the next decade and we will be witnessing the beginning of the J-Rod era early next year.
George Kirby/Matt Brash (SP)
Kirby and Brash are entirely different profiles of pitching prospects and both could chip in at the highest level next year. Kirby could have had an outside shot at breaking into the big leagues late last year had he not been sidelined by shoulder fatigue.
Kirby is a rare high-floor starter who still has frontline upside. The 23-year-old's fastball that touches triple digits and elite command is a big reason why Kirby checks in at No. 19 on Just Baseball's Top 100 List. Kirby deploys three usable secondaries, the slider being the best of the bunch, however he will need to improve the quality of those offerings to reach his front-line potential.
As is, Kirby could slot into the back of the Mariners rotation no problem. Unless the Mariners feel as though they need him in the early going, I could envision some more time in Triple-A to hone in on his secondaries. Regardless, Kirby will likely be added to a Mariners team at some point as they look to make the postseason for the first time in over 20 years.
Brash is in a similar boat of "ready enough if you really need him" but could probably use a handful of Triple-A starts as well. One of the breakout arms in all of the Minor Leagues last year, Brash dominated with an upper 90s fastball and a mesmerizing wipeout slider. To the contrary of Kirby, there are no questions in regards to Brash's secondary stuff, he even developed his changeup to a strong swing-and-miss third offering as well.
The questions on Brash have been around health and command. Brash stayed healthy last season, logging nearly 100 innings and the command improved as the year went on. Still, it is really difficult to have success as a starter at the highest level when walking 12% of batters and that will be something to watch with Brash moving forward. Both pitchers are right on the cusp and I expect the Mariners to be very excited about the two potential lights out arms in their back pocket.
Texas Rangers
Josh Jung (3B)
The Rangers selected Jung eighth overall in the 2019 MLB Draft, after the third baseman enjoyed a prolific career at Texas Tech. In his first pro season, Jung showed his comfort in the box and pure ability to hit, however his power was not present; Jung hit just one homer in 40 Low-A games.
Jung emerged in 2021 with a new looked set up that allowed for his lower half to get more involved and a swing geared for more lift. As a result, his ground ball rate dropped by 13% while his HR/FB rate jumped from 2.9% to 22%. Put simply, Jung is hitting the ball in the air more and a higher percentage of the balls that he is hitting in the air are leaving the yard. Good recipe.
Jung hit .326/.398/.592 with 19 homers between Double-A and Triple-A, making it pretty clear that he has nothing else to prove in the Minors.
Cole Winn (RHP)
Another former first rounder, but a year earlier, Winn cut his walk rate by 4% while bumping his strikeout rate up by 10%. Winn tweaked his slider, taking it from above-average to plus, and improved the feel for his changeup.
While there's not much reason to rush the newly turned 22-year-old pitcher, Winn improving his feel for his secondaries and overall command should help fast track him to a Rangers team that is trying to compete as soon as possible.
Detroit Tigers
Spencer Torkelson (1B/DH)
The No. 1 overall pick in the 2020 Draft, Torkelson went crazy in his first professional season. The former Arizona State Sun Devil hit 30 home runs across three Minor League levels, finishing the year in Triple-A. Even with the aggressive assignments, Torkelson kept the strikeouts in check at every level and walked a ton.
The 22-year-old slugger should be given every chance to break camp with the Tigers in Spring Training. Barring a flop of a performance, it will be hard to justify not having him on the Opening Day roster for any reason other than service time.
Riley Greene (OF)
The fifth overall selection out of high school in 2019's draft, Greene has wowed the Tigers with how advanced he is at the plate. Greene impressed the Tigers enough at the alternate training site in 2020 for them to start him in Double-A last season. Greene quickly showed he was more than comfortable against upper level pitching, despite being four years younger than his competition, and earned a Triple-A promotion.
Greene's only improved in Triple-A, upping his on-base percentage to .400 along with a nearly identical power output. While there is some swing-and-miss in his game at this point (27 K%), Greene projects to be a solid all-around hitter.
One of baseball's best prospects, Greene could probably use a few hundred more at-bats and some more innings in centerfield before his promotion, however if Greene continues to mash to a .950 OPS in Triple-A next year, it will be hard to explain to Tiger fans why he isn't helping a Detroit team that went out and spent a little this offseason.
Kansas City Royals
Bobby Witt Jr. (SS)
Not much suspense here. Not only is Bobby Witt Jr. our top overall prospect in baseball, but the guy is MLB-ready in every aspect. He put up fantastic numbers in Triple-A, played exceptional defense and was savvy on the base paths in 2021.
There's been some talk that the Royals may put Witt at third base because of the elite defense and breakout of Nicky Lopez–which I think is crazy–but regardless it sounds like the plan is to have him in the starting lineup at Kauffman Field on Opening Day.
MJ Melendez (C)
Another interesting situation in terms of where he may slide into the lineup, Melendez paced all of MiLB with 41 jacks last year. With limited swing-and-miss and solid splits, there is really no reason for Melendez not to be in the big leagues next year.
One obvious issue is the presence of Salvador Perez, however Melendez brings so much value with the stick that a DH role would even be justifiable while giving Melendez a couple starts per week behind the dish to rest Salvy.
Nick Pratto (1B)
Another bat? You betcha. And this guy was just as good as the aforementioned two hitters in Triple-A as well.
Pratto and Melendez were not only one of MiLB's best offensive duos, but they also enjoyed two of the biggest bounce back seasons in professional baseball. Pratto's power (36 HR) comes at the expense of some K's (29 K%), however he walks a ton and plays elite defense at first base. Pratto doesn't have much more to prove in the Minors.
Cleveland Guardians
Gabriel Arias (SS/2B)
One of the main pieces in the Mike Clevinger return, Arias is a well-rounded prospect who brings a little of everything to the table. Though he only hit 13 home runs in 115 Triple-A games last year, Arias has the ability to hit 25+ homers at the big league level to go with strong defense up the middle and above-average speed.
Given Amed Rosario's struggles defensively at shortstop, there should be a fun competition for MLB starts between Arias, Rosario, Andres Gimenez, and maybe even Tyler Freeman.
Nolan Jones (3B/OF)
After a disastrous start to the season, Jones finished the season strong in Triple-A. A primary third baseman, the Guardians made sure Jones got plenty of reps in right field in anticipation of a potential 2022 call-up. If Bobby Bradley struggles, Jones could see some action at first base as well. Jones' biggest Achilles heel was his struggles against southpaws and he made major improvements in that regard last season.
Jones could have a chance to make the team outright, though a June promotion seems the most likely. The big left-handed hitter could offer some much-needed power to the Guardians lineup.
Steven Kwan (OF)
One of the most underrated prospects in baseball, Kwan quietly had a phenomenal season last year between Double-A and Triple-A. The former fifth round pick hit .328/.407/.527 between the two levels while walking more than he struck out.
Kwan is MLB-ready now, and brings an above-average glove capable of playing all three outfield spots. I could see him being in the Opening Day lineup with a strong spring.
Minnesota Twins
Jose Miranda (3B)
Another breakout prospect last year, Jose Miranda did just about everything you could ask of a hitter and more. In 127 games across Double and Triple-A, Miranda launched 30 home runs, while only punching out 12.5% of the time; he also hit .344 with a .401 on base percentage.
Miranda absolutely should have been called up last year and it would be one of the more blatant examples of service time manipulation if Miranda is not on the lineup card on Opening Day.'
Josh Winder (SP)
While he may not be a household name, Winder enjoyed a strong season last year, dominating Double-A to a 1.98 ERA in 10 starts. The 6-foot-5 right-hander made several starts in Triple-A before going down with some shoulder discomfort in late July.
Winder should be good to go health wise by the start of the season and for a Twins team that desperately needs starting pitching help, I'd imagine Winder will be one of the first names they call in 2022.
Chicago White Sox
Micker Adolfo (OF)
The bad news is: the White Sox have one of MLB's worst farm systems. The good news is: the White Sox don't need much help at the MLB level. Once a prized international free agent, Adolfo has struggled to stay on the field since his pro debut in 2014.
The big slugger played the second-most games of his career last season and hit 25 homers in the upper levels. There's no path to Adolfo getting consistent at bats, however if someone goes down in the outfield or the Sox need a bench bat, Adolfo will likely be the first bat brought up.
Toronto Blue Jays
Gabriel Moreno (C)
I'll preface with the fact that Moreno is one of my favorite prospects in baseball and I think has all the goods to be a perennial All-Star. For that reason, I think Moreno should get more looks than Alejandro Kirk at catcher next year, though I understand the situation is a bit more fluid than that.
Catching aside, Moreno is one of the most advanced hitting prospects out there. Combine that with the fact that he is putting up spectacular offensive numbers at a position where offense is beyond scarce and it is hard to envision Moreno not getting a ton of run behind the dish for a Blue Jays team that is trying to compete with the beasts of the AL East.
Moreno was hitting .367/.434/.626 through 37 Double-A games before going down with a thumb injury last year. He later returned to the Arizona Fall League where he hit .329/.410/.494 in 22 games. The kid makes hitting look easy.
Jordan Groshans (INF)
Groshans is less likely to break in with the Jays in the first half the season due to a crowded infield. That said, if Santiago Espinal and Cavan Biggio struggle offensively, Groshans should get a look. The former first round pick has not come into the power once hoped for, but he boasts great contact rates and a sub 20% K-rate in Double-A.
Baltimore Orioles
Adley Rutschman (C)
A switch-hitting catcher who hits for power and average, along with elite defense?
Are you kidding me?!
Rutschman is a franchise-altering talent, who will give Orioles fans something to watch in 2022. Another guy where it is a matter of service time in regards to his call-up because he has nothing else to prove.
Grayson Rodriguez (SP)
Just Baseball's top overall pitching prospect somehow exceeded expectations in 2021. The big right-hander struck out 40.5% of batters between High-A and Double-A, while pitching to a 2.36 ERA. The former first round pick gets better each time I see him and with the strong command he showed of all of his offerings, should be ready for a midseason debut.
New York Yankees
Oswald Peraza (SS)
I won't pretend to have any idea on what the Yankees are planning to do at shortstop, but I do know that one of the options for next year could be Oswald Peraza. Once viewed as a glove-first prospect, Peraza put it together offensively last year, helping him climb from High-A to Triple-A.
Peraza offers a big league ready glove, plus speed, and with the massive offensive improvements he has made, it wouldn't be crazy to see him break in at shortstop next year. The future for the Yankees at the 6-hole is Anthony Volpe, however Peraza's 2021 just might be enough to convince the Yankees to let him hold the position down next year.
Ken Waldichuk (SP)
Waldichuk was one of my favorite film dives this offseason. After watching this guy's starts it became evident how the southpaw was able to carve up hitters to a 36% K-rate and 3.03 ERA last year. You can read my full write up here, however the spark notes version is that Waldichuk's fastball has a ton of life and is insanely hard to pick up out of his hand.
Pair the plus heater with an assortment of above-average secondaries and the Yankees could have a promising middle of the rotation arm in Waldichuk. The 23-year-old probably needs another handful of starts in the Minor Leagues, but could help a Yankees team that seemingly always needs pitching.
Hayden Wesneski (SP)
Another Yankees arm who really burst onto the scene this year. Wesneski pitched his way from High-A to Triple-A thanks to a lively fastball and wipeout slider. Wesneski still has some development to do in regards to his changeup, however his fastball/slider combination is ready for an MLB bullpen tomorrow.
Boston Red Sox
Tristan Casas (1B)
An absolute masher, Casas put his power on display in the upper levels as well as the Olympics where he launched some moonshots. Casas cut his K-rate all the way down to 19% thanks to some approach adjustments and has a swing that reminds me a bit of Freddie Freeman. Having already showed that he can hit high-end velocity and keep the strikeouts in check, I don't think it will be long before Casas takes over the first base duties for Bobby Dalbec.
Brayan Bello (SP)
A bright spot for a system that is a bit barren in the pitching department, Bello rode his upper 90s fastball and plus changeup to success in 2021. A big key for Bello was developing his breaking ball as well as his overall command, both of which he did last year in Double-A.
Bello could be a bit better with his fastball location and that is what I assume will be a focal point for him as he will likely pitch not too far from Fenway Park in Triple-A Worcester.
Tampa Bay Rays
Josh Lowe (OF)
Part of the reason why the Rays are open to moving on from Kevin Kiermaier–aside from money–is the emergence of Josh Lowe. I know, I know, I said they couldn't have had an MLB at-bat to be considered for this but Lowe literally had one at-bat. He also is one of my favorite prospects and I wanted to talk about him so please excuse me bending the rules here.
Lowe offers plus defense in center (not Kiermaier level, but still good) and a combination of power and an ability to get on-base. Lowe hit 22 homers last year in Triple-A while walking 13% of the time on his way to an impressive .381 OBP. To be honest, I expect Lowe to make much more of an impact than Vidal Brujan.
Tommy Romero (SP)
Your classic underrated Rays arm, Romero made a joke out of Double-A hitters before a bumpy start to Triple-A and then a strong finish. Overall, Romero pitched to a 2.61 ERA while striking out a third of the batters he faced and walking only 7%. Great command and a viable three-pitch mix will help Romero settle into a rotation spot for the Rays next year.