Analysis
Way-Too-Early Rookie of the Year Favorites
With a third of the season in the books, here are the early favorites to win the Rookie of the Year Award in each league.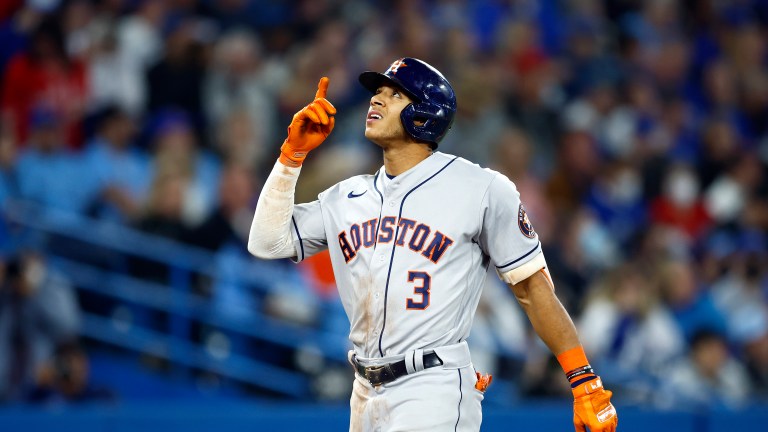 The weather is heating up and so are the award debates. The season is only a third of the way through, but that will not stop fans from bantering over who will be an All-Star, Gold Glove winner, and Rookie of the Year. While many top prospects are off to a slow start to begin their career, several have shown why their talent placed them on many top prospect lists.
National League
In 2021, Cincinnati Reds second basemen Jonathan India won the award. India was a surprise add to the roster out of spring training, but looked like a veteran on the field. His .269/.376/.459 slash line and 122 wRC+ was enough to push him past second place Trevor Rogers of the Miami Marlins.
The American League has more productive rookies, so I will lean on my projections the rest of the way in the National League.
Honorable Mention: Christopher Morel
3. Jack Suwinski – OF- Pittsburgh Pirates
A dark horse candidate right off the bat?
Jack Suwinski's .235/.290/.461 slash line might lead you to question my credibility. However, this award is often focused on counting stats such as home runs and RBI, whether I agree with that or not is a discussion for another day.
Suwinski has shown improvement month-to-month since debuting in late April. He's shown ability to barrel a ball at the highest level, ranking in the 89th percentile in barrel percentage leading to seven home runs. The rebuilding Pirates will favor the young outfielder over middling veterans, allowing Suwinski to get every opportunity to shine.
Baseball Savant has a fun feature where it shows "similar batters to" a selected player. Jack Suwinki's similar batters? C.J. Cron, Jorge Soler, Rowdy Tellez, Teoscar Hernandez, and Jazz Chisholm. Not a bad group to be apart of.
2. Seiya Suzuki – OF – Chicago Cubs
Suzuki was a top priority free agent for many teams looking for outfield help. The 27-year-old from Japan landed with the Cubs and was off to a hot start. In April, Suzuki slashed .279/.405/.529 with four home runs before slumping in May to a .211/.279/.338 line with no home runs.
Suzuki has been overlooked due to his time on the injured list but should come back healthy and hitting. Suzuki's average exit velocity, barrel percentage, chase rate, and sprint speed all are over the 75th percentile. He also takes advantage of hitting to all fields, as shown in this beautiful spray chart.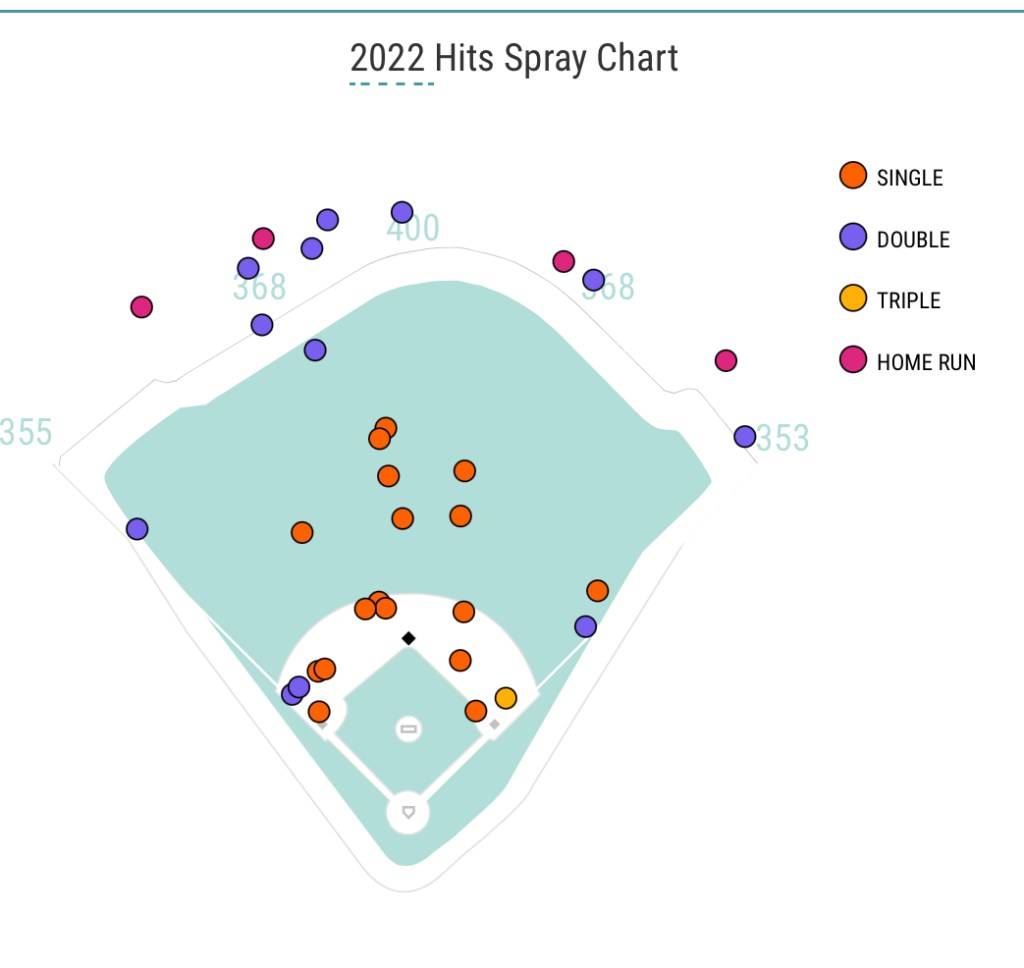 The question with all players coming from Japan is will they be able to adjust to Major League pitching? While it is still too early to tell I would, I would take the gamble on Suzuki.
1. MacKenzie Gore
Gore's story and trajectory has been wild. From top prospect, to falling out of top 100s due to a terrible 2021, Gore has come full circle to show his 2021 struggles were just a bump in the road. His 1.7 fWAR is top amongst rookie pitchers in the MLB.
Through nine games (eight starts), Gore has a 1.50 ERA and 1.06 WHIP, including three starts without allowing a run. Surprisingly, Gore has been more effective than the Padres other established lefties in the rotation, Blake Snell and Sean Manaea.
With the Padres in the playoff discussion, Gore will have plenty of opportunity to shine and stake his case for NL Rookie of the Year. We will see how he looks versus tougher lineups as his matchups have mostly come against weaker teams.
American League
Tampa Bay Rays playoff hero Randy Arozarena took home the hardware in 2021. The 2021 class was strong with Luis Garcia, Wander Franco, and Adolis Garcia headlining the group. This year's class looks to be more of the same.
The American League is slacked with big name prospects making their debut in 2022. While prospects like Spencer Torkelson, Adley Rutschman, and Jose Miranda have struggled to find their footing, several others have blossomed into reliable big leaguer's.
Honorable Mention: Jhoan Duran- RP – Minnesota Twins
3. Joe Ryan – SP – Minnesota Twins
Having Royce Lewis, Jose Miranda, Jhoan Duran, and Joe Ryan shows just how bright the future is in Minnesota. Ryan, acquired from Tampa Bay in the Nelson Cruz trade, had eight starts with a 2.28 ERA and 0.99 WHIP before landing on the injury list.
Ryan's early season success is due to him limiting hard contact. As you can see from the image below, his average exit velocity, hard hit percentage, barrel percentage, and expected slugging all rate well, especially for a rookie. Ryan is allowing an average exit velocity of only 86.9 mile per hour while cutting his home runs per nine in half from last season to 0.62.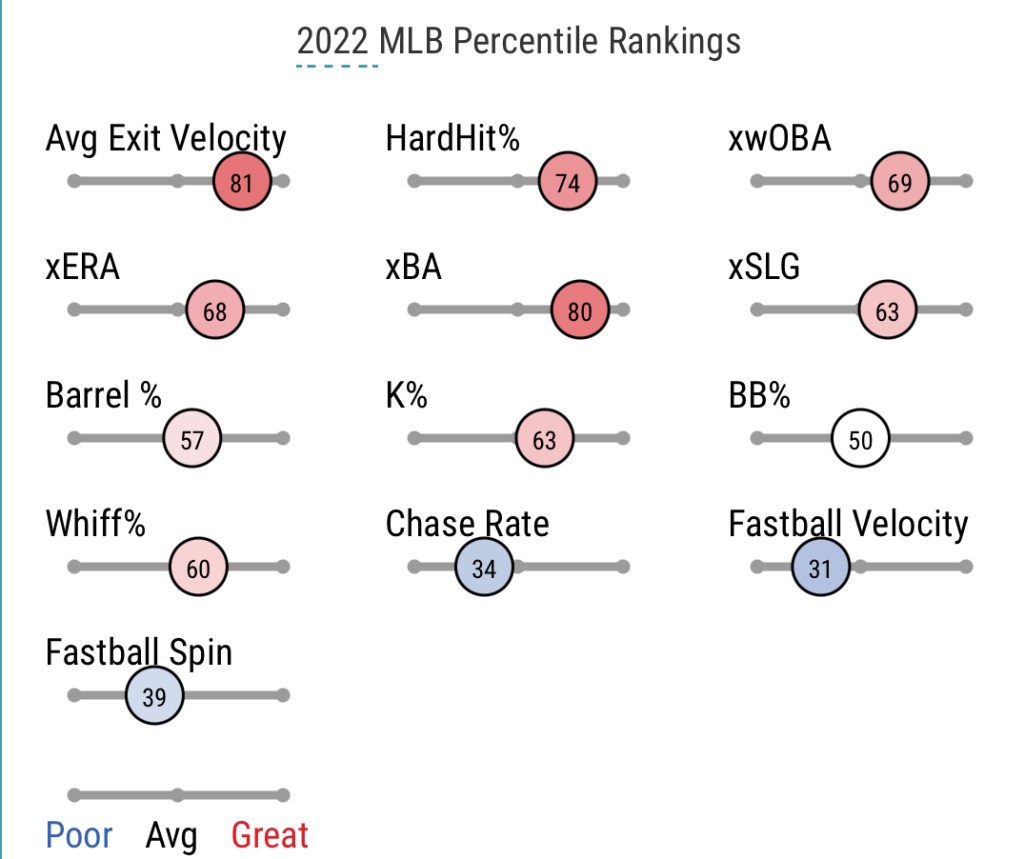 Minnesota has several veteran pitchers, but lacks a true number one. Ryan has the opportunity to claim that crown if he comes back healthy and continues to pitch to this level. It might take Ryan leading the Twins to a playoff spot, and more, if he wants to be in the discussion with the next two names.
2. Julio Rodriguez- OF – Seattle Mariners
Through 56 games, Julio Rodriguez has shown the tools to eventually be a top 10 player in all of baseball. After a miserable start to the season, Rodriguez has heated up to a .286/.353/.495 line over the past 30 days. Any questions about his defense in center field have been answered, ranking in the 97th percentile in outs above average.
His combination of speed and power has quickly made him a fan favorite in Seattle. At only 21 years old, Rodriguez currently sit atop of the league in stolen bases with 17. He also ranks second among rookies in home runs with seven, one behind the next guy on our list.
The improvements he has made at the plate since his initial struggles really make it hard to put a ceiling on just how good he can become in 2022.
1. Jeremy Pena- SS- Houston Astros
The race between Pena and Rodriguez for Rookie of the Year could be one of the more exciting headlines to follow this season. Both playing the the AL West, they will face off against each other seven more times this season. Appointment television.
Pena leads all rookies in home runs with eight, while slashing .277/.330/.463 good for a 132 wRC+. While Pena has proved the bat will play, his glove is where he really stands out.
So far Pena has eight defensive runs saved and ranks in the 100th percentile for outs above average. Despite only 30 games played above High-A, the 24-year-old rookie has looked like a seasoned veteran. Not to mention his wRC+ is 10% better than Carlos Correa.
Pena gets the edge over Rodriguez due to the fact he's on a better team. The Astros will be highlighted much more during the season and being surrounded by a better lineup will give Pena plenty of opportunity to pad those counting stats. You could flip Rodriguez and Pena on this list and I would have no issue. It's truly that close.