Analysis
Dark Horses to Win the American League Rookie of the Year
These prospects could sneak their way into the American League Rookie of the Year conversation.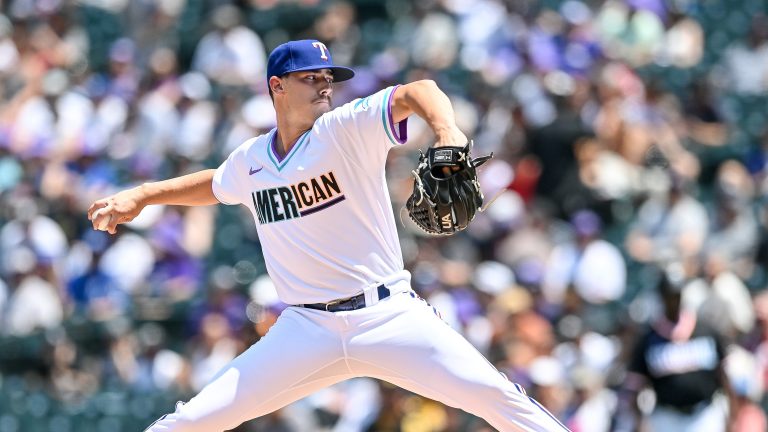 Whenever 2022's MLB season gets under way, we will see a nice wave of blue chip prospects making their MLB debut's in the early months of the season. On the American League side, names like Bobby Witt Jr., Julio Rodriguez, and Adley Rutschman–our top three prospects respectively–will be the favorites to take home the Rookie of the Year honors, but that does not mean they are guaranteed to win.
The challenge with projecting the Rookie of the Year before the season is that there are a lot of other variables beyond just the player's overall ability. When will they be called up and whether there will be an adjustment period are two of the biggest questions that prospects must answer in their first big league season.
On the latest episode of The Call Up, we took a look at some of the candidates who are poised to get a taste of the big leagues in the early parts of the season and particularly those who could make a smoother transition than most.
Josh Lowe – OF – Tampa Bay Rays
A dynamic outfielder who can impact the game in many different ways, Lowe did a little bit of everything in Triple-A last season hitting .291/.281/.535 with 22 home runs and 26 stolen bases on 26 attempts for the Durham Bulls.
Lowe is is capable of playing all three outfield spots, making a majority of his starts in center field where his plus speed easily translates. The Rays have reportedly made center fielder Kevin Kiermaier and his $12 million contract available in trade talks, along with fellow glove-first outfielder Manuel Margot. Assuming one of the two is dealt on the other side of the lockout, there will be a clear path for Lowe to crack the starting lineup for the Rays.
Thanks to his advanced feel for the strike zone, Lowe works plenty of walks and is extremely patient at the plate. Added strength and improvements with his lower half helped him get the ball in the air more and tap into more power last season. Lowe has seen his ground ball rate steadily decrease over the last few seasons while his HR/FB rate has more than tripled since 2018.
Lowe's ability to get on base, hit for power, and impact the game with his wheels will make him an exciting player to watch for one of baseball's best teams. Look for Lowe to get plenty of action this season as the 24-year-old has nothing left to prove in the minors.
Jeremy Peña – SS – Houston Astros
A more under-the-radar name for fans outside of Houston, Peña does not come with as much prospect hype, but not due to lack of ability. Not only is Peña a prospect who will likely make the largest jump in our top-100 prospect update at the end of February, I feel strongly that the former second round pick could make a push for AL Rookie of the Year as long as the Astros don't go outside the organization to add a veteran.
Had an injury not cut Peña's season to just 30 games, we could have seen the 24-year-old at the MLB level by the end of last season. In those 30 games, Peña launched 10 homers while playing fantastic defense at shortstop.
A bit of an aggressive approach, Peña could stand to walk a bit more and could struggle at times with swing-and-miss at the highest level. On the other hand, Peña added an impressive amount of muscle and is built like a linebacker which has translated in the form of big jumps in exit velocities and little to know impact on his speed and agility. Peña has Gold Glove upside defensively and could feast on the Crawford Boxes in left field at Minute Maid Park.
Joe Ryan – SP – Minnesota Twins
Acquired in the Nelson Cruz deal from the Tampa Bay Rays, Ryan is an older prospect who the Rays probably would have preferred to keep. The 40-man roster crunch made it more advantageous for the Rays to part with two prospect occupants in Ryan and Drew Strotman to open up some room to protect the team's other Rule 5-eligible prospects.
Ryan made only a couple starts in Triple-A for the Twins before getting the call up to the big leagues. The 25-year-old was effective in his five starts, pitching to a 4.05 ERA and 3.43 FIP while recording an impressive 6-1 strikeout-to-walk ratio.
The right-hander is not going to blow you away with velocity, sitting in the 91-93 mph range with his fastball. A unique ability to hide the baseball and impressive riding action on the heater allows for the pitch to get in on hitters quickly. Ryan also boasts plus command, often locating the fastball in tough spots for hitters to square up as well as using the pitch to set up his above-average slider. Big league opponents hit just .172 against Ryan's heater despite him throwing it more than 60% of the time. Ryan was able to get outs with his slider, racking up a 35% whiff rate on the offering and even mixed in a slow curveball to steal strikes.
The x-factor for Ryan will be his changeup, which could pair with his at times invisible fastball quite well. Ryan will be one of the key pitchers for a barren Twins rotation next season and could surprise a lot of people next year behind his decent stuff and exceptional command.
Cole Winn – SP – Texas Rangers
As I mentioned out of the gate, opportunity is the most important and usually most difficult aspect of projecting a Rookie of the Year. Cole Winn, a first round selection by the Rangers in 2018, enjoyed a fantastic season in the upper levels last year and could be forcing his way to an earlier-than-anticipated MLB debut.
Winn dazzled with a 2.41 ERA in 86 IP, holding opponents to a .145 batting average and a 32.2% K-rate. The newly turned 22-year-old has four above average offerings to attack hitters with, as his slider often looks like a plus pitch. Sporting good but not great command, Winn could probably use another handful of starts in the minors, however after such a dominant 2021 campaign in the upper levels, I can't help but wonder if a Rangers front office that is keen on competing as soon as possible might be eager to bring up their exciting young arm.
The fact that Winn can come at hitters with a mid-90s fastball, sharp slider, sweeping curve and a fading change makes it easy to see how he has consistent splits. Winn's deep arsenal and good feel for his entire bag have me thinking we could see the Rangers bring this kid up in the earlier parts of 2022.