Rankings
New York Yankees Top Prospects For 2023
A farm system that is heavy on position players, the Yankees lineup could be very potent for years to come with the talent on the way.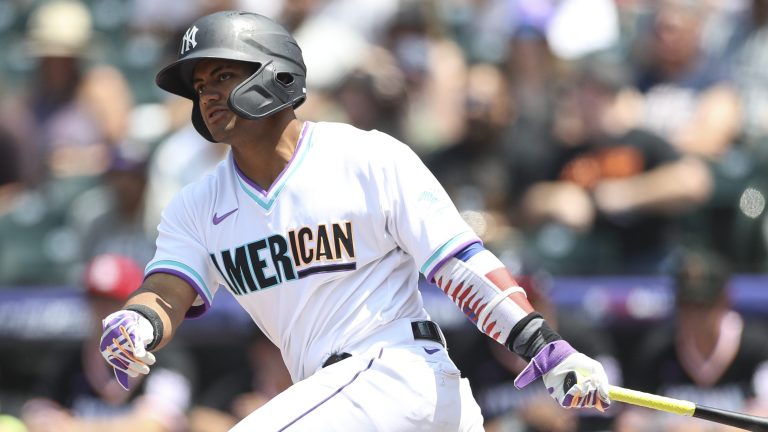 The New York Yankees might be going into the 2023 season with Isiah Kiner-Falefa penciled in at shortstop, but if so, he is written there very lightly with the talent that is on the horizon.
Featuring two shortstops that could conceivably start at any point next season, as well as plenty of talent in the outfield, the Yankees next wave of prospects is extremely promising and should extend their current window to win with Aaron Judge as long as the nine-year, $360 million contract he just signed.
The Yankees have offloaded plenty of talented prospects over the last couple seasons including names like: Ken Waldichuk, Hayden Wesneski, Ezequiel Duran, Luis Medina and others, however the system seems to always regenerate.
Spending huge money on international free agents helps, but the Yankees have had continued success in the development department. Especially with some of the middle-round arms or lower profile IFA pitchers.
*Players who have appeared in multiple MLB seasons are not eligible for list (Florial, Gil).
1. Anthony Volpe – SS – (Triple-A)
Age: 21 | Height/Weight: 5'11, 180 | Bat/Throw: R/R | 1st Round (30), 2019 (NYY) | ETA: 2023
| | | | | | |
| --- | --- | --- | --- | --- | --- |
| HIT | RAW POWER | GAME POWER | RUN | FIELD | FV |
| 55/60 | 50/55 | 55/60 | 55/55 | 50/55 | 60+ |
Arguably 2021's biggest breakout prospect got off to a brutally slow start in 2022 before kicking things into high gear the rest of the way. Volpe can do it all, impacting the game in countless ways along with elite makeup.
Offense
Volpe worked hard to tap into more power ahead of the 2021 season and has developed into a hitter who squeezes out every ounce of his raw power in games. The exit velocities are slightly above average at best, but Volpe lifts the ball as much as any hitter in the minors while generating a ton of carry.
The 21-year-old's setup and swing is reminiscent of Nolan Arenado, starting with his hands somewhat high while using the same unique timing mechanism that starts with the back heel actually coming off of the ground before rocking backwards and picking up his front foot. This is likely a cue to get into his back hip, and Volpe does a fantastic job of just that. Volpe stores plenty of energy in his back side with his hovering leg kick before unleashing his explosive lower half and bat speed.
Ahead of his years in the maturity department at the plate, Volpe commands his at-bats with comfort and rarely chases. He uses the whole field well while leveraging his hitter's counts to look to do a bit more damage. Volpe has the goods to blend a plus hit tool with plus game power.
Defense/Speed
Much like his offensive game, Volpe's instincts help him maximize his tools defensively. His arm is average and the range is slightly above average, but he makes every routine play and seems to always be in the right spot. He is extremely accurate with his throws as well.
An above average runner, Volpe does not need elite speed to be a menace on the base paths. In his 110 Double-A games last year, Volpe swiped 44 bags on 50 tries and started his Triple-A career 4-for-4 on stolen base attempts.
Outlook
Volpe brings just about everything you want to the table from a baseball player. With above average tools across the board and the work ethic, instincts and makeup to maximize those tools, it's no surprise that the 21-year-old has been able to fly through the minors.
Already reaching Triple-A by the end of the 2022 season, Volpe is eyeing a 2023 debut after which point he may never look back. The Yankees feel like they have their shortstop of the future, and they have every reason to think so.
2. Jasson Dominguez – OF – (Double-A)
Age: 20 | Height/Weight: 5'10, 210 | Bat/Throw: S/R | IFA: $5 million – 2020 (NYY) | ETA: 2024
| | | | | | |
| --- | --- | --- | --- | --- | --- |
| HIT | RAW POWER | GAME POWER | RUN | FIELD | FV |
| 45/55 | 60/65 | 50/60 | 60/55 | 40/50 | 60 |
Yet another Yankees hitting development story, Dominguez made adjustments heading into the 2022 season and has looked like a completely different hitter. It's not only the offense that has improved for Dominguez; the 20-year-old has made leaps in every aspect of his game.
Offense
When I first saw Dominguez in 2021, there were a lot of moving parts to the switch-hitter's swing that he struggled to repeat and often just looked out of sorts–especially from the right side of the plate. Starting with the right side, Dominguez cut down his leg kick while quieting/simplifying his hand load. The tweaks helped Dominguez see the ball earlier and control his body much better.
The adjustments not only helped Dominguez up his OPS from the right side by more than 200 points, but he also trimmed his pull rate and chase rate, making better overall swing decisions. Dominguez's swing was further along from the left side to begin with, though he made some smaller tweaks to achieve much of the same benefits as his right-handed improvements.
On top of the mechanical adjustments, Dominguez cut his chase rate by nearly 10% in High-A while his zone contact rate jumped by a similar margin this past season. The improved contact rates have not come at the expense of power for Dominguez, registering a max exit velocity of 113 MPH this season while upping his 90th percentile EV by nearly three miles per hour.
All of a sudden, Dominguez looks like a really well-rounded hitter who still has the freakish strength capable of producing 30 home runs with ease as he continues to find consistency. After drawing free passes at a 9.8% clip in Low-A in 2021, Dominguez walked 13.4% of the time between Low-A, High-A and Double-A in 2022.
Defense/Speed
Dominguez shed some unnecessary weight last offseason, helping him move better in the outfield and on the bases, looking more like the plus runner he has was anticipated to be as a result. It was rough for Dominguez in the early parts of 2021 in the outfield as he struggled with his reads and sometimes looked lost out there.
He has looked drastically better, taking cleaner routes and getting earlier jumps on balls. Possessing a huge arm, Dominguez would project as a plus defender in a corner, but he has the goods to stick in center.
After only registering seven steals on 10 tries in 2021, Dominguez racked up 37 stolen bases on 44 attempts across three levels last year. Dominguez should be a threat to steal 20+ bases even at the highest level if he doesn't slow down too much with age.
Outlook
Dominguez has not even played 200 professional games, and it seems like he has been around forever because of the unfair hype placed on him before he registered a single professional plate appearance. There was no sugar coating how concerning things looked for Dominguez in 2021. However, 2022 has served as a perfect example as to why you do not close the door on talented teenagers after a tough season–especially when they have the expectations and pressure placed on them like Dominguez did.
The adjustments that he has made in the box at 19 years old are remarkable, and the fact that he could go from lost in Low-A to finishing the very next season in Double-A is a testament to his highly-regarded work ethic and natural talent (and the Yankees PD). I am buying what Dominguez was selling in the second half of the season and believe there's an above-average hitter here with big power potential and a solid chance to stick up the middle.
3. Oswald Peraza – SS – (MLB)
Age: 22 | Height/Weight: 6'0, 170 | Bat/Throw: R/R | IFA: $170K, 2017 (NYY) | ETA: 2023
| | | | | | |
| --- | --- | --- | --- | --- | --- |
| HIT | RAW POWER | GAME POWER | RUN | FIELD | FV |
| 50/55 | 50/55 | 40/50 | 60/60 | 55/60 | 55 |
Peraza shook off a slow start in Triple-A, mashing from June onwards before earning an audition in the Bronx as a September call-up, where he did not disappoint in limited action. Plus defense and speed headline Peraza's exciting tools, but the kid can swing it too.
Offense
Despite being younger than the average player at every Minor League stop he's been at, Peraza has held his own with both the bat and his glove along the way. 2021 was truly a breakout season for Peraza, and he put up another strong offensive season as a 21-year-old in Triple-A last year.
Peraza has a silky smooth right-handed stroke that features a big, slow and controlled leg kick and a clean barrel path that stays in the zone for a long time. The swing takes extreme body control and athleticism that Peraza has a ton of.
He has good bat speed that allows him to produce above-average raw power, and he's starting to show he can get to it in games. Peraza also features a noticeable two-strike approach, in which he minimizes the leg kick and looks to battle. It's similar to Bo Bichette, albeit with less power. He'll need to continue to improve his knowledge of the strike zone as he settles in at the Major League level, as he could stand to walk at a higher rate. The bat-to-ball skills are excellent and he has a real chance to become a plus hitter with solid power when it's all said and done.
Speed/Defense
Peraza is a plus runner with good footwork at shortstop, giving him above-average range. His plus arm strength allows him to make all the throws necessary and his hands are among the best in the Yankees system; the 22-year-old should be a plus defensive shortstop at the highest level.
A much more aggressive and efficient baserunner this season, Peraza stole 33 bases on 38 tries in Triple-A. He has drawn immense praise for his high baseball IQ and should be a 20+ stolen base threat in the big leagues.
Outlook
Peraza's sweet swing from the right side and plus defense at short make him a high-probability everyday shortstop. The Venezuela native has the upside of a fringe All-Star if he continues to develop offensively. If he can further refine his plate discipline and continue to tap into his above-average raw power, Peraza could be a 20/20 threat with an impact glove at short.
4. Spencer Jones – OF – (Low-A)
Age: 21 | Height/Weight: 6'7, 225 | Bat/Throw: L/R | 1st Round (22), 2022 (NYY) | ETA: 2025
| | | | | | |
| --- | --- | --- | --- | --- | --- |
| HIT | RAW POWER | GAME POWER | RUN | FIELD | FV |
| 35/50 | 70/80 | 45/70 | 55/55 | 40/50 | 55 |
Jones is right up there with "The Martian" in terms of owning the highest ceiling in the organization. Built like a power forward with a pretty advanced swing, Jones made a smooth transition into pro ball last season while flashing elite exit velocities. He could go nuclear in his first full season.
Offense
Jones starts upright and slightly open with his hands high and far back in his stance. It's easy to see some Shohei Ohtani in his set up. Because he is so big and powerful, Jones does not require much effort to do damage. His setup almost puts him right into his launch position, with just the slightest sink into his back side and a small step to get his feet back even.
For such a big guy with long levers, Jones controls his body well, which is likely a product of his extremely quiet swing. Some hitters who start with their hands far back in their stance find it as an effective cue to keep their weight back and hold their back hip. It seems to work for Jones, as he does a great job of minimizing forward movement prior to launch. As a result, Jones taps into his power more frequently and has a more consistent feel to hit than many may expect.
A limited track record of hitting in college, in part due to Tommy John surgery (he was a two-way player out of high school), Jones really only had one full season of work as an everyday position player at Vanderbilt, but he did not disappoint. He hit .370/.460/.644 with 12 homers in 61 games, then parlayed his strong collegiate campaign into an equally strong 22-game showing in Low-A where he posted a .905 OPS.
Jones produced exit velocities as high as 114 MPH at Vandy and launched a 111 MPH homer in his Low-A cameo with the Tampa Tarpons. His long levers help him generate the big time exit velocities and effortless opposite field power, and he improved as the year went on in regards to getting shorter to the baseball and showcasing is light-tower power to his pull side. As Jones gets more comfortable turning on pitches, as well as hitting the ball in the air more consistently, 35-40 home run upside could be attainable.
Defense/Speed
An impressive athlete in just about every way, Jones posts above-average run times and ran his fastball up to 94 MPH when he was a pitching prospect in high school. Jones has since had a couple elbow issues, which could impact his arm strength some, but he should grade out as above-average in that department at the very least.
Jones moves well for his size covering a lot of ground with his long strides. He consistently posts above-average run times and has a chance to stick in center field if he can continue to get more comfortable with his reads and routes. For what it's worth, Jones was 24-for-25 on stolen base attempts between college and Low-A. If Jones stays nimble, he could be a decent defender in center with the tools to be an above-average glove in a corner.
Outlook
There's not much precedent for a prospect like Jones. When it comes to 6-foot-7 center fielders, the only current example is, ironically, Aaron Judge. The hesitance around such a profile allowed a consensus top-30 overall prospect in James Wood of the Nationals to fall to the second round of the 2021 MLB Draft and Spencer Jones to "fall" to the Yankees at 22nd overall.
The sheer athleticism and surprising feel to hit that a prospect like Jones (and Wood) possesses hedges some of the extreme risk that comes with the profile. It will be interesting to see how Jones handles more advanced pitching, but he has not really blinked at the best that each level has had to offer.
In college, we saw Jones take 96 MPH up and in over the left-center wall from the 2023 draft's top pitching prospect, Tennessee's Chase Dollander. On the pro side, he was impressive in the way that he commanded his at-bats in a series that included well-regarded arms like Bubba Chandler and Anthony Solometo.
It's important to note that Jones has only played 159 games since his freshman year of college, and that is including the Cape Cod League. Though I am expecting him to have a strong season in 2023, his lack of at-bats could result in a bit of a learning curve in the swing decisions department.
Trying to project the upside of a prospect like Jones is difficult, but his ceiling is as high as any prospect you'll find. Limited track record and high variance are the only things keeping Jones from being one of the top prospects in baseball.
5. Everson Pereira – OF – (Double-A)
Age: 22 | Height/Weight: 6'0, 170 | Bat/Throw: R/R | IFA: $1.5M, 2017 (NYY) | ETA: 2024
| | | | | | |
| --- | --- | --- | --- | --- | --- |
| HIT | RAW POWER | GAME POWER | RUN | FIELD | FV |
| 35/45 | 55/65 | 45/60 | 55/55 | 50/55 | 55 |
One of the toolsiest prospects in the Yankees system, Pereira profiles as a power-hitting center fielder with major upside if the hit tool can come along.
Offense
Starting slightly open with a rhythmic leg kick and sink into his back side, Pereira's explosive athleticism is evident throughout his swing. His twitchy bat speed and torque can be seen on fastballs running inside that he somehow gets around on and he does a good job of getting his powerful lower half involved in his swing.
Despite his somewhat moderate build, Pereira produces eye-catching exit velocities and mammoth home runs when he gets a hold of one. Half of his 14 homers last season traveled over 420 feet, and his 90th percentile exit velocity of nearly 107 MPH is among the best in the Yankees organization. Pereira doesn't always repeat his moves consistently enough to always get his best swings off, which can cause him to be caught out on his front foot or roll over.
When Pereira is lifting the baseball, you can see 30 home run upside. He can get hot and launch a home run what seems like every other day (he hit 14 homers in 27 High-A games in 2021), but his 50% ground ball rate capped his game power in 2022.
Because of the way Pereira gets to difficult pitches and controls the barrel, you're almost surprised that he doesn't make contact more (28 K% and 75% zone contact), but it really does seem like a matter of hammering down his pre-swing moves. He does not always get to his launch position at the same point in the pitcher's delivery, which can cause him to be thrown off timing wise. Changeups were an Achilles' heel for Pereira last year (5-for-44 with 19 K's).
It's important to note that last year was Pereira's first full season and he has only played 129 games above Low-A. The raw skillset is hard to ignore, and there are stretches where Pereira looks like an offensive force. It's about consistency and approach for the 22-year-old.
Defense/Speed
An above-average runner who gets great jumps in the outfield, Pereira looks the part in center field and projects as an above-average defender out there. His strong arm could help him profile as a potentially plus defender in a corner as well. Pereira's great jumps and good closing speed help him overcome the occasional shaky route, but if he can clean that up, he has a great chance of being a well-above-average defender up the middle.
Pereira is not the most efficient base stealer, but he is still an occasional threat and an overall value on the base paths. He stole 21 bases on 28 tries last season, but stole only two bases in 29 games once he was promoted to Double-A.
Outlook
Though a risky profile, Pereira has the tools to be an All-Star talent in center field. Unteachable bat speed, frame-defying juice, and an ability to control the barrel that has currently circumvented timing issues, Pereira has produced against older competition despite how raw he can tend to look at the plate.
Though he has not quite posted the contact rates many scouts had imagined when Pereira signed for $1.5 million in 2017, it is doubtful many scouts believed he would be putting up exit velocities as high as 113 MPH before his 22nd birthday. The raw power is easily plus, and with Pereira's strong chances of sticking in up the middle, he could blossom into one of baseball's better center field prospects. "All" Pereira needs to be an impactful big leaguer is a fringy hit tool, and it's fair to say that he has shown enough flashes to believe that it's possible.
6. Will Warren – RHP – (Double-A)
Age: 23 | Height/Weight: 6'2, 200 | Bat/Throw: R/R | 8th round (243), 2021 (NYY) | ETA: 2024
| | | | | | | |
| --- | --- | --- | --- | --- | --- | --- |
| FASTBALL | SLIDER | CHANGEUP | Curveball | Cutter | COMMAND | FV |
| 55/60 | 60/60 | 40/50 | 40/50 | 40/40 | 50/55 | 50 |
A cerebral pitcher with an assortment of offerings, Warren wasted no time tweaking his arsenal with the help of the Yankees prior to his pro debut last season, and in turn saw big-time success. A combination of decent overall stuff and good command have Warren looking like a pretty safe bet to stick as a starter.
Arsenal
Ground balls are the name of the game for Warren and he gets a ton of them (54%) thanks to his 92-94 MPH heavy sinker with late run. As Warren discussed in an interview with Fangraphs, he actually grips the pitch as an offset one-seamer, which helps him gain as much as 17 inches of horizontal movement and 10 inches of vertical break. He will also mix in a four-seam fastball to change eye levels.
Warren's 3,000 RPM sweeper is his swing-and-miss pitch, but he has enough confidence in it to throw it in any count. He can manipulate the pitch to be more in the 82-83 MPH range with more sweep or 85-86 MPH with shorter break. The arm-side run of his sinker and glove-side sweep of his slider pair well off of each other to make for an uncomfortable at bat, especially for righties.
Against lefties, Warren mixed in his inconsistent changeup in the 86-88 MPH range, but it flashed above-average towards the end of last season. Warren's curveball features some sweep as well, but more downward bite. Much like his changeup, the curveball was inconsistent for Warren, but flashed above-average with the ability to dive under barrels when he located it at the bottom of the zone.
Lastly, Warren will mix in the occasional cutter which he started to throw a bit more towards the end of the season. The pitch sits in the upper 80s and he'll use it to steal strikes through the back door or surprise lefties up and in to tie them up.
Outlook
Yet another success story in the Yankees pitching development department, Warren has gone from 8th round pick out of Southeast Louisiana to the best pitching prospect the organization has to offer. Warren's intelligence and willingness to adapt has allowed the Yankees brass to help unlock the most out of him.
Warren's jump from mid-major competition in 2021 to Double-A success in his first pro season last year is a testament to his polish and ability to attack hitters and compete. As he continues to optimize his arsenal and sequencing, Warren could start to rack up more swing-and-miss as well. His command and high ground ball rate give him the floor of swingman/innings eater, but he could generate enough swing-and-miss to be a solid No. 4 starter.
7. Austin Wells – C/DH – (Double-A)
Age: 23 | Height/Weight: 6'2, 220 | Bat/Throw: L/R | 1st round (28), 2020 (NYY) | ETA: 2024
| | | | | | |
| --- | --- | --- | --- | --- | --- |
| HIT | RAW POWER | GAME POWER | RUN | FIELD | FV |
| 40/50 | 55/55 | 50/55 | 45/40 | 30/40 | 50 |
It's all about the bat for Wells, but he has provided no shortage of value in that department since he was selected in the first round of the 2020 Draft. He's worked hard to stick behind the dish, but there are still questions in that department.
Offense
Starting slightly open with his weight stacked on his back side, Wells uses his lower half effectively with a gathering leg kick that helps him get into his back hip and stay there. A swing that is geared for lift, Wells is a line drive/fly ball machine with only 30% of his batted balls being grounders.
Even with the lofty swing, Wells is able to get to elevated pitches and does a good job of laying off of the borderline pitches at the top of the zone. Wells has been ahead of his years approach-wise since he was a freshman at Arizona, where he consistently walked as much as anyone. As a pro, Wells has consistently walked at around a 15% clip.
The raw power is above-average for Wells, but he taps into every bit of it in games thanks to his ability to drive the ball in the air. He prefers to go pull side to really get into his above-average power, which should bode well for him at Yankee Stadium (see Anthony Rizzo), but Wells has no problem covering the outer half and driving the ball the other way.
With his advanced approach, above-average game power and track record of hitting, it is easy to envision Wells blossoming into a high OBP guy who can launch 20+ homers if he continues on his trajectory offensively.
Defense/Speed
Wells has worked tirelessly to improve behind the dish and took a step forward last season. He cut his passed balls by a good margin and was more effective in limiting the run game. Even so, Wells struggled with his receiving and his arm still looks fringy behind the dish, having the tendency to short-hop second or have throws that seem to just float for too long.
The potential for an automated strike zone helps Wells immensely in regards to his chances of sticking behind the dish, but he will need to take another step forward to prove that he can catch at the highest level. A sneaky athlete, Wells is an average runner who picks his spots to run supremely well. He was 16-for-16 on stolen base attempts last season.
Outlook
While there is legitimate concern around Wells' defensive home, his offensive ability will keep him as a fringe top-100 talent with a good chance to break into the big leagues by 2024. If Wells can't stick at catcher, he is athletic enough to get by at first base or possibly a corner outfield spot, but he hasn't played either of those positions since he was in college.
His overall profile is reminiscent of Carlos Santana with the high on-base skills, above-average power and catching questions, and much like Santana, Wells seems like he has a good chance of finding a way to be a productive big leaguer.
8. Randy Vasquez – RHP – (Double-A)
Age: 24 | Height/Weight: 5'10, 200 | Bat/Throw: R/R | IFA: $10K, 2017 (NYY) | ETA: 2023
| | | | | | |
| --- | --- | --- | --- | --- | --- |
| FASTBALL | Curveball | CHANGEUP | Cutter | COMMAND | FV |
| 50/55 | 60/70 | 45/55 | 40/45 | 40/50 | 50 |
Boasting the best breaking ball in the Yankees system, Vasquez turned in a solid full season in Double-A last year and has the looks of a potential back-end rotation piece.
Arsenal
Though Vasquez's headline pitch is his plus sweeper, he has a pair of fastballs, a changeup and cutter that were each effective for him at times last season. Starting with the fastballs, Vasquez has a four-seamer and two-seamer that both operate at 93-95 MPH. Vasquez gets some swing-and-miss at the top of the zone with his four-seamer, while his two-seamer helps him pick up above-average ground ball rates at the bottom of the zone. Though he does a good job of staying around the strike zone with his fastballs (control), he could improve with hitting his spots (command).
Vasquez's sweeping curveball is worth the price of admission. The pitch can feature more than 20 inches of horizontal break from his slingshot arm slot at around 3,100 RPMs. With how much break the pitch features, it is impressive how often Vasquez is able to land it for a strike (63%). Though it is more devastating to right-handed hitters, he can back-door lefties or bury it near their back leg.
The changeup flashed above-average for Vasquez, but it was extremely inconsistent for him last year. He only landed it for a strike around half of the time, but when it was around the zone, the pitch featured decent fade and he maintains his arm speed well. With improved command of the pitch, it could easily be an above-average offering.
Finally, Vasquez added a cutter to his arsenal last season, that surrendered some hard contact, but also had the looks of a viable offering when he located it on the outer thirds of the plate. He tended to miss middle with his new pitch a bit too often, but he showed confidence at points last season buzzing it in on lefties.
Outlook
The combination of a mid 90s fastball and nasty sweeper give Vasquez the floor of a multi-inning reliever, but he has provided plenty of reason to believe that he can grab a back-end rotation spot with a bit more development. The 24-year-old has a unique delivery that almost looks like he's cutting off his stride towards home, but it has not seemed to impede his ability to maintain his velocity deep into starts or late in the season.
His fastball command improved down the stretch of the season and with a strong final handful of starts in 2022, Vasquez will likely begin 2023 at the Triple-A level with a chance to reach the big leagues in some capacity this season.
9. Luis Serna – RHP – (CPX)
Age: 18 | Height/Weight: 5'11, 165 | Bat/Throw: R/R | IFA: $50K, 2021 (NYY) | ETA: 2026
| | | | | | |
| --- | --- | --- | --- | --- | --- |
| FASTBALL | Curveball | Slider | CHANGEUP | COMMAND | FV |
| 45/55 | 40/50 | 40/50 | 60/70 | 40/55 | 50 |
Featuring an intriguing four-pitch mix headlined by a plus changeup at 18 years old, Serna dominated the Complex League last year, punching out 56 in 41.1 innings while pitching to a 1.96 ERA.
Arsenal
After signing for only $50K back in 2021, Serna wasted no time turning heads in the Dominican Summer League, with his plus changeup and overall polish on the mound for a teenager. Though the velocity is not totally there for Serna yet, his 90-92 MPH fastball gets on hitters quickly after seeing the mid 70s changeup with impressive tumble.
Serna has a pair of breaking balls including the patented Yankees sweeper as well as a more downward curveball. Both operate in the high 70s, but already show flashes of being above-average pitches as he continues to tighten them up a bit and locate better. Though his arm action is a bit long, there's not much effort in Serna's delivery and likely room for some more velocity.
Outlook
Given how advanced he is for an 18-year-old with a changeup that is hard to teach, Serna seems like the perfect candidate to be the Yankees next success story in the pitching development department. Already featuring smooth mechanics and a repeatable delivery, Serna should grow into above-average command.
Given how early Serna is in his development, it is difficult to project what kind of starting pitcher he could be, but it wouldn't be shocking if he solidifies himself as a top 100 prospect talent by the end of this season.
10. Keiner Delgado – 2B/SS – (CPX)
Age: 19 | Height/Weight: 5'8, 160 | Bat/Throw: S/R | IFA: N/A – 2021 (NYY) | ETA: 2026
| | | | | | |
| --- | --- | --- | --- | --- | --- |
| HIT | RAW POWER | GAME POWER | RUN | FIELD | FV |
| 45/60 | 40/50 | 35/45 | 60/60 | 40/50 | 50 |
A short, quick swing from both sides of the plate and an impressive knowledge of the strike zone, Delgado looked like one of the most advanced hitters in the Dominican Summer League last season.
Offense
Delgado starts open with his bat resting on his shoulder before using a leg kick and coil that helps him engage his lower half. He already syncs his upper half and lower half well from both sides of the plate. Compact with short levers, Delgado is extremely quick to the ball and can get to tough pitches. He is a line drive machine who is capable of spraying the ball all over the field.
Because of his impressive bat speed, Delgado has already produced some average or better exit velocities, including a 430-foot homer at 103 MPH. His smaller frame makes it fair to question how much power Delgado can grow into, but it's hard to deny the bat speed and he does a great job already of driving the ball in the air.
It is extremely difficult to project DSL prospects in general, but the swing from both sides of the plate, approach and bat speed make it easy to buy into what the newly-turned 19-year-old is selling.
Defense/Speed
A plus runner, Delgado's athleticism can be seen in all aspects of his game. While DSL stats should be taken with more of a heap than a singular grain of salt, Delgado stole 34 bags in 52 games last year. Defensively, he split time between shortstop and second base. He moves his feet well and has good range, but like many teenage infielders, his actions could use some work.
Though defensive looks have admittedly been limited, Delgado gets some decent carry on his throws and has a chance to stick at short. If he moves to second base, Delgado could be a well above average defender there.
Outlook
After an impressive showing at the DSL, where he walked more than twice as much as he struck out with offensive success from both sides of the plate, we should see Delgado stateside in 2023. Even if the power is fringy, his ability to spray line drives to both gaps from both sides of the plate, advanced knowledge of the strike zone and athleticism give him a chance to be an exciting table-setter. Delgado is one of the more intriguing names to watch in the Yankees system going into 2023.
The Next Five Prospects
11. Elijah Dunham – OF – (Double-A)
Age: 24 | Height/Weight: 6'1, 220 | Bat/Throw: L/R | UDFA, 2020 (NYY) | ETA: 2024
| | | | | | |
| --- | --- | --- | --- | --- | --- |
| HIT | RAW POWER | GAME POWER | RUN | FIELD | FV |
| 40/40 | 55/55 | 45/50 | 50/50 | 50/55 | 45 |
Had the 2020 Draft not been shortened to five rounds, Dunham would have likely been selected in the next couple rounds. The Indiana University product has hit at every stop since signing as an undrafted free agent, including winning Breakout Player of the Year honors in the Arizona Fall League in 2021.
With a 90th percentile exit velocity of 105 MPH, Dunham boasts above-average power, especially to his pull side. He doesn't expand the zone often and consistently posts strong walk rates. Though only a slightly above-average runner, Dunham is extremely savvy on the base paths. He stole 37 bags on 44 tries last season and is 65-for-77 as a pro.
Dunham has a decent arm and is not afraid to put his body on the line to make crazy catches in either corner of the outfield. He gets good jumps in both corners and should be an above-average defender. Breaking balls were a major issue for Dunham last season. He hedges that with success against fastballs and changeups as well as a good approach, but he projects likely as a platoon outfield bat.
12. Roderick Arias – SS – (CPX)
Age: 18 | Height/Weight: 6'2, 180 | Bat/Throw: S/R | IFA: $4M, 2022 (NYY) | ETA: 2027
| | | | | | |
| --- | --- | --- | --- | --- | --- |
| HIT | RAW POWER | GAME POWER | RUN | FIELD | FV |
| 35/50 | 50/60 | 40/55 | 55/55 | 45/55 | 45+ |
Crazy tools and physical projection helped Arias sign for $4 million as one of the most highly-regarded prospects in the 2021-22 IFA class. Arias is extremely raw, with a long swing and some moving parts that will need to be smoothed over, but he has already produced exit velocities as high as 106 mph, with more room to add muscle to his frame.
The best tool for Arias may be his plus-plus arm that could easily be the strongest of any infielder in the system. He's an above-average runner and if his foot work and actions continue to improve, he should develop into an above-average defender at the position. The sky is the limit for Arias tools wise, but he is still a long ways away. Still, a switch-hitter with plus raw power potential, speed and a good shot to stick at short is fun to dream on.
13. Drew Thorpe – RHP – (CPX)
Age: 22 | Height/Weight: 6'4, 190 | Bat/Throw: R/R | 2nd Round (61), 2022 (NYY) | ETA: 2025
| | | | | |
| --- | --- | --- | --- | --- |
| FASTBALL | SLIDER | CHANGEUP | COMMAND | FV |
| 40/50 | 45/55 | 60/70 | 50/60 | 45+ |
Despite his fastball averaging just a smidge over 90 MPH, Thorpe caught the attention of the Yankees with his pinpoint command and fantastic changeup. There's hope that Thorpe can tap into more velocity with his big frame and smooth mechanics.
Thorpe's bread and butter is his plus changeup with really late arm side fade. The right-hander does such a good job of making the pitch look like his fastball that it helps his fringy heater play up. Thorpe has the looks of a high-floor, back-end arm.
14. Trey Sweeney – SS – (Double-A)
Age: 22 | Height/Weight: 6'4, 215 | Bat/Throw: L/R | 1st Round 2021 – (20) (NYY) | ETA: 2024
| | | | | | |
| --- | --- | --- | --- | --- | --- |
| HIT | RAW POWER | GAME POWER | RUN | FIELD | FV |
| 40/50 | 50/55 | 40/50 | 45/45 | 40/45 | 45 |
Nothing jumps off of the page with Sweeney, but he is a well-rounded ballplayer. Another Yankees prospect who has no issue taking his walks, Sweeney picked up free passes at a 13% mark last season.
Sweeney does a good job of getting the most out of his relatively average tools. Despite his average speed, Sweeney was 31-for-34 on stolen base attempts. Similarly, he does not have the strongest arm or quickest feet, but he seems to make all of the necessary plays at short and uses his instincts to get himself in the right spots.
Offensively, Sweeney has flashed above-average pop. His 90th percentile exit velocity of 103 MPH is solid, but he typically has to sell out to his pull side to get into that juice. He has a chance to be an above-average regular if the hit tool progresses.
15. Brando Mayea – OF – (CPX)
Age: 17 | Height/Weight: 5'11, 160 | Bat/Throw: R/R | IFA: $4.35M, 2023 (NYY) | ETA: 2027
| | | | | | |
| --- | --- | --- | --- | --- | --- |
| HIT | RAW POWER | GAME POWER | RUN | FIELD | FV |
| 30/50 | 45/55 | 40/55 | 70/70 | 40/55 | 45+ |
Blazing speed and above-average power potential made Mayea one of the most coveted prospects in this year's IFA class. He has already posted exit velocities above 105 MPH as a 17-year-old and has a swing that is further along than most players his age. Looks have been limited, but it is clear the kind of potential that the Yankees newest international free agent splash possesses.
Other Names To Watch
Clayton Beeter – RHP – (Double-A): Acquired from the Dodgers in the Joey Gallo trade, Beeter boasts ridiculous stuff, but only 30-grade command. He struck out nearly 40% of batters last season, but walked 13%. His mid-90s fastball jumps out of his hand along with a plus-plus slider that is wipeout. Beeter improved in the command department when he joined the Yankees org, but projects as a high-leverage reliever.
Richard Fitts – RHP – (High-A): After a shaky start to his season in Low-A, Fitts made the jump to High-A where he dominated in 33 innings. The 6-foot-4 righty punched out 38 while walking just three and only surrendered one long ball. The fastball averages 93 MPH for Fitts, but he touched 97 last season. His slider flashes above-average and his changeup has a chance to develop into a passable third pitch. Fitts has a chance to prove that he can be a starter if he can develop the changeup a bit further thanks to his solid command.
Antonio Gomez – C – (Low-A): A catcher with power and a cannon for an arm, it's easy to see how scouts fell in love with the tools that Gomez possesses. Gomez has the goods to stick as a catcher if he can improve his blocking and receiving, but the swing-and-miss is the biggest concern. The 21-year-old's 16% swinging strike rate and 26% in zone whiff rate are red flags.
Tyler Hardman – 1B/3B – (Double-A): A fifth rounder in the 2021 draft, Hardman packs a punch with big time power to all fields but some swing-and-miss concerns. He launched 22 homers in Double-A last season, though that came with a 30.4% strikeout rate. Hardman has improved defensively at third and could be an average defender at the hot corner. It will come down to whether he can hit enough, but Hardman has the ability to be a platoon power bat who punishes mistakes.
Brock Selvidge – LHP – (CPX): A third round pick out of high school in the 2021 draft, Selvidge showed well at the complex last season, mixing a low 90s fastball that could touch 94 mph with a slider that flashes above-average. Development of a third pitch and a potential uptick in velocity would really help bolster the 20-year-olds chances of reaching his back-end starter upside.
Yoendrys Gomez – RHP – (Double-A): Injuries have limited Gomez to just a little over 100 innings over the last two years combined, but when he has been on the mound, the 23-year-old has been effective. His fastball has good life at 93-95 mph and the slider is above-average. Gomez ultimately projects as a depth starter or reliever.