Analysis
Yankees Prospect Jasson Dominguez Has Hit His Stride in Year Two
After enduring a steep learning curve in his first year of pro ball in 2021, top prospect Jasson Dominguez is starting figure things out.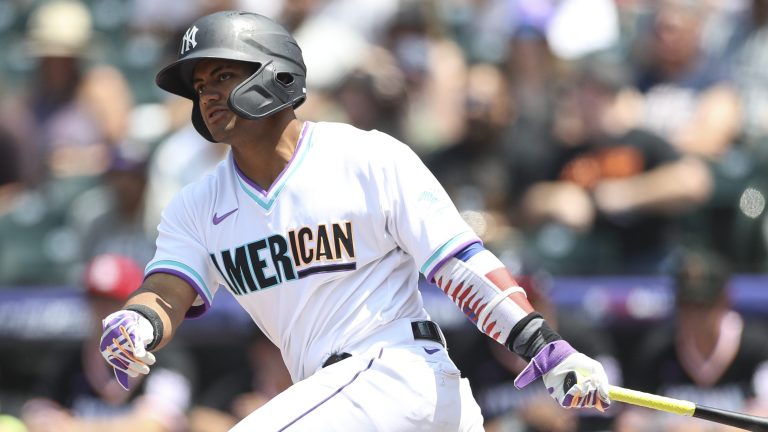 Any time the Yankees or Dodgers spend big on an international free agent, the player is probably going to garner a lot of attention. That being said, the hype around Yankees outfield prospect Jasson Dominguez was different.
Outlandish comparisons to Mickey Mantle and Mike Trout shortly after the ink dried on the 16-year-old's $5 million contract led to unprecedented and unfair expectations.
The tools were and still are easy to dream on. Built like a fullback, Dominguez reportedly clocked 110+ mph exit velocities from both sides of the plate, while posting plus run times and a big arm from the outfield.
The teenager's rare skill-set earned him the nickname of "The Martian" and his Bowman prospect cards became the most coveted in the hobby before he played a single professional game.
Like many extremely talented teenage prospects, Dominguez showed flashes of his exciting potential in his first professional season but struggled with consistency and at times looked overmatched.
In 49 Low-A games, Dominguez hit just .258/.346/.398 with five homers and a 31% strikeout rate. Despite the plus run grades, he swiped just seven bags on ten attempts and looked a bit shaky in the outfield.
Few would bat an eye at an 18-year-old posting an inconsistent first professional season, but when you're compared to some of the greatest players to ever wield a bat, patience might be hard to come by.
A little over a year later, Dominguez looks to be figuring things out. His swing is simplified and his approach is refined. As a result, the freakish tools that caused scouts to flock to the teenager's workouts have started to translate into game production.
Improved Right-Handed Hitter
A few things stood out above all when it came to Dominguez's struggles last season. The most concerning was the switch-hitter's dramatic splits which heavily favored his left side.
| Jasson Dominguez as lefty | Jasson Dominguez as righty |
| --- | --- |
| .285/.373/.438, 13 XBH, 25 K% (166 PA) | .176/.295/.255, 2 XBH, 46 K% (61 PA) |
Stats from 2021 season
While not the largest sample size in the world, it was very clear from just watching Dominguez's at-bats from each side of the plate that he was much more comfortable hitting lefty last season. Dominguez really struggled to get his timing ironed out as a right-handed hitter, in large part due to his inability to repeat his loud moves and control his lower half.
The struggles with timing often led to Dominguez being heavy on his front foot with the tendency to pull his front side off of the baseball to try to get the barrel out. As a result, Dominguez waved at a lot of off-speed pitches and often rolled over or popped up weakly. In fact, Dominguez only had three hits all year from the right side off of non-fastballs.
Again, the small sample size is important to note when citing the statistics from 2021, but many of the numbers reinforce what the batted ball expectations would be after seeing Dominguez's righty swing last year.
Not only was he struggling to make solid righty contact, but he was pulling 63% of the balls he put in play chasing at a 37% rate, and was whiffing at 32% of pitches in the zone.
Dominguez worked hard this offseason to simplify things at the plate–especially from the right side–and the improvements were noticeable from the jump.
Not only did Dominguez find a way to make his load and stride more repeatable, but he even adopted a page out of the Tristan Casas or Alec Burleson book by boiling down his movement even more with two strikes, deploying only a mini-stride.
With a much quieter load and a stride that is easier to repeat timing wise, Dominguez is able to see and stay on the ball longer. Not only are his overall numbers up across the board in his 106 right-handed plate appearances, but he is pulling the ball 15% less frequently thanks to more swings like the video above.
Much quicker to the ball, Dominguez likely feels as though he has much more time to make swing decisions now and as a result, he is making the right decision much more frequently. From the right-side, Dominguez has slashed his chase rate from 37% all the way down to just 23%.
As for the consistency of contact, Dominguez has nearly cut his in zone whiff rate in half to just 17%. Perhaps most impressively, Dominguez has crushed non-fastballs to an OPS over .800 in both Low-A and High-A after being carved up by them last season.
Overall Approach
The numbers from the left-side were solid for Dominguez last season, thanks to his swing being further along, but his lack of approach was still a concern. The adjustments for the Yankees prospect from the left-side were much more subtle physically, looking more under control with his swing and body than anything, but he has also learned to lay off of pitches that he cannot do much with early in the count, even if it's a strike.
In 2021, Dominguez swung at 55% of pitches from the left-side, which for reference, would have edged out Javier Baez for the sixth-highest mark in Major League Baseball this season. Now pulling the trigger 48% of the time from both sides, Dominguez would still be categorized as an "aggressive hitter" but he is one with a plan.
Last year's over-aggression led to Dominguez seemingly taking a hack at most of the fastballs thrown to him, which in turn severely impeded his ability to identify and lay off of changeups. Now hunting zones and specific pitches in specific counts, Dominguez leveraging his hitter counts while not giving away free strikes early.
Dominguez has continued to build off of his maturity at the plate, cutting his strikeout rate down to just 20.5% since his High-A promotion while walking at a 13% clip.
It's pretty hard to argue against more consistent contact, lower chase rates and better spray charts, all while hitting the ball harder on average. Dominguez seems to get more comfortable as a hitter by game and the trend should continue.
Base Running and Defense
There's no doubting the speed that Dominguez possesses, but much like his other tools, his lack of polish in his first season resulted in an inability to utilize his speed to his advantage both on the base paths and in the field.
Of course, there was the viral video of Dominguez hitting a triple despite violently falling into third base in an attempted slide. Perhaps he stumbled, but there was an understandable lack of comfort at times on the bases for a player who had not played much organized baseball prior to signing with the Yankees.
As the 2022 season has endured, Dominguez has gained confidence in his base-stealing ability. After swiping 19 bags in 25 tries in 75 Low-A games, the speedy outfielder has racked up 15 stolen bases on 16 tries in just 32 High-A contests.
The same learning curve can be seen with the teenager's reads in centerfield. Any outfielder will tell you that there is nothing that can simulate anything close to in game fly balls off of the bat other than batting practice. Dominguez had his challenges getting good jumps and taking clean routes to balls last year, as he adjusted to the different manner in which the baseball comes off of the bat of full-season professionals.
While Dominguez could definitely still clean up his routes, his improved reads have allowed his closing speed to shine through more and get to balls in the gap or in the shallow outfield. With a plus arm, the centerfielder has all of the ingredients to become an above-average centerfielder and his jumps seem to get better by game.
Long-term Outlook
Tools and projection will always outweigh one year of struggles and that is why Dominguez was still a consensus top 100 prospect heading into this season. However, another year of similar red flags and struggles could have easily resulted in Dominguez slipping from No. 83 on our preseason list.
That is all moot as the 19-year-old has improved on just about every weakness he showed last season. The talented centerfielder is enjoying the best stretch of his career at the highest level he's played at and both the tangible adjustments he has made along with the data point towards the success continuing for him.
That said, even this version of "The Martian" is human. Even the best outcome for Dominguez is not going to be Mike Trout or Mickey Mantle. And that's okay.
As the days go by, Dominguez continues to chip away at the extreme volatility associated with his profile. There is potential for a five-tool, switch-hitting, All-Star centerfielder if everything continues to trend in the right direction for Dominguez. A lofty ceiling that few prospects can say they have.
For whatever reason, "five-tool All-Star" wasn't enough for some evaluators of Dominguez in the early days of his professional career and we saw unrealistic expectations slapped on a kid before he could legally buy a lottery ticket.
The Yankees prized international free agent has done just about everything they could've reasonably asked for in year two and Yankees fans should be ecstatic about his progress even if he looks more like an All-Star than a creature from Mars.