Analysis
National League East Prospects to Watch in Spring Training
Names like Francisco Álvarez, Andrew Painter, and Eury Pérez headline the incredible crop of prospects playing for NL East teams this spring.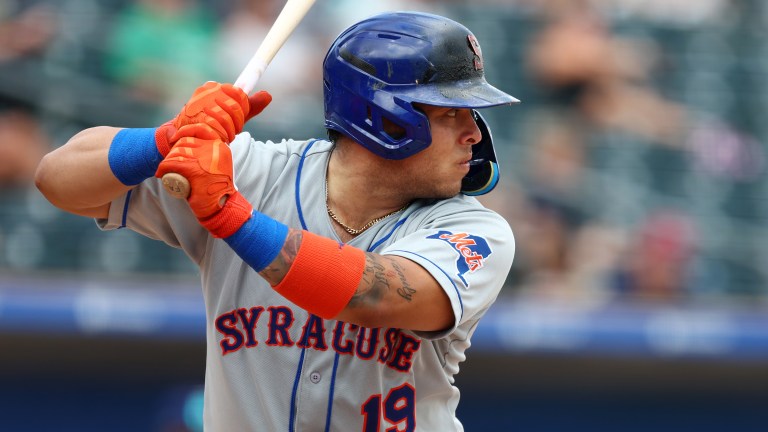 Now we officially move to the National League side of things. The National League East will be the first NL division we dissect as we continue to look at prospects who will be partaking in spring training. This division may end up being the most competitive in baseball, as three teams could legitimately win the crown and possibly represent the NL in the World Series. Then there are the Marlins and Nationals, but we are here to look at the prospects of all five teams invited to spring training and look at them through a fantasy lens.
I will note (*) which players are on the 40-man roster, because being on the 40-man roster means they have an easier route to being on the active roster (from the team's perspective). Any prospect not on the 40-man roster is a non-roster invitee.
Atlanta Braves
Jared Shuster – LHP
The Atlanta Braves decided not to invite any of their prospects to spring training outside of Shuster. This is rather lame, but the Braves have either traded all their prospects or they have graduated out of prospect status. 
Shuster looks to be in line to be one of the depth starters for Atlanta, and in your deepest of deep leagues, there is some value to that. In your deep leagues, he's a streaming option against good matchups, so the Marlins and Nats in this division. There is more value here in daily lineup leagues, but in weekly leagues, you can map things out with a bit more effort.
New York Mets
Kodai Senga – RHP*, Francisco Álvarez – C*, Brett Baty – 3B*, Mark Vientos – 3B*, Ronny Mauricio – SS*, Kevin Parada – C, Alex Ramirez – OF
Senga is going to be a really damn good pitcher. He has everything we want in the fantasy game: he should get strikeouts, will keep the command under control, and will get the run support we all crave. We just wish peak deGrom got this kind of run support. Senga is even getting love from the redraft community, according to the NFBC ADP Data (I set the start date for this for January 1st), with a minimum pick of 139 and a max pick of 231. At even his minimum pick, count me in. 
I expect a lot of the above from Francisco Álvarez; he's going to be a star in the Big Apple. All we need is for him to catch enough to maintain eligibility at that position because, as we know, catching can be a wasteland in the fantasy game. I am excited for some Álvarez bombs down in Florida, and hopefully he gets a shot to break camp with the team. He's got 30-homer upside as long as the wear and tear associated with catching doesn't ding him too much. 
Brett Baty looks to be the Mets' third-baseman of the future. He should help in what is a rough area in fantasy baseball. He could also hit 30 homers, but I think he is closer to a 22-25 homer bat, who on any other team hits towards the middle of the lineup. Vientos is better in terms of OBP because of his propensity to draw a walk, which offsets his contact issues. Vientos is a more appealing fantasy asset on any other team.
Ronny Mauricio is still around, but I don't know how much fantasy value he has at this point. The idea of Mauricio is nicer than the player he actually is. I have serious concerns about his ability to hit, and in the fantasy game that is all that matters.
Kevin Parada was a top-15 prospect in my FYPD ranks despite being a catcher. Parada hit 26 homers during his draft year at Georgia Tech, which shows you his power. This is a perennial 30-homer bat if it all comes together. Alex Ramirez has crazy pop as well and could very well hit a homer here or there in spring training. If that happens, his stock could soar. He should already be viewed as a top-100 fantasy prospect, but a couple of meaningless spring training homers could cause that to soar. 
Philadelphia Phillies
Johan Rojas – OF*, Mick Abel – RHP, Griff McGarry – RHP, Andrew Painter – RHP
So the city of Philadelphia has lost two finals in less than a year (I don't count the MLS and neither should you), but maybe some of these Phillies prospects will help them win one? Rojas is a prospect we won't see this season unless something crazy happens. He's a speed-first profile with some pop, and the hype has died down a bit since the days people were shoving him up their prospect rankings; we love a good post-hype sleeper.
Then there is Andrew Painter, who has a non-zero percent shot at making the Phillies out of camp, or at least that's how things are feeling. Painter is an absolute dude, he has all the makings of a fantasy ace with elite pitches and good command. Ultimately for us in the fantasy realm, it will come down to whether he can put up an ace's workload and be healthy. He's going to be fun to watch in spring training, and given the Phillies are trying to win, he may get the fifth starter job out of camp.
Mick Abel was drafted a year before Painter, and while Painter exploded, Abel was just sort of steady. He may not have the upside Painter has, but Abel is still a top-100 prospect as a pitcher himself. The command wasn't great this past season, in which he walked 10.6% of the batters he faced. He is only 21 and made it Double-A, so keep that in mind. There's a fantasy SP3 upside here, as a solid strikeout guy who walks batters a touch more often than you would expect.
McGarry is a deeper league target right now; he could be up and contributing rather soon. The Phillies are making a charge for the division crown this year, so maybe they turn McGarry into a reliever which dings his fantasy value. He does get swings-and-misses, so there is always going to be fantasy value with that.
Miami Marlins
Max Meyer – RHP*, Jacob Amaya – SS*, Xavier Edwards – 2B*, Jordan Groshans – 3B*, Peyton Burdick – OF*, Eury Pérez – RHP, Dax Fulton – LHP, Nasim Nuñez – SS, Jacob Berry – 3B
We won't see Max Meyer in spring training as he is recovering from TJ, but man, when he is good, the stuff is crazy. Amaya has a chance to get some run with the Marlins, but the fantasy upside is rather low. Best-case scenario, he is a 15-homer guy with a handful of swipes. Not the most fantasy-appealing guy out there. Xavier Edwards is all speed and some contact; he could be the next Dee Strange-Gordon if everything works out. If you gave me an over/under of 10 homers a season during his peak years, I am taking out my entire bank account to bang the under. 
Groshans is another not-very-sexy fantasy guy, I just don't think he has enough power, and it seems like he'll struggle to make enough contact even to be an empty batting average asset. Burdick is all tools, but I have no idea if he can even hit .230 in a big-league season. Maybe he gets some extended run because he is a good outfield defender. Marlins hitting prospects are a rough bunch. 
Time for the fun prospects in the Marlins system. Eury Pérez, man this guy is going to be a monster. He's got the big-time fastball, is in a good organization, and gets swings-and-misses. The recipe here is one for a fantasy monster; he has as much upside as any prospect and is in a clear tier with Grayson Rodriguez and the above-mentioned Andrew Painter. We could even see Eury this season, which only will bump up his value and could help people in redraft leagues. I mean, look at this guy, he's going to be so good. 
Dax Fulton had himself a nice season, one that doesn't get talked about enough. Fulton also talked to Aram Leighton on The Call Up in what was amongst the best interviews I have listened to. My favorite part was when they went over his arsenal because I am a massive nerd about pitch arsenal and pitch sequencing. Fulton struck out 150 batters in 118.1 innings of work across High-A and Double-A. Fulton is worth a grab in your deeper leagues, and given the rate at which pitchers tend to get hurt, he could even see time with the Marlins this year. 
Nuñez is another name that Aram got on The Call Up. He has defensive chops that will give him plenty of playing time as he figures things out with the bat. Even if he doesn't even get his way to league-average bat skills, he could still be a fantasy asset because of his wheels – he did steal 70 bags last season.
Berry is someone that I am a bit lower on, I just don't know where he excels, and that combined with the Marlins' inability to develop hitters scares me. He should be at least above average in batting average and on-base with some average pop, so maybe a .270 bat with 20-25 homers. Solid, just not someone I am falling over to get, especially in shallower formats where I believe you should chase more upside. 
Washington Nationals
Cade Cavalli – RHP*
No Robbert Hassell III? No James Wood? Well, at least we get Cade Cavalli appearing in spring training. Cade Cavalli is nasty, he may already be the best starter in Washington, which admittedly isn't saying much. Think of a high strikeout SP4 for this season, just don't expect anything in the way of run support. Throughout his minor league career, Cavalli has shown that he can suppress the long ball, so let's hope that skill carries over to the major leagues. 
I mean sheesh, check out what James Wood can do. His already high dynasty stock could have soared after a few spring training homers. He's an easy top-10 prospect in the fantasy realm.