Analysis
AL West Prospects to Watch This Spring For Fantasy Baseball
A look into the top prospects in the AL West who fantasy managers should be watching this spring training to contribute to their teams soon.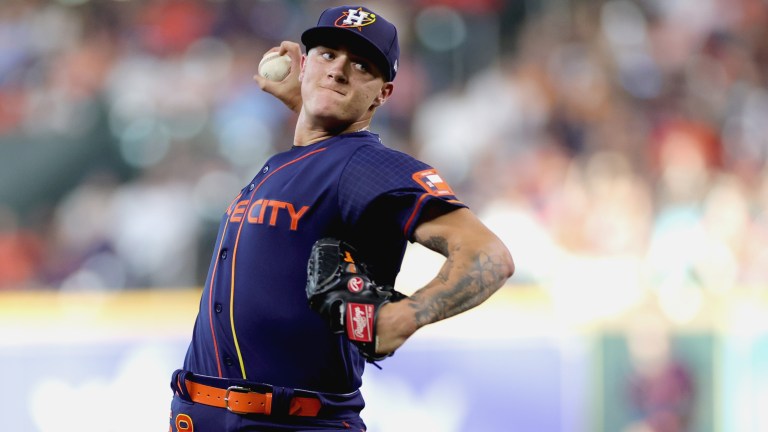 Can you smell that? Spring training is in the air, and I for one am hyped for it. This year we get the pleasure of not only having spring training, but also the World Baseball Classic, which is the best tournament in the sport. With this smorgasbord of baseball right around the corner, let's take a look at those prospects who were invited to participate in spring training and talk about them through the eyes of fantasy baseball.
This will be split into six articles going over each division's prospects to watch in spring training. We will start with the American League West here, as they are the home of the World Series champion Houston Astros. I will denote (*) which players are on the 40-man roster, because being on the 40-man roster means they have an easier route to being on the active roster (from the team's perspective). Any prospect not on the 40-man roster is a non-roster invitee.
Once a week, we will check back in, see who is performing well and who isn't, and go from there. Think of that article like a weekly check-in on your prospects, so make sure to come back. Major league and minor league ball can't get here quickly enough.
Houston Astros
Hunter Brown – RHP*, Forrest Whitley – RHP*, Yanier Díaz – C*, Korey Lee* – C
The Astros chose not to have any of their non-40-man prospects invited to spring training, which is a bit disappointing, but it is okay because we'll get Hunter Brown.
Hunter Brown is going to be a fantasy stud. He gets whiffs, and in the fantasy realm, he will get plenty of run support which will help you with wins. This year I think he's a solid SP3 in the fantasy game, and going forward he could become a SP2 on your roster.
Forrest Whitley is a bit of a wild card in terms of the fantasy game, and maybe spring training relaunches his career. We will have to wait and see, however, if he even pitches, as the last time we saw the former highly-touted prospect he left the game with shoulder inflammation.
At this point, if he turns into a reliever, that would seem like a win. For anyone who still rosters Whitley, I tip my proverbial cap to you.
Let's clump Yanier Díaz and Korey Lee together, because unless the Astros make a move they are fighting for the backup catcher role in Houston. Death, taxes, and Dusty Baker only relying on Martín Maldonado. Whoever wins this job will have a fairly limited role, so not a fantasy viable role. Yanier is a better hitter than Lee but Lee has more power; both would be low-end starters on your fantasy team. If something unexpected happens though, either would be fantasy viable as a starter as they would be hitting in that stacked Astros lineup.
Seattle Mariners
Prelander Berroa – RHP*, Cade Marlowe – OF*, Jonathan Clase – OF*, Emerson Hancock -RHP, Bryce Miller – RHP, Taylor Dollard – RHP, Bryan Woo – RHP, Harry Ford – C, Robert Perez Jr.- 1B
The Mariners broke their playoff streak and now have one of the best rosters in the sport and more reinforcement is on the way. Cade Marlowe looks to be the most ready of the 40-man crew, but from a fantasy perspective right now it's hard to see a role for him that would make him roster-able at the moment.
Over the past two years Marlowe has posted back-to-back 20-20 seasons in the minor leagues. On a less competitive team he would get a chance to post some numbers at the major leagues, so if he gets traded or DFA'd there is some upside. I don't think he makes a ton of contact but the power-speed combo is enough to be titillated.
Berroa has the highest upside of any of the 40-man crew, since the chances of him becoming a nasty reliever are high. He's got that upper 90's fastball with a wicked curveball. Plus the M's have become a place you want your fantasy pitchers to come through, it's a good home park and their ability to develop pitchers has become a real strength.
Clase is someone I have seen and I liked him. From a fantasy perspective I envision him being a 15-homer maybe 20 stolen base guy at maturity. It's a slap-and-dash approach, he's viable in any league where 250 prospects are rostered.
Hancock is a household name in dynasty leagues and could be a solid option later in the year, while Miller should be more of a household name. He punched out 163 batters in his 133 ⅔'s innings of work and overall looks like a great arm for your fantasy team. Hancock isn't the biggest strikeout guy, never posting a k-rate over 25% at any of his professional stops, but he should post solid rate stats and not hurt you anywhere.
Dollard and Woo are more deeper league options on your farm team. Woo projects to be a reliever because his command isn't the best, but he will get punchouts. Dollard is more of the deepest of deep league options as he is more of a streamer in good matchups.
Harry Ford is the man, he's one of the most impressive prospects I caught this past season. He's super athletic, so he could be a stolen-base monster, and he can hit the ball pretty hard, so maybe a 15-20 homer guy. He will be representing Great Britain in the WBC, so cheerio Harry!
If Robert Perez ever consistently hits, with his massive raw power he could be a fun option. He's only viable in super deep leagues.
Los Angeles Angels
Logan O'Hoppe – C*, Sam Bachman- RHP, Ben Joyce – RHP, Edgar Quero – C, Jordyn Adams – OF
The Angels are hopefully going to make the postseason in what is Ohtani's final year in Anaheim. Luckily that one viable fantasy prospect on the 40-man is Logan O'Hoppe, who may end up being a very good fantasy catcher. Even in his brief call-up he hit well posting a .286 AVG in his admittedly short sample-size. He has shown some pop in his minor league career and given that the people he is fighting with for the Angels starting job are Matt Thaiss (who I didn't know still played) and Max Stassi, something tells me O'Hoppe will beat those two out handedly
Remember when the Angels entire draft strategy was draft pitchers, that was a fun time, but Sam Bachman was the first of their selections. He has crazy stuff, which is why he went ninth overall in his draft, but the command has been ugly. Bachman's 2022 season was ugly as he only struck out 15.5% of the batters he faced last year in Double-A and walked nearly as many as 13% of the batters got a free pass to first.
He is relatively close so there is value and his stuff would play up out of the pen, he could be a nasty reliever who gets plenty of K's just the ratios could be volatile. Joyce is also a reliever, but that 105 mph heater is wild. Ultimate upside is he becomes a lights out closer who gets tons of saves, and he could be up relatively quickly.
Edgar Quero is a personal favorite of mine. Not many young catchers have the bat he does. He's got really good contact skills, and could hit for modest power. Of course he is miles away, but keep an eye on him, another year where he slashes .312/.435/.500 and I don't know how you can't have him on your roster. He should already be there in leagues where 200 prospects are rostered.
Jordyn Adams is like a cake where you accidentally use salt instead of sugar, everything else is so right except one thing. That one thing for Adams is the hit tool, it's not good and has pushed him from a serious prospect to maybe a fourth outfielder type.
Texas Rangers
Owen White – RHP*, Cole Winn – RHP*, Luisangel Acuña – 2B*, Dustin Harris- OF*, Jack Leiter – RHP, Kumar Rocker – RHP, Justin Foscue – 2B, Evan Carter – OF
After two-straight years of spending serious money in the offseason will the Rangers make it back to the postseason? Only time will tell but I like their chances, and Owen White and Cole Winn may play a rather big part in that.
Both pitchers have a chance to get some starts this year for the big league squad, and both are solid arms that need more love in the fantasy game. I don't envision them ever being a fantasy ace, but a solid SP4/SP5 depending on your league format is what I expect. Cole Winn is closer than White to making his debut. In any league where 150 prospects are rostered they are must-haves.
Luisangel Acuña is less likely to contribute this year, and his path is tricky for fantasy production. He may be a trade chip unless the Rangers want to use him in the outfield, where they don't have much depth. Harris has a chance to be a solid corner outfield bat who makes contact, draws a walk and hits for power. He did hit 17 homers while walking 11% of the time in Double-A. There is a chance if the Rangers do nothing with their outfield situation that we could see Harris up sooner than expected, so he gets a bump in redraft leagues.
Onto the Vandy boys, who aren't 40-man players yet but that could change. Leiter did not have the greatest taste of professional baseball after leaving Vandy. He posted a 5.53 ERA and walked 13.2% of the batters he faced, but he did punch out 25.6% of the batters he faced..I still think he will be solid but that showing may have created a dip in value, and if so I hope you took advantage.
If you saw my FYPD rankings, you know I am a bit lower on Kumar Rocker than most, but that's okay. He should be a solid SP5 type. He has had a weird trajectory and I am looking forward to seeing Kumar Rocker the professional. He could move rather quickly as well.
Justin Foscue looks like he is going to need to change his position to ever crack the Rangers lineup, but a move to the outfield could help him. He hits the ball decently hard and makes solid contact as well. There is no speed here, so he doesn't stand out in any one fantasy category.
Evan Carter is the man, he hits the ball hard, he steals bases, and makes good contact while also drawing walks. He can be a true five-category contributor.
Carter only just hit Double-A, so unless the Rangers fast track him, which I feel like I am beating a dead horse but that outfield situation is BAD!
Oakland Athletics
Luis Medina – RHP*, Ken Waldichuk – LHP*, Jordan Diaz – 3B*, Ryan Noda – 1B*, Tyler Soderstrom – C, Daniel Susac – C, Zack Gelof – 3B, Max Muncy – SS, Denzel Clarke – OF
The future Las Vegas Athletics are not going to compete any time soon, and that means while the usual stats like Wins and Saves won't be plentiful there are sleepers to be mined in this org. Luis Medina went from probable relief prospect with the Yankees to maybe he is a starter here with the A's.
The stuff has always been crazy, allowing him to get swings-and-misses and he has always walked a bunch of people. On a bad team he gets more run to remain a starter. The other part of the return for Frankie Montas, Waldichuk is a solid arm. He is going to get shafted because he won't get the run support to get wins, but he could contribute in every other pitching category. Upside here is SP3 in the fantasy game.
Jordan Díaz made a small debut this past season but that is okay because conceivably the third-base job is all his. He's long been the most underrated prospect in the minors and I hope he gets his shine. It's looking like a .260-.270 hitter with 22-25 jacks.
Noda is one of the few Rule 5 selections here that is fantasy viable. He's viable in the deepest of leagues where anyone with a pulse is viable, but I digress. I don't know if he ever hits enough but there is some juice in the bat.
Soderstrom is amongst the best catching prospects in baseball, even if he isn't really a catcher. You don't need me to tell you his bat is good, you already roster this guy. There is no speed in this profile, but that is fine because he could be a .270-.280 bat with 25-30 dingers at the highest level during his peak. In his brief time at Triple-A he did post a 57% hard-hit rate, so that shows you what he could do. Susac is a viable real-life catcher who maybe provides fantasy viable by just being a league average bat for a catcher.
Gelof is another one of these A's prospects that might be up very quickly. I mean there isn't any reason he can't be contributing to your team after the first couple weeks of the season. He hits the ball hard, and may be a decent stolen-base threat. I am thinking about 20 homers and 10 stolen-bases. He will be representing Team Israel in the World Baseball Classic, which will be very exciting.
Max Muncy and Denzel Clarke are two totally different fantasy prospects, Clarke has all the tools and Muncy is more steady in what he provides. The upside with Clarke is immense, I just question if he can hit consistently enough. With Muncy, I am convinced he can hit, but I don't know what the other stats look like because I am not confident in the power being anything substantial.
Both are top 100 types of fantasy prospects, but who to value more comes down to personal preference. I prefer Clarke because while the percentage chances it happens are low, he may have a 30-30 season in that Canadian frame. Clarke will also be playing for Team Canada in the World Baseball Classic so we will keep an eye on his performances there.