Analysis
NL Central Prospects to Watch This Spring For Fantasy Baseball
From Jordan Walker to Endy Rodriguez to Elly De La Cruz, the NL Central has tons of young players who deserve special attention this spring.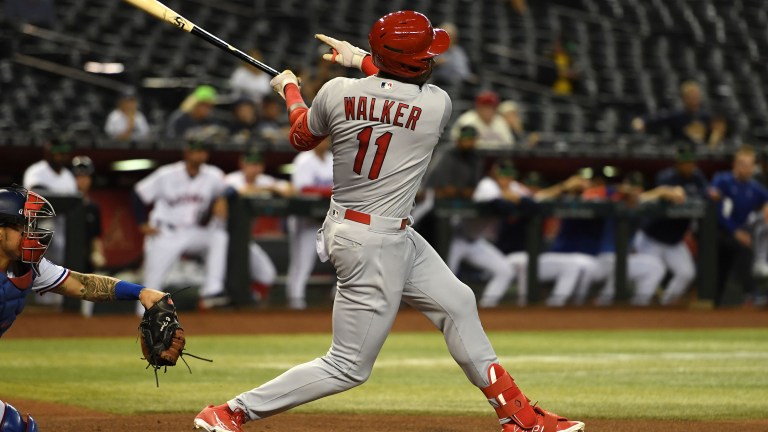 Spring training is officially underway, and I, for one, am hyped. Between this and college baseball, we have a cornucopia of baseball to enjoy, and isn't that what we all want?
After covering the NL East, we now shift our attention to the NL Central and all of the glorious prospects they have and what we as fantasy managers can expect from them. The NL Central looks as if it will be run by the Cardinals for years to come, but the other teams have some fun prospects we should all know and keep an eye on.
I will note (*) which players are on the 40-man roster, because being on the 40-man roster means they have an easier route to being on the active roster (from the team's perspective). Any prospect not on the 40-man roster is a non-roster invitee.
St. Louis Cardinals
Alec Burleson – OF*, Moises Gomez – OF*, Gordon Graceffo – RHP, Tink Hence – RHP, Masyn Winn – SS, Jordan Walker – OF
The Cardinals' outfield is good, and it looks as if it is going to get better with an influx of minor leaguers coming. Burleson already debuted with the Cardinals and is a solid corner outfielder who can even play first base. He doesn't strike out all that often and he hits the ball hard. He would have higher value on a team where he had more of a runway to consistent playing time.
Gomez has crazy power but strikes out a ton and doesn't make enough contact to offset all the K's. The upside is along the lines of what peak Franmil Reyes would bring. You won't care about the batting average, but you will get 30 homers and the RBIs and runs that come with that.
Graceffo was just a solid scouting job by the Cardinals, and now he looks like a solid starter on a good team. He probably won't debut this year, which is risky for us in the fantasy game, but he will get swings-and-misses and keep the ratios passable. He's not an ace, but he will be viable in any league where 200 prospects are rostered.
Tink Hence is the man; he gets whiffs and is a crazy athlete.  He's an easy top-100 prospect, he's just got to navigate the minefield that is pitching through the minor leagues. In his 52.1 innings of work in Single-A, he struck out 81 batters while only walking 15. Even more astounding, he only gave up a single homer last season. There are the makings here of a special arm.
Time for the really fun St. Louis Cardinals prospects! Winn has a chance to be more of a solid fantasy contributor as opposed to a star. The power won't blow you away, but he can run and should be able to steal 20-25 bags. Walker has real star potential. There is a chance for a 30-homer bat here, who makes solid contact and could even steal 10-15 bags during his first few years. I do wonder if he will be up this season. The below homer is why we are all excited for him as fantasy managers!
Milwaukee Brewers
Brice Turang – SS*, Garrett Mitchell – OF*, Jefferson Quero – C, Sal Frelick – OF, Joey Wiemer – OF
Turang is presumably the second baseman for the Brewers right from the jump, which is exciting. He is more of a speed and contact profile from a fantasy perspective. Turang could steal 20-25 bases if given the opportunity and could be a .260-.270 hitter. The power is capped at 12-15 home runs, but the calling card is his speed. He's a middle infield option for any team unless you are in a crazy deep league. 
Mitchell is a fun thought experiment. What if a prospect showed crazy raw power but could never lift the ball, so the power didn't play? Mitchell could be a fantasy stud, but his inability to get his batted balls off the ground consistently hurts him. He could still be a solid source of speed with a touch of power.
Quero is a ways away, and he is a catching prospect, but he has shown he can really hit. I am a fan of Quero's. There is no speed here, but if he can be a league-average bat at the catcher position, that's more than fine. Probably not rosterable in leagues where less than 150 prospects are rostered.
Frelick won't blow anyone away with his power, but he could be a solid 15-homer bat with 25 stolen bases and a good batting average. He projects as a lead-off hitter, so if the Brewers ever stop stars-and-scrubbing their lineup, he could get the requisite runs we crave. 
Wiemer has hit more than I would have expected him to, so kudos to him. He is pretty tooled up. There is 20-20 upside here, and he could be up relatively quickly. The question is if he will make enough contact to tap into his power. 
Chicago Cubs
Hayden Wesneski – RHP*, Kevin Alcantara – OF*, Brennen Davis – OF*, Matt Mervis – 1B, Pete Crow-Armstrong – OF
Wesneski is getting both redraft and dynasty love, which is great because Wesneski is a fun arm. I can't wait to tune into some Wesneski starts this year – he's going to be solid. I think he will be an SP4 type in fantasy, posting solid strikeout rates and keeping the ratios in check. Playing in Wrigley with that defense behind him will help him out. 
Alcantara is a high-upside outfielder with 30-homer pop, and given how long his levers are, he doesn't strike out too much. There is even some speed here, and I think he isn't getting the love he deserves in the fantasy game. I mean, look below… sheesh!
Davis is a post-hype sleeper at this point. I am worried about him because back injuries are no joke. When he was healthy, he had easy 20-20 upside if he was able to hit enough. But now we have to be worried about his health, which is more important than anything. 
Mervis is a favorite around these parts, and why the Cubs signed Eric Hosmer to a deal is beyond me. Mash Mervis has 30-homer upside and should be hitting toward the middle of that lineup… but Hosmer exists. If you can't tell, I drafted Matt Mervis expecting him to get full-time playing time before Eric Hosmer happened. The Cubs continue to build a team that can't hit, so I guess Hosmer fits in that way to build a team. 
Pete Crow-Amrstrong is a dude, but you didn't need me to tell you that. He's comfortably a top-25 prospect in any way you look at the game. He's going to steal bases and hit for more power than you would think, and I think he can routinely hit 20-25 homers during his peak years. And while it's not the most important thing, he's going to be an elite defender in center, which will give him more time to figure things out if he does struggle. 
Pittsburgh Pirates
Luis Ortiz – RHP*, Endy Rodriguez – C*, Quinn Priester – RHP, Henry Davis – C, Termarr Johnson – 2B
Ortiz should be up with the Pirates all season and will have both redraft and dynasty value. He elicits a solid amount of swings-and-misses, has good stuff, and should be a solid mid-rotation starter in real life.
Rodriguez could very well be his battery-mate in spring training, and rather quickly too. Endy can really hit and should provide above-average steals for a catcher. The nice thing is he can also play 2B and even in the outfield, which will help. Think something along the lines of a .270 batting average with 15-18 homers and even 12-15 steals, plus catcher eligibility. That'll play. 
Priester is another Pirates prospect who could be up rather quickly, and that should make this Pirates team pretty fun. Priester is in a weird spot because he has a good four-seamer that gets whiffs yet he doesn't use it, instead opting for a two-seamer that doesn't. That limits the fantasy upside a bit. He will play in a good ballpark and could be a solid ratio play as the Pirates get better over the next few years. 
The good with the former 1-1 pick is he made it to Double-A in his first full season; the bad is that he suffered a wrist injury that sapped his offensive production. Catching is a fickle thing, and catchers take bumps and bruises that can limit their offensive output. Davis has big-time power when everything is alright, but he isn't the greatest defender as a catcher. In a perfect world, he does enough to qualify there and he also plays elsewhere. This is a 30-homer bat if everything works out. 
Termarr, unfortunately, suffered a hamstring injury right before spring training and is now assigned to minor league camp. This is a bummer but totally fine, as it's not like Termarr was going to make the big league squad or anything. This is a special bat, even if he is a 2B-only prospect. There is a reason you have to pay a premium for him in your FYPDs. 
Cincinnati Reds
Brandon Williamson – LHP*, Spencer Steer – 3B*, Elly De La Cruz – SS*, Noelvi Marte – 3B*, Will Benson – OF*, Andrew Abbott – LHP, Christian Encarnacion-Strand – 3B
I am kind of surprised Williamson didn't debut this past season, but oh well. Williamson has a chance to pitch for Reds this year, although his recent downtick in K's is a trend that makes him a lot less appealing. Steer is someone I am scooping up in a few different places because I like his mix of upside and playing time. His ZiPS projection is 20 homers with a slash line of .246/.324/.432. I will take that in any of my deeper leagues, especially at third-base, which is gross. 
Elly De La Cruz is a freak, and he's got tools coming out the wazoo. There is 30-30 potential here; the ultimate question is whether he can hit enough. We all know Elly De La Cruz is a monster, unless you are new to prospects or the dynasty game.
Can I mention something that stays between us? Noelvi Marte is the most overrated prospect there is. Some people think he is a top-50 prospect, and, well, he's not that, nor would he be a top-100 prospect for me. 
Benson might be a sneaky little pickup even in redraft leagues because of the power he possesses and how that will play in Great American Ball Park. There is 30-homer upside here if you can stomach a .220-.240 batting average (if that). Abbot elicits swings-and-misses, but he also walks a lot of batters. The reliever risk is high, but with a team like the Reds, he has a longer leash for starting. 
Encarnacion-Strand hit 32 home runs across three different minor league stops last year, and that shows you why he should be rostered in deeper leagues. This power in Great American? Whew, I need a moment. He should hit enough as well to tap into the power. In deeper leagues, he is a solid flier.