Analysis
AL East Prospects to Watch This Spring For Fantasy Baseball
Between Gunnar Henderson, Grayson Rodriguez and Triston Casas, the AL East is loaded with top prospects to watch this spring.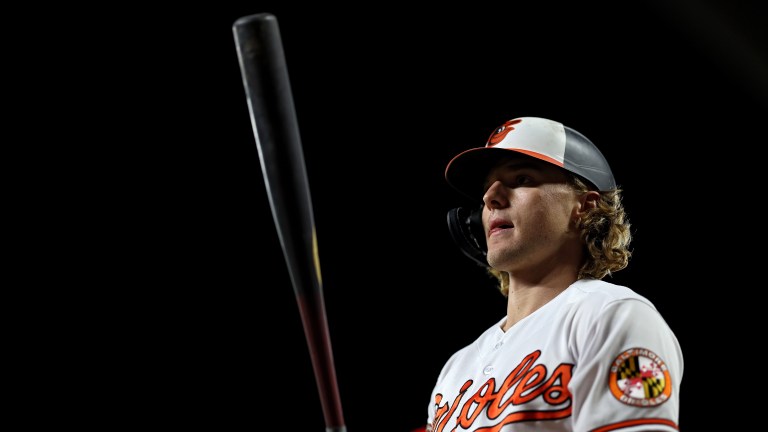 We have gone over the American League West and Central notable prospects that will be participating in Spring Training. Now we are onto the most covered and scrutinized division in all of baseball, the American League East. Time to dig into some AL East prospects through the eyes of the fantasy game.
I will note (*) which players are on the 40-man roster, because being on the 40-man roster means they have an easier route to being on the active roster (from the team's perspective). Any prospect not on the 40-man roster is a non-roster invitee.
New York Yankees
Oswald Peraza – SS*, Everson Pereira – OF*, Austin Wells – C, Anthony Volpe – SS, Jasson Dominguez – OF
Oswald Peraza is going to have a chance to establish himself as the shortstop for the Yankees this spring. The projection systems aren't very kind to him though, saying he is going to hit 7-9 homers with 10-12 stolen-bases. I would take the over on the homers and the stolen-bases if this were an O/U situation. I think like 12-15 homers, especially in Yankee Stadium, with an additional 15-18 stolen-bases. He'll hit towards the bottom of that lineup, however, so that caps the runs and RBI opportunities.
Everson Pereira is not likely to contribute early on in the season, but there may be a chance for Pereira later on. Pereira has that power-speed combo that we all are chasing after. There is 20-20 upside here, and I think he can reach that upside.
Oh Austin Wells. There is some serious power here, I just don't know if he can catch on a consistent basis. All we need in these fantasy streets is for him to catch enough to remain eligible at the catcher position. There is 25-30 homer potential if he can carve out enough playing time to hit that many homers.
Anthony Volpe is a great prospect with a plus hit tool and enough power to tap into it. There is a roto star here as he will be able to contribute in a variety of different ways. High average with power and some speed.
Jasson Dominguez, the Martian, is the ultimate upside prospect. He hits the ball hard, posting a max EV of 112. He's got speed to go steal some bases, maybe 15-20 during his first few seasons. There is a non-zero percent chance we even see him this season, it is unlikely though the Yankees tend to be on the conservative-end for their prospects.
Toronto Blue Jays
Yosver Zulueta – RHP*, Addison Bargner – SS*, Spencer Horwitz – 1B*, Orelvis Martinez – SS*, Ricky Tiedemann – LHP
Yosver Zulueta is maybe the pop up arm of the season, with a fastball that routinely touches triple-digits. With two distinct breakers he gets swings-and-misses. The Blue Jays do a good job with arms and Zulueta is a high octane arm that could work his way into save situations if he's a reliever. Addison Bargner is another pop prospect who hit his way into fantasy relevancy. I do wonder where he plays because the Jays are loaded.
Spencer Horwitz is blocked as well by some guy named Vlad Guerrero Jr. Horwitz makes a bunch of contact and to get a real shot he needs a trade. He could be a low-end starting first-baseman in deeper leagues. Orelvis Martinez is a power over hit guy, who could hit 30 homers but also hit .220 in the process. Enter into Orelvis at your own risk, hopefully he mashes a few long balls in Spring Training.
Ricky Tiedemann looks like he might actually get some run with the big league squad at some point this year. He's amongst the best lefties in the minors. He will post high strikeout rates, and should post solid ratios. Another bump in his fantasy value is that he will get run support from that juggernaut of a lineup. He could be a fantasy SP3 pretty early on in his career.
Tampa Bay Rays
Taj Bradley – RHP*, Shane Baz – RHP*, Osleivis Basabe – SS*, Greg Jones – SS*, Curtis Mead – 3B*, Kyle Manzardo – 1B, Ronny Simon – SS
Taj Bradley flew through the minors and now looks like he could make the next step to being a fantasy asset for your big league squad. The biggest question mark is how will the Rays use him because they get uhh creative with their pitchers. Which is great in real-life baseball but not so much fantasy baseball. That could cap his quality starts and wins. When he pitches in the majors everything should be good, I just wonder about the overall workload.
Shane Baz is someone who you probably won't get much from this season, but if you roster him you already know that. There is a slight buying window here because a fantasy pitcher's value takes a dip when they aren't pitching. The stuff is undeniably nasty, we just need to practice some patience. The greatest ability in fantasy baseball is availability.
Osleivis and Greg Jones probably won't factor much this season. Osleivis doesn't have the tools that Jones does but he can make a ton of contact. He can pitch in with some speed as well. Jones is all tools but he strikes out a lot.
Mead will not be off competing for Australia which is an absolute bummer. Let's hope that this allows him to make a charge at a roster spot. He's got some power and he is going to hit. The upside here is a .280 bat with 22-25 homers. Kyle Manzardo is the man, he may not be up this year, but he's got great contact skills with above-average power. He's got solid on-base skills too.
Be careful though he doesn't have prodigious power. Simon was left exposed to the Rule 5 Draft, which maybe shows you how the Rays think of him. He's another contact-orientated Rays prospect with some speed.
Baltimore Orioles
DL Hall – LHP*, Grayson Rodriguez – RHP*, Gunnar Henderson – 3B*, Coby Mayo – 3B*, Connor Norby – 2B*, Jackson Holliday – SS, Jordan Westburg – 3B, Colton Cowser – OF, Heston Kjerstad – OF
The O's have the most prospects of any of the AL teams, and all of their heavy hitters are going to be at spring training. DL Hall saw major league time, and if he can ever get the walks under control then there is fantasy SP2 upside. Think like early career Robbie Ray, high strikeouts, and all of the ratios you are hoping don't hurt you.
Grayson Rodriguez is going to be a monster, I am confident he is the best pitcher in all of the minors. It's crazy stuff, although his injury last year is worth noting. Of all the pitching prospects in the minors he is one of a handful with actual ace upside. I am not the biggest gambler on baseball but I do like his +900 odds to win AL Rookie of the Year (FanDuel).
Gunnar Henderson is another AL Rookie of the Year candidate, and between us, I think Adley should have won the AL RoY last year. Henderson is going to be a stud, and he's going as high as 94th in redraft leagues according to FantasyPros. During his peak years I could see 30 homers, while hitting in the middle of this crazy Baltimore lineup.
While I am not a fan of mayo the condiment, I am a fan of the baseball player in Coby Mayo. He's got mammoth power and plays third, which is a weak fantasy position. He does however strike out a lot. Connor Norby makes a ton of contact and even has some pop. He could be up rather soon as the Orioles have a massive wave of prospects coming up.
Westburg and Cowser will also see time. Cowser could even break camp with the team, where I think his 25 homers and 12-15 stolen-bases would be a help to your fantasy rosters. Westburg doesn't have as easy of a path to playing time but it's a 20 homer bat if given the requisite playing time. Kjerstad showed the power that made him so highly drafted after a lay-off with myocarditis. There is still a 30-homer bat who hits in the middle of an order here, just don't expect a crazy batting average.
Boston Red Sox
Triston Casas – 1B*, Enmanuel Valdez – 2B*, Ceddanne Rafaela – OF*, Masataka Yoshida – OF*
Triston Casas is the Red Sox Opening Day first baseman, they didn't bother to sign anyone else. We all know about what he provides with the bat, it's a good approach with power and good bat-to-ball skills. He won't be much in the stolen-base department but that is fine. The upside here is Freddie Freeman that plays in the AL East, whew that is scary.
Enmanuel Valdez may end up working his way into the middle infield mix because of how bad things are. He could be a solid source of batting average and pinch in some power and speed.
Rafaela is a prospect that could be up soon because of the combination of need and his readiness. He could step in and be the Red Sox best center fielder right now. He has some modest pop but he can really run and could be a menace on the basepaths especially given the new rules.
Let me just read you Masatiko Yoshida's steamer projections, .299/.388/.480 with 18 homers and five stolen bases. That's crazy for a guy making the jump over to face the best pitchers in the world, and projection systems tend to be conservative. I'm a big fan of Yoshida, I think he is going to be good and he is going to end up on a bunch of my dynasty and redraft leagues.