Analysis
Seattle Mariners Trade Deadline Outlook
One of the hottest teams in baseball, the Seattle Mariners should be buyers at the deadline as they look to end a 20-year playoff drought.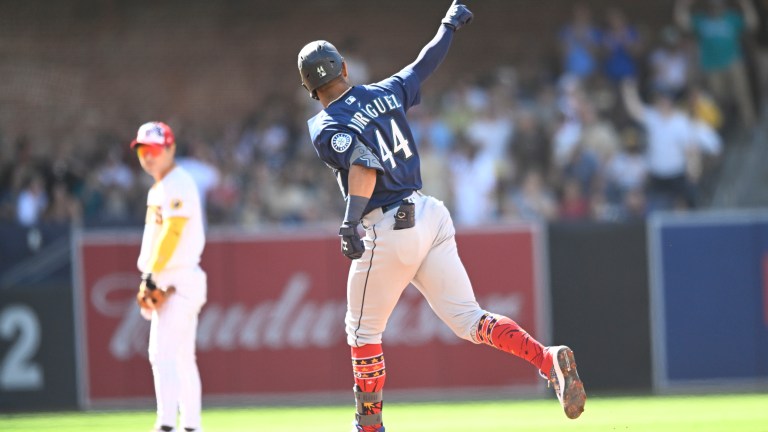 If the MLB season ended today, the Seattle Mariners 20-year playoff drought would be over. After finishing just two games shy of snapping the streak in last year's magical season, the Mariners have again started to play their best baseball as the season endures.
Of course, there is still a lot of baseball to be played and plenty of contenders are going to strengthen their roster at the deadline. After last year's close call, President of Baseball Operations Jerry Dipoto had a busy offseason in an effort to keep the momentum going.
The Mariners made their biggest free agent splash in years, signing reigning Cy Young Award winner Robbie Ray to a five-year, $115 million deal. Not too long after, Dipoto made a blockbuster deal with the Reds for both Jesse Winker and Eugenio Suarez.
With the arrival of baseball's best rookie Julio Rodriguez in the outfield as well as George Kirby in the rotation, there's no doubting that the Mariners are better than 2021's 90-win team.
As the Mariners sense a potential end to the two-decade postseason dry spell, Dipoto will likely push the chips forward over the next couple days.
Adding to Their Starting Rotation
At this year's deadline, Seattle will likely target some starting pitching help and the number of arms that could be available has continued to grow as teams like the Marlins and Tigers have made it known around the league that they are sellers.
Like any team looking for starting pitching, the Mariners will surely be in on Luis Castillo and Frankie Montas, however with a young core, the team could look to go get a starter will more years of control.
A surprising report from Ken Rosenthal on Wednesday suggested that the Tigers are willing to listen on offers for their young starter Tarik Skubal. Given the fact that Skubal will not hit free agency until 2027, it would take an absolute haul to pry the 25-year-old away from Detroit.
The Tigers are further off from contending than they had hoped this season, posting the lowest outfield wRC+ and fWAR in baseball. A package of OF/DH Kyle Lewis, SS Noelvi Marte and RHP Emerson Hancock and another piece or two is worth a shot for the Mariners, but the Tigers would likely want Jarred Kelenic in a Skubal deal.
A reunion with former Mariners farmhand Pablo Lopez would be a bit more attainable prospect price wise as Lopez comes with "just" two years of control beyond this season. The Marlins would likely ask on Kelenic, though a package centered around infielder Noelvi Marte should be of interest to Miami.
If the Mariners are keen on holding onto their top offensive prospect in Marte, they could try to put together a package centered around a couple of: Emerson Hancock, Matt Brash, Harry Ford, Edwin Arroyo or Taylor Dollard could just be enough to snag Frankie Montas from the A's.
If the Mariners feel like their offseason additions, along with the emergence of Rodriguez and Kirby is enough, they could go with more subtle additions in an effort to preserve the farm.
Finding a Super Utility Bat
Reds infielder Brandon Drury would be a nice upgrade over what they are getting from what they are getting from second baseman Adam Frazier. Set to be a free agent after this season, a Drury trade should not require much more than a mid-level prospect or two.
Whit Merrifield has not swung the bat well this season, but offers great defense at second base and corner outfield. Merrifield provides speed, defensive versatility and could benefit from a change of scenery. Owed just $2.75 million next year, Merrifield will probably command a similar return to Drury, however it is fair to question how much of an upgrade the 33-year-old would be over Frazier.
Bolstering the Bullpen
Though the bullpen has been solid, a contending team can always use an experienced, high-leverage arm. Rockies closer Daniel Bard has registered 41 saves over the last season and a half and is enjoying a career-year with a 1.91 ERA.
If the Mariners want to go the control route with their reliever target, Royals closer Scott Barlow has been dynamite over the last two seasons, with 32 saves and a 2.23 ERA over his last 113 appearances.
David Robertson of the Cubs and Lou Trivino of the A's are also high-leverage options who would be more attainable price wise.
There's a litany of relievers that will be available on the trade market and it is probably safe to expect the Mariners to be active in that department, even if they have a surprisingly quiet deadline.