Analysis
Blue Jays Have a New Top Pitching Prospect in Ricky Tiedemann
A third round selection back in 2021, Blue Jays prospect Ricky Tiedemann continues to impress in his first season of professional baseball.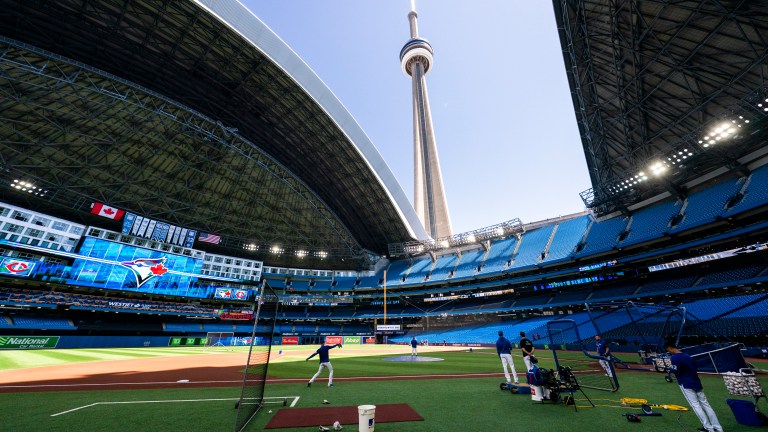 Last year, the Toronto Blue Jays only had 19 draft picks to work with for the 2021 MLB Draft after losing their second-round selection as compensation for signing George Springer the offseason prior, as he rejected his qualifying offer from the Astros. The Jays' front office focused a lot on restocking the pitching depth, using their first five picks on various pitchers until selecting outfielder Jaden Rudd in the seventh round.
The No. 19 pick was used on RHP Gunnar Hoglund, who fell to the Jays after his draft stock took a slight hit because of Tommy John surgery earlier that year. He was traded in Spring Training to the Oakland Athletics along with three other prospects in exchange for third baseman Matt Chapman.
The next pick in the third round used was on a southpaw by the name of Ricky Tiedemann, pitching out of Golden West College located in Huntington Beach, California. He would sign right around slot value at $644,800.
Blue Jays Tiedemann continues finding success
Tiedemann's collegiate career was one full of ups and downs because of COVID-19. He went undrafted in the shortened 2020 draft and transferred from San Diego State to Long Beach Junior College in order to be eligible for the 2021 MLB Draft.
Long Beach would cancel their 2021 season due to the pandemic and he transferred again to Golden West, where he would start seven games and pitch to a 3.55 ERA through 38.0 innings, earning a 2-1 record with 15 walks and 60 strikeouts on the year. His best outing was back on May 27th when he pitched a complete game and allowed just one earned run off seven hits and two walks while striking out 13 batters, tying his season-high total.
The left-hander did not pitch in the Blue Jays affiliate system after being drafted and instead spent time developing with the organization at their complex. He started the 2022 season in Single-A Dunedin and right out of the gate, he was dominating opposing teams.
Through six starts in Low-A, Tiedemann allowed only 11 hits and six earned runs through 30.0 innings. He also struck out opposing batters at a 14.7 K/9 rate and had a three-game stretch where he did not allow a single earned run.
Tiedemann would be promoted to High-A Vancouver on May 14th and continued to pitch well, currently sporting a 2.39 ERA on the season through eight starts and 37.2 innings. He did see a slight dip in his K/9 to 12.9, but he also has improved his command, down 0.8 points to 3.1 BB/9 since joining the Canadians squad almost two months ago.
Ironically, his worst outing of the year came back on June 8th, when he allowed four earned runs through 4.2 innings, giving up his first home run since being promoted. Looking back though, the California product went on another scoreless streak back in late May/Early June where he had four starts in a row without allowing an earned run.
Looking at Tiedemann's Arsenal
With Tiedemann, the Jays got a three-pitch starter who uses a mid-90s fastball, combined with a circle-change and a slider to get opponents out on both sides of the plate. He has fantastic splits (although has faced more right-handers than lefties) and has held opponents to a .479 OPS on the year split between two levels.

While Hoglund was the top-ranked pitching prospect entering this season, with him traded away and Tiedemann's epic rise through the Minor Leagues, he not only finds himself as the highest-ranking pitching prospect on the Blue Jays but he also recently cracked the Top 100 list, slotting in at No. 64. He was also recently announced to the roster of the upcoming MLB Futures Game, joining teammate Yosver Zulueta at the contest on July 16th.
Looking back, Ricky Tiedemann could become the steal of the 2021 draft, especially if he continues to pitch well and finds himself in Double-A before the season is over. The workload might have to be kept in check, considering he only appeared in 38 innings last year via Golden West, but there is a possibility that he breaks the MLB ETA of 2024 and finds himself on the Blue Jays roster sometime next season.