Analysis
Ricky Tiedemann, Jackson Jobe and TK Roby Shine in Arizona Fall League Debuts
The pitching prospect talent has been on display early in the Arizona Fall League.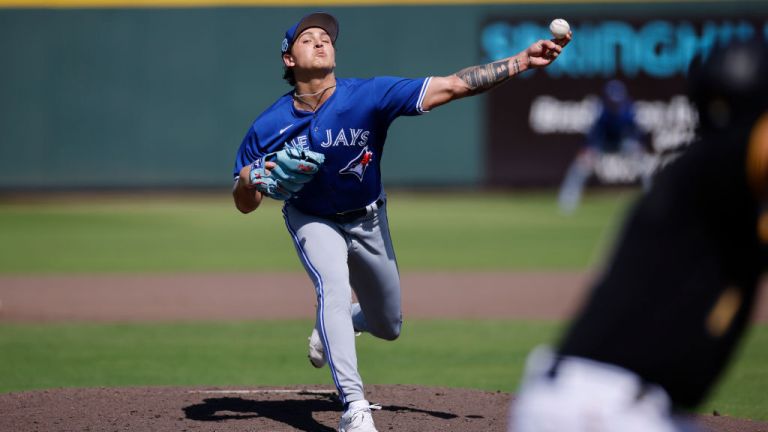 The Arizona Fall League is consistently loaded with talent from all levels and varying degrees of prospect pedigree, but this year's pitching crop is as good as any in recent memory.
Headlined by two of the most electric pitching prospects in baseball, in Ricky Tiedemann (No. 41 overall) and Jackson Jobe (No. 46 overall), there's a handful of arms with plenty of intrigue. We highlighted those notable arms as well as the as they talented hitters they will oppose on the most recent episode of The Call Up Podcast.
I will be highlighting AFL performances each week with some data to contextualize how certain players are trending. We are starting off with a bang considering the fact that Jobe tossed four shutout, Tiedemann picked up seven punch outs across five innings of one run ball and TK Roby was nothing shy of electric in his three scoreless innings.
Let's dive into each of the three starts.
Jackson Jobe – RHP – Tigers
4 IP, 2 H, 0 ER, 2 BB, 4 K–55 pitches, 31 strikes.
The Tigers top pitching prospect carried his momentum from the end of the regular season into is AFL debut, running the fastball up to 98 mph on several occasions. His command was not quite as pinpoint as we have become accustomed to this season, but he set the bar high for himself with a 60 to 3 strikeout to walk ratio to close out the year.
Most of his misses were narrow, perhaps just a ball or two off, but he only landed six of his 14 sliders for a strike, a pitch he generally lands in any count. He filled up the zone with his cutter and changeup instead setting up his upper 90s heater.
His outing epitomized why I believe he is one of the best arms in the Minor Leagues. With his four pitch mix, knowledge of his mechanics and overall feel for his body, he can get outs–or even cruise–when he is not 100% on. It also helps when you can sit 96-97 mph with your fastball.
Rickey Tiedemann – LHP – Blue Jays
5 IP, 3 H, 1 ER, 3 BB, 7 K–77 pitches, 44 strikes
Injuries have really hampered the incredible momentum Tiedemann generated with his dominant pro debut in 2022. After a late start to this season, Tiedemann battled some inconsistencies with his command, but showed flashes of the pitcher who solidified himself as one of the best southpaws in the minors last season.
Of course, priority No. 1 for Tiedemann is to stay healthy and build up, but encouraging results are important too. His first start in the AFL checked both boxes as he eclipsed his highest pitch total of the season (77) while tossing five innings of one-run ball.
Tiedemann ran his heater up to 97 mph, but sat closer to 93-96 mph. There were more 93s and 92s in his fourth and fifth inning of work which is understandable given the fact that it was his longest start of the year from innings/up downs perspective in addition to the pitch count.
He predominantly threw fastballs and sliders, mixing in just five changeups. He seemed to find the strike zone just enough, but was spraying a bit with his fastball and slider. As he reached the fourth and fifth innings, he had the tendency to leave some of his heaters up.
Overall, it was an extremely encouraging outing from the Jays top arm. He made the pitches he needed to make, had plenty of life on his stuff and worked around some inconsistent command. Most importantly, he has continued to stretch himself out further.
Most of his swinging strikes came on the heater, but he picked up three whiffs on the five changeups he threw along with a few good sliders.
TK Roby – RHP – Cardinals
3 IP, 1 H, 0 ER, 0 BB, 5 K–43 pitches, 31 strikes
Acquired by the Cardinals in the Jordan Montgomery trade at the deadline, Roby missed nearly three months with a shoulder issue, but returned to action at the end of August and dominated his way through the Texas League over the final couple weeks of the season.
Given the Cardinals need for pitching at the highest level and Roby's lost time this year, it makes sense for him to get additional work in Arizona. Since he returned from the IL, Roby has averaged right around 96 mph on his fastball with good shape and it was more of the same in his first AFL start.
The 22-year-old righty touched 97 mph and threw only one fastball below 94.5 mph. He consistently poured in strikes with the four seamer with the slider looking like a plus pitch. His changeup was inconsistent for much of the year, but he flashed some really good ones in his short start.
The curveball is generally Roby's most favorable secondary pitch, but he did not really have it in this one. It was impressive to see him find success with the fastball, slider and changeup instead considering the relatively high usage of his curveball over the course of the season.
Roby has a chance to provide a legitimate four-pitch mix and showed just that in his first Arizona Fall League outing.