Analysis
Brandon Barriera Headlines a Strong 2022 Draft Class for the Blue Jays
With Robbie Ray and Marcus Semien signing elsewhere this offseason, the Blue Jays took advantage of having four draft picks before round three this year.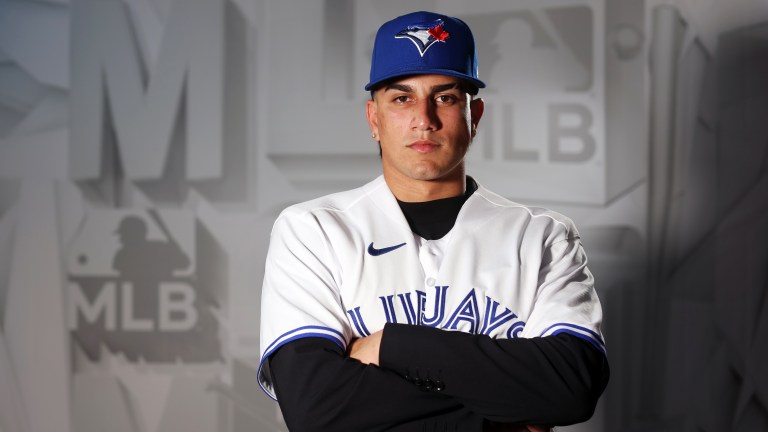 This past offseason was a busy time for the Blue Jays, as the club had numerous players heading to free agency, while the team had the green light from ownership to spend. The front office was able to add some players to the roster in the form of Kevin Gausman, Yusei Kikuchi, and Yimi Garcia, while also trading for Raimel Tapia, Matt Chapman, and Bradley Zimmer.
On the flip side, the Jays lost some core players in Robbie Ray, Marcus Semien, and Steven Matz, with all three players signing long-term deals with other teams. Both Ray and Semien turned down qualifying offers from the Jays, meaning both players were tied to draft pick compensation, which eventually turned into the 77th and 78th overall picks for the 2022 MLB Draft.
With those picks, the Jays entered Day 1 of the 2022 MLB Draft with picks #23, #60, #77, and #78 before the third round. Let's take a look at who the Blue Jays selected.
Pick No. 23: LHP Brandon Barriera – American Heritage (FL)
With Dylan Lesko and Owen Murphy off the board, the Blue Jays selected the third prep pitcher of the MLB Draft in left-hander Brandon Barriera.
Making headlines earlier this year by shutting down early to prevent any potential injuries, Barriera was the 15th ranked prospect via MLB Pipeline heading into the 2022 MLB Draft. With a fastball that sits in the low-90s, Barriera should add some growth and development over the coming years, which should add some velocity to his fastball. He complements the fastball with a plus slider and a changeup that can fool hitters but still has room to develop. In his senior year, Barriera posted a 2.27 ERA with 68 strikeouts through 37.0 innings.
With a slot value of $3.07 million, Barriera has a commitment to Vanderbilt University and has already made other teams aware of how he feels about being picked at No. 23, "looking at those 22 teams before me, they're going to regret this," he said to MLB Network.
Hopefully, he can follow in the footsteps of fellow prospect Ricky Tiedemann and get on a development program this offseason down in Dunedin and come out strong in 2023, once he signs of course.
No. 60: SS Josh Kasevich – Oregon
No stranger to drafting middle infielders, Ross Atkins went back to his old ways and selected 67th ranked prospect, shortstop Josh Kasevich.
Spending three years at Oregon, Kasvich authored a .303/.374/.424 slash line with 11 home runs and 96 RBI through 498 at-bats. He also amassed a .797 OPS, while having the same amount of walks to strikeouts at 48 apiece. Defensively, Kasevich started his first year at third base but moved to shortstop in his second season and stuck at the position. He committed just 14 errors over two full seasons at shortstop and owns a solid .974 fielding percentage at Oregon.
The righty-batter is considered a contact hitter with the ability to hit across the field but does have some sneaky power that should potentially develop over time. Scouts also believe he can stick at shortstop over his professional tenure, with many giving credit to his athletic ability and plus arm. Kasevich's draft slot comes in at $1.22 million.
No. 77: SS Tucker Toman – Hammond School (SC)
Tucker Toman was a name attached to the Blue Jays with their No. 23 pick. After all was said and done, the Jays ended up selecting him with the 77th pick in the MLB Draft. Regarded as one of the top high school hitters this year, Toman impressed at the draft combine and was reportedly on the radar of multiple teams, something the 18-year-old confirmed on Twitter.
This really gives off Bo Bichette vibes, as the current shortstop turned away multiple offers before being selected by the Blue Jays in the second round of the 2016 MLB Draft. Toman credits the Jays ability to develop young players, which is surely helped by their new development complex in Dunedin.
Although he was drafted as a shortstop, many predict that he will transition away to either second or third base over time, which might bode well as he is considered an average to a below-average runner. The hit tool is there and the power will be there when he develops and grows into his current 6'1″ frame as he joins a crowded middle infield farm system.
With a commitment to LSU, Toman will likely sign above his slot value of $846,500, which makes sense considering he was considered a potential first-round pick. The Blue Jays did select some college seniors within the first ten rounds and should be able to gain some funds back to sign Toman and the rest of the top picks.
No. 78: 2B Cade Doughty – LSU
The last pick of the Blue Jays' first two rounds goes to Cade Doughty, a second baseman out of LSU. Through 519 at-bats with the Tigers, Doughty sported a .301/.379/.541 slash line with 30 home runs and a .921 OPS. He switched from third base to second base with the emergence of fellow top prospect Jacob Berry this season and posted a collective .937 fielding percentage through three years of college baseball.
Ranked at No. 55, Doughty added some muscle and found some power in his bat these last two seasons to the tune of 28 home runs and 112 RBI. His batting stance is wide but he can get to the ball and put the barrel out with consistency, as evident by his .960 OPS this past season. His slot value comes in at $833,200.
Thanks to a pair of compensation picks, the Toronto Blue Jays were able to make a ton of value draft picks last week, adding a bunch of talent to continue to bolster their farm system.