Analysis
MLB Mock Draft 2021: High School Bats Fill the Top 10
High school bats, college arms, and no shortage of talent.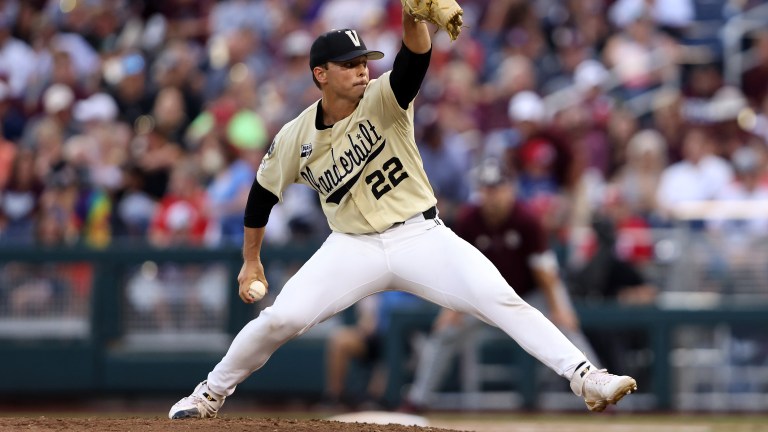 1. Pittsburgh Pirates: Marcelo Mayer, SS, Eastlake HS (CA)
Mayer has become the more clear-cut option at No. 1 as we have inched closer to draft day. The California prep shortstop checks just about every box, and for a Pirates team that needs a franchise cornerstone, Mayer's tools and polish for a prep shortstop make him the clear pick. That being said, Mayer is not as much of a slam dunk to hear his name called first as Spencer Torkelson was last year.
2. Texas Rangers: Jordan Lawlar, SS, Jesuit Prep (TX)
The Rangers could go in a lot of different directions here. Jack Leiter is a possibility. As is Khalil Watson, but Lawlar's tools across the board, and high probability of sticking at short will entice the Rangers to go get the Texas kid.
3. Detroit Tigers: Khalil Watson, SS, Wake Forest High (NC)
There's probably not many other mock drafts that have Watson going this high, but his offensive ceiling is just too tantalizing. Watson's explosive swing could be the best stroke in the draft, and will allow him to hit for power without a ton of swing and miss. The left-handed hitting shortstop does not come with as much certainty of sticking at the position as the two guys selected ahead of him, but is probably the best athlete of the trio. Watson's limitless offensive ceiling and athleticism make him someone who I would jump at the opportunity to select, even at third overall.
4. Boston Red Sox: Jack Leiter, RHP, Vanderbilt
The Red Sox are in an enviable spot. They are playing some of the best baseball in the league, and are likely going to have the all-time trouble in paradise decision of picking between the best pitching prospect in the draft (Jack Leiter), or the best catching prospect and one of the most intriguing college bats in the class (Henry Davis). The Sox can't go wrong with either, and both are candidates to climb through the minor league ranks quickly. The Red Sox could really use some pitching help in their organization, and a high floor, fast riser candidate like Jack Leiter will be too much to pass up on for Chaim Bloom and co.
5. Baltimore Orioles: Colton Cowser, OF, Sam Houston State
Baltimore has been known to make underslot early picks, with last year's selection of Heston Kjerstad second overall serving as the perfect example. Cowser may raise some eyebrows when people hear his name called much earlier-than-expected, but Baltimore is getting one of the best collegiate bats in the draft, and a body with exceptional upside. To be clear, I am much more a fan of Cowser than Kjerstad, so the underslot strategy could pay even bigger dividends in this year's draft.
6. Arizona Diamondbacks: Henry Davis, C, Louisville
This is one of those picks where the player is just too good to pass up on. Simply put, Henry Davis is the best player available, and had 2020's season not been cancelled I really believe he'd be a legitimate threat to be the top overall selection. A somewhat limited track record (109 collegiate games) is the only reason Davis is available here at six for the Dbacks. His defense is supreme, and his offensive numbers rival Joey Bart's (#2 overall selection in 2018).
| | |
| --- | --- |
| Henry Davis 2021 (Louisville) | Joey Bart 2018 (Georgia Tech) |
| .370/.482/.663, 15 HR, 31 BB, 24 K | .359/.471/.632, 16 HR, 41 BB, 56 K |
7. Kansas City Royals: Brady House, 3B, Winder Barrow HS (GA)
House possesses one of the best bats in this year's high school class, and has performed particularly well as of late on the summer circuit. Kansas City has gone arm heavy in recent drafts, but with Bobby Witt Jr. and Nick Pratto looking like infield pieces of the future, the Royals look to round out the rest of the potential infield with one of the highest ceiling offensive players in the draft.
8. Colorado Rockies: Kumar Rocker, RHP, Vanderbilt
Not much needs to be said here; everyone has known what Kumar Rocker has been and can be since he was a senior in high school. "Why did he slip to 'X' slot?" is what many will ask, but a combination of being represented by Scott Boras, and questions about his ability to maintain velocity, will be why he falls into the Colorado Rockies' lap.
9. LA Angels: Jackson Jobe, RHP, Heritage-Hall HS
There is an argument to be made that Jobe is not only the best prep arm, but the best overall arm in the draft. I'd still lean Leiter, but if Jobe turns out to be the best arm in this draft five years from now, I wouldn't bat an eye. Metrically, he is elite, breaking through every "plus" threshold when it comes to pitch data. Jobe has a 6'2, 190 lb physical and durable frame as well, lending to relatively effortless velocity in the upper 90s. The slider from Jobe is already 70 grade as well. Jobe could be off the board before the Angels get a chance, but if he's there, I'd imagine Perry Minasian isn't thinking too hard about this one.
10. New York Mets: Sal Frelick, OF, Boston College
Frelick is one of the safest bets in the draft. He boasts the best hand-eye skills, and competitive makeup in the class, along with good athleticism. The Mets are a bit light on outfield prospects in the system, and will likely not retain all of: Brandon Nimmo, Michael Conforto, and Dom Smith. Frelick should be a fast climber.
11. Washington Nationals: Ty Madden, RHP, University of Texas
Madden's regional and super regional performances only added to his already-high stock. Madden is your classic big-bodied, hard throwing, Texas right-hander, and showed maturity as the season endured. The 6'3, 220 pound righty's heavy mid-90s fastball, potential plus slider, and developing changeup give him front line potential for a Nationals team that will soon need to usher in a new era of starting pitchers.
12. Seattle Mariners: Matt McLain, UTIL, UCLA
Many wondered why McLain turned down $2+ million from the Diamondbacks as a high schooler in 2018, but the versatile right-handed hitter's bet on himself will pay off after an exceptional three-year career in Westwood. McLain has sneaky pop and a great feel to hit. He can play at almost any spot in the field, and is an above average runner. Similar to Frelick, McLain's ceiling may not be that of an all-star, but he has a high floor and a good chance to be one of the first players from his draft class to break into the big leagues.
13. Philadelphia Phillies: Benny Montgomery, OF, Red Land HS (PA)
This is the so-called "floor" for Montgomery in terms of where he ends up being picked. From a tools standpoint, you'll be hard pressed to find a player with more projection than Montgomery. He has four tools that are 60-grade already, and you could even call his projectable, athletic frame (6'4, 200) his 5th tool. I think the Phillies select the hometown kid, and pull off a big time steal.
14. San Francisco Giants: Sam Bachman, RHP, Miami OH
Sam Bachman could be this year's Garret Crochet, albeit from the right side. With two 70-grade pitches already in his arsenal, there is a chance Bachman ends up in a big league bullpen by September. Bachman's risk of being a bullpen-only guy could be a turn off to some, but with the magical season the Giants are having, the idea that Bachman could slot in and help them make a run is intriguing. The thing is, I believe Bachman will pan out as a starter, as the changeup looks like a viable third offering, and there is present command.
15. Milwaukee Brewers: Jordan Wicks, LHP, Kansas State University
Jordan Wicks is a professional starter and has the best changeup in the entire draft, which draws Bugs Bunny comparisons. He simply knows how to pitch. Wicks throws strikes, changes speeds well, and has a solid chance to be a middle of the rotation arm in the big leagues by 2024.  
16. Miami Marlins: Harry Ford, C, North Cobb HS (GA)
While the Marlins would probably like to take a collegiate player at 16, if Harry Ford is available, they have to take the "unicorn" catcher. You can forget the high school catcher stigma with Ford, as he is an insane athlete with a plus bat, with center field as a legitimate fall back position for him. The two organizational positions of need for the Marlins? Catcher and center field. I think teams are downplaying their interest in Ford, and we could see him be one of the early surprises in the draft, cracking the top 10. If that isn't the case, this is a no brainer for the Fish.
17. Cincinnati Reds: Gavin Williams, RHP, East Carolina
All Williams has done since arriving in Greenville is get outs. Most notably, he went punch-for-punch with Kumar Rocker in the Nashville regional, and boasted a 14.4 K/9 mark this year. The Cincinnati Reds should be thrilled to pick up Williams at pick 17, but he is another guy who could come off the board a bit early.
18. St. Louis Cardinals: Ryan Cusick, RHP, Wake Forest
A gritty northeast arm with elite makeup, the Cardinals could see Cuicks stuff as just too good to pass up on in the back half of the first round. Cusick's fastball can reach triple digits, and his slurvy breaking ball is a wipeout pitch. The 6'6, 225 lb right-hander does come with some reliever risk, which could put some teams off, but the stuff and makeup should make up for that.
19. Toronto Blue Jays: Anthony Solometo, LHP, Bishop Eustace HS (NJ)
A tall, projectable high school left-hander who throws strikes is always going to get first-round buzz, and Solomento has done just that as his fastball has gained some life and slider has shown potential. Solomento has also shown some feel for a changeup giving him a good chance to have a reliable three pitch mix with built in deception and an ability to throw strikes. His fastball sits in the low-90s and can touch 94, but there is much more room in the tank. The Jays have been linked to the northeast prep southpaw.
20. New York Yankees: Bubba Chandler, RHP/OF, North Oconee HS (GA)
Chandler is as unique of a prospect as you will find in this draft. A true two-way prospect, Chandler has impressed on the mound and at the plate. Chandler is also a legitimate football prospect, flipping from Georgia to Clemson after he was offered a spot on Dabo Swinney's football team as a quarterback.
At the plate, Chandler is an athletic switch hitter, with a pretty good feel to hit and power potential. On the mound, Chandler's fastball has ticked up to the mid-90s, and his power curve flashes plus as well. Chandler may be a tough sign, but it sounds like that may not deter the Yankees.
21. Chicago Cubs: Gunnar Hoglund, RHP, Ole Miss
Hoglund is as polished as any arm in the draft. Unfortunately, his season was cut short due to Tommy John surgery, and the right hander is still far out from returning. Despite being on the shelf, Hoglund's above average stuff and plus command should keep his stock from taking a hit.
22. White Sox: Will Taylor, OF, Dutch Forks HS (SC)
Taylor can absolutely fly. A 70-grade runner, Taylor also starred as a slot receiver in high school and will also need to be signed away from Clemson's baseball and football team. Taylor has great bat to ball skills and an easy swing that should allow him to put his speed on display. A quick-twitch athlete, Taylor flashes plus potential in center field.
23. Cleveland Indians: Colson Montgomery, 3B, Southridge HS (IN)
Older on the high school scale at 19-years-old, Montgomery makes up for that with a projectable body that already features present strength at 6'4, 200 pounds. His left-handed swing is smooth and repeatable, and as he taps into more power, Montgomery should be a solid power/average threat.
24. Atlanta Braves: Trey Sweeney, 3B/SS, Eastern Illinois
Trey Sweeney is the perfect example of someone exploding onto the scene in 2021. After enjoying success at EIU and in the Coastal Plain League in 2020, Trey put up video game numbers in 2021 and is one of the best college bats in the class.
25. Oakland Athletics: Joshua Baez, OF, Dexter Southfield School (MA)
Baez has 70-grade raw power, a 60-arm, and is a 55-defender. The main question mark is whether or not he will be able to hit elite level pitching at the professional level, but his work ethic paired with his tools should allow Baez to silence the doubters as well as grant the A's a steal at pick 25.
26. Minnesota Twins: Joe Mack, C, Williamsville East HS (NY)
An elite defender with an above-average bat, the Twins get a high school catcher who mitigates the risk thanks to his high floor. Mack is the brother 2018 6th rounder, Charlie Mack.
27. San Diego Padres: Frank Mozzicato, LHP, East Catholic HS (CT)
Mozzicato is the best LHP in the prep class, and he has more upside than any other southpaw in the draft.  A quick google of his numbers, and anyone will see that he essentially played his high school season on beginner mode, tossing five no-hitters, carving anything in his path. 
Mozzicato's fastball and curve are plus-pitches already, each garnering an elite level of swing and miss. His curve is his best overall pitch, which he manipulates from a true 12-6 in the low-70s, to an 11-5 in the mid-70s that backfoots righties. His changeup is average for now, but will be an easy pitch for Mozzicato to develop. He has front-end upside, and San Diego gets a steal at 27.
28. Tampa Bay Rays: Mat Nelson, C, Florida State
The Rays surprise many here taking the Florida State backstop at 28th overall, but Mat Nelson has proved that he can swing it with the best of them this season. Nelson has above average power and an above average hit tool, to great catch-throw skills.
29. LA Dodgers: Michael McGreevy, RHP, UC Santa Barbara
McGreevy was monster No. 1 in the two-headed monster that was UC Santa Barbara's pitching staff. He has a great frame to work with, and is incredibly advanced metrically. McGreevy really impressed with exceptional K-BB ratios throughout his collegiate career, and his pitchability gives him a high floor as a starter.