Analysis
Where Have the Blue Jays 2022 Draft Picks Been Assigned?
The Blue Jays signed 19 of their 22 draft picks from the 2022 MLB Draft and a handful are getting their first taste of professional baseball right now.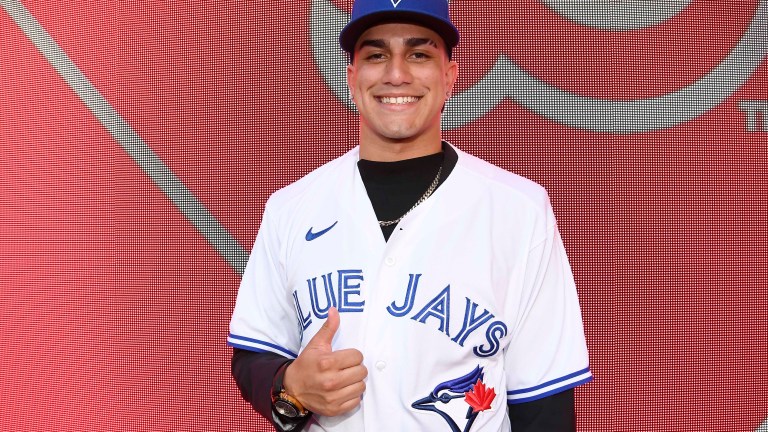 This year, the Toronto Blue Jays had 22 picks in the MLB Draft thanks to compensation picks following the second round after losing Marcus Semien and Robbie Ray via free agency. The Jays' top pick was at No. 23 after finishing 91-71 the season prior and they used that top pick on LHP Brandon Barreira. Overall, the Jays signed 19 of their 22 drafted players.
Not So Fast Future Blue Jays
The following players have yet to pitch for an affiliate team following the MLB Draft:
1. LHP Brandon Barreira
4. RHP Ryan Jennings
11. RHP Pat Gallagher
12. RHP Perry Nolan
13. RHP Bo Bonds
19. RHP Gage Stanifer
Florida Complex League Blue Jays
Heading to the Florida Complex League for the Blue Jays includes:
2C: SS Tucker Toman
14: C Sammy Hernandez
Toman was one of the highly-coveted players in the draft, signing roughly $1.2 million over the slot value and wanting to be drafted by the Blue Jays. Regarded for his ability to put the ball in play, Toman is doing just that in the FCL, collecting seven hits through 19 at-bats with three doubles, five walks, and three RBI. Every out for the switch-hitter has been a strikeout though, which is something that will surely be worked on over time.
Hernandez on the other hand has fewer at-bats through five games and has just one hit through his first 11 at-bats. He has just one game behind the plate and has thrown out the only base stealing attempt so far.
Low-A: Dunedin Blue Jays
A majority of the drafted players from this summer started in Single-A, including:
2: SS Josh Kasevich
2C: 2B Cade Doughty
3: OF Alan Roden
7: 1B Peyton Williams
8: OF Dylan Rock
9. RHP Devereaux Harrison
10. LHP Ian Churchill
15: SS Michael Turconi
17: LHP Ryan Chasse
Leading the charge so far is Cade Doughty, who has gone 7-for-18 with one home run and six RBI so far in Low-A. Michael Turconi is also having a solid start to the year, collecting one double, one home run, and five RBI through 21 at-bats.
Right behind him is Alan Roden, who has authored a .286 batting average through 21 at-bats with two doubles and one RBI. Eighth-round pick Dylan Rock has the most at-bats so far at 24, currently batting a .900 OPS and a .250 batting average with one home run.
On the field, almost all the players mentioned above have not committed an error and Dylan Rock also has an assist from right field on his resume. First baseman Peyton Williams has one error through 61.0 innings.
On the mound, every drafted pitcher has worked out of the bullpen so far for the Blue Jays, with Ian Churchill leading the group with two appearances and 2.0 innings, with the southpaw yet to allow a hit with one walk and one strikeout so far.
Fellow left-hander Ryan Chasse also has not allowed a hit through 1.1 innings of work, racking up three walks to zero strikeouts through his lone appearance. Rounding out the group is Devereaux Harrison, who is the only member to allow a hit but leads the others with two punchouts so far this season with one walk.
High-A: Vancouver Canadians
Liberty University alum and left-hander Mason Fluharty was the only player to jump from the MLB Draft to High-A in Vancouver. Through 2.0 innings of work, Fluharty has allowed two hits and one earned run with one walk and three strikeouts on 35 pitches. He also has a hold on his record.
Right-hander T.J. Brock is also in Vancouver but began the year in Low-A, being promoted after just one appearance with Dunedin. Brock has one hold and has yet to allow a run through 2.0 innings with zero hits, zero walks, and four strikeouts between one appearance split between the Blue Jays and Canadians.