Analysis
Why The Orioles Should Extend Adley Rutschman Right Now
The Baltimore Orioles have one of the top catchers in the MLB in Adley Rutschman and should look at a contract extension for their backstop.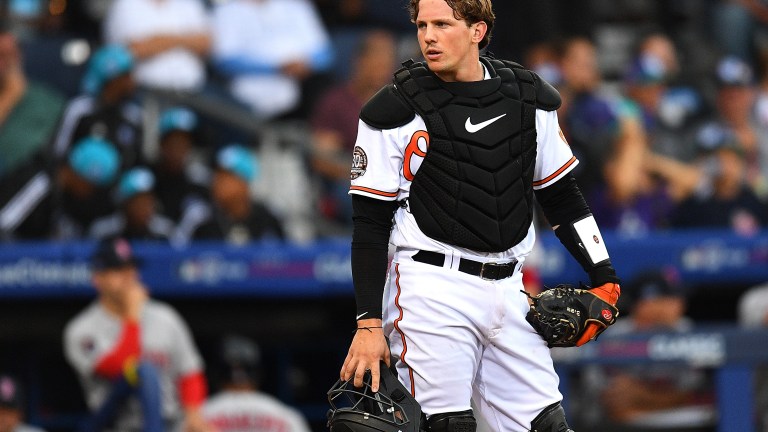 Over the past few seasons, MLB teams from across the league have been starting to lock up their young stars to long-term contracts earlier and earlier into their service time. In doing so, teams are avoiding going to arbitration with their top players and giving them guaranteed money through their prime years.
Some players are receiving these deals early in their careers, with Wander Franco (8 years, $118 million) and Julio Rodríguez (12 years, $209 million with possible extensions) both signing long-term deals after just their first season in the big leagues, while Luis Robert (6 years, $50 million) and Eloy Jiménez (6 years, $43 million) signed their deals before they played a single game in the big leagues.
Other examples of contract extensions to players just getting started in their MLB careers include Fernando Tatis Jr. (14 years, $340 million) and a host of Atlanta Braves players including Ronald Acuña Jr (8 years, $100 million), Ozzie Albies (7 years, $35 million), Austin Riley (10 years, $212 million), Michael Harris II (8 years, $72 million), and Spencer Strider (6 years, $75 million)
This year, Harris and Strider finished first and second in the NL Rookie of the Year voting, after having accepted contract extensions during their rookie campaign. The same can be said of Julio Rodriguez, who won the Rookie of the Year in the American League.
Baltimore Orioles rookie catcher Adley Rutschman finished second in the AL Rookie of the Year voting, coming just behind Rodriguez. If there is a young player in baseball who is worthy of signing an extension now, it's Rutschman, as he is the perfect piece to be the center piece for the Orioles for a decade to come.
The Time is Now to Extend Rutschman
The first overall pick of the 2019 MLB Draft was Baltimore's top-ranked prospect coming into 2022 and made his debut on May 21st against the Tampa Bay Rays, collecting his first Major League hit in the form of a triple off of reliever Ralph Garza.
On the season, Rutschman amassed a .254/.362/.445 line, with 13 home runs and 42 RBI through 398 at-bats. The Oregan State alum and switch-hitter finished in the 96th percentile in BB% and in the 88th percentile in Whiff%, walking at 13.7% compared to striking out at 18.3% (both better than league averages).
He finished the year with a team-leading .806 OPS and a 128 OPS+ and although he only played in 113 games this past season, he led the Orioles in bWAR (5.2) and with his 133 wRC+ as well.
Behind the plate, Rutschman threw out 11 of 36 base runners (31%), besting the league average by 6%. He made eight errors on the season (.989 fielding percentage) and posted a 1.93-second pop time to second base, ranking him 11th in the league. The Orioles' backstop also earned an 18 bDRS with a 4 ranking in terms of framing behind the plate with a 49.6% strike rate.
Compared to other MLB catchers with at least 400 plate appearances, Rutschman ranked first in wRC+, second in fWAR (5.3) and OBP, third in wOBA (.354), and fifth in BABIP (.291).
Looking ahead, the Baltimore Orioles have a number of top prospects either just joining the active roster or should be close in 2023 such as INF Gunnar Henderson (already on the active roster), LHP DL Hall (active roster), RHP Grayson Rodriguez, OF Colton Cowser, and INF Jordan Westburg (amongst others).
As of right now, the 2023 luxury tax payroll is shaping up to be in the $70-$80 million range, barring any future transactions this winter or extensions. Cedric Mullins and Anthony Santander will be looking for hefty pay raises over the next few years in arbitration but a majority of the roster is in pre-arbitration, with money to spend should the front office be willing to do so.
Because Rutschman finished the year as the runner-up for the Rookie of the Year Award, he earns a full year of service time as he heads into another year under pre-arbitration.
Contract Options for Rutschman
For the Orioles, there are a couple of different options when it comes to an extension. If the organization does not want to commit to a double-digit contract length for their backstop, they can offer a bridge-type deal that circumnavigates the remaining pre-arb and arbitration years and potentially dip into a year or two of free agency (think 5 to 7 years).
This option allows both sides to avoid arbitration, which can ruin relationships between club and player and also provides guaranteed money for the player. This can also benefit the team later down the road should Rutschman continue to play well, as he could surpass whatever he is making on a guaranteed deal in the later years of the arbitration process (Mookie Betts earned $27 million during his last year of arbitration for example). An example of this deal is what the Braves did with a majority of their extensions except for Riley.
If the Orioles like what they see and aren't afraid to dive into the deep waters of a contract extension, they'd likely be looking into a deal similar to Rodríguez or Tatis Jr. and can make him potentially an Oriole for life.
Almost 25 years old, a 12-year deal for example takes him to the later parts of his 30s and through the prime years of his career. These types of deals are hard to judge when it comes to terms and salary, mostly because they can be structured in many different ways like the Rodríguez deal where there are multiple options available that are also dependent on MVP votes.
These long-term extensions are obviously risky business and not every deal turns out to be a winner (Scott Kingery and the Phillies for example). Giving a long-term deal to a catcher is one that has to be tread lightly given the wear and tear over the years, as many don't stay behind the plate as Yadier Molina did and many find themselves heading to first base or as a full-time DH towards the twilight of their careers.
It should also be noted that the most recent long-term contract within the Orioles organization did not turn out well, with Chris Davis and his seven-year deal worth $161 million turning into an albatross after the pen was put to paper.
Are Both Sides Willing to Make a Deal?
At the end of the day, it also takes two to tango, and while the subject has not been approached publicly as of late, there is a chance that Rutschman isn't keen on signing an extension just yet as well. Given his current trajectory, he would be heading to free agency in his early 30s and while he could look to bet on himself for a big payday then, the assurance of guaranteed money and being the face of an Orioles franchise that is currently set up for success in the near future would be tough to ignore if the value is there.
Again, it takes two to tango, and a contract extension for the catcher needs to be there for him to accept in the first place.
If I were the Orioles, I look at extending the star sooner than later and avoid a potential scenario that the Blue Jays are currently in with Vladimir Guerrero Jr. and Bo Bichette, with both players heading into arbitration years with no long-term contract and a fanbase practically begging them to extend one or the other.
The Orioles also likely want to avoid a Manny Machado situation as well, where the top star was likely not going to be re-signed before free agency and was shipped out west to the Dodgers in the summer, eventually signing a long-term deal with the Padres that following offseason.
The Orioles also have a history of climbing the payroll ladder, maybe not to the extent of the New York Mets and owner Steve Cohen, but they were above the $100 million mark from 2013 to 2018 and hit almost $180 million in 2017.
Rutschman is shaping up to be an absolute beast of a player and the Orioles would be wise to strike up contract conversations sooner rather than later. After just one season in the big leagues, the Oregan product is quickly establishing himself as one of the top catchers in the MLB and could easily be the cornerstone player for the Orioles franchise for years to come past his arbitration years.