Analysis
Five Breakout Hitting Prospects For 2023
These young hitting prospects are set up for major success in 2023.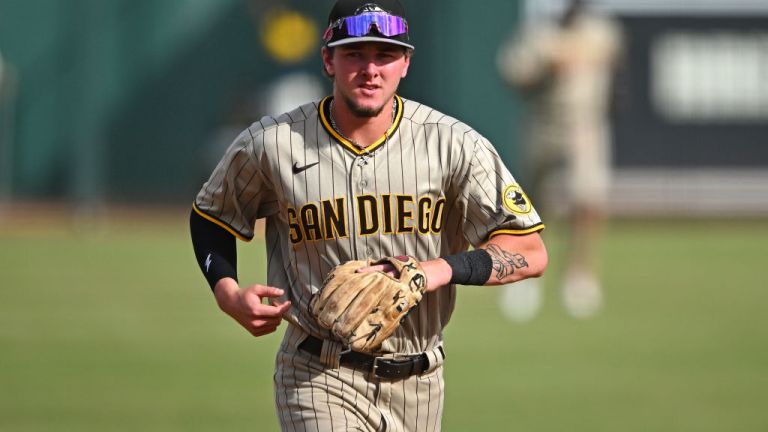 Each Minor League season, a number of talented prospects see things come together for them on the field, finally reaching their exciting potential. The amazing part about Minor League baseball is the fact that there's hundreds of players across the 30 organizations who could make a leap to prospect prominence any given year. In this instance, I'm going to highlight five of my favorite breakout candidates for 2023 with the highest offensive ceilings.
Deyvison De los Santos – 3B/1B – Diamondbacks
It's all about the bat with De Los Santos, but the good news is, his bat could be more than enough. The 19-year-old climbed three levels last season, finishing the year with a 10 game Double-A cameo. Across the three levels, De Los Santos posted an OPS of .847, but he might just be scraping the surface of what he is capable of offensively.
The stocky and twitchy De Los Santos has double-plus raw power in the tank, registering a 90th percentile exit velocity of 107 mph last season and a max exit velocity of 114 mph. You just don't see many teenagers putting up those batted ball figures.
It's pretty easy power for De Los Santos as well. He generates a ridiculous amount of bat speed without too much effort or movement and can leave the yard with ease from foul pole to foul pole; 15 of his home runs last season were to the opposite field.
For De Los Santos to unlock his exciting offensive potential, he'll need to improve his plate discipline (36% chase rate) as well as hit the ball in the air more frequently (56% ground ball rate), but those two things go hand in hand to a degree. De Los Santos has 30+ home run pop, but he is still extremely raw and relies on his natural ability. His extreme barrel tip in his load could be a bit of a challenge against upper level pitching, but with the right tweaks, he could be one of the more feared power hitters in the minor leagues.
Junior Caminero – 3B – Rays
Another young player with ridiculous batted ball data, Caminero's bat to ball skills are ahead of most of the other names on this list. Also 19 years old, Caminero already registered a 90th percentile exit velocity of 106 mph to go with an impressive zone contact rate of 85%.
While his load may be a bit difficult to consistently repeat due to his hand movement and leg kick, Caminero has had no issues in that department thus far as made evident by his strong contact figures and low strikeout rates. Defensively, Caminero looks the part at third base. He is a good athlete who moves well with a big arm. This of course helps bolster Caminero's overall profile, but his offensive ceiling is what could have him on top 100 prospect lists next season.
His 31% chase rate is still too high, but it's hard to blame him for being swing-happy with the success he had at the complex and in limited Low-A action. Caminero has 70 grade raw power with a chance to develop into an average hitter as well.
Miguel Bleis – OF – Red Sox
Signed for $1.5 million out of the Dominican Republic in 2021, Bleis entered the Red Sox organization with no shortage of hype. In limited action, the 18-year-old has done nothing but fan the fire, flashing plus raw power potential and exciting all around tools at the complex.
At 6-foot-3, 170 pounds, Bleis has long levers and room to fill out. His swing is geared for lift and he has already showed an ability to generate leverage and carry. Bleis may be the most raw prospect on this list, but is also the most dynamic. He is still learning how his body moves in the box and has the tendency to pull off with his front side causing the barrel to exit the zone too quickly. That said, the rarely missed the chance to uncork on pitches middle-in.
Bleis is so athletic that I expect him to make strides with his lower half as he continues to compile at bats. He has already flashed the ability to drive the ball to all fields with authority, it's just a matter of consistency for the teenager. I could be a year early on the Bleis breakout, but his talent is too immense to ignore.
Izaac Pacheco – 3B – Tigers
The Tigers were excited to find Pacheco available at pick No. 39 in the 2021 Draft and shelled out an above slot bonus of $2.75 million to sign him away from Texas A&M. At 6-foot-4 with already present strength, it was the power projection that had many excited about Pacheco, but what has impressed me even more is how advanced of a hitter he already is.
Pacheco is a big dude at 6-foot-4, 225 pounds, but he already controls his body so well. The newly-turned 20-year-old simplified his hand load and syncs it up much better with his lower half while repeating his small moves really well. Now that Pacheco has found the consistency he was looking for movement wise, I think we will see his plus raw power start to translate into games more in 2023.
Jackson Merrill – SS – Padres
Merrill has become everyone's favorite prospect to push ahead of 2023 and for good reason. He put up fantastic numbers in 45 Low-A games before going down with a wrist injury and seems to add strength and explosiveness each time you check in. Initially drafted as a hit-over-power prospect, Merrill has continued to fill out his frame is already flashing plus raw power.
With a 90th percentile exit velocity of 104 mph, Merrill is already hitting the ball pretty hard consistently, but a near 60% ground ball rate compromised his game power. As Merrill continues to improve upon his ability to get the ball in the air, it is easy to envision 20-25 home runs.
As for the hit tool, there's little to worry about there. The 19-year-old punched out just 19% of the time last season in Low-A and posted a similar strikeout rate in 22 Arizona Fall League games. With a zone contact rate right on the edge of 90%, Merrill's hit tool easily projects as plus. Combine the advanced feel to hit with burgeoning power and it's easy to see why Merrill is flying up every top prospect list despite limited action last season.