Analysis
Top Trade Destinations For Ketel Marte
Despite the reluctance from the Arizona Diamondbacks, the time is now to trade Ketel Marte. Here are some of the best trade partners.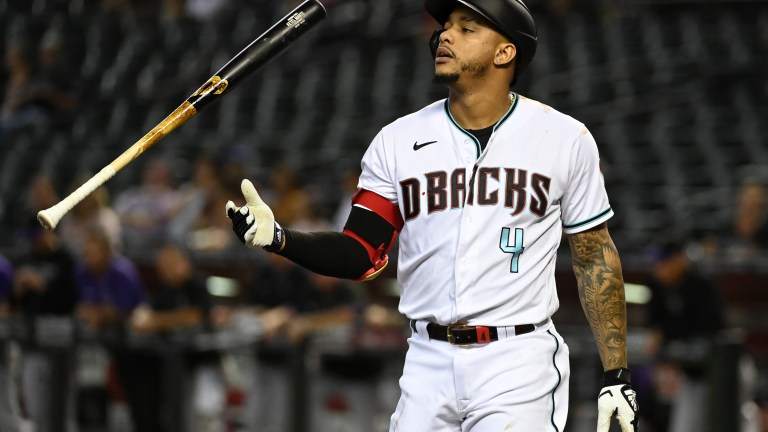 After losing 110 games in 2020, the Diamondbacks find themselves below the bottom of the totem pole in an ultra-competitive NL West. Arizona surprised many by inking closer Mark Melancon to a two-year, $14 million deal–generally not a move that a rebuilding team makes–which called into question what the D-Backs' approach to 2022 and beyond may be.
"I don't know if we're going to pour 30-35 wins onto our win total with some of the world we do this offseason," Diamondbacks GM Mike Hazen recently told reporters. "But we're not going to stop from putting a better team on the field that's going to win more games."
I'm not saying I don't believe Hazen, the signing of Melancon and trade for Jordan Luplow implies that they are at least trying to improve, but it just seems too difficult to justify holding onto a player of Marte's caliber who can bring in a franchise altering return.
Looking across Arizona's projected active roster for next season, the vast majority of the team's likely starters are under the age of 30 years old. The players who are on the other side of 30 are either on the final year of their contract or likely don't factor into the team's longterm plans.
Veterans like: Nick Ahmed, David Peralta, Christian Walker and Madison Bumgarner. Marte allows the Diamondbacks to mix and match their lineup a bit, and the team could maximize its offensive upside by putting Daulton Varsho in centerfield, Carson Kelly behind the dish and Marte at second base. At the risk of sounding cynical, what's the point?
Put simply, the Diamondbacks need a ton of help. The franchise's farm system is middling and despite some young talent at the big league level, there's still many needs to satisfy. Even if the Diamondbacks improve a good bit this offseason–which is difficult for a team that is not looking to trade away prospects–they still have to take on the Dodgers, Giants, and Padres for more than a third of their games. Pair that with the fact that top prospects Corbin Carroll, Jordan Lawlar and Blake Walson will not be ready by next season and it becomes hard to justify not selling high on your most valuable asset.
Another reason why the time may be now to capitalize on Marte's value is that he has dealt with nagging injuries throughout his career. The 28-year-old missed 72 games last season with a hip ailment and has only played more than 145 games on one occasion in his career. Marte's nagging issues have been enough for the Diamondbacks to question where they want to play the versatile switch hitter moving forward.
If Arizona protects Marte by keeping him at second base while allowing Daulton Varsho and prospect Alek Thomas to split time in center, teams looking for help up the middle could be a bit deterred. If Marte does get a lot of run in centerfield and ends up banged up, or continues to post below average metrics, teams could be a bit hesitant as well.
Trade Value
A huge reason why Marte could bring in a major return for Arizona is the fact that he is only owed $8 million this year followed by a pair of team friendly club options for $10 million in 2023 and $12 million in 2024. Arizona could hold onto Marte into the season and look to trade him at the deadline, but I am not sure there is much to gain by doing that.
Given Marte's years of control, track record of hitting and defensive versatility, he is one of the most valuable trade candidates. Depending on what Arizona is looking for, Hazen could easily acquire some close to MLB ready talent, multiple highly regarded prospects, or both.
Trade Partners
In a case like the potential Ketel Marte sweepstakes, it is as much a matter of who is able to put together a valuable enough package for the D-Backs outfielder as it is who will be interested. There are a few teams that satisfy both departments.
New York Yankees
The Yankees need a left handed bat and the switch-hitting Marte could provide that. Marte's defensive versatility is valuable to any team, but maybe none more than the Yankees. Centerfield and middle infield may be two of the biggest question marks for GM Brian Cashman for 2022. The oft-injured Aaron Hicks could provide some help in centerfield, but counting on the 32-year-old who has missed 239 games over the last three seasons is just not realistic.
If the Yankees put together a package that included Gleyber Torres, Oswald Peraza, and Ken Waldichuk, it could be something along the lines of what the Diamondbacks are looking for. Torres hit .305/.350/.445 over the final two months of the season and still has not even turned 25 years old. Peraza–our 44th ranked prospect–could crack the Opening Day roster at shortstop for Arizona. The Yankee's No. 6 prospect Ken Waldichuk could be big league ready at some point in 2022 as well, helping satisfy needs at multiple infield spots while bolstering their starting pitching.
Miami Marlins
The Marlins have already been linked to Ketel Marte in several reports, however the team's search for centerfield help has been widespread. In a cavernous loanDepot Park, the Marlins could look for a more true centerfielder like Cedric Mullins of the Orioles. Then again, Derek Jeter recently told reporters that the team is not against the idea of starting the newly signed six-foot-five, 250 pound Avisail Garcia in center.
The Marlins are another team who could benefit from the ability to mix and match, however their recent acquisition of Joey Wendle gives them some much needed infield depth. Arizona could use help in several spots and the Marlins have a litany of high upside arms who would be of interest to Mike Hazen.
The Diamondbacks will likely ask for Max Meyer in a deal, but the Marlins could probably complete a trade without moving their top pitching prospect. 26-year-old Elieser Hernandez would instantly slot into Arizona's rotation and could be complemented by a couple of Peyton Burdick, Jake Eder, JJ Bleday, Dax Fulton, or Zach McCambley. I'd assume that dealing Elieser along with prospects would be the desired angle from the Marlins, but if the Diamondbacks have concerns about Hernandez's health, I could see the Marlins caving on their reluctance to deal Max Meyer.
A package headlined by Max Meyer would likely be complemented by one of the aforementioned names above and a high upside lower level prospect or two. All to say, if the Marlins wanted to meet the Diamondbacks steep price on Marte, they could in several different ways.
Philedelphia Phillies
The Phillies have one of baseball's weaker farm systems, but they may just have what it takes to go get an All-Star and GM Dave Dombrowski historically has no problem with trading away prospects. In this case, the Phillies would have to give up some big league talent. The Diamondbacks have been said to be pursuing third base help and the Phillies could make Alec Bohm expendable.
Bohm's trade value is a bit tricky as the 25-year-old suffered a sophomore slump after a spectacular shortened rookie season where he hit .338/.400/.481 in 44 games. With a track record of hitting in the minors and flashes in his first Major League stint, this could be a good buy low opportunity for Arizona. The Phillies would likely need to attach Mick Abel or Andrew Painter to the deal given Bohm's volatility, along with a lower level filler.
For the Phillies, Jean Segura could move to third and Marte could split time between second base and centerfield. If Marte plays centerfield, satisfying the second base spot could be as easy as going to get a veteran like Josh Harrison or Donovan Solano.
In a division with the defending world champion Braves and a reloaded Mets team, the Phillies may just have to swing for the fences. Both Bryce Harper, JT Realmuto, Zack Wheeler, and Aaron Nola are all in their prime and the Phillies don't have much prospect reinforcement coming any time soon outside of shortstop Bryson Stott.
A lineup comprised of the defending MVP Bryce Harper, JT Realmuto, Ketel Marte, Rhys Hoskins, and Jean Segura has the potential to be one of baseball's most productive lineups.
Los Angeles Angels
Let's get a little wild here. The Angels always need pitching, but at the moment they also need a shortstop. Marte's shortstop days are likely behind him, however in this instance, the Angles would put Marte at second base and slide David Fletcher to shortstop.
The Angels have a thin farm system, so it may be difficult to justify trading one of your few assets for a position player. The counterpoint is that there is no middle class when it comes to free agent shortstops, meaning the Angels would either have to spend a ton in free agency to acquire a superstar shortstop like Carlos Correa and Trevor Story, or go get a replacement level shortstop.
Fletcher is a great defender who can play all over the diamond. He is light hitting, but Marte at second base will more than make up for that. Not to mention some of the other guys in the lineup by the name of Trout, Ohtani, Rendon, and even Walsh. In just 145 innings at shortstop last year, Fletcher posted two defensive runs saved. Watching him in some of those games as well, he has the ability to be an above average defender at the position.
Satisfying the shortstop position through a trade for Marte allows the Angels to spend a bit more on pitching if they would like. Fletcher just signed an affordable five-year, $26 million extension and Marte would cost just $10 million on average over the next three seasons.
Despite the free agent frenzy prior to MLB's implementation of the lockout, there are still a number of exciting starting pitchers on the free agent market that the Angels could covet on the other side of the lockout.
The Angels do not have enough prospect capital alone to go get Marte, however moving Jo Adell, Jeremiah Jackson, and a filler could be enough of the Diamondbacks to jump on it.