Andrew Painter is Just Baseball's Minor League Pitcher of the Year
In his first full professional season, the 19-year-old went from Low-A to Double-A, cementing himself as one of baseball's top prospects.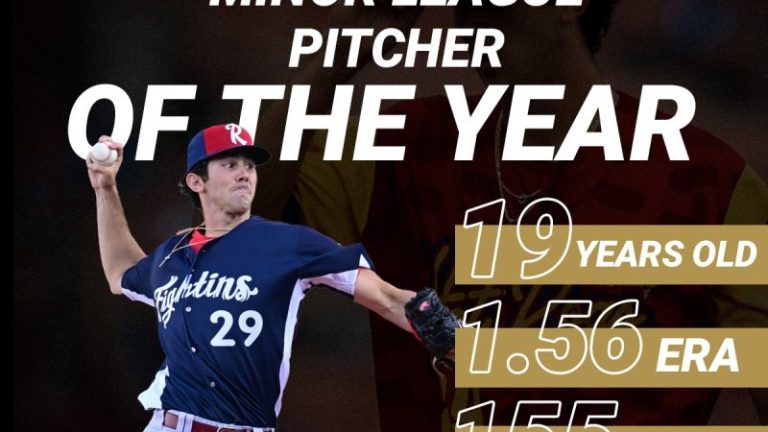 Phillies pitching prospect Andrew Painter entered this season with a blank canvas. Then 18 years old, Painter had just six professional innings under his belt, all of which were at the complex. Expectations were high for the 2021 first round pick, but even Painter's most bullish believers probably did not imagine what would wind up being one of the most impressive seasons we have seen from a teenage pitching prospect in some time.
The 6-foot-7 right-hander looked remarkably polished from his first start this season in Low-A to his final five starts as one of the youngest players in Double-A. As the levels became more challenging, Painter set his sights on becoming a more complete pitcher.
He dominated hitters with his plus fastball and slider at the lower levels. A 96-98 mph fastball that can reach 101 with more than 18 inches of induced vertical break along with a mid 80s slider that features a ridiculous amount of sweep was more than enough for Painter to strikeout 46% of Low-A batters in 38 2/3 innings.
Painter was unfazed by his promotion to High-A, maintaining a 34% strikeout rate while cutting his walks in half. He started to rely on his elite fastball less, mixing in his curveball and changeup more frequently.
A ridiculous four-pitch mix that Painter was commanding well made High-A simply light work for him. In his 36 2/3 innings, Painter pitched to a 0.98 ERA with 49 strikeouts and just seven walks. Sufficed to say, the Phillies brass did not need to see any more High-A hitters get victimized by Painter, promoting him to Double-A in late August. More than five years younger than his average competition, Painter further leaned on his superb command and deep bag of pitches.
Somehow cutting his walk rate in half again in Double-A, Painter handed out only two free passes in 28 1/3 innings. Painter's feel for his changeup continued to get better, landing it for a strike 74% of the time in his five Double-A starts, while using the pitch a tick more.
In Painter's 22 starts across the three levels, he struck out at least nine batters eight starts and at least seven batters in 12 outings. More importantly, Painter allowed one walk or less in 16 of his 22 starts.
It was pure domination from the Painter all year long, helping him earn the No. 10 spot on our end of season top 100 prospect update. Still just 19 years old, Painter is on his way to a potential big league debut as a teenager next season.
If the Phillies are a bit slower with promoting Painter, he could be baseball's top pitching prospect by the end of next season.