Analysis
Matt Strahm Is a Temporary Fix for a Depleted Phillies Rotation
The newly acquired Matt Strahm will provide much-needed length for the Phillies as Ranger Suárez and Andrew Painter recover from elbow pain.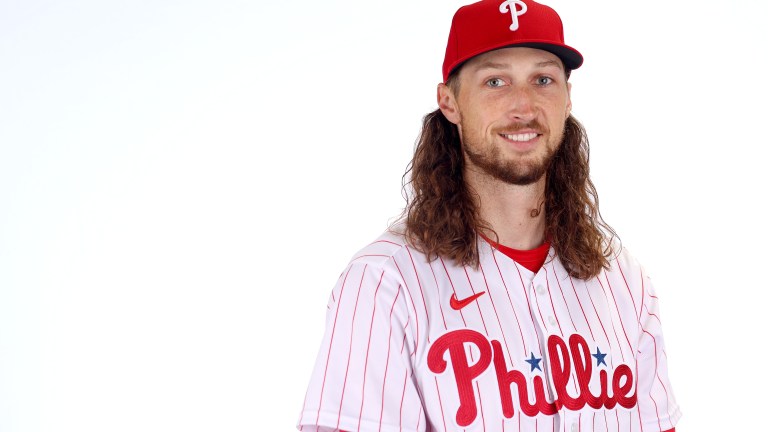 It came as quite a surprise when the Philadelphia Phillies signed Matt Strahm in early December. The player himself didn't turn many heads, but the terms of his deal brought on many a double-take. He signed for two years and $15 million, a hefty payday for a veteran arm without much history of success.
Strahm wasn't exactly a marquee name this winter. He didn't make the top 50 free agents list here at Just Baseball, nor the equivalent lists at FanGraphs, MLB Trade Rumors, or The Athletic. Yet the Phillies pounced, inking him to one of the 50 largest free agent contracts of the offseason. Only six relief pitchers signed for more guaranteed money.
"That deal destroyed the market."
Those are the words of an unnamed executive, describing to Ken Rosenthal how Strahm's contract affected the market for other left-handed relievers. I don't think it's fair to put all that blame on an individual player's shoulders, but this quotation reinforces the point I'm trying to make: no one expected Strahm to sign so early or command so much money.
So, how did the 31-year-old southpaw land such a lucrative deal? Presumably, the Phillies saw something in his arm that most teams didn't. Philadelphia's pitching coach Caleb Cotham has had great success unlocking potential in his relievers over the last two seasons. One had to suppose he had big plans for Strahm.
Strahm had a fine season in 2022, but it was nothing spectacular. In 50 games, he pitched 44.2 innings with a 3.83 ERA, 3.72 FIP, and 3.34 xERA. His strikeout rate was high, but his control left something to be desired. He also ran into some trouble against left-handed batters, which isn't a great sign for a left-handed pitcher. Thus, when Strahm first signed with Philadelphia, the obvious assumption was that Cotham had a plan to refine his control or boost his effectiveness against same-handed batters. A 3.83 ERA in 44.2 IP doesn't warrant $15 million; clearly, the Phillies were expecting more.
At the time, I theorized Cotham's approach would revolve around Strahm's diverse pitch arsenal. Strahm, you see, threw five different pitches in 2022. That's highly unusual for a bullpen arm. While starters need more offerings to turn over the lineup several times, relievers tend to pick their two or three best weapons and stick with those. I thought Cotham would help Strahm to streamline his arsenal. But it's starting to seem like the Phillies were interested in Strahm for a wholly different reason.
On Sunday afternoon, manager Rob Thomson revealed that Strahm would start the fifth game of the regular season. He'll take the ball against the Yankees on Wednesday, April 5, with the freedom to throw 65-70 pitches. It will be his first genuine big league start since July 2019.
This wasn't always the plan. The Phillies were going to enter the season with Aaron Nola, Zack Wheeler, Ranger Suárez, Taijuan Walker, and either Bailey Falter or Andrew Painter making up the rotation. Then, on March 2, Painter felt some tenderness in his pitching elbow. He was ultimately diagnosed with a sprained UCL. He's going to take things very slowly for the time being. In mid-March, Suárez felt some pain in his own pitching arm. He was forced to sit out the World Baseball Classic, although the Phillies were hopeful he'd be ready for the regular season. Now, that's no longer the case.
Nola, Wheeler, and Walker will pitch the first three games of the year. Falter will step in for game four, and Strahm will pitch game five. It could have been Michael Plassmeyer, another lefty on the roster with more recent starting experience than Strahm. It could have been Griff McGarry, a top prospect at Triple-A with explosive strikeout stuff. The Phillies could have even opted to go with a four-man rotation for the first two weeks, thanks to a couple of off-days in the schedule. Instead, they put their faith in Strahm, a man who was preparing to pitch out of the bullpen until very recently and who hasn't started a professional ballgame in almost four years. That says a tremendous amount about how much faith the Phillies have in Strahm. They wouldn't be giving him this opportunity if they didn't believe he could be effective.
This decision also sheds light on Strahm's contract. Back in December, I thought the Phillies gave him all that money because they had a plan to transform him into a bullpen weapon. I thought Caleb Cotham would whittle away at his vast arsenal of pitches, helping the left-hander identify his best offerings. But that's not it. That's not it at all. Instead, the Phillies gave Strahm $15 million because they thought he could still be a starter. They didn't want to refine his pitch mix; they liked the diversity because it meant he had the tools to go through an opposing lineup two or three times over.
Had the Phillies made their intentions clear in December, perhaps Strahm wouldn't have "destroyed the market" for left-handed relievers after all. His contract is right in line with the two-year, $17 million pact Jordan Lyles signed with the Royals and the two-year, $13 million deal Trevor Williams got from the Nationals. If Strahm can be a solid bullpen arm and a serviceable depth starter, he'll be more than worth his $7.5 million a year.
To be perfectly clear, I'm not saying Strahm will be a great starting pitcher. I can't even promise he'll be mediocre. But MLB-caliber depth is hard to come by, and Strahm is more valuable than your typical depth starter because he's also a capable reliever. He has even mentioned a willingness to come out of the bullpen in between starts. His versatility is an asset, and his willingness to switch roles is admirable.
Matt Strahm is only a temporary solution for the rotation, but even a quick fix is still a fix. The Phillies won't be counting on Strahm every fifth day, but they're fortunate to have him as a backup plan.