Analysis
2023 Arizona Fall League Preview: Prospects To Watch Outside the Top 100
The 2023 Arizona Fall League rosters have dropped, and unsurprisingly, many of the teams are stacked with talent.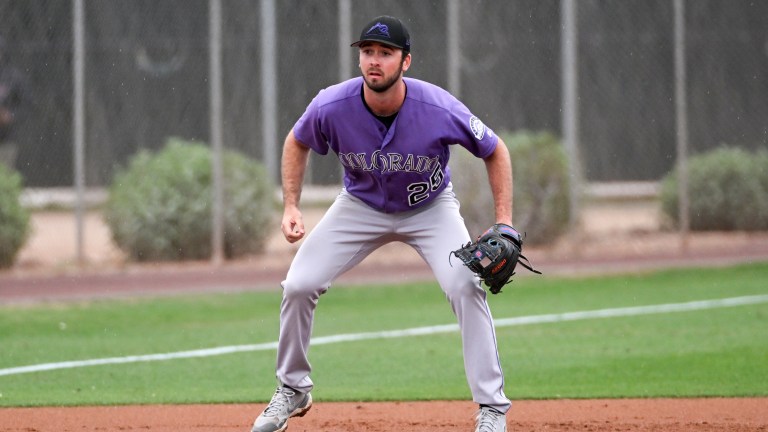 It is almost October, which means the playoffs are right around the corner, but it also means it is the start of the Arizona Fall League. For prospect lovers everywhere, the Fall League is a really exciting time. It brings together some of the game's top prospects to a place where they can showcase their skills against elite talent.
The 2023 Fall League rosters recently dropped, and unsurprisingly, many of the teams are stocked full of talent. Ten of MLB Pipeline's top 100 prospects will be making their way to Arizona, including Colson Montgomery of the Chicago White Sox, Ricky Tiedemann of the Toronto Blue Jays, and Kyle Manzardo of the Cleveland Guardians.
Outside of the top 100 prospects, there is still plenty of talent you should be keeping an eye on. I'll cover two or three guys from each team you should be watching this fall.
Glendale Desert Dogs (Dodgers, Mets, Red Sox, Twins, White Sox)
Brainer Bonaci, SS, Boston Red Sox
Brainer Bonaci really came into his own in 2023. There were always questions as to whether the small-framed shortstop could tap into his power, but he showcased his ability to hit double-digit home runs this year.
When first signed, he was about 140 lbs, and he has filled out quite a bit, now coming in at 164 lbs after adding some strength. He makes up for his lack of strength with a really good feel for the strike zone and the ability to not chase out of the zone.
Due to his increased size, he's lost some speed on the base paths. Still, Bonaci is a solid defender up the middle and has incredible instincts, which could lead him to becoming an interesting utility player for the Red Sox in the future.
Jake Eder, LHP, Chicago White Sox
Eder was the prized return for the White Sox in the trade that sent Jake Burger to the Marlins. Adding Eder to the organization was a huge win for the White Sox, whose farm system has struggled in years past.
Once a top-100 prospect, Eder's development was set back due to multiple injuries, including Tommy John and a fractured foot. The long and lanky lefty features a three-pitch mix that includes a plus fastball and slider. The fastball usually sits in the 93-98 mph range; it has deception and rides up in the zone. The stuff has never been a question for Eder (over 11 K/9 in his career), but inconsistent command and control have been a problem.
Even prior to his Tommy John surgery, Eder struggled with command. He's been over 4 BB/9 with both the Marlins and White Sox this year across Single-A and Double-A. Getting more innings is going to be important for Eder as he comes back from injury, and the Fall League will provide him an opportunity to do just that.
Mesa Solar Sox (Astros, Athletics, Cubs, Orioles, Yankees)
Carter Baumler, RHP, Baltimore Orioles
Baumler started 2023 on the 60-day injured reserve list for the Orioles after undergoing surgery on his right shoulder. He had been dealing with right shoulder inflammation since July 2022. It seems like the former 5th-rounder from the 2020 draft has been dealing with injury setbacks since the day his name was called, including Tommy John surgery in October 2020.
Time on the mound is going to be crucial for Baumler's development, as he's only logged 28.2 innings pitched since being drafted. Across Rookie Ball and Single-A this year, Baumler struck out 21 batters over 17 innings pitched.
The right-hander has a pretty good three-pitch mix that includes a fastball, curveball, and changeup. Baumler has a super athletic and built frame, which gives you some hope in terms of projection and future durability, but he will have to prove he can keep himself on the mound. Either way, the Orioles have to be excited to see the righty back out on the mound and healthy thus far.
Zach Dezenzo, 3B, Houston Astros
Dezenzo's bat is LOUD.
Coming out of college, he had easy plus power due to his elite contact quality. The concerns were always his bat-to-ball skills and questionable swing decisions, but it seems like the Astros' player development and Dezenzo have really improved his abilities in that department.
Dezenzo slashed .304/.383/.541 with 18 home runs and 61 RBI across High-A and Double-A this season. He was able to cut his strikeout rate to 20% in High-A, but it jumped over 28% when he made his way to Double-A, as it took him a bit longer to adjust to higher-level pitching. What remained was Dezenzo's insane exit velocities and massive power.
His breakout has been a ton of fun to watch, and he will try to carry the momentum of his success into the Fall League.
Peoria Javelinas (Guardians, Mariners, Marlins, Padres, Rays)
Haden Erbe, RHP, Tampa Bay Rays
Erbe has been a shocking riser this year. He signed as an undrafted free agent out of a Division II school and now finds himself heading to the Arizona Fall League.
The righty had a delayed start to the year as he missed about a month due to an injury. While the ERA wasn't great, the underlying data suggests he had a lot of success coming out of the bullpen for the Rays in the minor leagues.
Erbe was posting some insane strikeout numbers out of the pen and had a 13.72 K/9 in High-A. He's got a decent fastball that has topped out at 96 but oftentimes sits 90-93. He's got the potential to tap into some more velocity and could become a very good late-inning reliever.
Graham Pauley, 2B, San Diego Padres
It always seems like the Padres have unexpected prospect breakouts, and Graham Pauley might be that guy this year. The 2022 13th-rounder put up some absurd numbers across three levels.
Pauley slashed .308/.393/.538 with 23 home runs, 32 doubles, 94 RBI, and 22 stolen bases this season. According to MLB Pipeline, Pauley had a 7% swinging-strike rate going into late June, and the MLB average in 2023 was around 11%. That's an elite approach.
On top of his approach, he has tapped into a ton more power and has shown off speed on the base paths, which was unexpected. He's got a decent arm, which could have him playing third base, but the defensive toolset seems more suited for second. Pauley is a guy we could see explode in 2024.
Salt River Rafters (Braves, D-Backs, Pirates, Rockies, Tigers)
Sterlin Thompson, 3B/OF, Colorado Rockies
Before getting injured this year, Sterlin Thompson was making waves across the prospect universe. In April, Thompson slashed .463/.513/.746 with three home runs, 18 RBI, and five stolen bases.
Unfortunately, an undisclosed injury put him on the injured list in May, and he didn't return until June. Despite that, he put together a pretty good year overall.
Thompson has always been a hit-over-power guy, but he was really able to tap into some more power this year, which has led many to believe he could be an easy 15-20 homer guy. That is even more exciting considering the fact he'll potentially be playing his home games at Coors Field.
Justice Bigbie, OF, Detroit Tigers
.343/.406/.540 with a .906 OPS. Yeah, that was Justice Bigbie's insane slash line as he went from High-A all the way up to Triple-A during the 2023 season. The Tigers' aggressive pushing of Bigbie makes sense, as he is already 24 years old.
The biggest transformation for him this year has been his ability to tap into more of his raw power. Bigbie has a good approach at the plate and can really use the whole field. He has recently moved from first base to the corner outfield, and there are still some questions about where he might play defensively, so he will really have to lean on his bat to get himself to the next level.
The Fall League will be an opportunity for Bigbie to continue to improve his defensive abilities in the outfield and work on gaining some more arm strength.
Scottsdale Scorpions (Angels, Cardinals, Giants, Nationals, Phillies)
Gabriel Rincones Jr., OF, Philadelphia Phillies
Thirty-two stolen bases and 15 home runs… Rincones was showing off his flashy tools all season long. His speed has always graded out below average, but he used great instincts on the basepaths to cause havoc. He's always been known for his near-plus raw power, which was also on full display.
There is the potential for 25-plus home runs in his bat, and just making a few better swing decisions will help him to fully tap into it. Rincones has a decent approach at the plate and is able to draw walks and get on base. He's only 22 years old, so there is plenty of time to work on these aspects of his game. He'll get some more at-bats this fall to show what he can do.
Victor Scott II, OF, St. Louis Cardinals
Speeeeeeeeddddddd. That is what defines Victor Scott II's game. He had 94 – yes, you read that right – 94 stolen bases this year across High-A and Double-A. He's an easy 80-grade runner with a 70-grade fielding ability, so you know he is most definitely going to stick in center field.
The approach at the plate is much improved since his college days, and he sported a .369 OBP this season despite not walking as much as you'd like to see. There isn't much power there, but with the improved hit tool and speed, that shouldn't be too much of a concern.
Scott just seems like he is going to be a guy that will be electric to watch once he makes it to the big leagues. Keep a massive eye on this guy.
Surprise Saguaros (Blue Jays, Brewers, Rangers, Reds, Royals)
Gavin Cross, OF, Kansas City Royals
The Royals took Cross with confidence in the first round of the 2022 MLB draft. He hit the ground running in his first year of pro ball and started to skyrocket up prospect lists.
But 2023 was a different story for the outfielder. He really struggled with swing-and-miss in High-A, posting a near 28% strikeout rate. He was called up to Double-A in August, but then he was shut down due to an injury.
Outside the swing-and-miss issues, Cross did show off some of the reasons why scouts were so high on him coming out of college, hitting 12 home runs and stealing 23 bases. The guy who used to be the consensus no. 1 Royals prospect has dropped to sixth in the organization, per MLB Pipeline.
The power, arm, and speed give you a ton of hope for his future, but Cross is going to have to greatly improve his ability to pick up spin and make better swing decisions. Lack of confidence also seems to be playing a role in his struggles, so hopefully the Arizona Fall League can provide him the opportunity to get hot and turn things around.
Abimelec Ortiz, OF, Texas Rangers.
Do you love home runs? Well, you'll love watching Abimelec Ortiz play in the hitter-friendly Arizona Fall League.
The Rangers outfielder hit 33 long balls in 109 games across Single and High-A this year, while driving in 101. That was good for an insane .619 slugging percentage. It was also enough to win him the Texas Rangers 2023 Minor League Player of the Year Award.
Ortiz has been one of the biggest pop-up prospects this year, as no one seemed to have him on their radar. The Puerto Rico native went undrafted in 2021 and wound up signing for $20,000, which seems like a steal right now.
The raw power is evident, but if Ortiz wants to take his game to the next level, he will have to calm his aggressiveness at the plate and make better swing decisions. Right now, he has an all-or-nothing approach at the plate, so expect a lot of home runs coupled with a lot of strikeouts. Regardless, there is a lot to like about his potential as a future big leaguer.
Damiano Palmegiani, 3B/1B, Toronto Blue Jays
Palmegiani just hits the ball hard. He's got easy plus power from the right side of the plate with a near-average hit tool. However, his approach at the plate can sometimes keep him from fully tapping into his power. If he can get his hit tool to average, there could be a 25-30 home run guy there. Still, he's got a good feel for the strike zone and has shown good walk rates across every level of the minor leagues.
The 23-year-old split time between third and first base last year and grades out as an average defender at both. You'd like to see him stick at third base because that could play tremendous dividends for his value in the future.
Palemgiani will look to further improve his game alongside some of the best prospects in baseball in the Arizona Fall League.