List
AFL Pitchers Temperature Check: Who Was Hot? Who Was Not?
Here's how some of the top pitching prospects in the Arizona Fall League fared.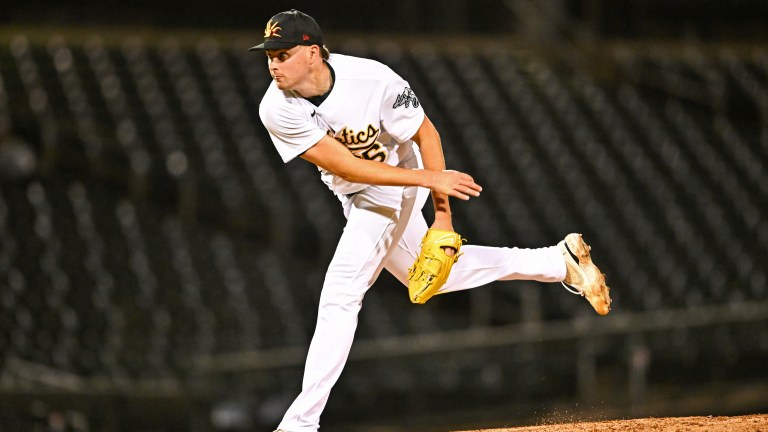 The Arizona Fall League has been recently known as leaning more towards a hitter-friendly environment. Yet, that does not mean we still aren't benefitted by a few top pitching prospects showcasing their talent on the mound during their time in Arizona.
Similar to the AFL hitters article that was published, this piece will feature a couple of pitchers who have seen their stock rise, and fall, since the ending of the 2022 Minor League Baseball season.
Stock Up
Mason Miller – RHP – Oakland Athletics
2022 Stats: Rk/A+/AAA – 14.0IP 3.86ERA/.78WHIP/16K/3BB
Miller is not someone who has been mentioned a lot this past season, not even in his own organization. The reason may be because the 2020 third round pick has only pitched a total of 20 innings since being taken by the A's. However, the talent has shown out in the limited sample size.
Being known for a power fastball that reaches triple digits, the most impressive thing would be his command of the strike zone.
In 16.2 innings pitched in the AFL, Miller has accumulated 20 strikeouts and four walks. Opponents have only hit a lowly .158 in all of his starts.
The A's were hoping to see Miller hold up to the potential they have seen in him during his short time in their organization. His ability to carry success throughout the Arizona Fall League has his arrow pointing up, and could very well have him on his way to being one of the "pop-up" pitching prospects next season.
Carson Whisenhunt – LHP – San Francisco Giants
2022 Stats: Rk/A – 7.2IP 0.00ERA/.91WHIP/14K/1BB
Whisenhunt is an interesting case. We had no idea what to expect from him after he was suspended after testing positive for a performance-enhancing drug during his time at ECU. Even with that in mind, that did not deter some scouts from rating his changeup as an above-average pitch.
The Giants sent him to Arizona hoping that he would be able to continue his 2022 small sample size of success.
He has delivered on that.
The top prospect is in a perfect organization to help him continue to develop his arsenal through his progression in the minor leagues. Another arm that we should have a close eye on going into 2023.
Evan Reifert – RHP – Tampa Bay Rays
2022 Stats: Rk/A+/AA – 37.1IP 4.58ERA/1.21WHIP/62K/20BB
Evan Reifert has had a heck of a year.
After struggling to find the strike zone this season, he was sent back to the Minor League complex in-season to see if he could break out of it. In an organization that is capable of unlocking hidden skillsets in players, the Rays seem to have fixed the issue.
Reifert has been, arguably, the best pitcher in all of the AFL this year.
Heading into the Fall Stars Game, he had not allowed a run, let alone a single hit, over 10 2/3 innings for Mesa. He also struck out 22 hitters over that time.
Though he might not be a starter long-term, being in the Tampa Bay organization makes this a moot point. With the way the Rays continue to churn out dominant relief pitchers, Reifert could make an impact in the majors sooner rather than later.
Stock Down
Ryan Cusick – RHP – Oakland Athletics
2022 Stats: Rk/AA – 43.0IP 7.12ERA/2.00WHIP/46K/30BB
The A's were hoping that one of the pieces in the Matt Olson return would be able to return back to his dominant form in his brief stint with Augusta prior to the trade.
After an aggressive AA promotion, Cusick was then sidelined for three months with a strained oblique that derailed the entire season for him. During his time in the AFL, he seems to still be trying to knock the rust off from all of the missed time.
In 23 innings, he has a 6.26 ERA and 13 walks. Probably not what Oakland was hoping to get out of him when they sent him to Arizona.
Russell Smith – LHP – Milwaukee Brewers
2022 Stats: A+ – 68.1IP 4.87ERA/1.31WHIP/62K/27BB
Russell Smith was taken 51st overall out of TCU by the Brewers in the 2021 Draft. The 6'9" left-hander had an up-and-down first year in professional baseball. It was highlighted by the left elbow inflammation he sustained. In hopes of helping Smith get back on his feet, Milwaukee sent him over to the AFL.
For someone his size, Smith was able to show plus command of his pitches, earning him above-average grades on his fastball and changeup. Funny enough, the command has been his issue in Arizona.
Issuing 14 free passes, over 18 2/3 innings pitched, is not normal to see out of the big left-hander. The lack of command impacted his ability to execute his pitches in at-bats and had opponents hitting over .300 against him.