Analysis
Prospects To Watch In the Rookie League
These young rookie league players are worthy of our attention.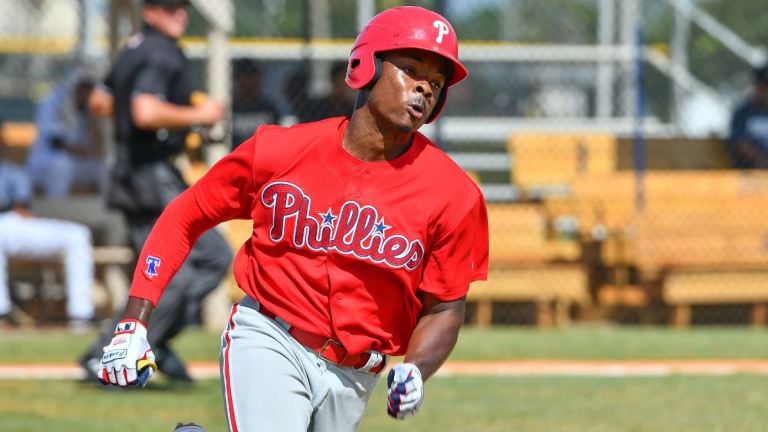 One of the best parts about covering prospects is knowing the names before they get big. After being signed or drafted, players in the Dominican Summer League and Domestic Complex Leagues are rarely reported on. Each month, we will take an in-depth look at some top performers, including well-known international prospects. Results from this level should be taken lightly, even if they are doing extremely well. For most, the DSL, FCL, and ACL are a player's first experience in professional baseball. As the majority of college draft picks start at Low-A, these leagues are filled with young high school picks and international free agents.
Victor Acosta – SS – San Diego Padres
The Padres invested heavily in the international market this July and shortstop Victor Acosta was at the top of their list. San Diego is no stranger to signing success in Latin America, with top prospects Luis Patino (Rays), Gabriel Arias (Indians), and flamethrower Emmanuel Clase (Indians) being inked by the team in previous years. When it comes to their 2021 class, Victor Acosta may be the best of the bunch. Described by many as a "true shortstop", Acosta is as exciting and athletic as it gets. Not only is he a good runner and defender, the Dominican Republic native switch hits, and has high upside with the bat. The 17-year-old possesses fluid actions at shortstop, with quick hands and a strong arm. Acosta is still very young and raw, with more than enough time to fill into his 5-foot-11 frame.
Acosta is using his tool set to produce great numbers to this point with the DSL Padres. Through 34 games, he is slashing .296/.435/.478 with three homers and 21 stolen bases. Through an analytical lens, the production looks just as good. In 147 plate appearances, the El Limon product owns a 155 wRC+ and .445 wOBA, while walking 15% of the time. Due to his age and development track, Acosta will most likely finish 2021 in the Dominican and move to the Arizona Complex League in 2022. The Padres have a pretty good shortstop for years to come, so if Acosta turns out as expected, things might get interesting.
Milkar Perez – 3B – Seattle Mariners
From Triple-A to rookie ball, the Seattle Mariners may have the top farm system in all of baseball. With a lot of talent slated to make their debuts in the next couple of years, guys like Milkar Perez will supplement a talent-filled roster in the future. Perez was signed for just $175k in 2018, making his professional debut in 2019. The Nicaragua native was directly impacted by the cancellation of the 2020 season, pushing back his stateside debut. Scouts love his above-average bat speed, along with an advanced feel for the strike-zone. Perez has a swing that will need to be updated to fit his added strength and bulk. The 19-year-old is labeled as a work-in-progress on defense, with quick hands and a very strong arm, but limited range. Even with issues moving at third base, Perez projects to stick there due to his arm.
Many scouts and evaluators believe that Perez will be an average-first hitter, with the possibility of 15 homers in a season. His stats agree, slashing .274/.381/.388 in his 2018 professional debut with the DSL Mariners. So far this season, Perez has almost doubled his walks, producing a .475 OBP and .431 wOBA in 43 games. The 8.3% increase in walk rate has been encouraging, with his strikeout rate remaining the same. While missing a year hurt, Perez is still very young, and is finally filling into his body. The Mariners will most likely start him at Low-A next season, which will be a big test against more advanced pitching talent. If more power develops, Milkar Perez could be a very exciting prospect, and an impact player in Seattle for years to come.
Isaiah Greene – OF – Cleveland Indians
Isaiah Greene may be the most well-known player in the Arizona Complex League. Drafted just last year, Greene was involved in the blockbuster trade that sent shortstop Francisco Lindor to the New York Mets. With Cleveland's winning window coming to a close, they have shifted their focus to acquiring young talent. After a big summer with USA Baseball's 18U scout team, the Mets selected Greene with the 69th overall pick. The California native has exciting athleticism and offensive potential. With developing power and plus speed, Greene has a chance to stick in center, but could be a plus defender in either corner. Scouts are impressed by his advanced approach, bat speed, and pure hitting ability against high velocity.
A standout at the Mets' 2019 instructional league, Greene has hit extremely well since making his professional debut this year. In 151 plate appearances, the left-hander has enjoyed a .305/.440/.390 slash, along with a 130 wRC+ and .404 wOBA. Greene's advanced approach has shown through his first 33 games, with almost identical strikeout and walk rates. Due to a below average arm, Greene projects as a left fielder in the eyes of many evaluators. There is still work to be done in Cleveland's system, but players like Greene are what they need in order for future success.
Jamari Baylor – SS – Philadelphia Phillies
If there is one farm system who needs some pleasant surprises from their prospects, it is the Philadelphia Phillies. The Phils have developed a reputation of not developing talent, which could stem from their lack of ability to draft. Late last month, multiple front office decisions were made by Dave Dombrowski to change the player development culture. A prospect that is making up for lost time is Jamari Baylor, who missed most of 2019 and 2020 recovering from hamstring injuries. The 2019 third round pick will need to continue his success to be a fast riser through the Phillies' system. One of the older players in the Florida Complex League, Baylor just turned 21-years-old. Baylor has some exciting athleticism and tools, with a strong arm and power upside, posting solid exit velos. He spent the fall cleaning up his swing, which possessed multiple hitches, and improved on his already advanced bat-to-ball skills.
Baylor has been one of the top hitters in the Florida Complex League this summer. Through 25 games, the 5-foot-11 righty owns a .303/.436/.584 slash-line with five homers and 11 stolen bases. His .281 ISO and 169 wRC+ have been truly impressive, showcasing his power potential. The future looks interesting for Baylor, who was recently removed from Baseball America's Top 30 Phillies prospects likely due to his age and injury history. We'll have a much better idea of Baylor's trajectory next year in full season ball.